The day before yesterday Monkey developed a red patch on his cheek. He has such sensitive skin that I thought maybe he had eczema starting up again. It usually starts on his face. So yesterday the problem seemed to be getting worse, and the red patch started looking almost like a blister and eventually by bath time it had started weeping (ugh!). So, I thought eczema could do this but when I looked at pictures it was nothing like that, so I made an appointment this morning for him and off we went. We just had Bubs at the doctor over a week ago for an ear infection and they both had colds but Monkey seems to get over this stuff…he has never had an ear infection as opposed to Bubs who has had close to 10! We are now looking into tubes for him, UGH! Anyway we took Monkey in and he apparently has a staph infection or otherwise known as impetigo eek! This stuff is very contagious for the first 24 hrs of antibiotics. The doctor did a culture just to make sure it isn't something else. So I went and got the medicine, which Monkey doesn't like by the way! So, that was a oy getting him to swallow the stuff LOL. I hope it goes away soon, poor bubba's face looks awful!
I just recently received two adorable t-shirts from Kee-Ka for the boys. At Kee-Ka all of their stuff is made from organic cotton.
What is organic cotton?
Organic cotton starts with organic farming practices, which use seeds that haven't been genetically modified or treated with pesticides. Pest control is accomplished through the use of natural predators and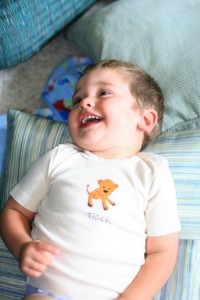 other natural practices. From growth through harvest, the process is monitored according to a set of Organic Growing Standards adopted by governmental bodies.
Is organic cotton softer and more durable?
Since organic cotton plants aren't bombarded with toxic chemicals they tend to produce longer fibers, which yield stronger yarn and more durable fabrics. Pesticide-free long cotton fiber also feels softer, more breathable and luxurious against the skin.
I am extremely picky when it comes to clothing for the boys. I am one who has to touch and feel the stuff before I buy it. I hate clothing that has a chemical smell, clothes that are scratchy and irritating to the skin, and one's that don't feel any softer after you wash them. This is what makes the clothes from Kee-Ka so appealing. Not only that, organic cotton is gentle on the skin, there are no harsh chemicals. This is definitely a plus for young sensitive skin.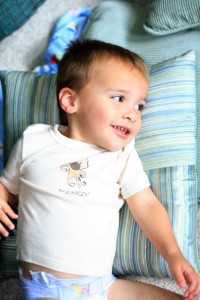 The boy's shirts came in the cutest little boxes. Kee-Ka's trademarked little brown boxes are made from recycled paper and are designed so you can easily mail a Kee-Ka gift to your favorite baby: The box lid has flaps that you pull out, moisten and seal to the bottom of the box. Then, you simply address the box, add stamps and drop it in the mail! They even tell you the amount of postage you will need to mail one in the USA.
At Kee-Ka they believe in crafting fashionable products in socially and ecologically responsible ways: using 100% certified organic cotton and low-impact dyes, as well as working with Fair Trade and Fair Wage suppliers around the world.
These two shirts have easily become favorites of mine. They are so soft and the boys love being in them. I have washed them 2 times already and they come out beautifully. The boys love to snuggle up on the couch and watch t.v in their diapers and tiger and monkey t-shirts ($24) from Kee-Ka. So sweet!
I would definitely recommend something from Kee-Ka for your special little someone, or as a special gift. For a limited time Kee-Ka is offering DoubleBugs 15% of your entire purchase. Just enter the coupon code DBUGSWEB at checkout. Offer valid until September 15, 2008.
Well I thought I would share a new funny thing that Monkey is doing. This is a prime example of just how smart your toddler can be LOL. Whenever Monkey is busy doing something that he isn't supposed to be, he has figured out a way in his mind to pretend he isn't doing anything. If you call his name in that parental tone, or ask him what he is doing, he will quickly say "Hi!" and squint his little eyes and give you this cheesy grin. He has already figured out how to manipulate the situation in his little mind. Sometimes it makes it very hard for me to maintain a straight face because it is so incredibly funny to me. He is such a little stinker and ohh so smart! I keep telling my husband that we are gonna be in trouble. It will be Monkey thinking up all the things to do, and he will be sending his brother Bubs to do them all. It is soo funny how different the two of them are. Double trouble indeed!
I have recently started re-organizing our dining room or the boy's play room. I have decided to give it a fresh coat of paint and get all their toys in check. If you have young children you know what I am talking about when I talk about a trail of toys all over the place!
I have been searching for some sort of solution to organize all their little things, like blocks, and cars and little people, to where these things are contained yet my boys can see what's there. I currently have everything in bins but you cannot see through them, so they forget what is in there.
I ran across Kids Klutter Katchers and thought I would give them a try. I love these things, because they are durable mesh and you can see through them. They hold blocks, cars, puzzle pieces, train track, drawing supplies, you name it…the possibilities are endless. They are great for other clutter in the house as well. Definitely worth having on hand for organizing the place!
If you are looking for organization this is a good place to start.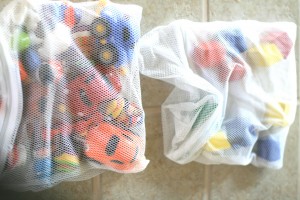 For a limited time at Kids Klutter Katchers you can use coupon code 3FREEDB at checkout to receive 3 free Kids Klutter Katchers zippered mesh fabric toy bags with the purchase of 15 or more! Expires 10/1/08.
Well it was this day, two years ago, that I was in labor with my two boys. After 15 weeks of strict bed rest, with 8 of those weeks in the hospital, they made their entry about 6 weeks early. Monkey arrived at 10:15pm and Bubs arrived 10 minutes later at 10:25!
Our lives were changed forever, but I wouldn't change it back for all the world. They have been such a joy and a blessing in my life!
HAPPY BIRTHDAY Monkey AND Bubs!
CONGRATULATIONS To MICHELE M.
Winner of the $10 Starbucks Gift Card Giveaway!
Thank you to all who entered, and check back often to see what's up at DoubleBugs!!!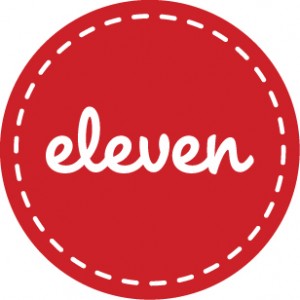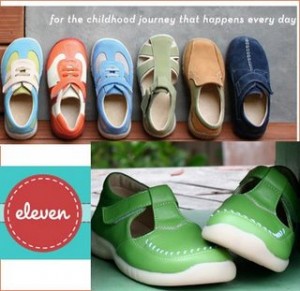 I recently was doing a search for shoes for the boys, when I ran across the Eleven Collection of shoes for children. Eleven based in Portland, Oregon, is a sister company with See Kai Run, a children's shoe company based in Seattle, Washington.
Eleven shoes are not just any shoe in my opinion. When I first got the Eleven trainer and the Martin shoe, I took them out of the box and immediately started "kicking the tires" so to speak. Since I have toddlers, they aren't always the most stable on their feet, so I look for a shoe that allows for that. A lot of shoes on the market for their age range, are often big and clunky to me. So, when I took these shoes out of the box, I immediately noticed how lightweight these shoes were. The shoes are well constructed, durable, and the soles are extremely flexible. These are the features that I personally look for in a shoe for my boys. First off young children need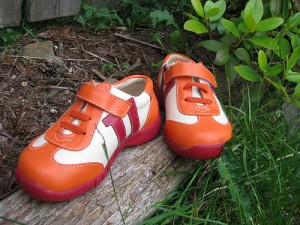 a shoe that is going move with them, and not get in their way, and secondly a shoe that will hold up to their rough and tumble ways.
Eleven shoes also come in bright and fun colors, which appealed to me. I personally am not a big shoe person but I like things that are different. Eleven shoes stand out from the ordinary shoe. The boys have worn them out to the park and out to dinner. Both of them didn't want me to take them off when I put them on.
Eleven's shoes featur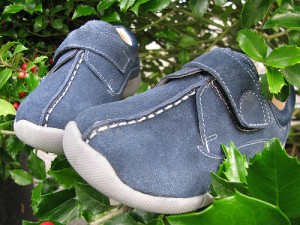 e:
* All premium materials and construction
* Uppers and inside lining made with premium leather to provide comfort and breathability
* Durable and sturdy soles with superior traction
* Cushioned insole thoughtfully designed, making each step a comfortable one
* Easy on and off
* Sensational fit to ensure natural growth
* Sizes 9-1 for girls and boys
* Vibrant colors
* Intelligent, timeless, and quality footwear
* Classic casual, city-chic style
Sizing:
Eleven's shoes are available in whole sizes (9-3) and are great for toddlers through early school age children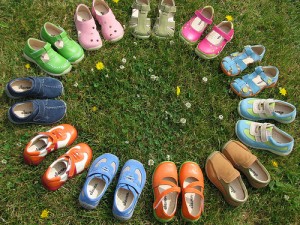 (age 3-8).
If you are looking for a shoe that is different, well made and comfortable then take a peek at Eleven shoes. They are definitely a step above the rest.
Well last night was a rough night! Both of the bubbas seem to be feeling under the weather. Over the weekend we were at the air show and I am wondering if they didn't pick up some kung foo goo while they were there. I am even the overly cautious mom and was slathering them with hand sanitizer. I guess I should just get used to the fact that whenever they are around a bunch of kids, to expect some sort of snot fest afterwards. It seems that not everyone is really concerned about protecting other children from their child's germs. I know that I can't protect them from everything but it just seems like every time they get sick and with that comes 10-14 days of sleepless nights, cranky kids (2 of them), boogers everywhere, and no sleep for me either. When they are small like this, they can't blow their nose, or verbalize much as to what is going on. Please pray that they get over this quick…poor guys have a birthday in 2 days

  Luckily I won't be celebrating till a little later…but that still is a bummer. Off to arm myself with the kleenex box!
I decided to make hamburgers tonight and I had divided ground beef in freezer bags.  I always have to remove my rings to mix up the hamburger when it dawned on me to just thaw and mix it in the bag!  Here's what I did for my hamburgers tonight…
1lb of ground beef
1/2 cup of shredded cheddar cheese
Few dashes of worchestershire sauce
splash of soy sauce (my good friend Jack gave me this tip)
Onion powder (as much as you like)
Pepper (as much as you like)
Garlic powder ( as much as you like)
I just grilled mine on my George Foreman grill…but you can grill them or broil them
THIS CONTEST IS NOW CLOSED!
THANK YOU TO ALL WHO ENTERED!
A Little Factoid
In 1984, President Ronald Reagan proclaimed July as National Ice Cream Month. He also established National Ice Cream Day as the third Sunday in the month. He also appointed the third Sunday in July as National Ice Cream Day. Reagan recognized the popularity of ice cream in the United States (90% of the nation's population consumes ice cream) and stated that these two events should be observed with "appropriate ceremonies and activities."
A comprehensive history of Ice Cream can be read here.
So in honor of this beautiful day and month, DoubleBugs will be giving away 2 free pint coupons of Ben & Jerry's Ice Cream to two lucky winners! What can be better than that?
Here's what ya gotta do to win:
Leave me a comment on this post and tell the world what your favorite flavor of Ben & Jerry's is and leave me a favorite ice cream recipe.
Please leave me a way to contact you!
Please feel free to link to my site or grab my badge for an extra entry.
Please only enter once!
Contest ends Sunday, July 27th at 11:59pm
Good Luck!!!