I cannot believe that summer is almost over and we are quickly heading into Fall! I was going through the boys' things and tried on a few pair of their jeans size 18-24 months and although they fit fine everywhere they looked like capris on them. So off I went to the malls the past weekend. I typically only buy Gap jeans for the boys and they were having a nice sale (buy one get one 50%). I have always liked their jeans and they hold up to wear and tear and usually are pretty soft unlike other jeans that feel like they have been drowned in a bottle of starch! When, I shop I look at tags and find out what the stuff is made of to allow for shrinkage. I love Old Navy jeans too but everything there tends to run on the small side. The boys are only in 2T-3T shirts and at Old Navy I have to buy in the 4T range, and go up a size in jeans too. I wonder why that is since they are a division of Gap. I love Gymboree for some things but they seem to be a little spendy to me.
So, the boys are set with 2 pairs of jeans for each, the obligatory pair of overalls (great for outdoor play) and a few pairs of sweats. I hope no one has a growth spurt or I will be back at the Mall…not a totally bad thing. Secretly, I love to shop for them and hate shopping for myself!
This was sent to me so I thought I would share! This shows how innocent little ones are…we live in a world so quick to grow up. Keep them little as long as you can is what I say!
Why We Love Children
1. A kindergarten pupil told his teacher he'd found a cat, but it was dead. "How do you know that the cat was dead?" she asked her pupil. "Because I pissed in its ear and it didn't move," answered the child innocently. "You did WHAT?!" the teacher exclaimed in surprise. "You know,"explained the boy, "I leaned over and went 'Pssst!' and it didn't move."
2. An exasperated mother, whose son was always getting into mischief, finally asked him "How do you expect to get into Heaven?" The boy thought it over and said, "Well, I'll run in and out and in and out and keep slamming the door until St. Peter says, 'For Heaven's sake, Dylan, come in or stay out!'"
3. A little boy was doing his math homework. He said to himself, "Two plus five, that son of a bitch is seven. Three plus six, that son of a bitch is nine…." His mother heard what he was saying and gasped, "What are you doing?" The little boy answered, "I'm doing my math homework, Mom." "And this is how your teacher taught you to do it?" the mother asked. "Yes," he answered. Infuriated, the mother asked the teacher the next day, "What are you teaching my son in math?" The teacher replied, "Right now, we are learning addition." The mother asked, "And are you teaching them to say two plus two, that son of a bitch is four?" After the teacher stopped laughing, she answered, "What I taught them was, two plus two, THE SUM OF WHICH, is four."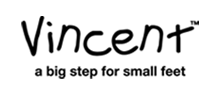 About Vincent Shoes
Swedish designers Patrick Österman and Thomas Elbaum are the creative forces behind the Vincent™ shoe brand. The birth of Thomas' nephew, Vincent, in 1998 and their subsequent disappointment with a lack of high quality, stylish children's shoes, sparked their desire and initiative to design a fun, fashionable and functional shoe brand. Patrick and Thomas derive their inspiration for Vincent kids shoes from global fashion trends and what's seen on the runways of Paris, Milan, London and New York, though the result of their efforts is Vincent shoes 100 percent focused on kids.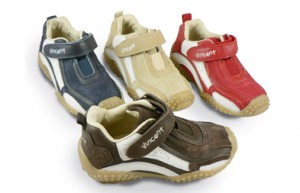 Good quality shoes for little kids are important for little growing feet. I just recently got the chance to review a pair of Vincent shoes for the boys. I picked out the Joakim style , simply because I like how they look. These laid back kicks are so cool and look to be quite comfortable and lightweight. As with any shoe, my first test was to see if the soles are flexible. The soles offer good support yet offer enough flexibility for little feet. Shoes that don't move with a child are just a disaster in my opinion.
The shoes have an all leather inside and outside with suede accents and wavy white stripes, as well as, an easy velcro closure ( a feature I love). There is nothing like trying to tie a shoe on a wiggle worm toddler. It's like wrestling a bull sometimes to get one shoe tied. These shoes are quick and easy to put on. The tips of the shoes are also reinforced by a rubber sole which is really great for little feet. That is the first place that the boys shoes show signs of wear. You can dress them up or down and they look great with jeans. Shoes never excited me before, but I love them on their little feet! They are available in four irresistible colors. The only drawback is, I wish they made these shoes for me!
The Joakim retails for ($60) and are well worth the extra money if you want a shoe that is going to stand the test of a busy and active toddler! I will be keeping these shoes at the top of my favorite list. I love these shoes!!
You can visit Vincent Shoes and pick out something cute and fashionable for your little bean! They also have a closeout cubby where you can find some outstanding deals!
Congratulations to Paula H. the winner of the Dante Beatrix Backpack!
Thank you to all who entered.
Please continue to visit DoubleBugs for more fun opportunities!
Hi everyone…just to let ya know Doublebugs is getting a new do! I am currently in the process of rearranging things so you will have to forgive my temporary lack of posts. I will be up and running in style on Monday! Hope everyone is having a great weekend!!!
This isn't going to be a long post but I thought I would share the picture of the spider web that I got the other day. I am so happy I had my camera with me because I checked back today and it was gone! This is a cool image…but I hate spiders! LOL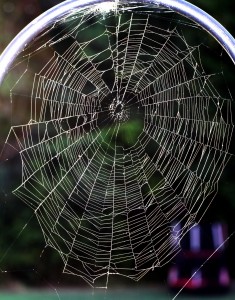 Hoohobbers has manufactured and designed it's own line of children's products since 1981, and they are made right here in the USA.
I just recently received their directors chair ($35) and rocking chair ($49) for the boys. Both of these chairs are great. One of the main features of these two chairs, which I really like, is the fact that they fold away for easy storage or transport. Both the director's chair and rocking chair are waterproof, so they can go just about anywhere! They are great for camping trips, or for family outings where seating is limited. The rocking chair is extremely stable in that it has front foot pads which keep the chair stable while my little guys climb in and out. The boys favorite place to be is in the living room in their chairs watching Blue's Clues LOL! Hoohobbers can also personalize for you with your child's name.
Hoohobbers carries a whole line of other things such as crib bedding, diaper bags, Moses baskets, and more. Check out Hoohobbers, they have some really cute stuff!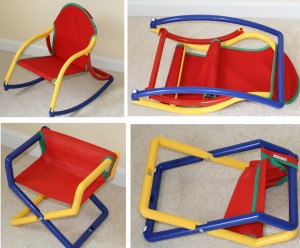 Well, it was a picture taking weekend for me and the boys. I did my first photo session outside of my home and I think I did pretty well. I still have a lot to learn, but I captured some good images over the weekend and hopefully I will get them up here sometime in the next few days.
The boys had their first experience with the ice cream truck which was fun. It brought back so many memories of my childhood. I wanted to get a frozen toe ice cream, which I loved as a kid, but unfortunately they were out of them. I took lots of pictures of the boys enjoying their bomb pops which seemed to have grown in size over the years! These things were huge! They, of course, made an enormous mess of the things, but that's part of the fun! It gives me so much enjoyment just to watch these two growing up, and not only that you sort of get to experience being a kid again. I can't wait for that ice cream truck to come back down the street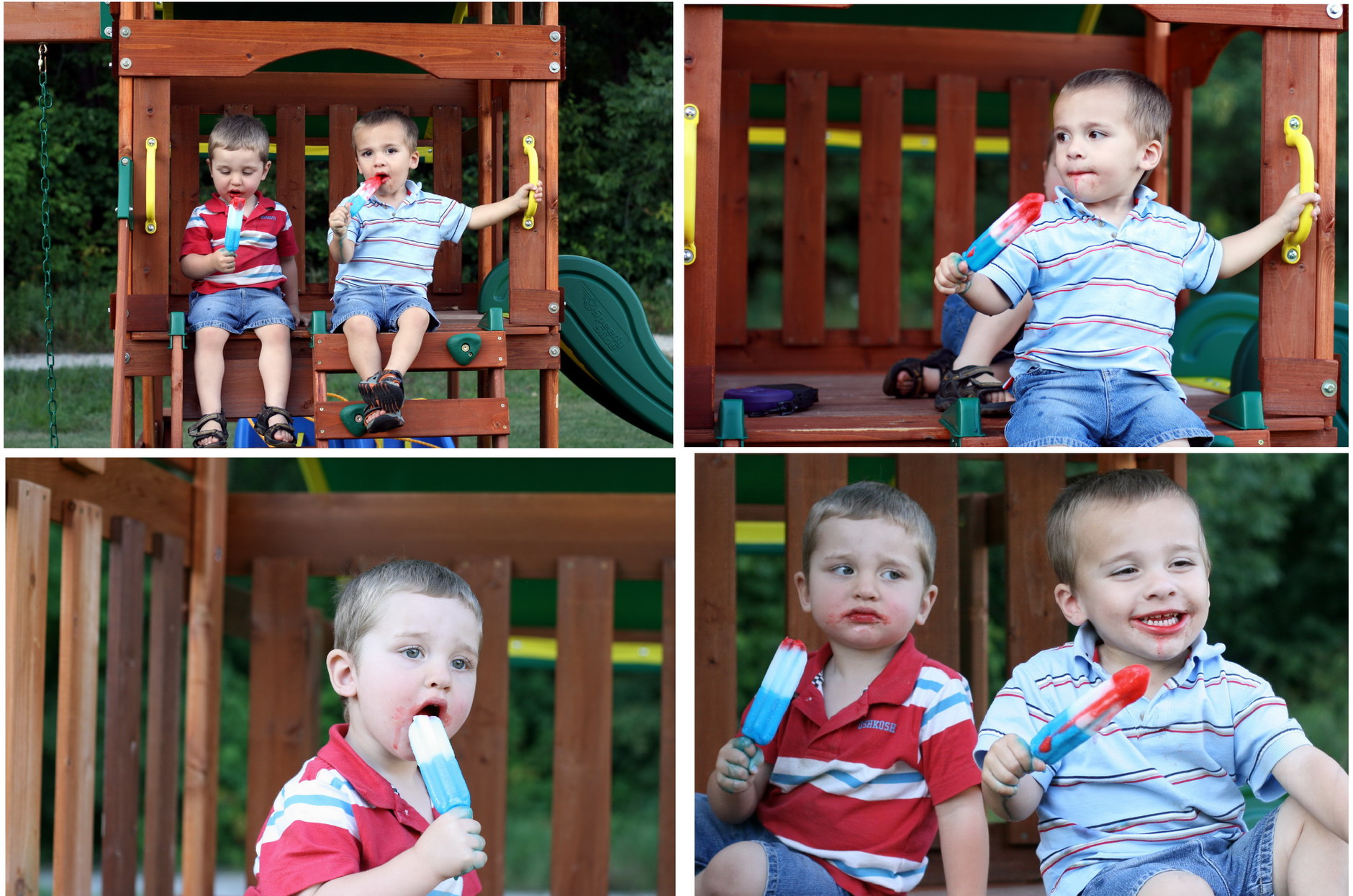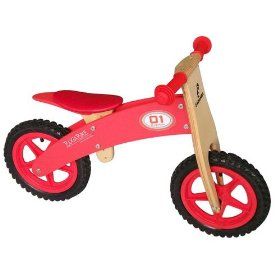 Bugabike is a balance bike or running bike, and up until recently I have never heard of these things. Apparently, these bikes are becoming very popular! When you look at them, you will quickly notice that there are no pedals. My husband and I, just stood there looking at these bikes scratching our heads as to how these would be beneficial to the boys. In Europe, these bikes are very popular, but are fairly new here in the States.
The whole idea behind the Bugabike is that a child can learn to balance before he is able to actually pedal a bike. The theory is that they can learn to ride a regular bike much quicker this way. The child is able to ride on the bike and gradually get to a point where they are able to lift their feet and balance. This makes transitioning to a regular bike easier and eliminates the need for training wheels.
Designed by Sabamba, the Bugabike has a wood frame and rubber wheels. The frame of the bikes are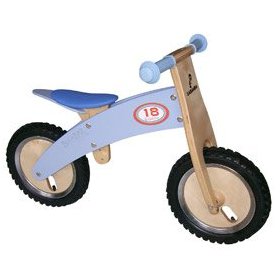 designed on a computer and each piece of wood is carefully selected and then goes through a lengthy process of laminating, sanding and correcting for perfection. The process is quite impressive and you can read about it on their site. The bike only weighs a mere 8lbs and can be taken anywhere which is nice! The bike's assembly took my husband only seconds to put together so you aren't sitting there for 3 hours trying to assemble a bike that your child is anxious to ride. Trust me with twin 2 yr olds this is a plus.
The Bugabike is fully adjustable. It will adjust to fit children from ages 2 to 6 and they even offer an extension for either very tall children or older children who still love their Bugabike.
You can find the Bugabike at Amazon and at their site and it has a lot of colors to choose from. So get one for your little bug and toss the training wheels! There is a new bike in town!
Wednesday we took the boys to see the Wiggles. My husband wasn't all too thrilled to be going but the boys really enjoyed it. We had the greatest seat ever and I wanted to take pictures and I brought my camera, but forgot my memory card in the card reader at home UGH! Monkey, got a little antsy about 30 minutes into the show but Bubs, on the other hand, loved it! When the Wiggles came out in their "big red car" , the look on their faces was so cute! The both were grinning from ear to ear and they were captivated. We had so much fun and I hope to take them again next year. The next morning they both woke up talking about the "waggles" as they call them LOL. So cute!