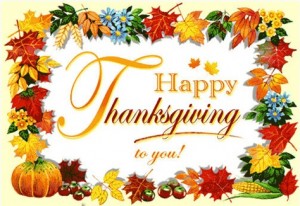 I just wanted to take the opportunity to wish all of you a very safe and Happy Thanksgiving with all of your families.  I am thankful for my wonderful family and two healthy children.  I am thankful for my friends, and a roof over my head, and food in our stomachs.  I hope that you all enjoy your day and families!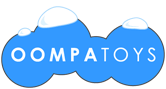 When you have young children, you undoubtedly have a whole myriad of toys laying about.   I have one room in the house designated for their stuff.  I found in the boys' two short years, that there are toys that just aren't going to last and ones that I know will be around for a long time.   Of my most favorite things, are their wooden toys.  I'll admit I am a sucker for them.   There is something about the quality of wooden toys, when you first open the box and get a glimpse of them.  I find myself wanting to put them up on my mantle or hording them like my prized possesion.  They aren't the toys that you just give away.
With wooden toys there is something magical about them for children.  They are usually fairly simplistic in design, but my kids seem to play with them the most.  Not only that, they encourage them to use their imagination, whether it is making a tower or a tunnel, or making walls or making their wooden lion roar.  For me, that is worth it's weight in gold, because this day and age, it seems like we encourage that less with television, and toys that are battery operated.  Wooden toys are such a refreshing change from that.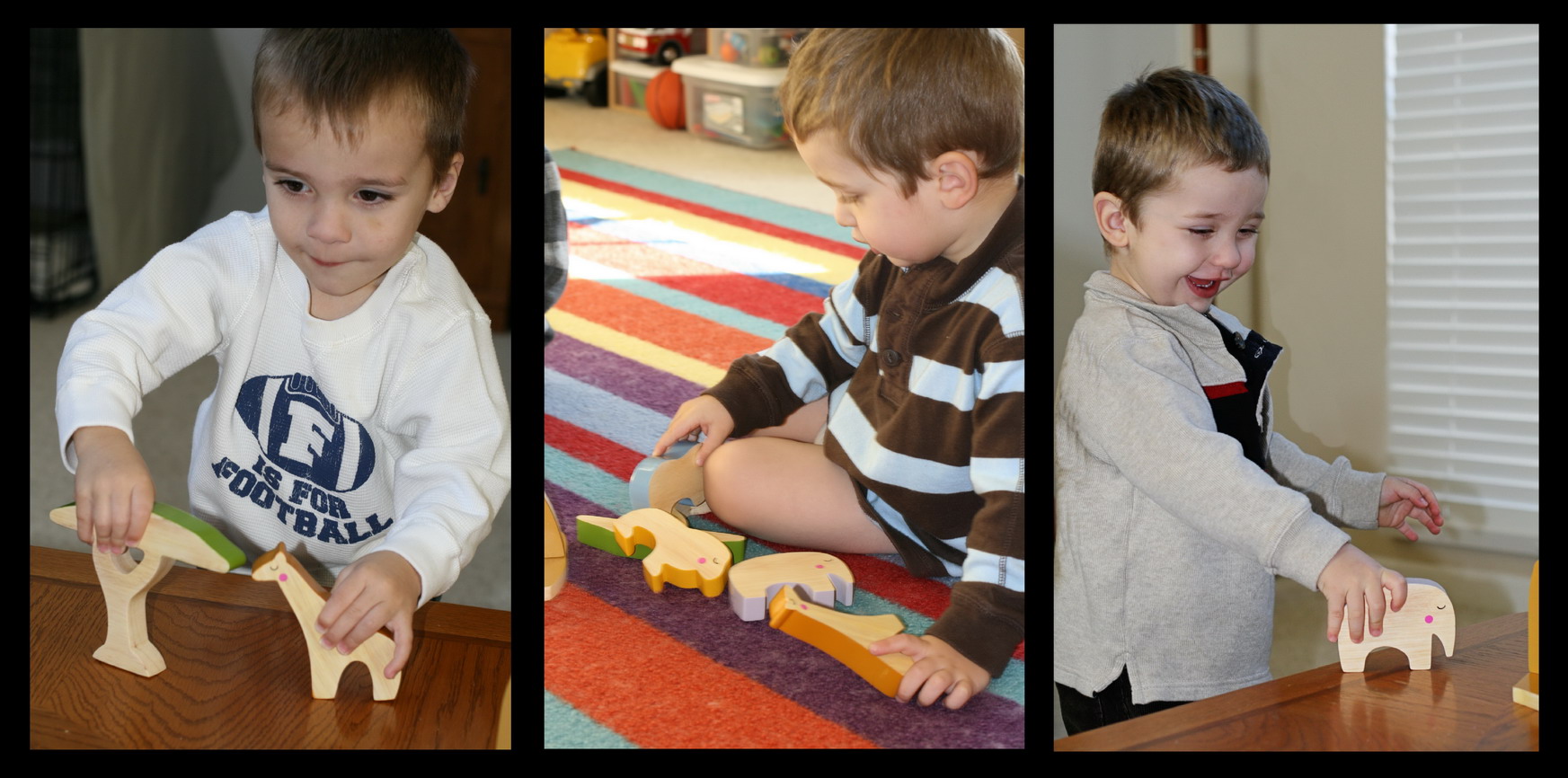 When I was offered the opportunity to review Cheekeyes, I immediately snatched up the offer.  I love to see what is out there with regards to wooden toys.  These totally too cute wooden toys are not only durable but are made from eco-friendly rubberwood.  Handmade and partially painted, each of the Cheekeyes is unique; there are no two the same. From the hands of Dutch designer Rogier van Zijp emerged Arctic, African, Forest and Farm animal sets plus Dinosaurs, these animals sport a distinctive red cheek and painted eye (reflected in their name, Cheekeyes) that will endear them to children and caregivers alike. They are very smooth (as all wooden toys should be) and they have paint only on the sides.  When I told my Dutch husband about where these toys came from, he seemed rather proud. The 2009 Oppenheim Toy Portfolio has given Cheekeyes its prestigious Platinum Award for one of this year's best preschool toys.
We received the African Animals set, which included whimsical interpretations of a lion, hippopotamus, rhinoceros, elephant and giraffe.  Cheekeyes also has various wooden scenery additions such as rocks and trees to make your little ones animal menagerie complete.  I found myself making the giraffe eat the imaginary leaves off the trees, and the rhino took a nap on the rock.  The boys got such a kick out of mommy playing with them and what a great way to spend family time.  These will be around for a very long time to come and the boys simply adore them already.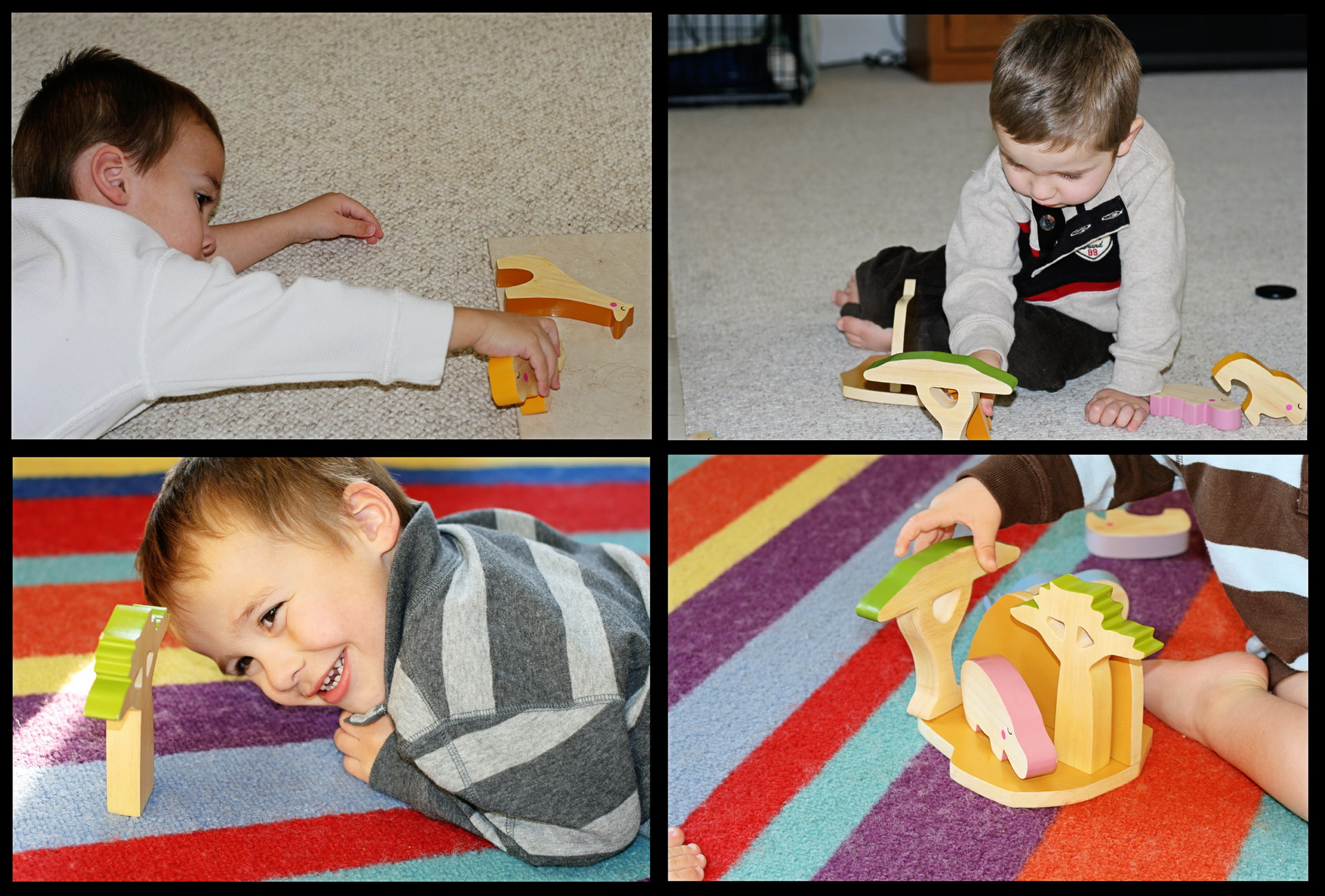 Forest Animal Set ($29.99)
The Forest Animal set comes complete with a bison,
wild boar, wolf, goat, and grizzly bear. Cave and tree
sets sold separately, $16.99 each.
African Animal Set ($29.99)
The African Animal set makes a charming collection
of inhabitants for your desert terrain, which includes a
lion, hippopotamus, rhinoceros, elephant and giraffe.
Tree set and rock sold separately, $16.99 each.
Arctic Animal Set ($29.99)
The Arctic Animal Set includes all of your
favorite polar critters, including an orca, seal,
whale, penguin and polar bear. Icebergs sold
separately, $16.99 each.
Farm Animal Set ($29.99)
The farm animal set includes all your favorite
barnyard critters, including a sheep, pig, goat,
cow and horse. Fence set and tree sets sold
separately, $16.99 each.

Cheekeyes are available online at Oompa toys and would make a perfect gift for this holiday season for your special little someone.  What a perfect way to make their holiday light up.

THIS CONTEST IS NOW CLOSED THANK YOU TO ALL WHO ENTERED!!

Would you like to win a set of Cheekeyeys animals for your own special someone this holiday season.  DoubleBugs and Oompa toys are giving away one set of your choice to one lucky winner!
Here's all ya gotta do!
Just visit Oompa Toys and tell me what set of Cheekeyes you would like and something else you like about the Oompa site.
Leave me an email so I have a way to contact you if you win
Winner has two days to respond or another is chosen.
Contest Starts November 24, 2008 and Ends December 8, 2008
Good Luck!!!
CONGRATS TO JACK T.   WINNER OF THE READY SET SHOP GIVEAWAY!
Thank you to all who entered, come back often for more great offers!!!
I ran across this on another board and thought it was so true.  A little humor for the day!
Thinking about having children?
True preparation for parenthood at any age….
Lesson 1
Go to the supermarket.
Arrange to have your salary paid directly to their head office.
Go home.
Pick up the paper.
Read it for the last time.
Lesson 2
Before you finally go ahead and have children, find a couple who already
are parents.
Berate them about their…
1. Methods of discipline.
2. Lack of patience.
3. Appallingly low tolerance levels.
4. Allowing their children to run wild.
Suggest ways in which they might improve their child's sleeping habits,
toilet training, table manners and overall behavior. Enjoy it. It will
be the last time in your life that you will have all the answers.
Lesson 3
To discover how the nights will feel…
1. Walk around the living room from 5PM to 10PM carrying a wet bag
weighing approximately 8-12 pounds, with a radio turned to static (or
some other obnoxious sound) playing loudly.
2. At 10PM, put the bag down, set the alarm for midnight, and go to
sleep.
3. Get up at 12 and walk around the living room again, with the bag,
until 1AM.
4. Set the alarm for 3 AM.
5. As you can't get back to sleep, get up at 2AM and make a drink.
6. Go to bed at 2:45AM.
7. Get up at 3AM when the alarm goes off.
8. Sing songs in the dark until 4AM.
9. Get up. Make breakfast. Keep this up for 5 years. Look cheerful.
Lesson 4
Can you stand the mess children make? To find out…
1. Smear peanut butter onto the sofa and jam onto the curtains.
2. Hide a piece of raw chicken behind the stereo and leave it there all
summer.
3. Stick your fingers in the flower bed.
4. Then rub them on the clean walls.
5. Cover the stains with crayons. How does that look?
Lesson 5
Dressing small children is not as easy as it seems.
1. buy a live octopus and a small bag made of loose mesh 2. Attempt to
put the octopus into the bag so that none of the arms hang out.
Time allowed for this – all morning.
Lesson 6
1.Take an egg carton. Using a pair of scissors and a pot of paint, turn
it into an alligator.
2. Now take the tube from a roll of toilet paper. Using only scotch tape
and a piece of foil, turn it into an attractive Christmas candle.
3. Last, take a milk carton, a ping-pong ball, and an empty packet of
Cocoa Puffs. Make an exact replica of the Eiffel Tower.
Lesson 7
Forget the BMW and buy a station wagon. And don't think you can leave
it out in the driveway spotless and shining. Family cars don't look
like that.
1. Buy a chocolate ice cream cone and put it in the glove compartment.
Leave it there.
2. Get a dime. Stick it in the tape or CD player.
3. Take a family size package of chocolate cookies. Mash them into the
back seat.
4. Run a garden rake along both sides of the car. There. Perfect.
Lesson 8
Get ready to go out.
1. Wait outside the bathroom for a half an hour.
2. Go out the front door.
3. Come in again
4. Go out
5. come back in
6. go back out again.
7. Walk down the front walk.
8. Walk back up it.
9. Walk back down it again.
10. Walk very slowly down the road for five minutes, stopping,
inspecting minutely, and asking at least 6 questions about each
cigarette butt, piece of used chewing gum, dirty tissue, and dead insect
along the way.
11. Retrace your steps.
12. Scream that you have had as much as you can stand, until the
neighbors come out and stare at you.
13. Give up and go back into the house.
You are now just about ready to try taking a small child for a walk.
Lesson 9
Go to the local supermarket. Take with you the nearest thing you can
find to a preschool child (a full grown goat is excellent) If you
intend to have more than one child, take more than one goat.
1. buy your week's groceries without letting the goats out of your
sight.
2. Pay for everything the goat eats or destroys.
Until you can accomplish this, do not even contemplate having children.
Lesson 10
1. Make a small hole in the side of a melon and hollow it out.
2. Suspend it from the ceiling and swing it from side to side.
3. Now get a bowl of soggy Cheerios and attempt to spoon them into the
swaying melon by pretending to be an airplane.
4. Continue until half the Cheerios are gone.
5. Tip half of the remainder into your lap. The other half just throw
up into the air.
You are now ready to feed a 9-month old baby.
Lesson 11
Learn the names of every character from Sesame Street, Dora the
Explorer, Barney, and Disney. Watch nothing else on TV for five years.
Lesson 12
Make a recording of Fran Drescher saying "mommy" repeatedly. (important:
no more than a four second delay between each "mommy") An occasional
crescendo to the volume of a supersonic jet is required.
Play this recording in your car everywhere you go for the next five
years.
Lesson 13
Put on your finest work attire. Pick a day in which you have an
important meeting.
1. Take a cup of cream, put in 1 cup of lemon juice, and stir.
2. Dump half of the mixture on your shirt, and saturate a towel with the
other half.
3. Attempt to wipe off your shirt with the towel.
4. Do NOT change. You have no time.
5. Go directly to work.
Lesson 14
Go for a drive! But first…
1. Find one large tomcat and six pitbulls.
2. Borrow a child safety seat and put it in the back seat of your car.
3. Put the pitbulls in the front seat of your car.
4. While holding something fragile, strap the cat into the child seat.
5. Run some errands, removing and replacing the cat at each stop.
You are now ready to run errands with a toddler.
So, I have been contemplating whether or not this will be a baking year for me.   Ever since I had the boys, I tend to run out of energy to get anything etra curricular done.  I am a huge fan of baking however, so I decided to pick up some magazines and look at some cookie recipes.  If I do bake I will plan on making about 4 or 5 differnt kinds of cookies.  I have some favorites and one of them is raspberry chocolate chip cookies!  I also like to make a few of the more difficult cookies, but we will see how that goes with two toddlers in the house!  If you have a favorite recipe to share, leave a comment.  I love to see what it out there and what other people consider thier favorite cookies to be.  Holiday baking here I come (maybe).

I am a huge fan of the fashionable yet posh ways in which we can help save the environment.   We do a lot of shopping at Whole Foods and such, and we always have reusable bags with us, or we recycle the paper bags that we have.   Let's face it, the reusable bags you typically get aren't very fun or trendy looking.  At least if you are going to save the Earth, you should have some fun doing it!
The average family uses about 1,000 plastic bags a year!  Most of them end up in landfills where they sit for an astonishing 1,000 years before they decompose and do even more damage to the soil.  That's a pretty shocking statistic and one big mess I don't want to help pass on to future generations.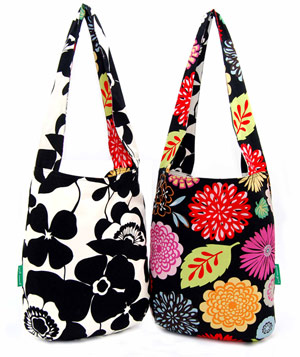 I was recently given the opportunity to review Green Girl reusable eco-totes especially designed for women.  They are perfect for shopping, a day at the beach, or trips to the gym. And one of the coolest features is that they are reversible!  Each side has a fun bold pattern to fit your stylish mood for the day.   These hip bags are made of machine washable cotton, and have plenty of room for all your stuff. The straps are super comfy which is a plus for busy moms on the go, and especially when you are lugging kiddos around.  And after your shopping spree, or day at the beach, you simply roll up the bag and secure it with Green Girl's signature silver ring so you can store it in your purse or glove compartment.

Green Girl eco totes ($45) are now available nationwide, and at Lily Pad Baby and coming soon Green Girl World. Eco-totes are perfect for holiday giving too…try stuffing one with fun stuff for the holidays!   Get yours now and start saving the Earth!
Green Girl will also offer, jute totes that say it all with eco-inspired messages, kids' totes, a bath, body and home line, jewelry and more!
This day and age everything is so fast paced and streamlined when it comes to the retail world.   You can do a lot of your shopping in your pajamas in front of the television (which I love!).  I think with these many conveniences, you tend to lose track of what it is like to personally deal with people as a consumer, and it makes it easier for retailers to avoid working with them when a problem arises.
I recently ran across a great deal on a couple of car seats for the boys.  We currently have car seats for the boys but they seem to be outgrowing them and the things appear to be falling apart.   They will be in them for at least two more years, and I am afraid that they won't last.  So I popped online when a friend told me that Target was running a terrific deal on Britax car seats ($42.99), so I rushed over and purchased two of them online.   Well come to find out, they were mispriced and they wound up canceling my order.  I was pretty bummed to say the least and felt a bit jipped.   Most places would typically honor the priceif it was a mistake on their part.
I was informed in my cancellation notice that, if I still wanted these seats that I could purchase them at the regular price of ($280) per seat!  WOW!   Now I can understand, that they made a mistake, but as a customer I feel like I am really the one paying for it.   Whatever happened to actual "customer service?"  Instead with this email, it felt more like welcome to "TARGET we are at our service."   So basically their policy is in place to protect only them so only they profit or don't lose anything?  Something seems a little backwards about that…don't you think?   How is this anything remotely akin to customer service?, not only that, if you call, you more than likely will get someone in India!
Several of my friends had called about this mishap and were reassured that the price would be honored, then their orders were canceled, and a few lucky people…so I hear, had their seats shipped.   I am totally irked by all of this, and I am not usually one that complains much about this sort of thing, but I guess it just struck me as very seedy like practice.  How convenient it must be not to follow through, or just be able to send out a cancellation notice and poof your problems are over.  I usually have to deal with the mistakes I make, and their isn't any way I can erase them….why should it be any different for Target or anyone else?  If I showed up and didn't have my receipt, it would have been I am sorry but we can not refund your purchase.  I would seriously reconsider where you shop next time…I definitely won't be shopping at Target anytime soon!
Here is the email I got in response to my letter I sent through their online help.  Notice the letter is from Sinu and none of the other responses I have read that other folks posted were from names I could pronounce.   Wow, what a way to do your customers…send out a general letter and not address the issue at all.  Not much different from the cancellation letter they sent to everyone.
I'm sorry, but we had to cancel your order with us for Britax marathon car seat. Because of an error, our website showed the wrong price for this item, and we can't sell it to you for that price. If you'd still like to buy the item for the correct price, you can go ahead and place a new order.

We work hard to make sure that all of the prices on Target.com are right, but the rare mistake does come up. That's why we always double check prices when we ship your order. In this case, we cancelled your order when we found the mistake. In other situations, we may choose to contact you for instructions before cancelling or changing your order.

Everything we did is in line with our posted pricing policies. If you want more information about those policies, you can look them up here:

http://www.target.com/help

I know that you count on more than just great products from Target.com, and that having the right information on our website is just is important. I hope we haven't disappointed you, and that you'll continue to shop with us.

Best regards,

Sinu Thomas

Target.com Guest Service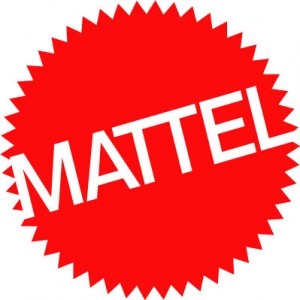 Both of my boys are car fanatics, so naturally when they get a car it is the greatest thing on earth to them.  Monkey has to be my biggest fan and he loves to line up his matchbox cars, and count them, and drive them into imaginary garages and use his books as ramps.   He is already two and his imaginary play impresses me.
Naturally when they opened up their power scout and skull mountain they were just as giddy with excitement as I am when I get something new.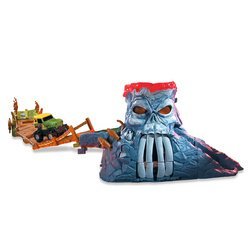 Mattel Matchbox Land Skull Mountain Playset is the ultimate test for the super scouts where treacherous roads and falling boulders are just the beginning of a challenging and treacherous journey. Use the super scout 4x4s all-wheel drive to master the crushing climb to the top of Skull Mountain and then get ready for a frightfully good time inside the skull. Sure to inspire loads of manipulative fun and imaginative play, Skull Mountain features enough challenging barriers and touch-point obstacles to impress even the bravest explorer, power scout included!
Power Scout vehicles are tough enough to take any terrain. The Power Scouts vehicles go from neutral freewheeling mode to battery-powered all-wheel drive, and all you have to do is give it a tap on the back of the truck to activate the motor.  These cool new battery powered vehicles have super-grip tires to climb the steepest inclines. Battery included.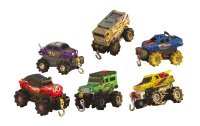 You can find power scouts and most toy store locations and online at Amazon.com and they are small enough that they are perfect for little hands.
POWER SCOUTS™ SKULL MOUNTAIN
ARP: $32.39 Ages: 3+ Available: Fall 2008
POWER SCOUTS™ VEHICLES
ARP: $6.99 Ages: 3+ Available: Fall 2008

Congratulations to Terra H. !  She is the winner of the Sports Buddy Giveaway.
Come back and visit Double Bugs often!!!
Well after the site being down for half the day, I am finally back.  Apparently my hosting company decided to do some upgrade that they never mentioned to anyone.  Anyway, my husband was able to get my back and running…thank goodness.  Sorry for being gone so long!