Cheekeyes and Oompa Toys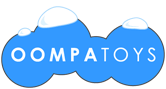 When you have young children, you undoubtedly have a whole myriad of toys laying about.   I have one room in the house designated for their stuff.  I found in the boys' two short years, that there are toys that just aren't going to last and ones that I know will be around for a long time.   Of my most favorite things, are their wooden toys.  I'll admit I am a sucker for them.   There is something about the quality of wooden toys, when you first open the box and get a glimpse of them.  I find myself wanting to put them up on my mantle or hording them like my prized possesion.  They aren't the toys that you just give away.
With wooden toys there is something magical about them for children.  They are usually fairly simplistic in design, but my kids seem to play with them the most.  Not only that, they encourage them to use their imagination, whether it is making a tower or a tunnel, or making walls or making their wooden lion roar.  For me, that is worth it's weight in gold, because this day and age, it seems like we encourage that less with television, and toys that are battery operated.  Wooden toys are such a refreshing change from that.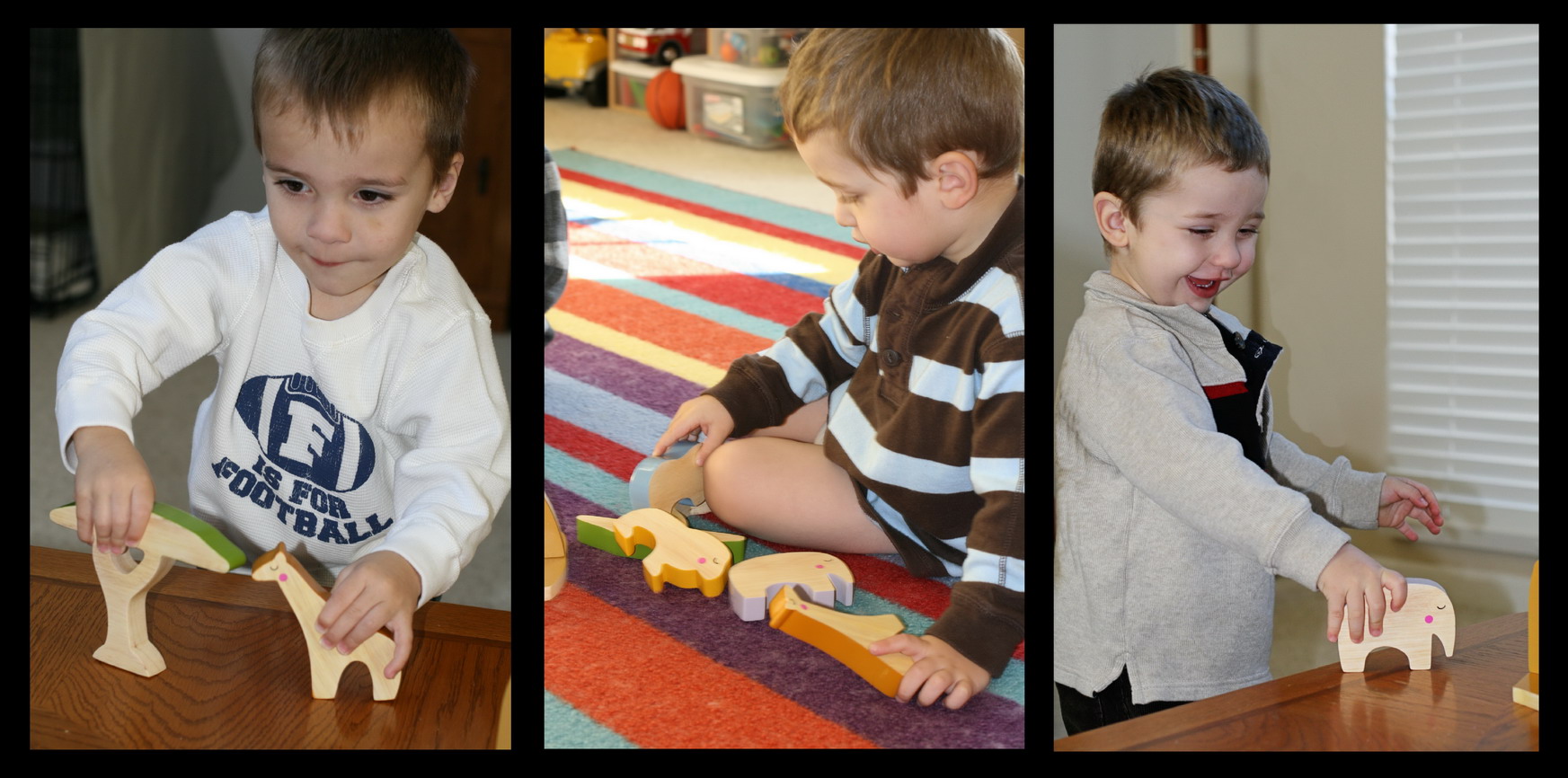 When I was offered the opportunity to review Cheekeyes, I immediately snatched up the offer.  I love to see what is out there with regards to wooden toys.  These totally too cute wooden toys are not only durable but are made from eco-friendly rubberwood.  Handmade and partially painted, each of the Cheekeyes is unique; there are no two the same. From the hands of Dutch designer Rogier van Zijp emerged Arctic, African, Forest and Farm animal sets plus Dinosaurs, these animals sport a distinctive red cheek and painted eye (reflected in their name, Cheekeyes) that will endear them to children and caregivers alike. They are very smooth (as all wooden toys should be) and they have paint only on the sides.  When I told my Dutch husband about where these toys came from, he seemed rather proud. The 2009 Oppenheim Toy Portfolio has given Cheekeyes its prestigious Platinum Award for one of this year's best preschool toys.
We received the African Animals set, which included whimsical interpretations of a lion, hippopotamus, rhinoceros, elephant and giraffe.  Cheekeyes also has various wooden scenery additions such as rocks and trees to make your little ones animal menagerie complete.  I found myself making the giraffe eat the imaginary leaves off the trees, and the rhino took a nap on the rock.  The boys got such a kick out of mommy playing with them and what a great way to spend family time.  These will be around for a very long time to come and the boys simply adore them already.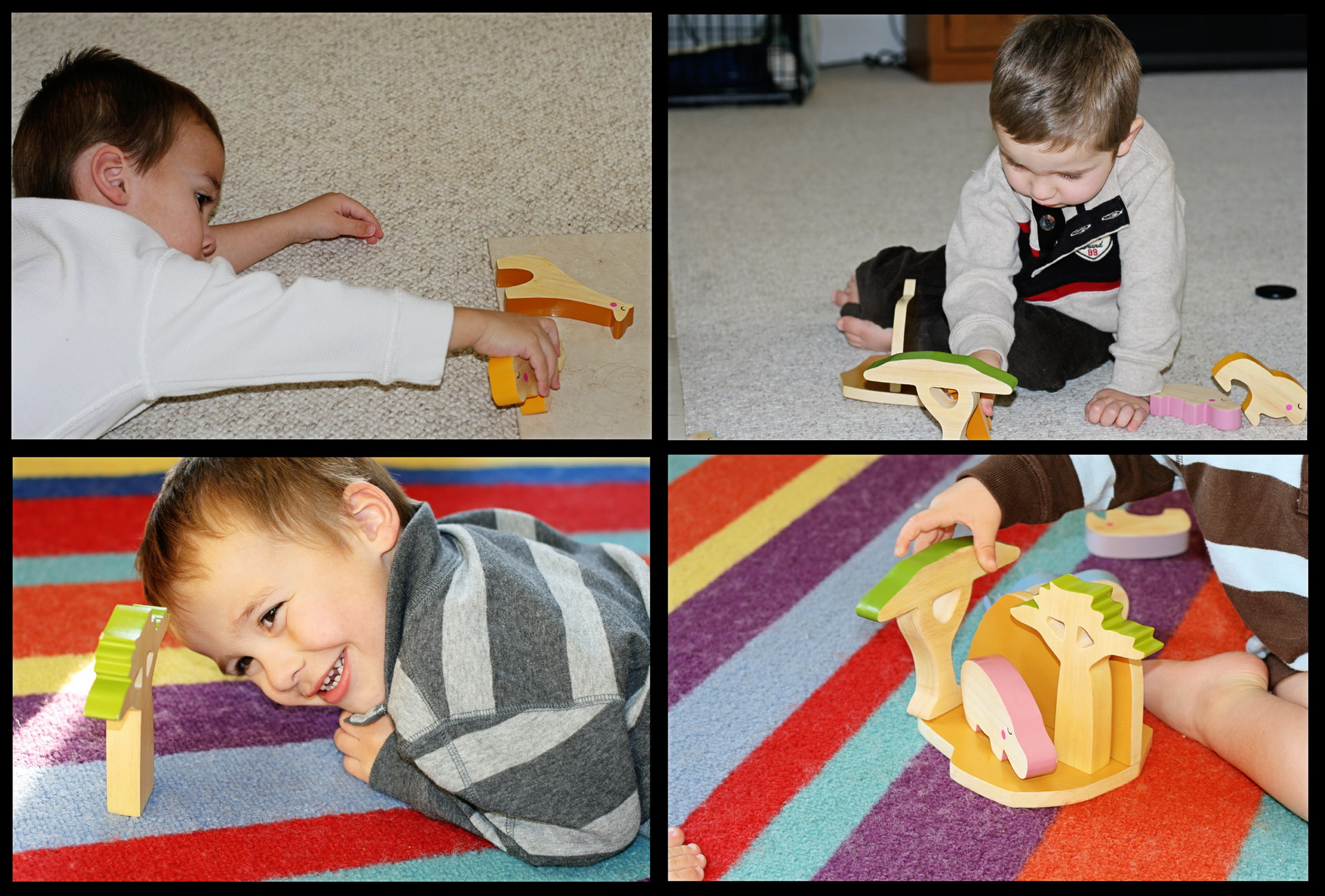 Forest Animal Set ($29.99)
The Forest Animal set comes complete with a bison,
wild boar, wolf, goat, and grizzly bear. Cave and tree
sets sold separately, $16.99 each.
African Animal Set ($29.99)
The African Animal set makes a charming collection
of inhabitants for your desert terrain, which includes a
lion, hippopotamus, rhinoceros, elephant and giraffe.
Tree set and rock sold separately, $16.99 each.
Arctic Animal Set ($29.99)
The Arctic Animal Set includes all of your
favorite polar critters, including an orca, seal,
whale, penguin and polar bear. Icebergs sold
separately, $16.99 each.
Farm Animal Set ($29.99)
The farm animal set includes all your favorite
barnyard critters, including a sheep, pig, goat,
cow and horse. Fence set and tree sets sold
separately, $16.99 each.

Cheekeyes are available online at Oompa toys and would make a perfect gift for this holiday season for your special little someone.  What a perfect way to make their holiday light up.

THIS CONTEST IS NOW CLOSED THANK YOU TO ALL WHO ENTERED!!

Would you like to win a set of Cheekeyeys animals for your own special someone this holiday season.  DoubleBugs and Oompa toys are giving away one set of your choice to one lucky winner!
Here's all ya gotta do!
Just visit Oompa Toys and tell me what set of Cheekeyes you would like and something else you like about the Oompa site.
Leave me an email so I have a way to contact you if you win
Winner has two days to respond or another is chosen.
Contest Starts November 24, 2008 and Ends December 8, 2008
Good Luck!!!