In this day and age, everything is becoming so mainstreamed and it seems that our children are being introduced to the computer even sooner.   Being a mother to two very young children, it makes me a little nervous about introducing my kids to the internet.  Although, my boys are toddlers, I still hear about all the horror stories about how teenagers go missing after talking to and meeting with strangers they have talked to online.  I think computers and kids are basically inevitable with how fast technology changes, but  I also think it is very important that your children know what these dangers and are aware of the tactics a perpetrator  can use and how to be safe while being online.  It is such a scary scary thought, and I believe education is so important and as a parent you should use as many resources that are available to you and your children
NetSmartz, a leading online resource of the National Center for Missing & Exploited Children, used their expertise to develop NSTeens to educate, engage, and empower kids as Internet users, The website, NSTeens includes bios, comics, and videos of seven teen characters. Their comic How Much Is Too Much illustrates the consequences of improper Internet use and shows the impact teens can have when they use their network to empower people. Videos cover important topics such as social networking, cyberbullying, and offline consequences. Each cartoon video also portrays interviews with teens talking about their Internet use.
I think this is a terrific way to tell your teenagers about being safe on the internet.  It teaches then in a very non intimidating fun way so they might actually pay attention!  We know how powerful just hearing one sentence can be, because those are the things kids remember if they are in trouble or in a bad situation.   NSTeens is a wonderful resource and can help your teen to make smart decisions and avoid potentially harmful scenarios.

I am a huge fan of some of the recent introductions of natural cleaning products on the market.  When you walk the cleaning isle of the supermarket you are overwhelmed by the magnitude of choices.  It wasn't until I had the boys that I became more aware of the products that I use in my home.   So, when I had the opportunity  to try Green Works Biodegradable Cleaning wipes, I was more than thrilled.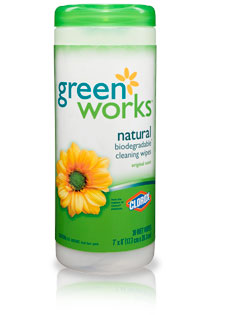 I must tell you that I love these wipes, because not only are they natural and minus all the harsh chemicals that come in cleaning supplies today, but they are easy and convenient.   If you are a mom, you know that you are almost always wiping something down.  I am a huge fan of the pop up wipes because I can just sort of grab and go.  Green Works Cleaning Wipes, also smell so fresh and clean, and I will sheepishly admit I used the whole container the first day I used them.
Green Works Natural Cleaning Wipes

99% Natural and Biodegradable which is healthy for the environment
You can use them on most non wood surfaces including acrylic, fiberglass and vinyl. Let air dry. Rinse if surface comes in contact with food.
They are made from essential oils, no phosphorous or bleach, silicon anti-foaming agent, coconut based cleaning agent, filtered water, corn based ethanol, biodegradable preservative, glycerine, and %100 wood based fibers (wipes)

New Green Works Natural Biodegradable Cleaning Wipes feature the Sierra Club logo on their package, marking the brand's financial commitment to support the organization's conservation efforts, and are recognized by the U.S. Environmental Protection Agency for using environmentally preferred chemistry.
Also, as if  their fabulous eco-friendly products weren't enough, the Green Works team  through its new "Green Heroes Grant Program," the brand team will award five grants of $10,000 each to eco-friendly community projects across the country.
Between January 15 and February 28, 2009, individuals can nominate eco-friendly community projects for a Green Heroes grant by submitting a photo and short essay about the project for consideration online at www.greenworkscleaners.com/greenhero. Each winner – or "Green Hero" – will receive a $10,000 grant to help their eco-friendly community projects grow and flourish!
Then, beginning on March 16 through April 10, 2009, you will have the opportunity to vote online for your favorite eco-friendly community project. The final five Green Heroes will be announced on April 22 – just in time for Earth Day.
For more information about the Green Heroes Grant Program, including official contest rules and entry guidelines, log on to www.greenworkscleaners.com/greenhero.
Thank you to Mom Central for this wonderful opportunity to do this review!

Teaching morals to our children is one of the most critical life lessons that they can learn.  It is up to us as parents to help guide them in the direction and hope that carry this with them throughout.  I guess as a first time parent, you are always asking yourself if you are doing things right with your children.
Life's Building Blocks, Inc., is a company that designs, creates, markets and sells an extensive line of unique products and programs dedicated to helping parents develop morals and character in children in a fun and interactive environment. Their products include books, board games, toys and DVD's.
At Life's Building Blocks, their products have several objectives
Moral Development:
Encourage children to think about everyday moral decisions and decide the right course of action.
Character Development
The initial focus will be on teaching children to understand the concepts (virtues) of Honesty, Persistence (tenaciousness), Fairness, Courage, Kindness and Self-Control.
At Life's Building Blocks, they make this learning process fun and non intimidating.  Thus, leaving valuable insight for you as a parent and giving your child the tools to make good decisions and deal with the consequences.  I think this is a really positive and good idea and it is worth taking a look at.   They offer a free e-newsletter with tons of information and resources for parents today.    Just go to www.lifesbuildingblocks.com and sign up.  It is a simple and easy way to get some really valuable tools and information.

I just recently learned about a really cool program to help rebuild some of the playing fields around the United States. So many of them are in disrepair, and even more are going by the waste side due to the lack of funds and our failing economy. These are the things that get neglected and sometimes are often an important part of communities. As a child, I can remember families gathering to cheer on their children, hanging out with my cousins, running to and from the concession stand, and just having fun. Sports are fun to watch, but also have a way of bringing people together. Often time the things that get cut or go missing are often times one of the most important and are what feed the human spirit.
Kellogg's Frosted Flakes Earn Your Stripes program has initiated a call-to-action for a national field renovation program that kicks off this coming Super Bowl Sunday with a commercial entitled "Plant a Seed."
This ad focuses on the role we all play in building stronger communities and making a difference in kids' lives. Because the Earn Your Stripes  program is about inspiring kids to be their very best, "Plant a Seed" shows that before anyone can earn a single stripe, someone has to plant a seed and help give kids places to realize their promise and potential.
The field renovation kick off will make over approximately 50 fields across the United States to help provide better places for families to stay active. Through this program, fields will once again become central and spirited places of activity and community in cities and towns across the country.
Sports aren't just something to watch, they help build determination in young people, build self esteem and confidence, and encourage the growth of friendships. These are thing that help to build a well rounded confident individual. Visit Kellogg's Plant A Seed program and nominate one of your local fields, it is such a wonderful program.
In case you haven't heard things are about to drastically change in the world of handmade toys, hand me downs, small toy companies and many more.  In Feb. our already failing economy is about to suffer more at the the hands of CPSIA.  This will have a major effect on small businesses who cannot keep up with the new stringent lead testing and the exorbitant costs of doing so.  Anything and everything right down to the hair bows on your child's head will be exposed to this scrutiny.  Books will be pulled from libraries which will have a major impact on communities whose schools are already struggling.  Are they for real?   Something needs to be done!
The following outlines some of the many problems with the CPSIA and provides insight on how YOU may be affected. Reposted with permission from Etsy sellers chichiboulie and Winklepots:
Have you asked yourself what your government is doing to protect your children from lead contained in toys? The answer? They're banning toys, taking books from schools and libraries, hurting low income families, killing entrepreneurial spirit and risking putting the economy in an even greater depression than we've seen in decades. I'd like to introduce you to their solution: the CPSIA.
Do you know about the CPSIA? No? Then I ask you to take a few minutes to find out about it.
The CPSIA stands for Consumer Product Safety Improvement Act, a new set of laws that will come into effect on 10 February, 2009 and will impact many, many people in a negative way. Make no mistake, this is very real. View it for yourself. If Forbes, the American Library Association and numerous other media are paying attention, perhaps you should too. How will these new laws affect you? Well, here are a few examples:
To the Parents of Young Students: Due to the new law, expect to see the cost of school supplies sky rocket. While those paper clips weren't originally intended for your student to use, they will need to be tested now that your 11-year-old needs them for his school project. This law applies to any and all school supplies (textbooks, pencils, crayons, paper, etc.) being used by children under 12.
To the Avid Reader: Due to the new law, all children's books will be pulled from library and school shelves, as there is no exemption for them. That's okay though, there's always television. Our children don't need to learn the love of reading after all. Article from the American Library Association http://www.wo.ala.org/districtdispatch/?p=1322
To the Lover of All Things Handmade: Due to the new law, you will now be given a cotton ball and an instruction manual so you can make it yourself since that blanket you originally had your eye on for $50 will now cost you around $1,000 after it's passed testing. It won't even be the one-of-a-kind blanket you were hoping for. Items are destroyed in the testing process making one-of-a-kind items virtually impossible. So that gorgeous hand-knit hat you bought your child this past winter won't be available next winter.
To the Environmentalist: Due to the new law, all items in non-compliance will now be dumped into our already overflowing landfills. Imagine not just products from the small business owners, but the Big Box Stores as well. You can't sell it so you must toss it. Or be potentially sued for selling it. You can't even give them away. If you are caught, it is still a violation.
To the Second-Hand Shopper: Due to the new law, you will now need to spend $20 for that brand new pair of jeans for your 2-year old, rather than shop at the Goodwill for second hand. Many resale shops are eliminating children's items all together to avoid future lawsuits.
To the Entrepreneur: Due to this new law, you will be forced to adhere to strict testing of your unique products or discontinue to make and/or sell them. Small businesses will be likely to be unable to afford the cost of testing and be forced to close up shop. Due to the current economic state, you'll have to hope for the best when it comes to finding a new job in Corporate America.
To the Antique Toy Collector: Due to the new law, you'd better start buying now because it's all going to private collection and will no longer be available to purchase. "Because the new rules apply retroactively, toys and clothes already on the shelf will have to be thrown out if they aren't certified as safe." http://online.wsj.com/article/SB123189645948879745.html
To the American Economy: Already struggling under an economy that hasn't been this weak in decades, the American economy will be hit harder with the inevitable loss of jobs and revenues from suppliers, small businesses and consumers. The required testing is far too costly and restrictive for small businesses or individuals to undertake.
To the Worldwide Economy: Due to this new law, many foreign manufacturers have already pulled out of the US market. You can imagine the impact of this on their businesses.
If you think this is exaggerating, here is a recent article from Forbes
And for those of you prepared to be stupefied and boggled, The New Law
Did you know? If this upsets or alarms you, please react.

What can you do? Please see the CPSIA Action Kit for some excellent resources, including sample letters and contact information


You can also visit Handmade Toy Alliance for more information about how this law will effect small businesses that make handmade products and an Initiative here
Please write to your local congressman even, so things don't get out of hand and we can save the little man.

In case you didn't see from my previous post I am really hoping to get the chance to attend the Blogher09 conference in Chicago this year.  This would be such an incredible learning opportunity for me.
Thanks to Mabel's Labels they are offering one lucky winner the chance to go!   The grand prize winner will be given one free pass to the the Blogher09 conference July 24-25, and will be featured as the event's chief correspondent on Mabel's Labels blog.  The grand prize includes flight, pass to the conference, and two nights paid at the Sheraton Chicago Hotel and Towers.
All you gotta do is answer the question:  What have been the rewards and benefits of participating in the blogging community?  And this is my response.
For me blogging has taken on a whole new meaning.   Being a stay at home mom you tend to be confined to being at home a lot, and especially with little ones running around.   For me, blogging has been rewarding in so many ways than I ever thought possible.   I am still in the learning process but it is something I really enjoy.
Having a blog has opened so many doors to the outside world.  I didn't use to think that I would love working with companies to get the word out about their products, and love being able to try things out and experience some of the best products out there, that I wouldn't have normally known about. Not only that, I have a place that is a home for my thoughts and a place to share with others in hopes that I offer something useful for someone.
The benefits to me as a person are so numerous.  I have been able to come out of my shell a little bit and interact with other moms and with companies, and have learned that I really enjoy it.  I get to express my honest opinions about things, and I have surprised myself, in that, I am a person who loves the challenges of presenting things in my own creative way.
You get so much out of blogging, and it is such a self esteem boost to do something you love, and enjoy, and then get the positive feedback from the people you work with.  Nothing feels better than writing something positive for a company, and then getting the "Hey that is an awesome post, thank you so much!" and then continuing that relationship down the road. I think it offers encouragement for all that is involved.
One of the best parts about blogging is you are always learning, and the opportunity for learning always exists.  Each and every day I learn something different and want to push myself a little further.
Thank you so much for this opportunity Mabel's Labels!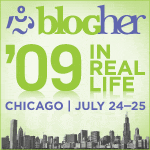 So I have been discussing with a few friends about going to the Blogher09 conference and I am thinking about how much I would love to be able to attend.  This would be such a real treat for me, at the same time, I have never left my babies before so that will be something I will have to mentally prepare for.  The one positive thing is, I get to get a chance to learn, talk with other mom bloggers, meet up with some companies, and really enjoy some relaxation and an experience of a lifetime.
I am really excited about the possibilty of getting to go, and now I just have to find a way to get there!  I still have plenty of time and hope sometime between now and then I find a sponsor or I can scrape up the change to get myself to Chicago!
This weekend me, my husband, and the boys broke out the  Play-Doh.   It has been years since I have done this, and it was so much fun to just sit around the table as a family.   Not only that, it encourages young minds to be creative and inventive.
I found myself making snakes, One of my bubs wanted a watch, and cars and dinosaurs.   Some of the stuff I made, didn't look remotely like any of these things but to the boys, they were the best thing since sliced bread!
About Play-doh

Play-Doh is a soft modeling compound principally used by children, both at home and in school. The compound is composed of flour, water, and salt, among other ingredients.

Initially a wallpaper cleaner developed in Cincinnati ,Ohio by N. W. McVicker, the compound was reworked by his nephew Joseph McVicker in the mid-1950s, named 'Play-Doh' and sold to Cincinnati-area schools as a modeling compound. When prominent department stores opened retail accounts in 1956, and Play-Doh television ads appeared on influential children's shows in 1957, the product became a hit in the United States.

Play-Doh is non-toxic and non-staining, and, though its exact composition is a trade secret, the compound's current manufacturer, Hasbro, reveals it contains water, salt, and wheat flour.

Since its introduction, Play-Doh has been manufactured in 50 different colors and has generated ancillary merchandise such as The Fun Factory and The Play-Doh Creativity Table. In 2003, the Toy Industry Association named Play-Doh to its Century of Toys List, and, in 2006, a perfumery released a fragrance inspired by Play-Doh's distinctive odor. Play-Doh is currently manufactured by Hasbro and is sold around the world.
I did not know any of this and it fascination to learn about where some of the classics are derived from.  We pulled out our rollers, and molds and whatever else we could find about 4 times this weekend.  This is such a perfect activity when you are stuck indoors.  It was such a blast, and I even took a pic of one of my creations.  Yes, folks I am a big kid at heart.
Sorry about the quality it was a spur of the moment thing!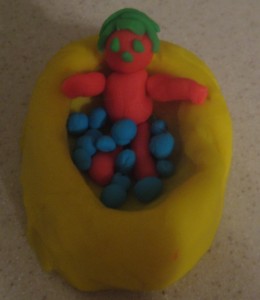 Congrats to Rosanne M.!
Winner of the My Fruit Roll Ups
Thank you to all who entered!!!
Congrats to Gabriel Stacks winner of the My Weight Loss Coach for the DS
Come back and visit often for updates and many more fun opportunities!