What's For Dinner Mondays
Ok so here's the deal. I decided to try this out. I know that Mondays are hard because you are busy getting back into the swing of things. Being a stay at home mom means my husband goes back to work and I am again working solo in all things household. I figured that I would share my dinner with you, and maybe it will help give you some ideas. I know from experience that it is so easy to get in a rut when it comes to thinking of what to make for dinner, and for alot of families you need things that are fairly easy to make.
The meals I make aren't foo foo either because being a mom of twins doen't give me a whole lot of time to fancy things up. And, I don't think toddlers care just as long as their bellies are full.
So here is today's meal!
Chicken in the crock
I just toss in 4- 6 boneless chicken breasts
1 carton of chicken stock (usually use Swanson)
2 cans of Campbells Cream of Chicken and Mushroom Soup
Toss it in the crockpot and let it go on high for about 6-8 hours
Fresh Garden Salad (toss in whatever you want…I like to buy the bagged lettuce and wash it, add a tomato, cucumber, a few grapes, and some cheese…green goddess dressing is our fav)
Steamed Broccoli (The Birdseye Steamfresh broccoli is perfect! I just add a little butter, sprinkle with salt and garlic powder)

Au Gratin Potatoes (I use the Betty Crocker ones out of the box but if you are industrious you can make your own homemade ones)
Fresh Frozen Peaches (I buy the ones at whole foods, thaw them out just a little and sprinkle with a little brown sugar and cinnamon or just a little plain sugar…the boys love these!)
This is a fairly simple meal to make and the chicken is so good.  You can also serve the chicken over rice or noodles as an alternative.   Here is my meal in pictures!  It doesn't look gourmet but the plates were cleaned!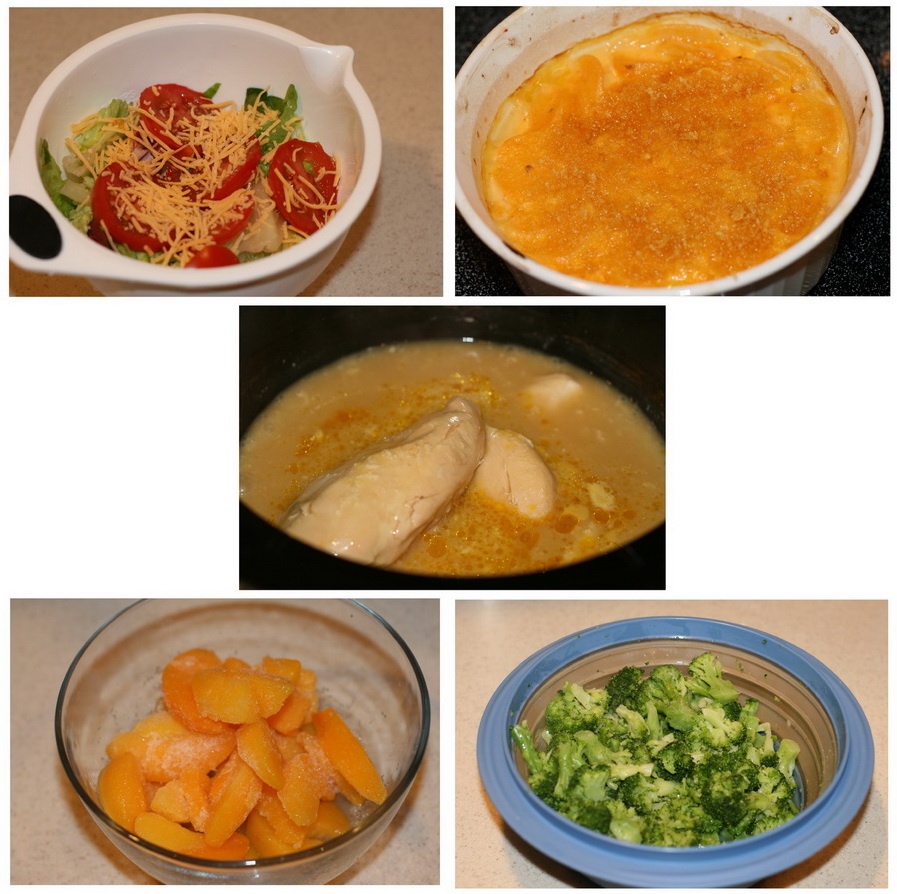 Share your Monday Dinner Ideas!