Conversation Hearts….Ever wonder about them?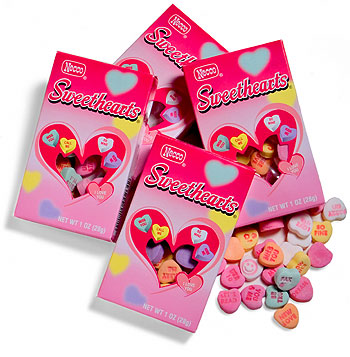 So I got the boys some conversation hearts the other day as I remember them from my childhood.   I got the standard Necco sweethearts which are my favorite and well I tried an off brand (they all tasted like toothpaste to me).  So here I was driving down the road pondering these cute little hearts with sweet little sayings on them, and wondered just how these came about.  So I did a little investigation of these sweet little gems that you can only find around Valentine's Day.   I polished off the box by the time I hit the front door.
History
Daniel Chase, brother of the founder of NECCO Oliver Chase, began printing sayings on the candy in the 1860s. He designed a machine that was able to press on the candy similar to a stamp. The candy was often used for weddings since the candies had witty saying such as: "Married in pink, he will take a drink," "Married in White, you have chosen right," and "Married in Satin, Love will not be lasting."
Sweethearts got their start in 1902. Back then, they were not only hearts but postcards, horseshoes, watches, and baseballs. Some of the sayings, such as "Be Mine," "Kiss Me," and "Be True," are still in use. In 1997, the saying "The One I Love" was brought back in honor of NECCO's 150th anniversary.
In the 1990s, NECCO vice president, Walter Marshall, wanted to update some of the sayings and retire others. NECCO receives hundreds of suggestions a year on new sayings. Including "Call me," "Email me," and "Fax me."
NECCO still uses the same formula to produce the candies. The recipe includes battered sugar, corn syrup, gelatin, gums, colorings, and flavorings. The recipe is brought to a consistency of a dough, rolled out, imprinted with sayings, stamped into a heart shape, and then put through a 45 minute drying cycle for consistency.
NECCO produces the hearts from late February though mid January of the following year. Approximately 100,000 pounds of hearts are made per day, which sells out in about six weeks.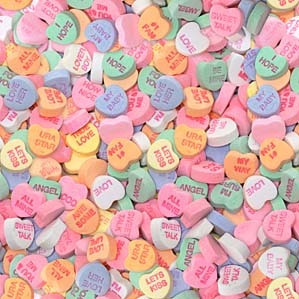 That is a lot of conversation hearts!   I still love them now.  How fun would it be to leave little sweet messages to your special someone, or you can just message yourself and get a nice sugar rush.  So there is a little tidbit for the day