Skin Care Skin MD Natural Shielding Lotion

During the winter months my skin seems to be more affected by dryness and irritation.   With the heat blowing constantly, and little or no humidity, my skin seems to suffer.  Combine that with the fact that, I am a mother, and that means my hands are always washing or cleaning something a trillion times in a day.  There is nothing worse than itchy, dried out, chemically exposed skin.  That is why skin care is so important.
I have slathered many bottles of lotion on myself in efforts to kill the flaky alligator skin I have.  So I guess you can say I have tried enough to know what does and doesn't work well.   When trying out lotion, I really pay attention to how the stuff goes on.  If there is anything I hate, it is lotion that goes on and doesn't ever go away!  There isn't anything worse than a greasy/oily lotion that if you stood in the shower you'd be a commercial for Rain-X.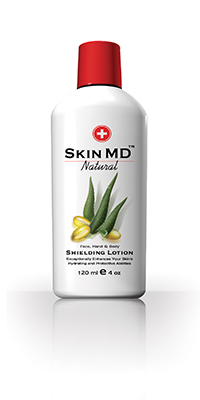 It wasn't till recently that I got to try Skin MD Natural with SPF 15, and I must say I really like this stuff.   It is such a great product for us moms because it provides the hydration that your skin needs, while providing a protective barrier to all the moisture robbing elements that we are exposed to on a daily basis.  I never had the issue with it being greasy and it sort of just disappears into my skin and leaves my hands feeling really good.   I love the fact that I can reapply whenever I need to without feeling like I was dipped in Crisco.
What is a shielding lotion?
Shielding lotions are basically lotions that bond with the dead skin cells of the epidermis, forming a protective layer with the outer-most layer. This protective layer is virtually the same as what was naturally formed with the outer-most layer of skin cells and the skin's own natural oils and lipids, up until about 100 years ago – before modern life and frequent hand washing stripped it away. This protective layer helps prevents irritating substances from penetrating the skin and getting into its deeper layers. Additionally, it helps to retain the natural moisture and oils, which are responsible for the skin's elasticity and integrity, thus helping the skin to rejuvenate itself.
Skin MD Natural utilizes the latest developments in skin care technology as well as the most effective natural ingredients to restore your outer layer of skin's natural ability to protect against dangerous toxins and irritants as well as to reduce the loss of natural oils and moisture. A shielding lotion replaces the barrier that's stripped away with the daily use of most soaps and cleansers. Plus, Skin MD, is not tested on animals, is fragrance free and hypoallergenic.   This is perfect if you have sensitive skin like I do.
Give Skin MD a try it is definitely worth it, especially now during the winter months.  It is the good stuff!