Green Works Natural Biodegradable Cleaning Wipes

I am a huge fan of some of the recent introductions of natural cleaning products on the market.  When you walk the cleaning isle of the supermarket you are overwhelmed by the magnitude of choices.  It wasn't until I had the boys that I became more aware of the products that I use in my home.   So, when I had the opportunity  to try Green Works Biodegradable Cleaning wipes, I was more than thrilled.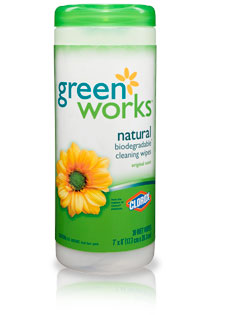 I must tell you that I love these wipes, because not only are they natural and minus all the harsh chemicals that come in cleaning supplies today, but they are easy and convenient.   If you are a mom, you know that you are almost always wiping something down.  I am a huge fan of the pop up wipes because I can just sort of grab and go.  Green Works Cleaning Wipes, also smell so fresh and clean, and I will sheepishly admit I used the whole container the first day I used them.
Green Works Natural Cleaning Wipes

99% Natural and Biodegradable which is healthy for the environment
You can use them on most non wood surfaces including acrylic, fiberglass and vinyl. Let air dry. Rinse if surface comes in contact with food.
They are made from essential oils, no phosphorous or bleach, silicon anti-foaming agent, coconut based cleaning agent, filtered water, corn based ethanol, biodegradable preservative, glycerine, and %100 wood based fibers (wipes)

New Green Works Natural Biodegradable Cleaning Wipes feature the Sierra Club logo on their package, marking the brand's financial commitment to support the organization's conservation efforts, and are recognized by the U.S. Environmental Protection Agency for using environmentally preferred chemistry.
Also, as if  their fabulous eco-friendly products weren't enough, the Green Works team  through its new "Green Heroes Grant Program," the brand team will award five grants of $10,000 each to eco-friendly community projects across the country.
Between January 15 and February 28, 2009, individuals can nominate eco-friendly community projects for a Green Heroes grant by submitting a photo and short essay about the project for consideration online at www.greenworkscleaners.com/greenhero. Each winner – or "Green Hero" – will receive a $10,000 grant to help their eco-friendly community projects grow and flourish!
Then, beginning on March 16 through April 10, 2009, you will have the opportunity to vote online for your favorite eco-friendly community project. The final five Green Heroes will be announced on April 22 – just in time for Earth Day.
For more information about the Green Heroes Grant Program, including official contest rules and entry guidelines, log on to www.greenworkscleaners.com/greenhero.
Thank you to Mom Central for this wonderful opportunity to do this review!