This weeks Small talk Six are the Six things that make me smile.
1) When my youngest of the twins sings and dances.
2.) When they laugh with that out right belly laugh. Usually when they are tickled.
3.) When they are playing and make each other laugh.
4) When the boys are learning new things and their little tongues stick out in concentration
5) When I watch my boys sleep.
6) When we do things as a family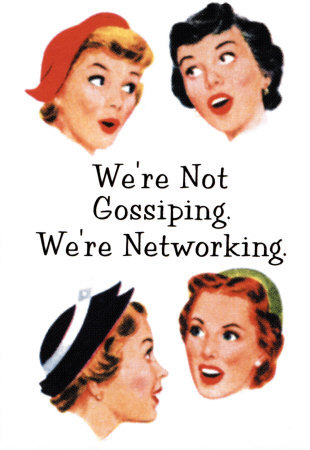 I have always been the sort of person that has been a little on the reserved side and have always been a little picky on who I make friends with.   I guess it all goes back to the horrid childhood I had when I was the center of everyone's ridicule.  I was affectionately named big birtha in my tender teen coming into puberty years, simply because I developed a little faster than everyone else.  It is one of those things you sort of never forget.
If you do make friends with me then I am one of those true blue types, and if you screw up once, maybe ill forgive you but do it again and you're history.   I guess you could say it is a form of protection that sort of dates back to all those playground moments where everyone thought they were better than everyone else.
So this brings me to Wednesday where my husband and I took the boys to the firehouse to the playground.  It was a relatively warm day and when you have boys, they need all the energy release they can get.   My husband and I decided to divide and conquer, he kept tabs on one, while I the other.   There were these two women who seemed glued to each other and their mouths were non stop.  I had passed by several times chasing monkey, and helping him cross the jungle gym when I overheard them ranting and raving on about someone elses child.   They were hot and heavy into it and I was just really bothered by it.   What gives them the right to make someone's kid the topic of their discussion where everyone can hear?  I mean seriously, are their children that perfect?
Then I am thinking to myself, these are going to be the people I may need to converse with. when my two finally do go to school?   And to make matters worse the discussion revolved around a kids learning disability!   Meanwhile, one of the women's two year old was running around in a poopy diaper that you could smell for miles for the entire hour I was there.   Maybe she needs to spend a little more time focusing on her own!  I told my husband that I fear the day the boys go to school because I dont want to meet these people in the hallway.
Why on earth would you want to make matters worse by talking about a child who probably already has to deal with this sort of thing from their peers without a label from people who are supposedly adults?  And these people are mothers?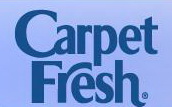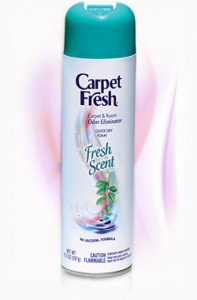 Since having children and pets there seems to always be something amiss in the air at any given time.  I am a bit particular about things smelling in my house.  If I walk in from grocery shopping and things don't smell right then I will find its source.   Since having the boys, I have acquired the mommy nose for everything!
One of my big things is any odors related to our dog.  She is one big fur ball and even though I love her, we all know that dogs can stink.  When they lay on your carpet, the oils from their fur and skin just sort of stick like a magnet to your carpet and anything else, so  I thought I would give Carpet Fresh Carpet and Room Odor Eliminator a try.
Carpet Fresh Carpet and Room Odor Eliminator permanently neutralizes carpet odors and helps keep entire rooms smelling fresh by delivering odor-fighting agents deep into carpet fibers and reaching places air fresheners can't and leaving a long lasting fragrance. Additionally, the Carpet Fresh Quick-Dry Foam format allows you to simply spray your carpets and walk away without scrubbing or vacuuming.  It dries in minutes, leaves no residue, and is safe for use around your family when used as directed.  Not only that, it can be used in your car and on the drapes.
I love the stuff because all you do is spray and walk away, there isnt anything you need to do other than that.  This is nice and it works!  I had the room smelling fresh and airy in a matter of minutes and it dries very quickly with no weird residue or sticky films.  This is perfect when you get those unexpected calls from guests that say they are stopping by in 30 min! And, the best part is that is comes in some really great scents like Country Potpourri, Morning Rain, Apple Cinnamon, Fresh Scent and Super Pet Neutralizer.
Thank you to Mom Central and Carpet Fresh for a wonderful opportunity to try new Carpet Fresh Carpet and Room Odor Eliminator!
Looks like one is floating away!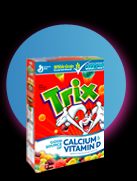 Being a first time parent, I am almost always concerned about my two little guys and their health.  From a very early age, I have tried to influence healthy food choices and make sure that they are getting a fairly balanced diet.   If I buy something at the grocery store, I am always reading the labels, to see what they are getting in their food.  We are a cereal loving family here, because it is something that is simple to make and the kids just love it.   It is a perfect snack too in the afternoon after naps, and it doesn't have to be served with milk.  My two love to have their own bowl, their cup of juice, and watch one of their favorite shows.
Recently the importance of Vitamin D in the diet has been in the news, and the importance of calcium is so important in bone growth and development.  Vitamin D is also important in bone growth and is now suggested to be a key factor in healthy lung function.   Approximately 75% of kids today don't even get the required amount of Calcium and Vitamin D in their diets, and that is an astounding figure!   The American Academy of Pediatrics has even upped the amount of Vitamin D your child should be getting to 400IU.
The good news is, that it isn't that hard to incorporate these nutrients in your child's diet.  Parents can easily get both vitamin D and Calcium in milk and many juices and now in fortified cereals.  All General Mills Big G kid cereals including Kix, Lucky Charms, Cocoa Puffs, Trix, Cinnamon Toast Crunch, and more.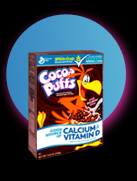 This is great news for our family because we are huge Lucky Charms, and Cocoa Puffs fans.  The boys think they have gone to heaven when I give them these cereals in their snack bowls!  Additionally, a recent report in a leading consumer magazine ranked kid cereals by nutritional content, and all nine General Mills Big G kid cereals included in the report were ranked in the top half. All Big G kid cereals have at least eight grams of whole grain per serving (at least 48 grams are recommended daily), and all have 12 grams or less of sugar per serving.  This is awesome, and you can feel good about giving them something they love and not worry about them getting a ton of sugar.
Cereal is one of the most nutritious breakfast options a kid can eat. Most cereals have about 100 – 130 calories per serving and provide at least 10 key nutrients. And, ready-to-eat cereal is the number one source of whole grain in American diets.  If there is one food that your child would eat than at least you know that it has nutritional value.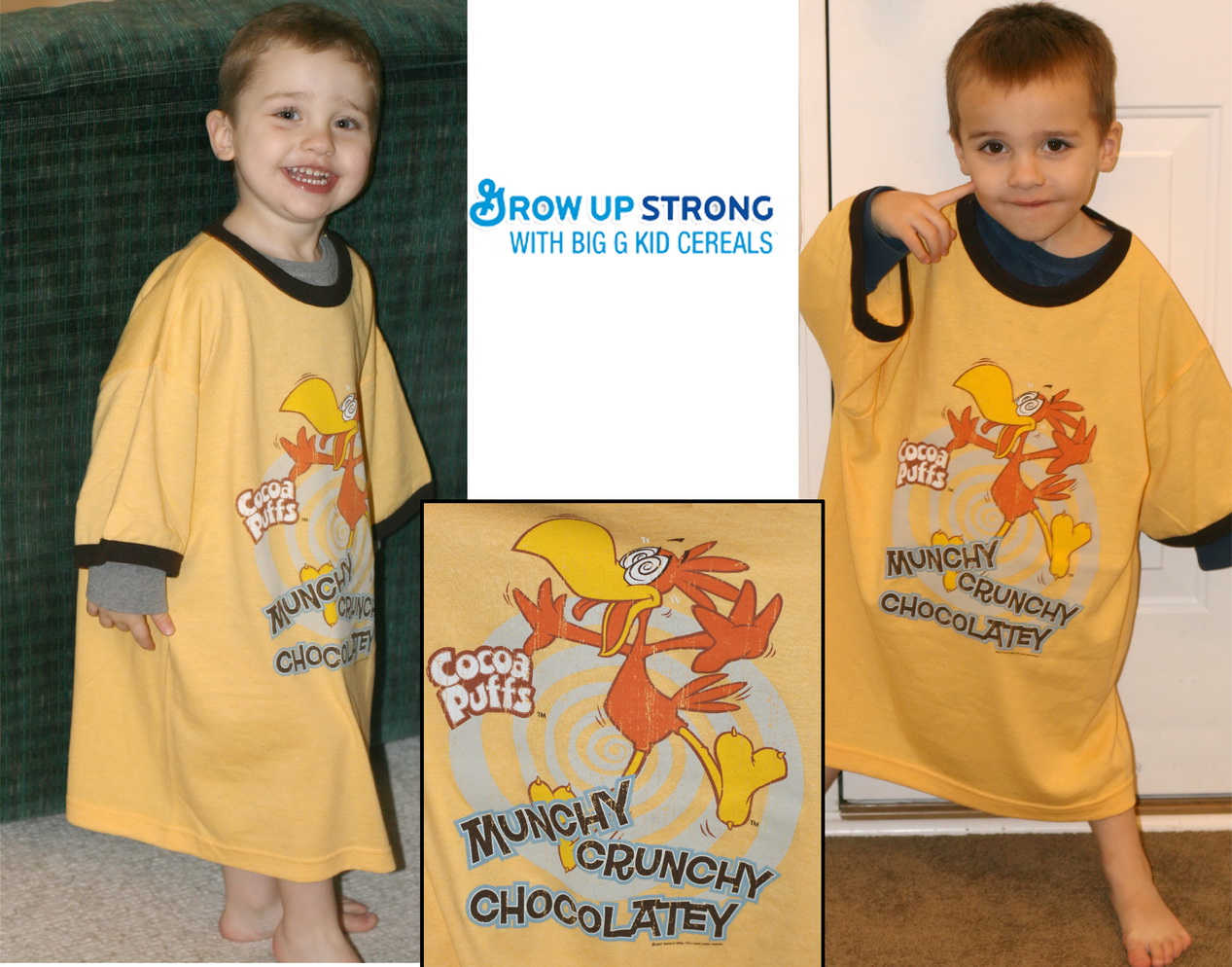 This Giveaway Is Now Closed
As part of a healthy diet and the love of  Big G cereal (especially Cocoa Puffs), DoubleBugs  is giving away these totally adorable and way cool Cocoa Puffs vintage ringer Ts (child's sz large) to 9 lucky winners.
Here's all you gotta do!
Leave me a comment on what your child's favorite Big G cereal is, and yours too.
Please leave me an email so I can contact you if you win
Winners are chosen at random via Random.org.
If Winner Does Not Respond Within 2 Days the prize is forfeited and donated!
For Additional Entries (please leave as an additional comment):
Tweet about this post
Follow me on Twitter
Blog about my contest and give me the link!
Put my badge on your sidebar


That's all you gotta do!
Contest Starts February 25, 2009 and Ends March 11, 2009
Good Luck!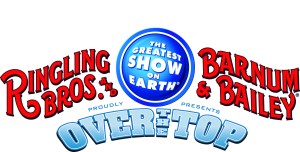 We love the circus and the boys first real show was actually to go see the Ringling Brothers Circus.   They were in awe of all the stuff going on and they loved it.  They were just 18 months, when we took them and it held their interest the entire time. I can remember the trips to the circus when I was a child and have fond memories of cotton candy and watching all the amazing acrobatics.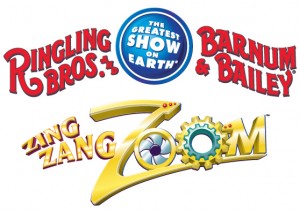 The newest production from Ringling Bros. and Barnum & Bailey  ZING ZANG ZOOM is sure to have children of all ages engrossed and delighted, and is a perfect night out for the family.  With the economy posing a challenge for many families, the value of a night out at Ringling Bros. is worth many years of fond memories and worth its weight in gold.  The experience includes the All Access Pre-show, a fun opportunity to meet circus performers and dress up in clown costumes, which happens one hour before each performance.
Thanks to Mom Central And Ringling Brothers you can have the chance to take your family to the circus without breaking the bank.
·    Offer #1: Get 4 tickets for just $44 by entering the code "MOM" at select ticketing channels**. Offer good on all performances, minimum purchase of 4 tickets required; additional tickets above 4 can be purchased at $11 each. Offer not valid on Circus Celebrity Seating, Front Row and VIP seating and cannot be combined with other offers.  Other Restrictions May Apply.
·    Offer #2: A select amount of Front Row and VIP seats have been reserved for you to buy before they go on sale to the public – just enter the code "MOM" when purchasing those seats. Dates and cities where families can use the national MOM discount code this spring are as follows:
Newark/East Rutherford/Uniondale/NYC
Ringling Bros. and Barnum & Bailey® presents ZING ZANG ZOOM
March 5 – April 13
Offer not valid on performances from April 10 – 13 at Madison Square Garden
Washington D.C./ Fairfax, VA/ Baltimore, MD
Ringling Bros. and Barnum & Bailey® proudly presents Over The Top
March 18-April 19
Philadelphia
Ringling Bros. and Barnum & Bailey® presents ZING ZANG ZOOM
May 13-May 25
Phoenix
Ringling Bros. and Barnum & Bailey® presents ZING ZANG ZOOM
June 24-June 28
Houston
Ringling Bros. and Barnum & Bailey® proudly presents Over The Top
July 15-July 26

Anaheim/LA/Ontario
Ringling Bros. and Barnum & Bailey® presents ZING ZANG ZOOM
July 8-August 2

San Francisco
Ringling Bros. and Barnum & Bailey® presents ZING ZANG ZOOM
August 12-August 23

Dallas/Ft Worth
Ringling Bros. and Barnum & Bailey® proudly presents Over The Top
July 29-August 16
Sacramento
Ringling Bros. and Barnum & Bailey® presents ZING ZANG ZOOM
August 27-August 30
Kansas City
Ringling Bros. and Barnum & Bailey® proudly presents Over The Top
September 16-September 20
To find out more about ZING ZANG ZOOM or to see which Ringling Bros. tour is coming to a town near you, visit www.Ringling.com. And visit www.ticketmaster.com to use the 4 tickets for $44 code, MOM.  This is such a wonderful offer and is hard to pass up.  I can hardly wait to take the boys to the circus again and create magical memories and a lifelong tradition that they can someday pass on to their own children. Have fun at the circus!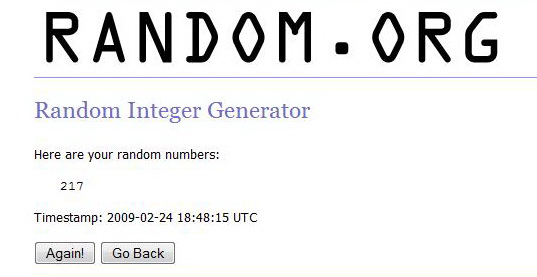 Congratulations to Cher the winner of the FLOR Seagrass Giveaway!
Thank you so much for entering and commenting it was so nice reading everyone's comments!
Come back and visit DoubleBugs oftern for mor great opportunities!


I sheepishly admit to ignoring a lot of things about my car. I am usually almost too busy to even think about the little things like keeping the windows clean and changing my wiper blades.
What I didn't know was that you should be changing them at least twice a year! I don't think that mine have been changed on my car in over two years.
As you can imagine having a good set of wiper blades is extremely important in the winter months and especially in the rainy season. I know without a good set of wipers on my car I can barely see in the rain and especially when its raining at night.
Clear visibility while driving is extremely important and can improve reaction times in poor weather conditions. In fact, according to a report released in June 2008 by sciencedaily.com, nearly a quarter of all automobile accidents occur in rainy and wet weather so making sure you have properly working wiper blades is important to help avoid accidents in poor weather conditions. By routinely checking your wiper blades and performing safety checks on your car you can help increase your safety while driving during inclement weather.
Since winter is not quite over yet here are some tips to stay safe while driving in the rain, snow, slush and ice:
• Conduct a regular walk around checking your lights, antifreeze, windshield washer fluid and wiper blades regularly
• Ensure your tires are properly inflated and have sufficient tread
• As the temperature drops keep your gas tank at least half full; the extra gas reduces condensation that can plug your fuel line with ice and stall your engine in cooler weather
• Create an emergency pack; items like a blanket, first aid kit, snacks (I have snacks on hand anyway!), bottled water, an ice scraper, flashlight and a bag of kitty litter .

I just recently tried out the new RainX Latitude wipers , a bottle of Rain-X X-treme Clean glass and plastic renew-er, and a bottle of Rain-X Weatherbeater 2-in-1 Glass Cleaner + Rain Repellent and I must say that I love them. The RainX Latitude wiper blades have a contoured design that fits more snugly to your windshield to help remove snow, ice, and rain more effectively. They were a snap to put on which is a plus for car challenged people like me.
The 2-in-1 glass cleaner and rain repellent is excellent. I am amazed at what a difference it makes when it is raining outside. In stead of the rain completely coating my windshield it sort of just beads up and rolls off which helps a great deal for visibility when you are in a downpour.

RainX Latitude Wiper Blades
Easy Installation
For use on either originally installed standard or curved style wiper blades
Pre-installed with small j-hook adapter and contains multi-adapter for side pin, large j-hook and bayonet wiper blade arms
Rain-X Latitude® Version -2 wiper blades fit I&L (Insert & Lock) and PTB (Pinch Tab Button) wiper blade arms
High Performance Wipe
Contoured design applies even pressure along the entire blade length
Specially blended graphite coated rubber blade delivers the ultimate smooth, clean, chatter-free wipe
Built-in aerodynamic spoiler significantly reduces drag, noise and wind lift
Ice Resistant Frame
Prevents ice and snow build-up through the elimination of exposed metal components
Durable, rubber-encased substructure increases wiper flexibility and adherence to the windshield in harsh conditions
I will now be a little more vigilant in changing my wiper blades, because it makes such a difference!  I didn't think that just changing your wiper blades would make such a difference.  It's nice to be able to see out the window without feeling like the outside is a hall of mirrors.
THIS GIVEAWAY IS NOW CLOSED!  THANK YOU TO ALL WHO ENTERED

On behalf of My Blog Spark and DoubleBugs we would like to give you the chance to win  1 Rain-X Car Care Kit . The kit contains: 1 set of Rain-X Latitude (for your make and model of car), a bottle of Rain-X X-treme Clean glass and plastic renew-er, and a bottle of Rain-X Weatherbeater 2-in-1 Glass Cleaner + Rain Repellent.
Here's What You Gotta Do!
All you have to do is visit  RainX and find a useful tip and come back here and comment on what you learned along with how often you change your wiper blades.
Leave me an email so I have a way to contact you if you win
Winners are chosen at random via Random.org.
For Additional Entries (please leave as an additional comment):
Tweet about this post
Follow me on Twitter
Blog about my contest and give me the link!
Put my badge on your sidebar


That's all you gotta do!
Contest starts February 23, 2009 and Ends March  9, 2009
Good Luck to You!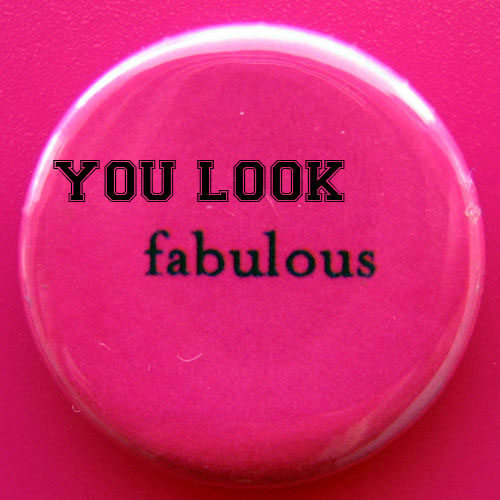 Well I had to say goodbye to my best friend Tanya today.  I had so much fun just having some girl time together.  And for the first time in many  months I actually got to go out to eat with her and we had no children with us.  I think on her trip here we ate more than I eat in a given week, and I feel as if I can hibernate LOL.
We spent a lot of time working on my new blog design, and ran into some major technical difficulties when the site totally crashed.  There was some sort of an array error that was given as a result of adding a widget and it caused my blog to go bye bye.  It was pretty scary for awhile because we weren't certain if it could be recovered.  Naturally, I was in panic mode because that would have been 10 months of work out the window and I would have been crushed because I had come so far.  But, thanks to my dear husband he was able to contact out host and get a recovery from last Sunday, so I only lost a weeks worth of posts which we had saved so all I had to do was add images.
I am very happy with how things are shaping up.  I am in love with this new theme and the header that was designed for me by Lauren and so thankful for all the tips and tricks that Tanya showed me while she was here.  I love how neat and clean everything looks and I think once I get accustomed to navigating everything, I will love it even more. The new design also just makes me feel so happy and motivated.  It's a good pick me up when you make a change!
I hope everyone likes my new look. Let me know what you think.
Along with my changing age, I am currently in the process of changing my site.  So, if you notice things looking a little  bit crazy for the time being, it is because I am trying to get comfy in my new digs.  I am really liking the new layout and am totally excited about it.  It will be a refreshing change from what I am used to.
Today we celebrated my birthday and I went out to lunch with my best friend and it was so nice to just go out minus any kids.   We then did a little window shopping and sort of browsed around and bought a few little things.  We all had dinner at the Japanese steakhouse and the boys loves it!  They had so much fun watching the chef throw things around and they were really good.  So, all in all, it was a great day.