Somebody's Mothers Chocolate Sauce

I am definitely a chocolate lover, but who isn't?   Id probably have chocolate with every meal if you let me, but that isn't very good for the waistline, but great for releasing the happy joy endorphins.   I am always on a quest to find some of the most divine chocolate creations on the market, when someone suggested I try Somebody's Mother's Chocolate sauce and they were nice enough to send over their Chocolate Sauce, White Chocolate Sauce, and Caramel Sauce which I have now strategically hidden in the refrigerator
About Somebody's Mother's
When Somebody's Mother's three children were little, Somebody's Mother hoped that their summer lemonade stands, which focused on advertising, cash flow and customer service, in addition to flipping quarters, would awaken in them an interest in business so that one day they might actually support themselves. Two of the three are now in college studying…acting.
In April 2005, Somebody's Mother and her children launched a company in order to produce and sell a really great chocolate sauce (made often over the years at home by Somebody's Mother's Mother) which can be eaten warm over ice cream, at room temperature fastened to fruit, or cold straight out of the jar. What began as a grown up lemonade stand has become a nearly booming business.
We had planned this past weekend to have a bit of an ice cream social in our house, and the boys were very excited to get ice cream.   My husband said since I twisted his arm, that he would love a sampling as well.   So I scooped up the ice cream, drizzled it with Somebody's Mothers Chocolate and Caramel Sauces and added a few colorful sprinkles, and I didn't hear a peep out of anyone.  Meanwhile I am hanging over the jar with a spoon of the chocolate sauce in my mouth.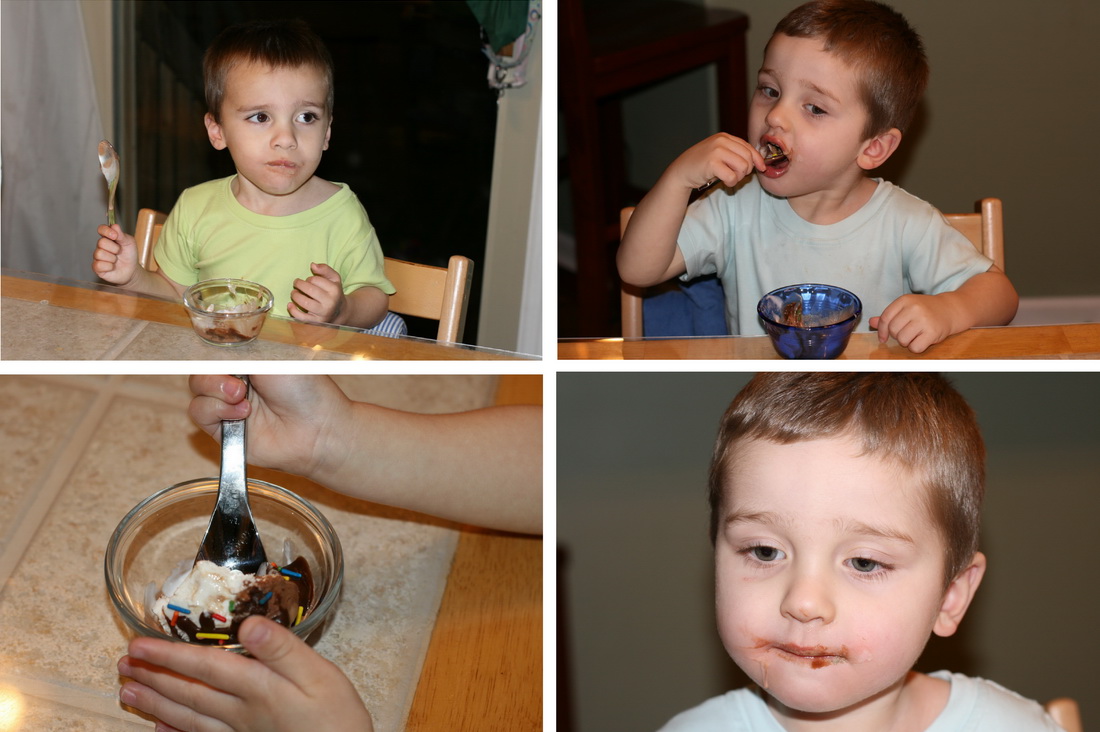 The sauce has no preservatives and is just plain chocolate, which I love.   There isn't anything that you cannot pronounce in the ingredient list.  You can eat the chocolate cold or hot, and I'm pretty content with a spoonful of it either way.   The boys bowls were cleaned, and faces were messy which is a pretty good indicator that this is some of the best stuff around!  In the afternoon after a particularly stressful day a bowl of Haagen Dazs vanilla ice cream with Somebody's Mother's Chocolate sauce is an instant stress reliever.
For Stress Relief

You can serve this chocolate sauce over just about anything, dip your strawberries, dip your spoons, over ice cream, over brownies.  The white chocolate sauce is divine over baked pears with cinnamon.  The possibilities are endless.
You can also check out their new gift boxes, a perfect anytime gift or even better, Mother's Day is coming up and Somebody's Mother's would make a perfect gift!