Random Thoughts From The Bathtub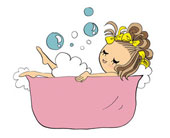 Well baths are supposed to be relaxing but it seems to be a time when my brain just keeps going.
Is that the doorbell I hear?  Who is that at this hour?  Girl Scout cookies?  OMG I think it is, they are here.  Thin mints!  (Later found out dh only ordered me one box).
I really need to stop biting my nails, they look really bad especially when pruned from the bath tub.
ER is on tonight
Oh crap I forgot my towel
Wonder what that noise was, who is crying now?
Underwear, I wonder who invented them?
Wonder what I should make for dinner tomorrow?  Tomorrow is Friday woohooo!
This blueberry smoothie shampoo smells good and its tear free, I wanna try it, I have been smelling fruity all night.
What is poking my leg?  (a blue rubber snake, and a plastic dinosaur)  You gotta love bathing with a jungle.
Would be nice if I had a tv screen in the mirror.
This would be a good blog post.