Random Thoughts From The Bathtub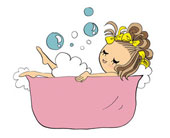 Tonight, I spent a good deal of time doing research on what fish oil is the best to buy.  I am about to embark on a healthy eating dtreak and since I hate fish of any kind, I am looking to supplement.
Here my thoughts for tonight"
I am going to have to give up brownies, this sucks.  Well I don't have to give them up completely.
I need to organize my office!
I need to go to Whole Foods tomorrow.
Maybe I should sleep in. Sleep in?  What's that?
I really want to get my garden ready, blach I am too tired
I still need to stop biting my nails!
There are thin mints in the pantry, how the hell am I going to diet with those in there?
I wish I had a maid, well and a cook, and a gardner.
Oh I have to finish a review, well I need to finish three this weekend.
Wonder what Blogher will be like.
I really need to turn my brain off when I'm trying to relax in the tub!