I absolutely love The Cheesecake Factory, and in fact I was in mourning that there wasn't one near me, but in the last year they opened up one about ten minutes from my house!  I love all the choices they have on their menu and their cheesecake is to die for!  I admit I am not a huge fan of cheesecake but I never pass it up when I am there.
The Cheesecake Factory is giving away a trip for 4 to Florida!   You have the chance to win, just by sharing your pictures of a celebration.  Not only that, if you share the contest with your friends you can gain extra entries in to the contest. Take a look at the awesome prizes! You must hurry the deadline is June 30, 2009!
What you can win
By entering, participants receive a chance to win:
o Trip for 4 to Florida – Airfare, Hotel, Disney Resort Passes, and $1,000
o Chance to win a $25 gift card, or $500 in gift cards to Cheesecake Factory!
o Cheesecake for ONE YEAR!! (uh who wouldn't want cheesecake for a year from The Cheesecake Factory?!!!!)
How to Enter
During the Promotion Period, go to http://www.thecheesecakefactory.com/celebrate (the "Promotion Page") and fill out the online entry form. Complete and submit the online entry form including a valid home address. P.O. Boxes are not permitted. If this is your first visit to the site you will be required to upload one (1) photo or image of a celebration (the "Photo"). By uploading your Photo, you agree to the terms and conditions of these Official Rules, that your Photo conforms to the Photo Guidelines and Content Restrictions as defined below (collectively, the "Guidelines and Restrictions") and that Sponsor, in its sole discretion, may remove your Photo and/or disqualify you from the Promotion if Sponsor believes, in its sole discretion, that your Photo fails to conform to the Guidelines and Restrictions or if Sponsor determines, in its sole discretion, that removing your Photo is necessary in order to protect the name, reputation or good will associated with Sponsor or its parent, subsidiaries or affiliates.
Photo Guidelines

:

The Photo must be in .jpg format;
The Photo must not exceed 5 MB in size;
The Photo must contain a caption and description; and
The Photo's caption and description must be in English
The Photo cannot have been submitted previously in a promotion of any kind or exhibited or displayed publicly through any means.

Content Restrictions

:

The Photo must not contain material that violates or infringes another's rights, including but not limited to privacy, publicity or intellectual property rights, or that constitutes copyright infringement;
The Photo must not disparage Sponsor, Administrator or any other person or party whether or not affiliated with the promotion and administration of this Promotion;
The Photo must not contain brand names or trademarks other than Sponsor's mark, which entrant has a limited license to use for the sole purpose of creating and uploading a Photo in this Promotion
The Photo must not contain text, images or artwork not created by entrant;
The Photo must not contain or depict material that is immoral, unethical, illegal, inappropriate, indecent, obscene, hateful, tortious, defamatory, slanderous or libelous;
The Photo must not contain material that promotes bigotry, racism, hatred or harm against any group or individual or promotes discrimination based on race, gender, religion, nationality, disability, sexual orientation or age; and
The Photo must not contain material that is unlawful, in violation of or contrary to the laws or regulations in any jurisdiction where Submission is created.

The complete List of Rules are HERE
In honor of this celebration, The Cheesecake Factory would like to offer DoubleBugs readers the chance to win a $25 gift card to their restaurant!
All you gotta do is visit their site here, take a look around and drool a little and click on the link to  The Share Your Celebration Sweepstakes and enter if you wish!  The music is really catchy and you might find yourself dancing like me LOL!  Come back here and tell me what you love about the Cheesecake Factory and what your favorite celebration memory is.
THIS CONTEST IS CLOSED
For Additional Entries (*leave a comment for each additional entry*)

Add my button to your blog
Add me to your Twitter
Tweet about this fab contest and giveaway
Blog about it
Subscribe to my Blog
Add me to your technorati favorites
Contest starts June 29, 2009, and Ends July 31, 2009
Congrats to the Winner of the Little Miss Matched Giveaway!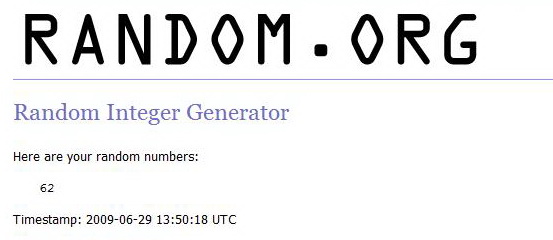 I just sat down to my computer to read over some emails and catch up when I read the news that Billy Mays the Oxi Clean dude just died!   There are no given causes for his death but I read that there was speculation that it was from a hard plane landing on a flight where some overhead luggage smacked him in the head.
I guess with head injuries you can feel fine and then something major can happen.  No one knows what exactly happened to Billy Mays but all I can say is what a week!  First Ed McMahon, Then Farah Fawcett, Michael Jackson and now Billy Mays!  This is all kind of creepy!
This all just goes to show how very short life can be, and you never know what is going to happen and sometimes just thinking about that scares the crap oout of me.  I think that I have heard about enough death this week to last me for awhile.  I hope that the rule of three doesnt apply here, otherwise heaven forbid we hear of more celebrity passings.  I am not all too fond of celebrities and all the hoopla they have surrounding them, but I wouldn't wish this on my worst enemy.  What is going on?  This is so weird!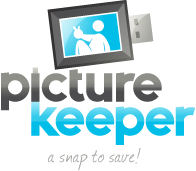 This day and age everything seems to be reliant on computers.  I know that I am on mine close to 8 hours a day and it is where I do a majority of all my writing and storing of just about everything.  Since we are smack in the middle of the digital age when it comes to cameras and taking pictures, it is only natural that you are storing them on your computer. When it comes to backing up images on your computer I bet a lot of us fail miserably.
I take tons and tons of pictures of the boys and I will have to sheepishly admit, that I don't have too many of them hanging on my walls. Let's face it in the digital age of picture taking, we all get lazy and get all too comfortable with the idea that we have them stored somewhere on our hard drive.  The reality of it is, that, hard drives fail and ultimately put you at risk for losing all of your precious memories.  My husband has a server in which he keeps a lot of our important files and photos on, but even then, I like to keep a disk or something that holds my pictures in a safe location far away from the computer.  Anything can happen and knowing that I have some alternate location for storing my photos eases my mind.
Up until now, there really wasn't an easy way to gather all of my pictures on my computer.   I store all of my photos in different locations on my hard drive.  I have photo files dedicated to reviews that I do here, my photography business stuff is stored in another file, and the pictures of my boys are in another.   So everything is sort of all over, and wouldn't it be nice to just be able to  have a device that does all the work for you and gathers all the pictures on your computer, organizes them, and wahlah, you have them all together?
Well now there is a simple solution, and what I like to call my magical anti-stress device, called the Picture Keeper. I was recently given a Picture Keeper to try and I am very impressed!  The Picture Keeper is a little USB flash drive that creates a backup of your images simple by plugging it in your computer and clicking the "start backup" button.  Then it works its magic and finds all images with jpg extensions on the computer. If you wish to backup other images with a different extension there are advanced option to where it can save additional file types.   The folders and sub-folders are copied just as they are on you computer! And it gets even better. If you have multiple computers, which I do, you can just plug it in on the next computer and do the same thing.  There is no special setting, and Picture Keeper does the work.  When you want to go back in and update your files and do another backup, you don't have to remember what files you have or haven't gotten because the Picture Keeper will do that all for you as well. Do they make husbands like this? LOL
Being someone who takes a lot of pictures and in the photography business, I am always conscious of the fact that I have so many pictures and that computers do fail, and having some other form of a back up is critical. The Picture Keeper is nice because I can set up a few different backups and store a few of these flash drives in various locations. I would recommend getting several,  and keeping one in your home, giving one to a trusted family member to hang on to, and maybe keeping one in another location. This way you have multiple back ups in case something happens with your home then you have all your memories preserved.  Just to see how it worked, I plugged it into my laptop and let it go.  Later when I did a backup on my main computer with all my photos, it was just as simple.
ABOUT PICTURE KEEPER
Inventor Matthew Stanchie knew there had to be a better way to backup digital images. Despite working
for Hewlett-Packard, the thought of backing up his personal photos gave him a headache, and he could
only image what others without a background in computers went through. So, he created a user-friendly
program that automates the task (making sure to get the approval of an evaluator from his target
demographic—his wife.) Picture Keeper plugs into any PC, including Macs, and copies all images with
one click. With Picture Keeper, it's a snap to save.
Picture Keeper is available in 4GB, 8GB and 16GB sizes online at www.picturekeeper.com.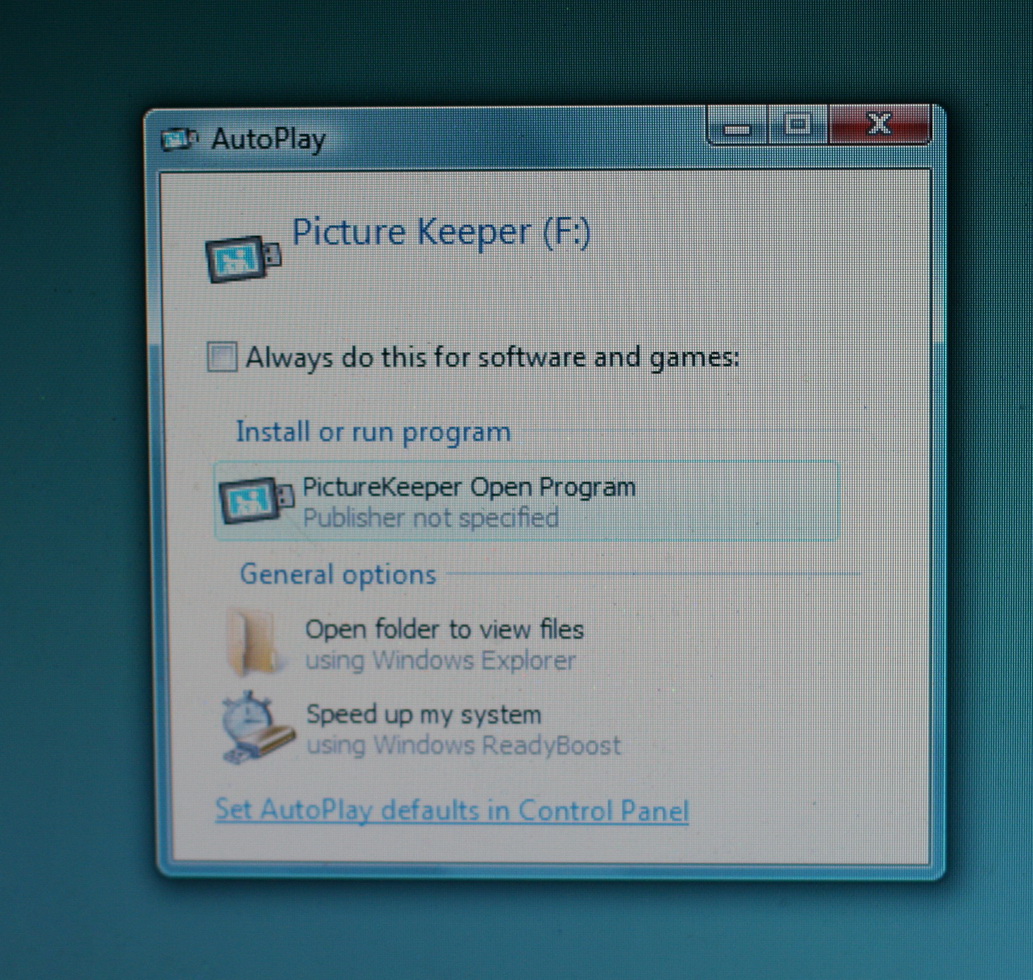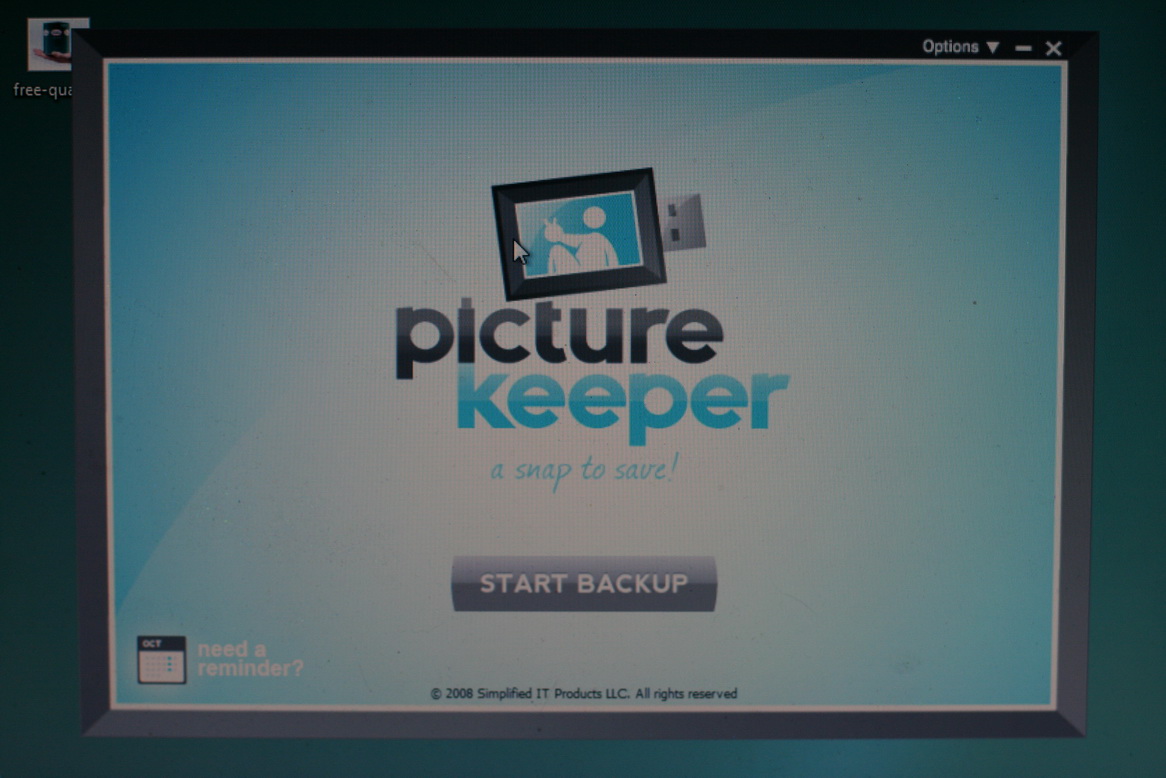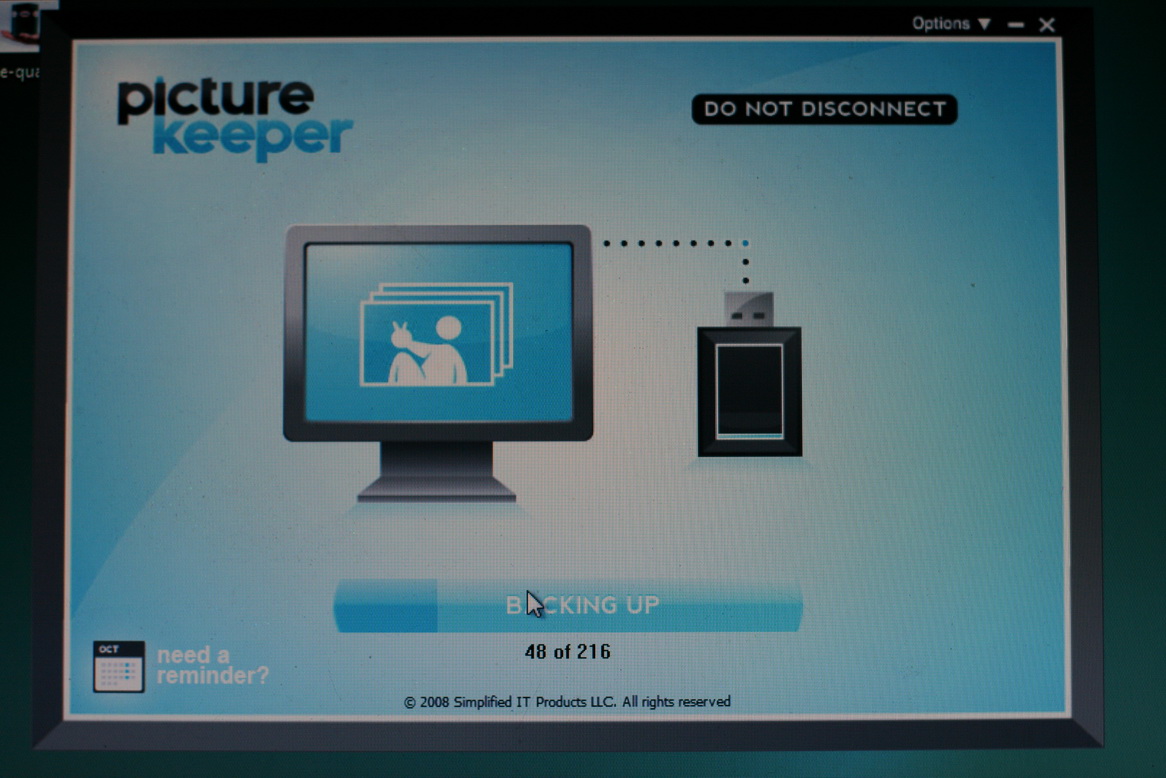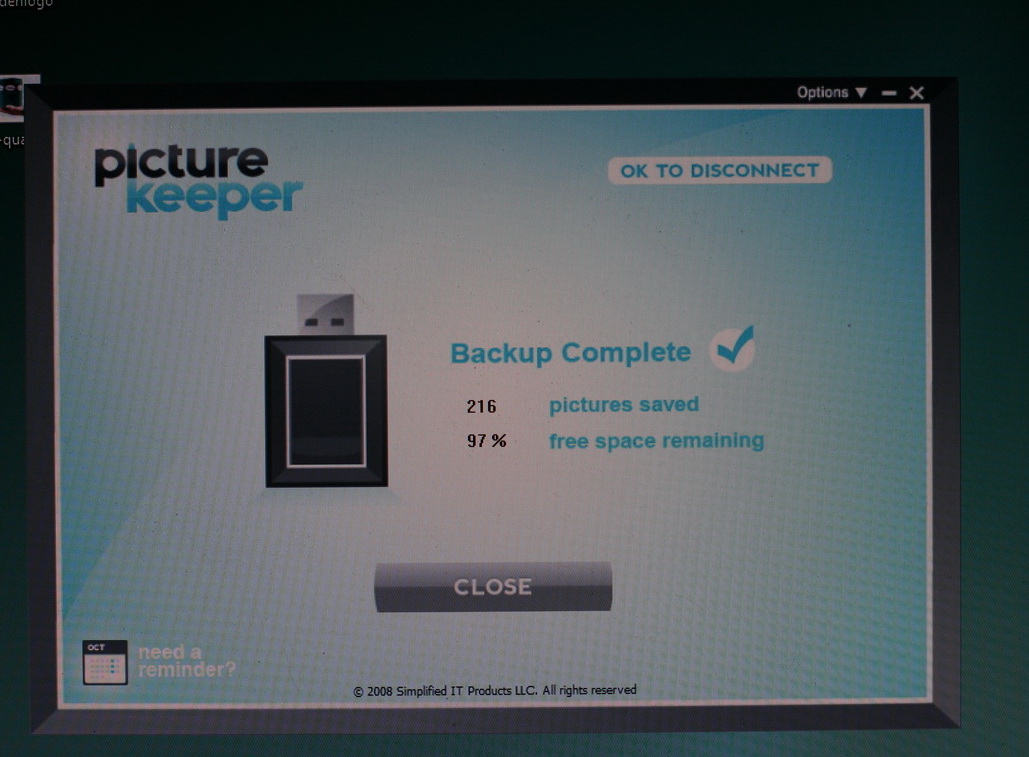 I was amazed at how fast all my files were backed up and how easy it was to use. Anything that can make my life easier, is a huge plus. The Picture Keeper is so awesome that Dr. Toy awarded them with a Best Vacation Product for Summer 2009 Award. I definitely give The Picture keeper the mom seal of approval and I applaud it's ease of use. It isn't a complicated gadget and yet it is worth a million dollars if something ever happens to your photos. Picture Keeper retails for 8GB ($39.99) and 16GB ($59.99).  The price is worth it when you consider how much it would be if you lost all of your photos!
Would you like to win a Picture Keeper of your very own??? DoubleBugs is giving away an 8GB Picture Keeper to one lucky reader.
THIS CONTEST IS CLOSED

Here's what you gotta do.
Mandatory
Leave me a comment and tell me one of your worst nightmares in losing your photos or why you think you might like to have a Picture Keeper.
For Additional Entries
You can tweet about this contest
Blog about this contest
Subscribe to my feed
Add me to twitter
Add me to your technorati favorites
Grab my button
Winners are Chosen Via Random.org
If Winner does not respond in 48 hours a new winner will be drawn
Contest Starts June 28, 2009, and Ends July 31, 2009
Just when I thought my life was leveling out and I was getting to where my house was clean and everything in its place, I decided to have   sale.  If you know anything about garage sales you know you have to temporarily tear things up to get it organized.  So after it was over, I vowed to have a weekend where I relaxed.
My plans were quickly dampened by a flooded basement.  We have finally gotten that squared away, sent out a mountain of trash from the flood (I am sure the garbage man appreciated that). And now, our basement is back to normal.  It is probably cleaner than it has been since we moved here!  You know that sense of satisfaction you get when its all done?  Tonight I stood in the basement and just took in how clean it was, but then I came upstairs and saw a big mess!  My job is never done.  So my relaxing weekend will be spent getting my upstairs functional and I hope that will be it for awhile.  I need a vacation.
I just sat down at my computer to hear that Michael Jackson had died along with Farah Fawcett, and Ed McMahon.  The weird thing about it all, is you know that saying that these things happen in threes?  I can honestly say that I used to like Michael Jackson, but after he went downhill in his mental state, I was totally turned off.  SO I guess I wont be winning the readers digest sweepstakes and Ed wont be coming to my door.  Ans as for Charlies Angels, I used to watch that show all the time, but I vaguely remember Farah in it.  Well rest in peace everyone!  I guess I am at an age now where all the celebrities that I love are going to bite the dust!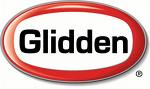 I have heard through the grapevine that Glidden Paint is giving away a free quart of paint!  It's only good for today 6/25/09 so hurry and get yours!  You just pick your favorite color!  I can think of a ton of things I can do with some extra paint.  I have a few chairs that need touched up, some trim to paint, or I can even paint a few blocks on my wall for a cool look.  Just a word of warning the page is loading very slowly, due to the amount of traffic. Who couldn't use free paint?  Hurry and go get yours now!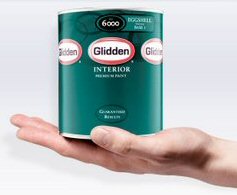 Fun At The Splash Pad!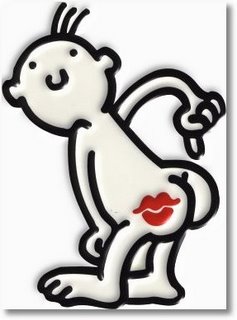 Opinions are like (well you know) and everyone has them. When I make a purchase or decide to buy something, I will look around and see what other people are saying about it but ultimately, I have to be the judge.


When I do a review, I try to give people my overall honest opinion about something and if it is a product that I don't like then you won't find it here, on my personal blog. First of all, I like to present products that I like and that I think other moms may like, and secondly, I refrain from posting negative reviews because my time is limited and it is easier to contact a company and just say hey, I don't think that this is a good fit because of this or that.


Many people think that because you receive a free product that you have just been bought and sold. Although free products are nice, a lot of work goes into my reviews, and that 2 hours I spend posting and sometimes more is so worth that $3.00 box of ice cream I got to try! After all, I sit in my mansion with my free butler service, my free appliances, my free groceries, and eat bon bons in front of my computer glorifying my free stuff just for everyone here.


The truth of it is, I am a stay at home mom, with two children to run after, 10 plus loads of laundry to do each week, a house to maintain, meals to cook, butts to change, cat puke to pick up, dog hair to vacuum, grocery shopping to do, and then I come on here and spend 8 plus hours posting reviews that sometimes take me 3 hours to post with photos, just so I can blow smoke up someone's *** about my free ice cream!
I enjoy review blogging and having fun with giveaways because it is so cool to hear that someone benefited from something they won here or from an opinion that I gave about a product I liked. If you get home and don't like something that I said I liked then I can't help you. You were a little too naive in your thinking. It's just as bad as saying "hey she said it was turquoise and I say its aquamarine" lets sue her because her opinion lied to us. Ultimately product reviews are my opinion and I am not out stating that if you eat this peanut you will grow your hair back. The problem is that it seems the FTC is always wanting to regulate and people can never think for themselves.


So what's the point? I was recently sited in an article from the Associated Press about the whole FTC's involvement in regulating blogs like mine that review products. They mentioned a review I had done on Skinny Cow Ice Cream, stating there's no clue that Nestle SA's Skinny Cow division was giving bloggers coupons for free products. Well Nestle didn't give those to me and Mom Central did which I acknowledged in my post. And to make matters worse they didn't even have the nerve to link to my site, only mention it in hopes that I wouldn't find out? or they are a bunch of pansies.


I sent them a reply
Dear Sir or Madam,
I'm writing with regard to the article posted by Deborah Yao on June 21st entitled "FTC plans to monitor blogs for claims, payments". While I agree with the general thrust of the article, I feel the article incorrectly and unfairly singles out DoubleBugs.Com as having conflicts of interests or somehow acting in an unethical way.

I don't get paid by companies to do reviews, though they do provide me with the products so I can personally evaluate and use the product and develop an opinion of the product or service. If I don't particularly like a product, I will not recommend it on my blog, and I'll often work with the company to identify areas of potential improvement. My blog reflects my honest opinions and observations, there is no input at all from companies or anyone else.

Further, at no point did anyone from the AP contact me to get any information for the story. They based their comments on a single 15 minute review of a small number of pages on the DoubleBugs website. That's just plain shoddy journalism.

There are many sites out there that are essentially shills for companies, sites where bloggers get paid to push products regardless of merit. DoubleBugs.Com is not one of them. I hope the AP will take steps to set the record straight.

Sincerely,

Laurie
DoubleBugs
laurie@doublebugs.com
www.doublebugs.com
And what I would like to know, where is my free trip to Europe? And for people who leave anonymous comments this is for you! At least get yourself some balls, maybe you can find them in a review!
So I was folding laundry and the conversation goes like this.
Me: Mommy asked you to please leave that alone.
My almost 3 yr old: No! *scowling face*
Me: Mommy doesnt like when you talk back like that
My almost 3 yr old:  I'm not talking back! I'm talking forward!
Me:  *trying my best from laughing*
They are smarter than we think!  So funny and so not.  What am I gonna do when he is a teenager  LOL.