Vroom Solo *Review*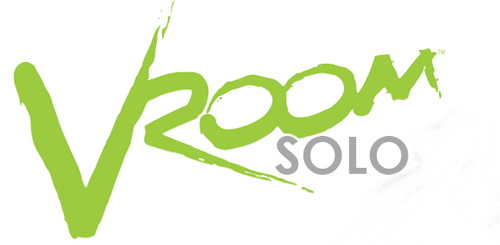 When it comes to vacuuming, it seems like I have our vacuum attached to my hip all day long.  With two 3 year olds running around, a dog and a cat, I am always cleaning up hairballs, and messes.  I have to be pretty vigilant about keeping the pet hair up off the floor because one of my twins has allergies.  One of the major pains about vacuuming is you have to unwind the cord, get it plugged in and then you have to put it all away.  If you vacuum your high traffic areas frequently, like the kitchen and foyer, then you have to get out all your gear and move from plug to plug to reach everything.  I know my current vacuum has a very limited reach so I have to move plugs, I don't mind doing it that way if I have to, but anything to make it easier is a plus.
I was given the opportunity to review the Vroom Solo vacuum and I must say that I love how easy this thing is to use and put away!  And even better when you "put it away" it is hidden from sight and you don't have a clunky vacuum cleaner laying about.  Vroom Solo can be installed right under your kitchen sink and is perfect for high traffic areas in your home, and you don't have to lug out your vacuum when you need to do a quick cleaning.  Vroom solo, also has a 24ft retractable hose which makes it easy to reach just about anywhere in my kitchen which is where a majority of the messes occur.
Installation was pretty easy. We did have to do a little work changing out our outlet to accommodate plugging in our dishwasher and the vacuum but that only took us about five minutes to do. I highly recommend having a professional install the vacuum you don't feel comfortable messing with wiring and installation. Vroom offers installation from qualified dealers in your area.  The unit that holds the hose is mounted to the inside of the cabinet to keep it in place and typically the collection unit where all the stuff goes can be placed next to the unit that holds the hose, but under our sink we had to put it on the opposite side.  It works great either way, as you can see from the pictures and video.
After installation, we were ready to give this thing a whirl and I gave it a workout!  I swept behind the dishwasher since I had that pulled out, behind the fridge, under the kitchen table, along all the baseboards, where the dog hair seems to collect, and my entire kitchen floor.  Everything was spotless and I didn't have anything to put away afterwards.  I was impressed with the power from this little thing that is no bigger than a pc box or gaming device.  The vacuum does come with and extra hose attachment and a brush attachment  and I store those under my sink with the vacuum.  Now when any messes occur, I know that I can just pull out my Vroom and off I go. You can use this vacuum anywhere in the house and Vroom would be perfect for the laundry room, the basement, and bathrooms so you have quick cleaning access in all areas of your home.
The Vroom Solo retails for $299 which isn't too shabby for a vacuum, and I know that I paid close to $500 for my Dyson and the Vroom solo has just as much power and a whole lot more convenience.  All in all, the Vroom Solo is convenient to use, works great, and can be kept where it doesn't contribute to clutter in your home.  As a busy mom this is a huge plus! You can also register to win one on thier site.  Now get busy and "Vroom Your Room!"  Thank you Vroom for a great product!