Ben And Jerry's July Is national Ice Cream Month *pint a day giveaway!*

Did you know that July is National Ice Cream month???  I don't know about you, but I love ice cream.  Ice cream is a comfort food that I love most in the Summer time, and when you are having a blah day it is always nice to snuggle up to your favorite pint.  Well, not exactly snuggle, but a pint of Ben & Jerry's and a spoon in hand is sure to bring a smile to your face!  When I head to the store, I always find myself staring into the ice cream case at all the different Ben and Jerry's flavors and I can almost never pick out one flavor because something new always catches my eye.
National Ice Cream Month is celebrated by the US every July. This month was designated as national ice cream month by Ronald Reagan  in 1984. He also appointed the third Sunday in July as National Ice Cream Day Reagan recognized the popularity of ice cream in the United States (90% of the nation's population consumes ice cream) and stated that these two events should be observed with "appropriate ceremonies and activities." Unfortunately, many people do not even know that America even has a National Ice Cream Month.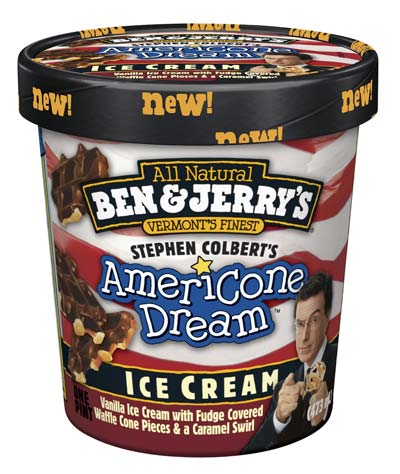 Some of my most favorite Ben & Jerry's ice cream flavors include the ever popular Cherry Garcia, Karamel Sutra, and my newest favorite and one of their newest editions Mission to Marzipan (let me wipe the drool from my keyboard).  Let's face it you can't just buy one pint and head home, you at lest have to get a few days worth or even a week's worth so you don't have to pout when you polish off a pint while watching a sappy love story, or you have had a stressful day, or just because you gotta have it.  At least you know you always have more!
I don't know how they do it but they manage to pack the right amount of stuff into that little pint, that make your taste buds do a little dance, and make your happy endorphins go crazy.  I don't know how they make the caramel in Karamel Sutra stay perfectly gooey in the middle but I do know that their ice cream is one of the best in my opinion!
Here at DoubleBugs, I decided that it would be fun to celebrate National Ice Cream Month and my love of Ben and Jerry's.  We (Ben and Jerry's and I) came up with a fab giveaway to make your mouth water and keep your freezer stocked with Ben and Jerry's!
We will be giving away one pint a day for the month of July.  3 Lucky Winners will win a 7 day supply of Ben and Jerry's (one pint for every day of the week), and a Fourth Grand Prize winner will win (10 pints of Ben and Jerry's and few extra goodies too!).
I know, I know, you are gleaming with excitement!  But we are gonna make you do a little work for your ice cream.  Don't worry we won't ask you to sell your soul but you might consider it, since it is Ben and Jerry's HA!
So here is the scoop (get it? scoop?) Ok, I'll quit with the cheesy jokes.
THIS CONTEST IS NOW CLOSED
This is what you gotta do

(read carefully!!! You wouldn't  want to lose out on a few pints)
You Can visit their site for inspiration

*For Main Entry into this Fab Giveaway, You Must Do One of The Following*
1.) Come up with your own poem about Ben and Jerrys (50 words or less) Your own ode to the pint so to speak
2.) Come up with a recipe using your favorite Ben and Jerry's flavors
3.) Do a little dance, go crazy, make a video or send us your pictures of you enjoying your favorite Ben and Jerry's (you can post me a link to them)
4.) Create a new ben and Jerry's Flavor that you think you might like to see
5.) Do a little bit of everything above
Grand Prize winner will be selected based on the most creativity!!! So the more you do the better your chances! We want you to have fun with it!
***For Additional Entries(please post a separate comment for each additional entry)***
Grab the Ben and Jerry's Giveaway Button and post it everywhere to share the love! Please provide me a link to your site  (3 entries gained when you post this)
Tweet about this Fab Giveaway
Blog about it tell people not to forget to grab the Ben and Jerry's button to share with all their friends (please provide the link to your post) (3 entries gained).
Add me to Your Technorati Favorites
Subscribe to my blog
Contest Starts July 1, 2009 and Ends July 31, 2009
Good Luck!!!!