Zeno Helps Zaps Pimples *review*

Acne and pimples can be a real pain and inconvenience when trying to look your best. I have always gotten those obligatory pimples that come with "that time of the month" but I guess I was all too naive to think that when I became an adult that they would magically disappear.  Well, I was wrong and even though I don't care as much now when I get a pimple as I did when I was a teenager, they are still a real pain.
You can always feel a pimple coming on, like the day before your meet and greet with someone important, when you have to smile and look nice for the camera, or the night before your wedding.  Sometimes it's like they have a mind of their own, and decide that it's pay back and pop up on the end of your nose like rudolph.  You head into the bathroom, armed like Tim The Toolman, with your seven different creams, washes and scrubs in hopes of washing them away.  In my experience and only because I have sensitive skin, all those creams can sometimes do more harm than good.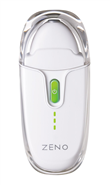 I was given a Zeno Mini to try and it is a really cool little device designed to help when that dreaded pimple decides to pop up.  Basically it is a little handheld device that uses the science of heat to help your blemishes disappear or fade significantly within 24 hrs.  Clear Point technology as it is called, delivers a dose of natural soothing heat to the blemish that kills the bacteria that causes pimples to worsen. I was a little skeptical at first when I saw how little this things was.
So I decided to give it a try and never in my life had I been more excited to get a pimple LOL!   I ran to get my Zeno Mini, giddy with excitement, and turned it on.  My boys were dazzled by all the lights on it and the fun beeping that reminded me of a video game, but after it warmed up, I was ready to start zapping.  I wasn't sure what to expect with my first use, but the heat that the Zeno Mini delivers felt great.  Zeno is most effective on blemishes that are just starting, below the surface of the skin. If you know anything about the start of a blemish,  you know that they tend to hurt especially if you get ones on your upper lip.  But after using the Zeno Mini once the pain that I experienced actually had lessened quite a bit.  After a second treatment and about fourteen hours later, I could barely tell I even had a pimple! I don't know how well this works for other people. as each person is different, but for me I was very pleasantly surprised at how effective it was.    Not only that, I didn't have to hang over the sink using creams and washes, and I could sit right in front of the tv while zapping my pimple.  I love that the size is small and can fit in your purse.  You can zap blemishes anytime, all you need is your Zeno Mini and 2.5 minutes!
I also wanted to mention that if you have sensitive skin, the Zeno tends to leave some redness where you treated the pimple but that faded for me within an hour, but everyone's skin is a little different.  So I would try it before going to bed, that way if it leaves some redness you can sleep it off.
The price of the Zeno Mini ($89)  might seem a little daunting and the tips ($18.99) on it should be replaced after approximately 45 uses, but I think for the convenience, it may well be worth the investment.  I don't think it is a miracle cure if you have acne and as with anything, it does have its limits, but seems to be very effective when you have the start of a pimple, at least in my opinion.  I will definitely keep this little beauty in my purse, so I will be armed with zit zapping power when the inconvenience of a blemish arrives.  The key is to get them early and the blemish might be a little less problematic.    All in all, I think it is a useful product if you tend to have the occasional pimple, and definitely a modern convenience.  I just like the fact that it is easy to use, I can use it anywhere, and if it's going to work, it works quickly!  The Zeno also comes in a bigger version, but I prefer small and discreet. Definitely check out a Zeno and get zapping!