Skin Free Great For Sensitive Skin *Review and Giveaway*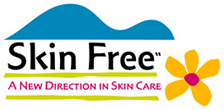 Both me and my boys have very sensitive skin, so much so that I have had to change the laundry detergent that I use in order to prevent theri skin from breaking out.  In the winter months I am combating eczema, which almost never seems to go away on its own.  I always have a hard time finding skin care related products that I can actually use, because half of them are loaded with fragrances and a at on of other stuff that can wreak havoc on sensitive skin types.
I received several wonderful items from Skin Free to review and I was a little apprehensive to try them out at first.  I received the Extra Moisturizing Liquid Soap, The Sweet and Smooth Sugar Scrub, and the Niaouli Scrub for Blemish Prone Skin.
The Sweeet and Smooth Sugar Scrub is absolutely fabulous on dry skin.  I used it in the bath on my elbows, knees, and on my face and I couldn't believe how good my skin felt afterward and not only that I didn't have any weird reactions to it, so that is always a plus.  You can use it sparingly on your face to slough away all the dead skin cells to leave your face with a nice clean glow. It has nothing weird in it either and when they say its fragrance free they mean it!  You know how some thing tout that it's fragrance free and it still has an odor to it, well this stuff doesn't and I like that.
The Extra Moisturizing Liquid Soap, is fabulous if you have your hands in the water often like I do when cleaning and working with my kids.  My hands tend to dry out in the colder months and sometimes in the warmer weather, so washing with this soap totally eliminated the feeling of having to put lotion on after I washed my hands.  I love the fact that all the moisturizing I need is in my soap and I don't feel like Im washing away essential oils in my skin when this is there to replenish it.  The package said that it is used for your face and rest of your body, but it can also be used as a good hand soap!
And for my blemish prone skin, I tried out the Niaouli Scrub and I love it!  Once a month it is inevitable that I get acne and here I was Naive to think that it would go away as an adult.  The Niaouli Scrub gently washed and cleans your face and helps to remove those excess oils that are culprit in causing acne.  Skin Free products felt so good on my sensitive skin and all of their prices are reasonable.  I know there are skin care products out there that claim to be free of irritants and hypoallergenic and my skin would beg to differ, but with Skin Free, I had no issues at all. This is some really great stuff if you or your family has skin issues or eczema prone skin.

Would you like to try Skin Free for yourself?
Skin Free and DoubleBugs would like to offer you the chance to try out Skin Free products with a $30 gift certificate!
Here's What You Gotta Do!
*Mandatory Entry Requirement* All you have to do is visit their site and come back here and tell us about your skin woes and what products you would like to try from Skin Free!
Additional Entries
Tweet About thie giveaway
Add me to your Twitter
Blog about this Giveaway
Add Me to Your Technorati favorites
Blog about this Giveaway and Link to Me
Contest Starts July 17, 2009 and Ends August 12, 2009
Good Luck!