Kellogg's Cinnabon Snack Bars *Review*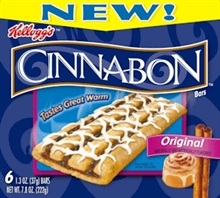 I have always  loved Cinnamon rolls of almost any kind and I usually have to refrain from eating them, otherwise I tend to over indulge.  I had always walked by the Cinnabon stores in the local malls, but never actually stopped to give them a try and I finally gave in on a day where, I was starving and had a craving for something sweet.  I sat down with my drink in hand and this huge cinnamon roll, and took my first bite.  That was when all those happy joy endorphins started partying like it was 1999 and I had found one of the best cinnamon rolls I had ever had.
I love to head to Cinnabon when I can, but that isn't always possible with our busy schedule and having two toddlers, makes it next to impossible to just head to the mall whenever I feel like it.  I was delighted to find out that there was a way to enjoy that favorite Cinnabon flavor in a snack bar.  Mom Central offered me and my family a chance to give Kellogg's Cinnabon Snack Bars a try so, I quickly accepted because I was eager to see if they tasted just as good as the Cinnabon rolls that I bought in the mall
The Kellogg's Cinnabon Snack Bars can be eaten right out of their package or warmed slightly in the microwave.  I prefer to eat mine a little warm so I microwaved mine for about 10-15 seconds.  After taking a bite, I was pleasantly surprised.  Although, they aren't quite like a sticky gooey Cinnabon Cinnamon roll, they are pretty yummy.  They are perfect for the kids too, and excellent when you want to give them a snack, or you need something to bring when you are on the go.  They are a little heavy on the cinnamon which I don't mind since I love cinnamon, so the more their is the better.  Each bar is an amazing 150 calories, so  you can indulge and not feel guilty about having a treat.
If you haven't tried them yet, they are a perfect treat to share with the family or keep to yourself.  I found them in the breakfast isle next to all the granola bar type snacks.  Kellogg's Cinnabon Snack Bars are a really yummy alternative to the same old boring granola bars.