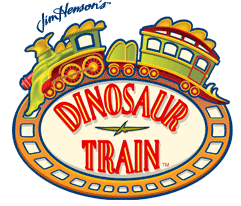 My boys love anything that has to do with Trains, Monsters, and Dinosaurs, so naturally any of those combinations are a big hit in this house.  I was really excited to learn about a new Jim Henson series called Dinosaur Train and even more excited to get a sneak peek at the show to see if it would be something that the boys would enjoy.
When I popped the DVD in to let the boys watch, their faces instantly lit up when the catchy music, brightly colored dinosaurs and the big choo choo train flashed on the screen.  I could tell instantly that this was going to be something they were going to love!
There are all sorts of learning opportunities and little off screen inserts where Scott D Sampson the Paleontologist teaches the kids a little something about dinosaurs.
The Characters

Buddy

Buddy, a curious, funny, and intelligent T-Rex is the star of the show. He is cautious, but always ready to jump into action and start asking questions. While on the Dinosaur Train, Buddy makes a hypothesis and begins searching for the answers to his questions with the help of his Mom, the Conductor, and the new dinosaurs he meets on the train. When Buddy isn't taking exciting trips on the Dinosaur Train, he is playing with his siblings, Don, Tiny, and Shiny and anticipating their next adventure.

Tiny, who loves to make rhymes, is quite clever and very brave. Tiny approaches every dinosaur she meets with the confidence of a news reporter trying to get the full scoop. Tiny is so brave that she often wanders a little bit too far; but, Buddy is always there to help her get back on the right track. And in return, Tiny is fiercely protective of her brother Buddy. Tiny also has two Pteranodon siblings: Don and Shiny.

Shiny is more "girly" than Tiny and proud of her shiny exterior, but can become shy in social situations. Shiny is outgoing with her siblings and acts as if she is the "wisest." She can be a bit of a show-off and loves role playing with her brothers and sister. Shiny is happiest at home in Pteranodon Terrace hanging out with Dad and Don, while her Mom, Buddy, and Tiny take trips on the Dinosaur Train.

Don is a sweet, mellow little Pteranodon. Although he has a goofy streak, he is steady as a rock and very focused on the task at hand. Don is loyal to all his siblings and graciously waits his turn. Once his mind is made up, though, Don goes enthusiastically head-first into every challenge.

Mrs. Pteranodon: teacher, companion, and tour guide extraordinaire. But, first and foremost, she is "Mom" to Buddy, Don, Tiny, and Shiny. She is always there to listen to Buddy's questions about being an adopted member of the Pteranodon family. Mrs. Pteranodon is intent on a good education, but she is also always looking for ways to let her kids explore their world.

The kids' devoted, hands-on "sports dad," Mr. Pteranodon loves to approach parenting like coaching a team. He can even make a squawk that sounds like a whistle when he needs to call "time out!" He exhorts his kids to work together towards their goals, often calling out, "Go Team Pteranodon!" He is fun, can be a little silly, and encourages the kids to "be adventurous."

The Conductor is a Troodon and a special friend to Buddy and his family. He becomes one of Buddy's heroes because he is the Conductor of one the most awesome trains of all, the Dinosaur Train! The Conductor is very intelligent and is happy to explain facts about dinosaurs, the places they visit and even how the Dinosaur Train works.
Without spoiling things for you, all I can say is that this is a really awesome program for kids and it offers the opportunity for them to learn about Dinosaurs in a fun and creative way.  By the time the show was over the boys had learned about herbivores, and omnivores.  They were running around the backyard pretending to be  Pteranodons and imitating the way they catch fish.
The series will start on September 7,2009 on your local PBS channel and it is one that you won't want to miss, so get your DVR's ready!  Get ready for the Dinosaur Train To Come To Your Town.
I am so sorry for the delay in posting all the contest winners here on the site.  I had drawn everyone's numbers and contacted everyone but never got around to getting the official post up.  So I am just going to do a summary post of the winners.
Picture Keeper Giveaway
Congrats To Staci A (comment #95)
Mimi The Sardine
Congrats to Melissa (comment #44)
Ben and Jerrys Giveaway
Congrats to Trisha P (comment #182), Tiffany S (comment #161) , and Kiley (comment #26) Leonara (comment #18)

Winners were not chosen at random for this contest.  Winners were drawn based on originality and best contest entry.
Dominos Giveaway
Congrats to Katie (comment #108)
Skin Free $30 Giveaway
Congrats to Jane H (comment# 99)
Congrats to all the winners and thank you for visiting DoubleBugs, come back often to see what's up!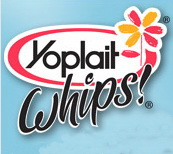 My kids are huge Yoplait Yogurt fans and ask for it just about anytime of the day.  I have almost always bought the Yoplait brand yogurt because it offers a variety for the whole family.  My husband doesn't like yogurt that has chunks of fruit so he gets the smooth and creamy and I love Yoplait's regular and whipped yogurt.
It wasn't until I was visiting Costco that I had actually tried it frozen.  They were passing out Yoplait yogurt that had been frozen and to my surprise it tasted really good and the boys loved it too.  So thanks to My Blog Spark, I was able to try Yoplait Whips and I decided to try them frozen.  They were really yummy and the boys couldn't get enough.  The best part about them is that they are low in fat and are actually a healthier treat than ice cream.
Yoplait Whips! are currently available in a variety  flavors like Strawberry Mist, Chocolate, Key Lime Pie, Orange Crème, Chocolate Raspberry, Lemon Burst, Peaches 'N Cream and Raspberry Mousse. As well as their  newest flavor Vanilla Creme which just came out.
If you want to offer a healthier alternative to other frozen novelties, I would suggest giving frozen Yoplait a try and I think y ou could freeze just about any kind of Yoplait yogurt and it would taste just as good.  And even  better, you can make your kids think they are getting something really special yet it is a much helathier alternative.
If you would like to try out frozen Yoplait whips, you can visit here and print a coupon for .60 off of three Yoplait Whips.  Additionally, right now, new members who sign-up to become subscribers of Betty Crocker's newsletter, will receive a free coupon for Yoplait Whips!
Would you like to win a fun gift pack from My Blog Spark and Yoplait? The Summer Cool Down" gift bag includes two free coupons for Yoplait Whips!, cooler tote, Popsicle molds and a set of 12 color-changing spoons.
THIS CONTEST IS CLOSED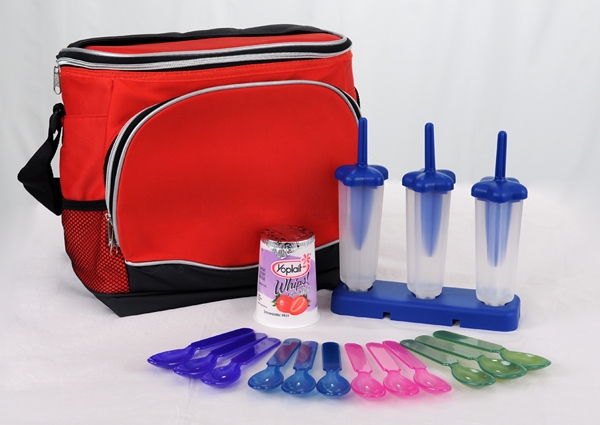 Here's What You Gotta Do
Tell me you favorite way to enjoy Yoplait Whips and what flavor you like
Additional Entries
Tweet about this giveaway
Blog about it
Add me to you twitter
Subscribe to my blog
Add me to your technorati favorites
Contest Starts August 31, 2009 and Ends September 21, 2009
Good Luck!
**Thank you to My Blog Spark who provided me with free samples of yogurt and a gift pack to try for review**

Making lunches and finding different ways to make the ordinary interesting for kids is often a task that us moms dread at times.  You often hear about how kids are bartering away their lunches in the school cafeteria in exchange for something they find more exciting.
I was recently given the opportunity to try out Oscar Mayer's new Lunchable Lunch Combinations.  My husband is a huge fan of the smaller Lunchable packets and he takes them for a snack at work or in the morning.  Even though my boys aren't in school yet, I can see that this would be a perfect alternative to brown bagging it.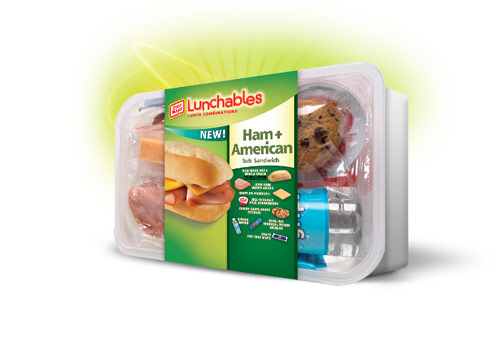 In comparison to an unhealthier choice of fast food or cafeteria foods, this at least offers a source of more rounded nutritional value.  We tried the Ham and American Sub combination and I was surprised at how much was actually in the package.  Included in the package was ham, american cheese, sub bun, mayo,sugar free jello, chewy chips ahoy cookies, water and kool aid drink mix packet.  The only thing that I personally would have liked is that there just be plain water in the meal, regular jello since I am not one to give the kids artificial sweetener, and maybe apple slices in place of the jello or the cookies.  I think it is a great idea especially on days where you are running behind and it makes for a hearty meal.  I think if I were a kid this would be a real treat and you wouldn't find me trading a single morsel.
You can find Oscar Mayer Lunchables Lunch Combinations in your grocer's refrigerated section next to the packaged lunch meats.  There are six new varieties that include: Turkey + Cheddar Sub Sandwich, Ham + American Sub Sandwich, Turkey + Cheddar Cracker Combos, Ham +American Cracker Combos, Deep Dish Cheese Pizza and Deep Dish Pepperoni Pizza.
**I wrote this review while participating in a blog tour by Mom Central on behalf of Oscar Mayer Lunchables and received a sample to facilitate my candid review. In addition, Mom Central sent me a gift card to thank me for taking the time to participate.**

During my walks in the evenings, I always tend to bring a water bottle with me and I also find that I am switching out my plastic water bottles frequently for various reasons.  I have found over the years that water bottles often take on the taste of your dish soap, or develop an odor and I wind up tossing them.  Plastic just never really holds up if you intend on using it regularly and who wants water that tastes like something other than that?
With all the BPA scares with children's products, it had me wondering about my own actual water bottles that I was drinking from.  Now, I am not someone who walks around paranoid, but the safer a product is to use, the better.  I was recently sent a really pretty (The Strawberry Kiss) and a really cool water bottle from Sigg for review.  This isn't just any old water bottle either.
About Sigg and Their Bottles


SIGGs are extruded from a single piece of pure aluminium for seamless, leak-proof durability. Our liner is one-of-a-kind and the true secret of the SIGG bottle. It is a proprietary formula – containing no BPA – which is baked on for the life of the bottle and remains flexible and crack-resistance despite how dinged up the outside of the bottle might get. Basically, if your SIGG takes a licking, you can keep on sipping.

The Bottle body

Extruded from a single piece of pure aluminum, no seams
Highest stability with lowest weight
Rich colors achieved with a solvent-free coating powder
100% recyclable

The internal coating

Guaranteed to be taste-neutral and resistant to fruit acids and isotonic drinks according to an independent testing institute (Nehring, Germany)
Fulfills FDA requirements (Food & Drug Administration USA)
Elastic and unbreakable
Will not peel off, even if dented on the outside

SIGG produces approximately 100 different shapes and styles of water bottles with new designs coming every year. The SIGG brand is highly respected amongst outdoor enthusiasts with style that is extremely appealing to young, healthy, active people.
Despite all the wonderful features of the Sigg water bottle, there are some really cool designs for it as well, so you can have something really fun, cool and exciting that exudes your personality while on your walks or hikes. There is nothing bland about these bottles and they even have customized skins that you can make for them! Hot cool is that? They have some really fun accessories for them too, which include a wrap around with a clip to hook. The best feature though for me, was that after continued use and washings, my water still tasted like water and not lemon dish soap and it had absolutely no odor. I also like the fact that by using Sigg water bottles you are being kind to the environment. Sigg is a proud member of 1% For The Planet, donating 1% of our worldwide sales to protection of the environment.
I could have a whole collection of these wonderful bottles for the family and they make them for kids in just about anything you can imagine. If you are tired of the same old smelly plastic, you ought to take my word for it and get yourself a Sigg water bottle. I love love love mine and I will never go back.
**Thank you to Sigg for sending me this product for review**
Birthday Boys

I am seriously laughing my butt off at my son.  He has taken to telling everyone how old he is and this is his response ever since we celebrated their birthday over the weekend.  I have it on video about 6 or 7 times, and I  laugh every time I hear him.  It is too funny!  ENJOY!
I have not one, but two, three year olds at home. and I must say that lately I am pulling my hair out.  They are at a stage where they are being very defiant and testing their limits with mommy and daddy.  I am sure it is all just a phase but, I am going  a little nuts.
One of my sons is in to yelling and screaming NO at me, and it usually goes from a frank matter of fact "no" to a shrill screaming no.  Then when I threaten to spank his tush, or ask him if he wants a spank he says yes, then I have to catch him first.  If you can picture me chasing a three year old around the couch, I can imagine it's quite humorous to see.  We have tried time out, but this becomes play time for him.  It is all wearing me out, because I am one of those people that doesn't just give up on parenting my kid and say oh well, I tried.  I am a firm believer in teaching my children how to behave, how to have manners and be respectful.
I have such a hard time with this because there are two 3 year olds in the house, and they get on each others nerves.  I am an only child and never experienced any sort of sibling rivalry, so I am breaking up fights over toys daily and when you do that it leads to the offender flailing himself around like fish out of water, and screaming uncontrollably.  It isn't any wonder why when my husband gets home, I run and hide.  The part that is most amazing is, that when you separate them, they act like angels.  They are totally different kids.  My guess is, that they don't have to contend for my attention.  Despite me pulling my hair out, everyone compliments me on how well behaved my boys are, so I guess they are just testing us.
I will always be persistent because I know that as they get older, the direction they get now will be a foundation for them, but until then, if you see a woman running crazed down the street, it was me.
I was given the opportunity to try out Ponds Cleansing Towelettes.  I usually hesitant to try out too many new things on my skin, since I have relatively sensitive skin, I have a tendency to steer clear of any harsh skin cleaning products.  So I opened up my package and it is resealable which is nice, which also means you can keep them handy in your purse as well.  I had just mowed the lawn and was all sweaty and felt grimy and used one of the towelettes and I could see the dirt that it  has removed from my face.
What I love about Ponds Cleansing Towelettes is that they are convenient, and I have no soap bottles, or washcloth and I can just pull one directly out of the package and clan my face.  The only thing I wasn't particularly crazy about was the strong flowery scent.  I would like to see one that had no fragrance at all.  I love that my skin feels clean afterward and would definitely use them again.
*This product was provided to me for free to try for review*
Currently the boys have their play room in our formal dining room. I put it there because we don't have a dining room table and I was never one to have a need for a room. To me it is a wasted room because I don't have that many dinners where we have a lot of people.
I eventually want to turn the dining room into a sitting area with a couch and a big cushy chair and ottoman and maybe a couple of tables. Anyway, since having the boys, it seems like their toys have multiplied, and with that, it seems like the trail of toys scattered through our house has grown. Almost daily it is a battle to keep them in that room, since there really isn't a door. So, after giving it some thought, and after looking at our basement, we decided to put a room down there. This room is going to serve as a play room, where the boys can make a mess, and a family area so that we can all sort of be down there with their toys and watch tv if we wanted.
So over the next week you will get to see our progress, I am so excited with a trip to Rite Rug (more to come on that).
The room is an "L" shape so there is lots of decorating potential and plenty of room for a play area for the boys. I wasn't able to get the whole room in the picture, but you can get an idea. The framing hasn't been set so the boards will all be level and straight before we fasten them.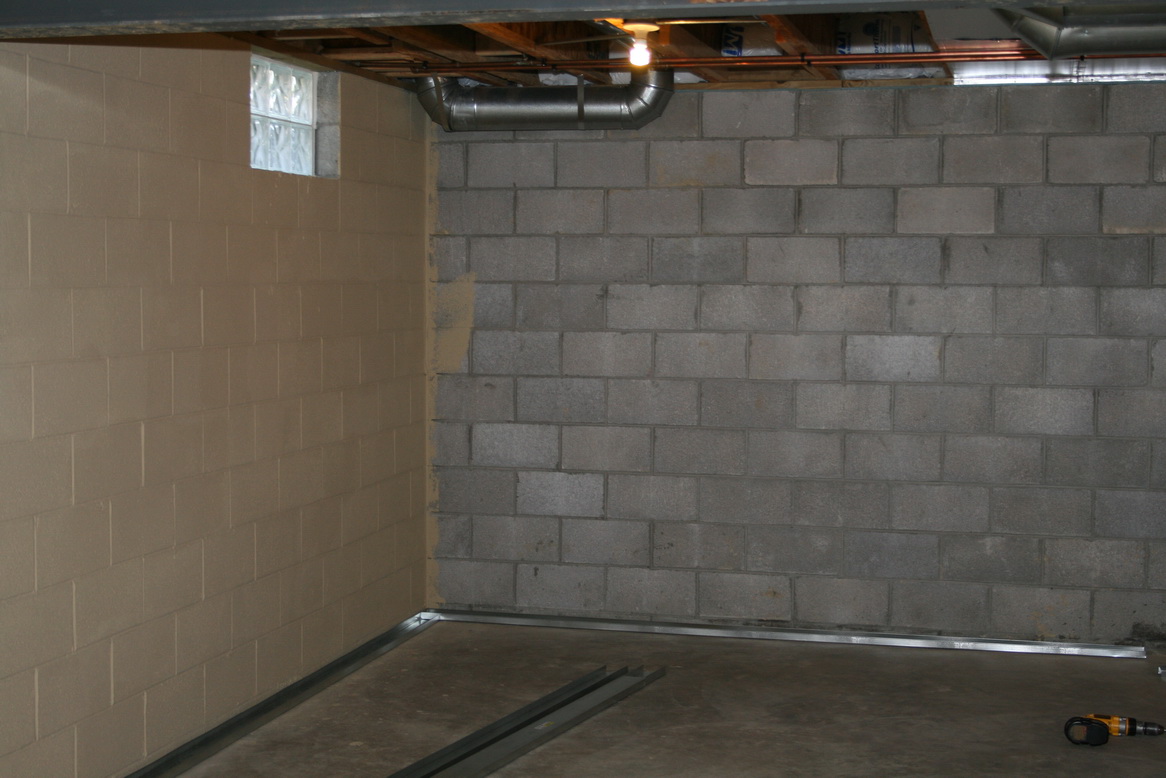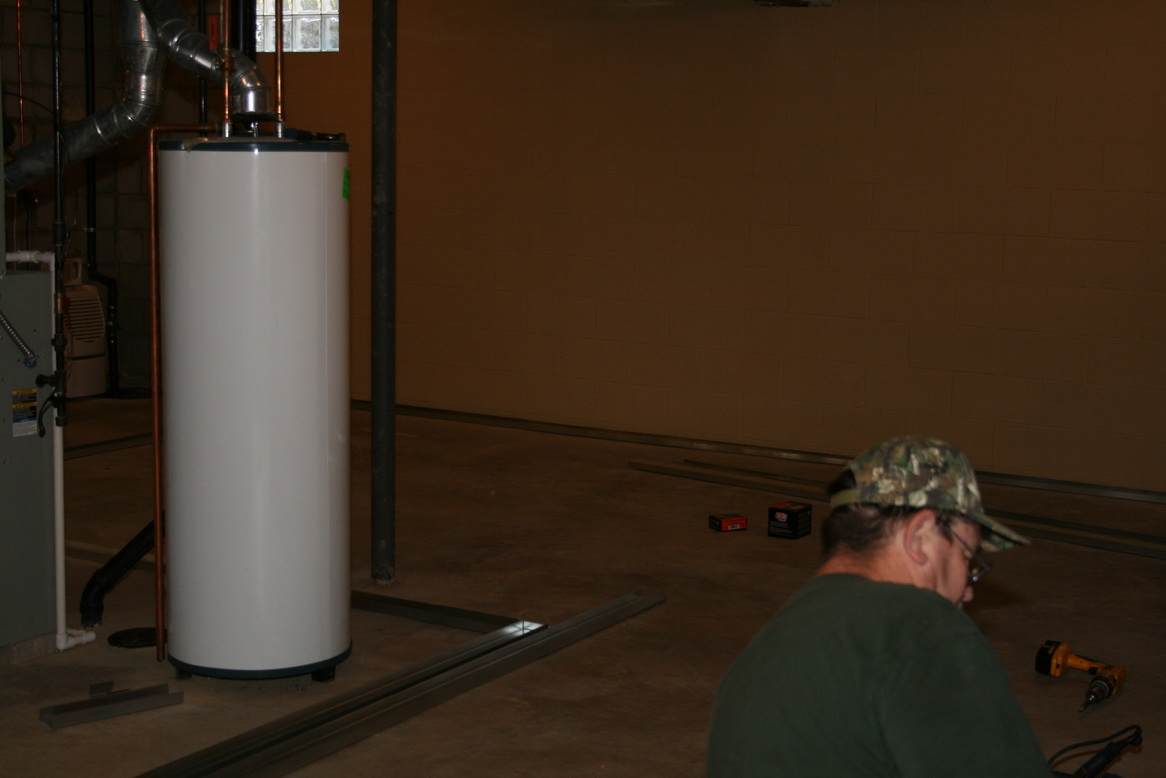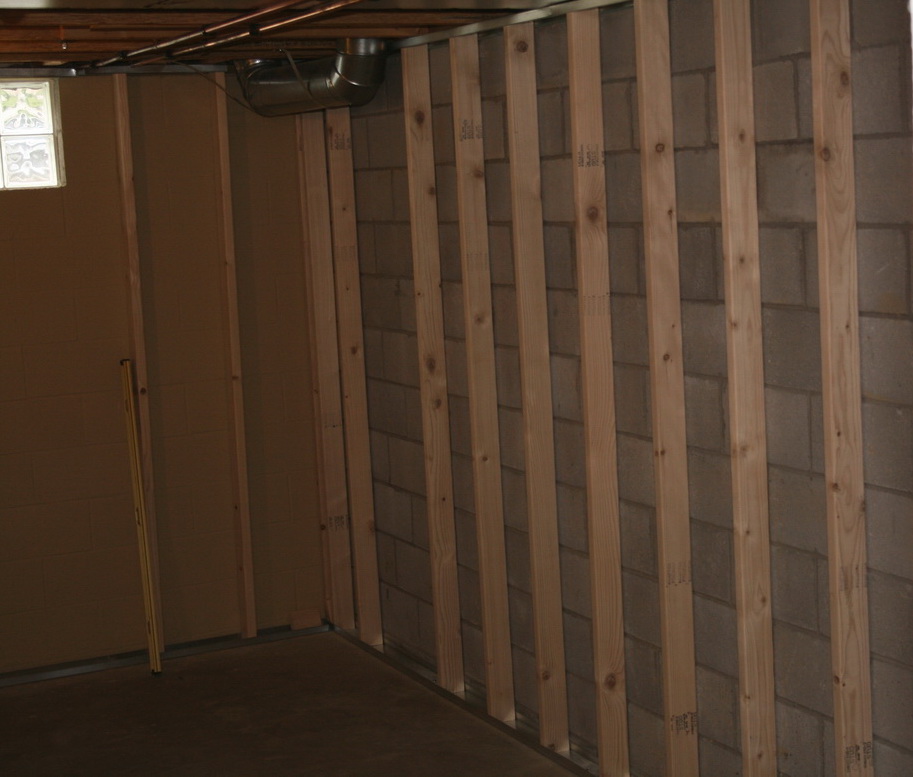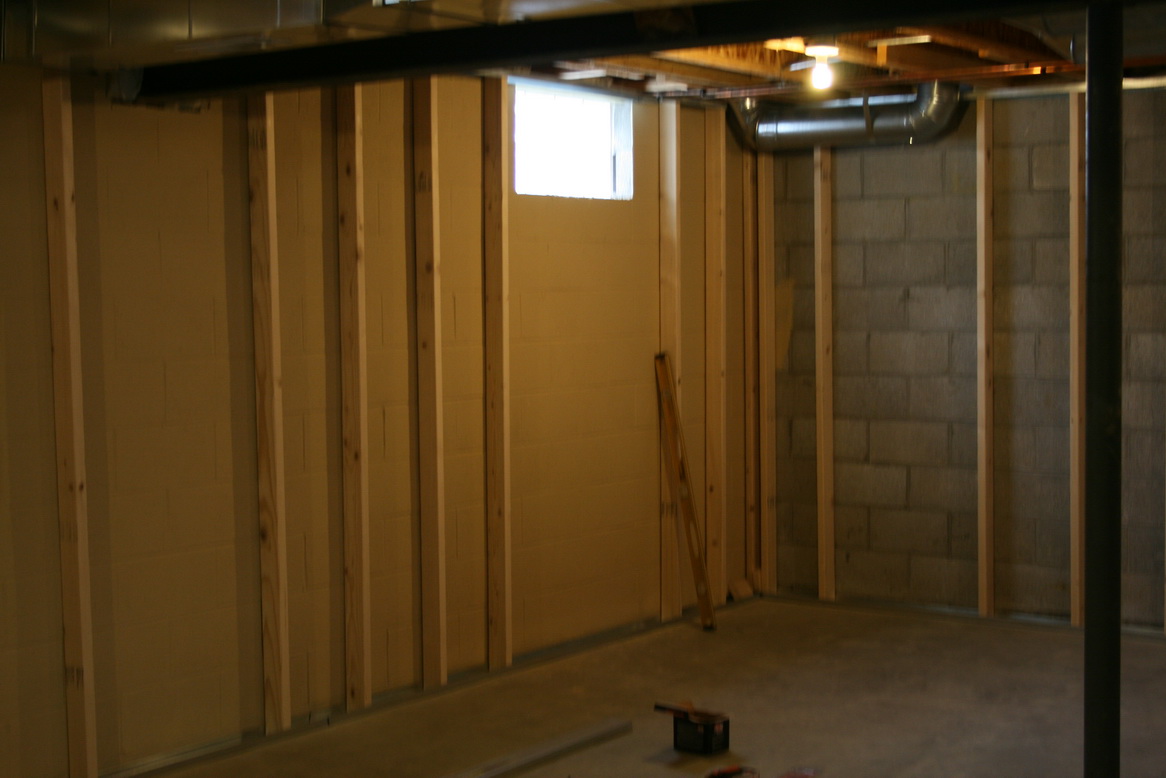 I am so excited, and extremely thankful that my Dad is helping us since he is a carpenter.  It makes a big difference when you are doing it yourself and saves a lot of money!