Mrs Dash Makes Creative Cooking Healthy *Review*

As a stay at home mom, I do a lot of cooking.  Sometimes it isn't always easy coming up with new ways to make scrambled eggs, or new ideas for that frozen chunk of chicken sitting in your freezer.   I have spent many days just staring into the pantry or fridge wondering what I could whip up for dinner that night.
After awhile you just have to find ways to be creative in preparing the same old chicken breast or steak.  I have spent days where I pounded chicken, breaded it, boiled it, you name it, just to make it interesting.  A few times, it wound up in the trash or I got some "what is this?" look from all members of my family including my twin toddlers.
I am always looking for healthy ways in which to prepare our meals and I usually tend to use a lot of butter or something to compensate for the lack of taste in some of the things I have made.  I have found, that using the right seasoning can make a world of difference when you are preparing a meal.  You can often give chicken a totally different taste based on what seasoning you use.
I recently received a bottle of Mrs Dash Fiesta Lime seasoning and I was more than eager to give it a try.  When I saw that it was Fiesta Lime, I automatically thought of a meal with Mexican flair.  So I cooked up plain old chicken breast and sprinkled a little of this on it.  We made some spanish rice, cut up some fresh tomatoes from the garden, lettuce, and warmed up some soft tortillas.  It gave the chicken a southwest flair and wasn't overly spicy either.It was delicious and the only thing I added to the chicken was Mrs Dash!  The whole family devoured everything on their plate and my sons were asking for more.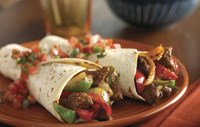 Mrs Dash has no salt or MSG which makes it a nice healthy alternative to overloading your food with sodium and butter.  It was as if I created an entirely new meal and the only thing I added was a different seasoning.  It was a refreshing change from the ordinary yes using familiar ingredients which made meal preparation easy.  Mrs Dash has a whole collection of various seasoning you can try and they aren't just good on meat.  You can sprinkle a dash here ans there on your salads vegetables and even soups.  It is a great addition to your spice cabinet and can make ordinary meals you have prepared over and over have a new an exciting taste without adding a bunch of unhealthy ingredients.
Thank you to Mom Central and Mrs Dash for sending out a sample for me and my family to try.