Ponds Face Cleansing Towelettes *Review*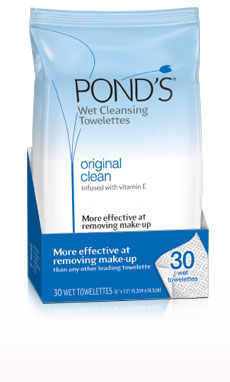 As a busy Mom, I am always looking for things that are more convenient and that saves time in my daily routine.  I have never been a huge make-up wearer but I do appreciate having a clean face, without having to do too much to myself.  I am always looking for new products that I can use that take less time.
I was given the opportunity to try out Ponds Cleansing Towelettes.  I usually hesitant to try out too many new things on my skin, since I have relatively sensitive skin, I have a tendency to steer clear of any harsh skin cleaning products.  So I opened up my package and it is resealable which is nice, which also means you can keep them handy in your purse as well.  I had just mowed the lawn and was all sweaty and felt grimy and used one of the towelettes and I could see the dirt that it  has removed from my face.
About Ponds Cleansing Towelettes
Pond's Towelettes remove up to 40% more dirt, oil and make up than other leading products and even waterproof mascara. The Pond's exclusive cleansing system, with oil and dirt trapping fibers, works like a magnet to lift away impurities in one portable step even without the use of water. Available in three varieties, Pond's Towelettes are hypoallergenic and dermatologist tested for a gentle Pond's Superior Clean, guaranteed or your money back!
What do they do?
The most gentle of Pond's towelettes, these combine gentle deep cleaning with effective make-up removal to whisk away dirt and make-up in one easy, portable step.
How do they work?
Pond's original clean sweep towelettes gently clean and remove make-up (including waterproof make-up) and impurities.
Triple Tea Antioxidant Complex

Chamomile

Vitamin E

Essential features:
Ophthalmologist and dermatologist tested
Hypoallergenic
Alcohol free
Safe for contact lens wearers
Ideal for all skin types, including sensitive skin
What I love about Ponds Cleansing Towelettes is that they are convenient, and I have no soap bottles, or washcloth and I can just pull one directly out of the package and clan my face.  The only thing I wasn't particularly crazy about was the strong flowery scent.  I would like to see one that had no fragrance at all.  I love that my skin feels clean afterward and would definitely use them again.
*This product was provided to me for free to try for review*