Wii Accessories By Performance Designed Products *Review and Giveaway*
I can remember when  my husband and I were on a quest to find a Wii gaming console and how difficult they were to attain.  On a visit to see my parents, we got wind of a shipment at a local store and he raced up there and got one of the only five that they had received.
I am not a huge gamer, although I was brought up playing Nintendo when I was a kid and I have been a fan of their games ever since.  I can remember getting the first ever Zelda game and playing it every day until I finished the game.  Now that I am a mom to two boys, I know there will probably be some gaming in their future but even though I am older now, I still enjoy playing.  We even have the Wii Fit, which I must say is a rather impressive piece of equipment.  The way games are played have come a long way in the past twenty years from Atari to Wii.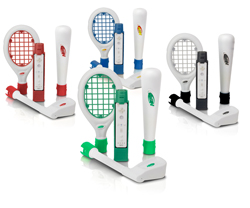 I was recently offered some fun new products from Performance Designed Products to try out with our Wii gaming console.  I was really excited to try them out.  The NERF Sports Pack, is a really cool way to play Wii Sports or any game that includes baseball, racketball/tennis, or golf.  I love Wii sports, but I was never exactly coordinated by using just the Wii remote to play and everyone is always kicking my butt.  Lets face it as an adult, I have become a bit clumsy and uncoordinated in the gaming department.  I am sure I am comical to watch.  But, with the cool NERF Sports pack, it was great to pop in my Wii remote into the tennis racket and feel like I had a better swing.  It made a huge difference in how I played rather that trying to coordinate moving like I had a racket in my hand, I actually had something like it to hold on too.  I managed to win a few games.  I think this is great for little hands too, the boys didn't necessarily understand the game but they fared pretty well.  They come in four colors, red, green, blue and black.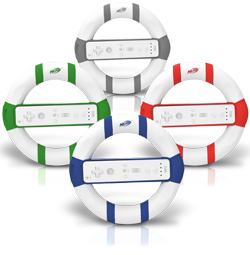 Later, we got ready to race with the NERF Racing Wheel.  I was never a huge fan of racing games, but with a cool NERF racing wheel that all changed.  I felt like I was in the pits at Nascar and ready to take off.  As with any Wii game, you can of course just play with the remote but the racing wheel made it feel much more real.  My husband was laughing at how into the game I was, and that my tongue was hanging out of my mouth in concentration.  Even though I am not gaming on a regular basis, I do tend to get competitive.  My only beef with all this NERF stuff is that it has that funky new out of the box smell that lingers a little more than I would like.  Maybe they can invent one that smells like berries, or new car leather?  How cool would that be?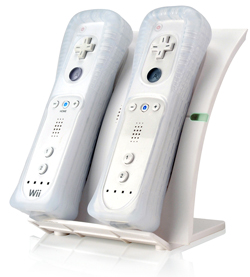 Then to top it off after giving your tired Wii remotes a workout, you can pop them in and bring them back to life in one of these two chargers!  There is the Wii 2X Induction Charger (sounds like a mouthful).  This charger specifically lets you charge two of your Wii remotes without having to fight to remove your silicone protection sleeve on your remote.  I like this idea because anything that saves me time and hassle is well worth it.  It also comes with 2 rechargeable battery packs, 2 battery covers and a UL-approved power cord. You can't ask for more than that.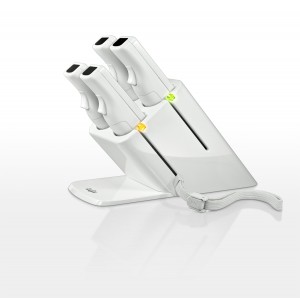 The other charger we received, the Energizer 4x Charger holds up to four Wii remotes (Wow!).  We only currently own two Wii remotes, but this great for when the family of gamers grows.  When the boys are a little older and more into gaming then, this will be great to have a place to put all of the remotes to charge and have them ready to go for the next round of fun.
These are great additions to your Wii gaming system and it makes a little less coordinated people like myself able to get in on the action.  It seems like the younger kids always pick up on how to use this stuff faster.  I love these PDP gaming accessories and it makes your game play a little more realistic.  The chargers are also useful in not having to replace batteries in your Wii remotes all the time.  These would make a great gift for any gamer, as well as fun Birthday or Holiday gifts.
**These products were provided by the company for me to review**

Would You Like to Win  A Set of These Accessories For Yourself???
DoubleBugs would like to give its readers the chance to win these fabulous accessories for your Wii gaming system!
Here's What You Gotta Do
Visit Performance Designed Products (pdp.com) and tell me what other products that you like and what games you will play with your new gaming accessories and why you would like to win.
For Additional Entries (please leave a separate comment for each)
Tweet about this giveaway
Add me to your Twitter (this must be an active account where you tweet on a regular basis)
Blog about and link to this giveaway and provide the link (3 additional entries)
Add me to your technorati favorites
Contest starts September 14, 2009 and Ends October 19, 2009
Good Luck!!!