Hasbro Family Game Night September 23rd!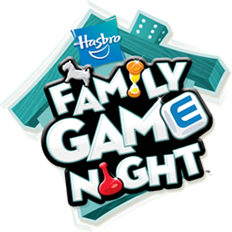 Family time is so hard to come by with everyone's busy lifestyle.  I think that it is important to take a time out to be together and focus on some activity that you can do as a family without any outside interruptions.
So as part of the family time initiative, Hasbro is having its first everNational Family Game Night on September 23rd.  They want you to turn off the TV, gather round the table and break out your favorite games like Monopoly, CLUE, or a fast and furious game of Connect Four.
About Family Game Night
"Family game night invites families everywhere to turn off the outside world for a short time and create memories together," said Belisa Anzalotti, Director of U.S. Marketing for Hasbro Games. "Hasbro has established National Family Game Night to designate one evening where American families are encouraged to play games and share in learning and laughter."

For families on a budget, National Family Game Night provides an opportunity to share an affordable night in. Buying a new game costs significantly less than many other entertainment options, such as dining out or attending a sporting event, and Hasbro games can be played year after year providing hours of entertainment. When planning your family game night, consider some of America's favorite Hasbro games, most of which are available for less than $20: MONOPOLY, SCRABBLE, OPERATION, YAHTZEE, GUESS WHO?, BATTLESHIP or CRANIUM. Or, if you're looking for a new game, try PICTUREKA!, a fast finding picture game that provides fun for the whole family.

Some of Hasbro's classic favorites have also been updated this year, adding a new dimension of play to each game. For example, MONOPOLY Family Game Night: Championship Edition gives players the opportunity to host a Championship showdown at home, complete with tournament style rules and a Mr. MONOPOLY trophy for the victor. CLUE: Secrets & Spies Edition is a new suspense-filled game of global espionage where players work undercover and decode secret text messages sent through real time cell phone text messages. And CONNECT 4×4 is the first double grid, four-player game of CONNECT 4, introducing more competition and strategy to the classic game of four in a row.

In addition to offering hours of fun and entertainment, games also provide countless learning opportunities. Playing games reinforces patience, turn taking and teamwork, as well as losing gracefully and following directions. MONOPOLY, for example, is a great way to start teaching kids and young adults budgeting skills, while BOGGLE and SCRABBLE help with spelling, and CLUE helps with deductive reasoning. Spend an affordable night in with any Hasbro game for an educational and enjoyable experience that will be remembered for years to come.
I can remember before my husband I got married, we spent may Saturday nights with friends playing Monopoly and to this day, it is still one of my favorites.  It is so fun to grab some snacks, turn off the television and just have fun talking and laughing with a good old fashioned board game.  With the boys, just starting to get the idea of playing games, we have decided to take the time once a week to play a game together.  National Family Game Night is a perfect opportunity to start a tradition and make lasting memories, and come together as a family.
Outside National Family Game Night, you can set s a specific day each week and involve family in planning their own special game night.  For the competitive folks you can set up a scoreboard to keep track and award a winner a trip to their favorite restaurant, or have the ultimate game player trophy to pass on from year to year.  Whatever you decide you can make it something special.
Get your game face on for September 23rd!