So now that we are staring December right in the face, I am finding myself in a typical yet slight panic to get everything ready.  Today we put lights on the house so Santa knows where to find us.  I explained to my three year olds that this is how Santa finds our house to bring presents. What was I thinking when I signed this binding agreement which now means I have to put lights on my house every year?
Next week we will head to the tree farm and usher in Christmas full force.  I ventured into the local mall this weekend and I had expected much bigger lines, but surprisingly I could actually look at stuff without being butt to butt and shoulder to shoulder with some complete stranger.  I was mainly there to find some more clothing for the boys so I am not running out of pants before the end of the week.
We are also heading down the potty training path.  We waited to potty train and we weren't in a particular hurry to get it done.  We figured that the boys would sort of let us know.  Today, they did great and only had 3 accidents between them.  I treat jar stuffed with dollar toys and gummy candies, does wonders.  They have wised up and will go to the potty even if they just went 15 min ago  lol.  So we have restricted potty treats to once and hour.
Do you ever just feel worn out before you even get started?  I love the holidays but wish I could wiggle my nose to get it all done.  Where is Mary Poppins when you need her?

I have almost always love the holidays, not for the hustle and bustle, but for the memories they create.  We have a huge family on  my Mom's side and I can remember the huge gatherings at Thanksgiving and Christmas.  I also cannot forget the food that occupied the tables in every corner of my Grandmother's home.  We are all well fed by the time we left her house.
She always had a spot set up with cheese and crackers and sausage from Hickory Farms and in a tiny dish off to the side those strawberry hard candies that often come in a gift basket from them.  I loved the selection of  summer sausage, and cheeses, and I would always set up a plate as a kid, and stuff a few of the strawberry candies in my pockets.  That wasn't the last I saw of my favorites because my mom would almost always bring home a Hickory Farms gift basket from the bank where she worked.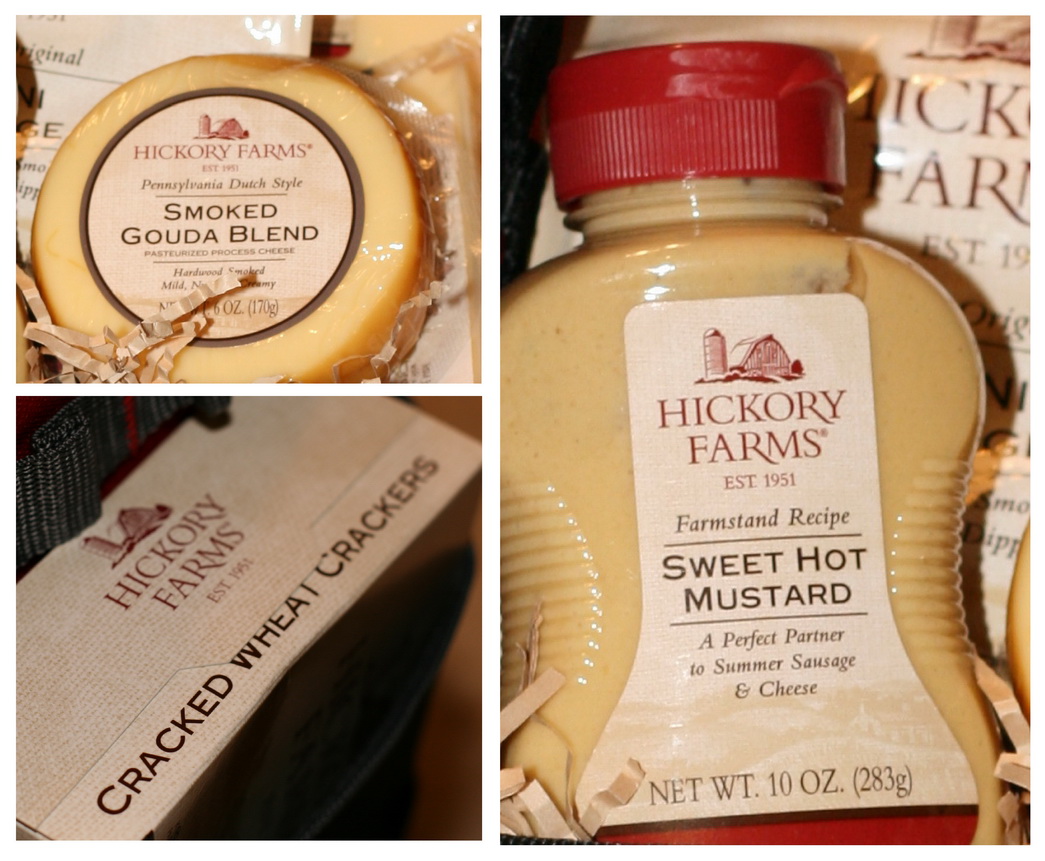 Fast forward to today, I still love to stop by the Hickory Farms displays in my local stores and occasionally pick up some of their summer sausage and cheese and set them out for the boys and the family to snack on. Recently, we were sent a wonderful gift basket for our family to try from Hickory Farms in this totally awesome tool bag that will come in handy for my husband to use around the house.  It is a great way to sort of give two gifts at once.  This gift basket came loaded with gouda cheese, mini sausages, crackers, mustard and many other wonderful signature items that Hickory Farms has to offer.  I loved the gouda cheese with the sausage and the boys gobbled it up.  The best way to serve the sausage is cold in my opinion, even though you don't have too.  Once the packages is open in this house, you won't have any leftovers.  I cannot think of a better way to add to holiday entertainment or making a classic statement in gift giving.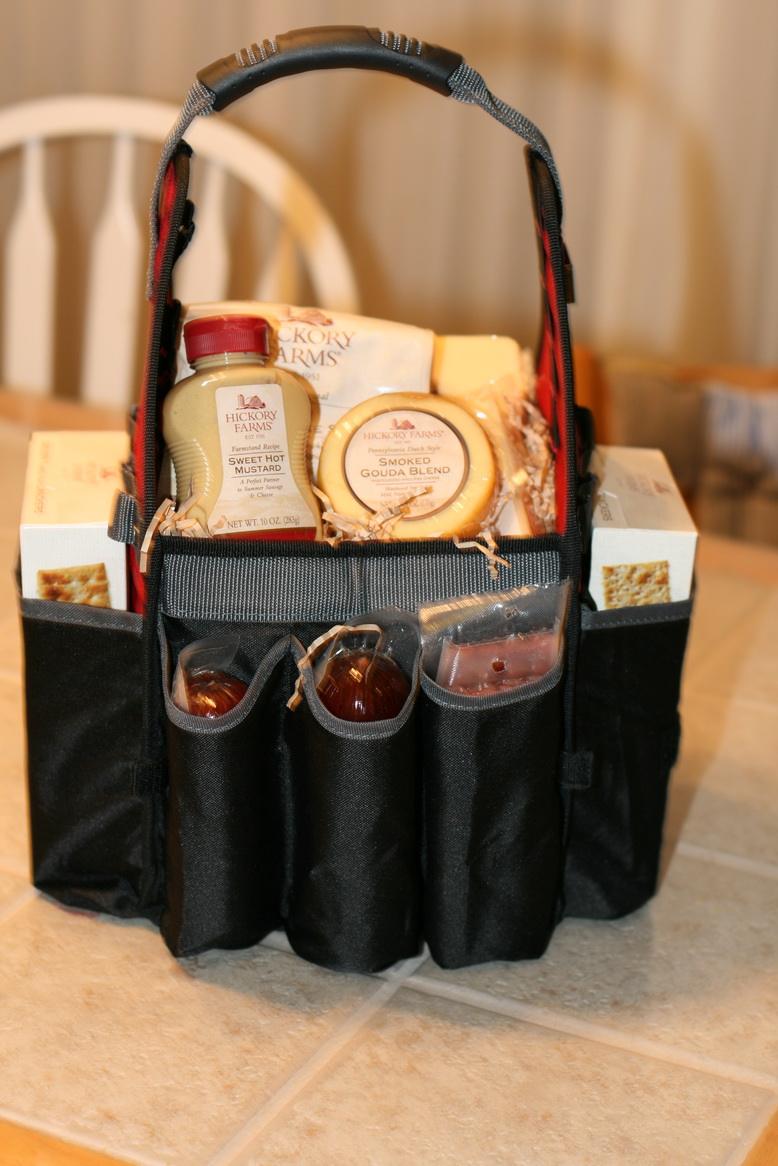 We loved all of the wonderful things Hickory Farms sent us, and the only thing missing this time around was the strawberry hard candy.  Hickory Farms has been around for as long as I can remember and have always offered a wonderful selection for gifts. It is a perfect gift to give for someone special or when you cannot think of something specific,  Hickory Farms makes gift giving easy.
"I wrote this review while participating in a blog tour campaign by Mom Central on behalf of Hickory Farms and received a Hickory Farms gift basket to facilitate my review."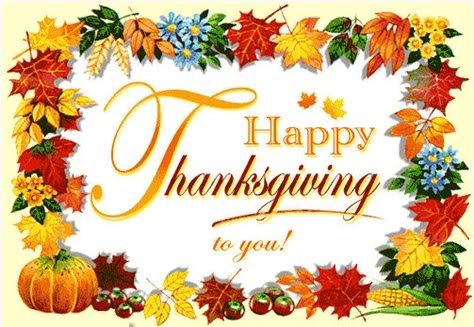 As we express our gratitude, we must never forget that the highest appreciation is not to utter words, but to live by them.  ~John Fitzgerald Kennedy
Although we didn't get to spend Thanksgiving with our bigger families, we still gathered around the table and had a wonderful meal.  I began the dinner by telling the boys that I was thankful for having them and their daddy, for the roof over our heads, the food on our table, for our dog and cat.
I asked them what they were thankful for and I got the cutest responses, and although I wasn't sure that they totally knew what it meant to be thankful, I wanted to start this tradition.  One of them was thankful for his fork and for the television  lol.  The other was thankful for marshmallows, his turkey, and his fire truck.
I hope that you and your families had a safe, happy and healthy Thanksgiving.   There is always something to be thankful for, no matter how big or small.
Hi Mom!
(This is one of my fur babies!)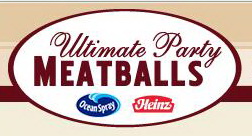 It is that time of the year when holiday festivities are about to be in full swing.  Every year my husband and I are invited to at lease several events that involve bringing a favorite appetizer or dish.  If you are a busy mommy like me, my ambitions are usually greater than my energy level in creating some new found masterpiece to bring to a gathering.
Over the weekend we were invited to a football party and it was a "bring a favorite dish" type party, so I found myself thinking about what I should bring. I quickly remembered that I had a new recipe to try, and I had all the ingredients to give it a test.  Heinz and Ocean Spray have teamed up to create a really easy yet great tasting addition to any holiday gathering.  Their Ultimate Party Meatballs recipe takes three ingredients and they taste unbelievable.  If I had known how easy this was all along, I would have been coined the meatball lady at all these parties!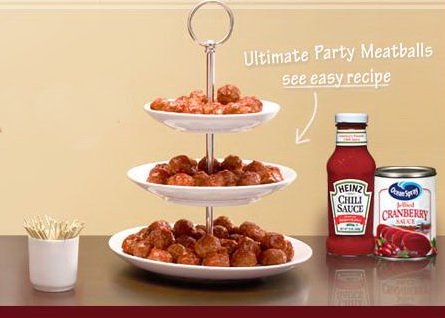 I chose to do the crockpot method of preparation.  All you do is throw in a bottle of Heinz Chili Sauce and Ocean Spray Jellied Cranberry Sauce, and two sof frozen meatballs and put your crockpot on high for four hours and you are good go.   They smell totally awesome and they taste even better.  I couldn't stop stealing meatballs from the crockpot,  at least I made a double recipe. They have the perfect combination of salty and sweet tangy zip that make you want to keep coming back.  I came home with just a few lone meatballs left.
Here is the official recipe
If you like a little bit of a kick to your meatballs you can add a dash of tobasco to them to give them a little kick. I refrained from adding it this time because some people might not like the spicy. They were so yummy that I took the last of the meatballs and made a sub out them for my late night snack.
Whether you are heading out to a party this holiday season or if you are looking for something easy to make for an appetizer. Ultimate Party Meatballs by Heinz and Ocean Spray are a perfect addition!
"I wrote this review while participating in a blog tour campaign by Mom Central on behalf of Heinz and Ocean Spray and received the ingredients necessary to facilitate my review. In addition, Mom Central sent me a gift card to thank me for taking the time to participate."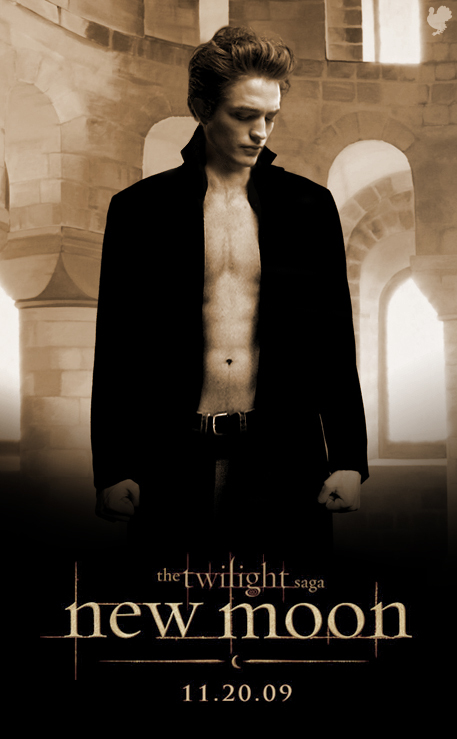 For the first time in well over four years I found myself sitting in a theater this weekend for New Moon.  I was determined to go see the newest movie in the Twilight series of books and I didn't care that I was going alone.  I wasn't overly impressed with the first movie Twilight, but compared to the books, the movies just cannot possibly do them justice.
I normally have a hard time sitting down and reading much of anything and if I am going to read, it better capture my interest immediately.  I blew through the entire Twilight series in just 7 short days.  I had stayed away from the first movie for the sake of preserving my dreamy images of all the characters.  In Twilight, it took some getting used to staring at characters that didn't fit into my active imagination.  The movie should have been four hours long though and I wouldn't have cared because they would have been able to include a little more detail.  The movie is never as good as the book, with the exception of Gone With The Wind, and you saw how long that was!
Did New Moon change my outlook on the movie?  Well, it was definitely better than Twilight, and they left you hanging so you know they will come out with the next movie.  I thought it was good for movie representation standards, I still feel like they left too much out.  The movie's portrayal of the Volturi was spot on and I love Alice.  There was a good amount of humor presented in this one, and it made the movie a little more likeable.  Overall, I would say it was good as the time limit would allow, but tack on another hour and it probably would have made A-list.
I still have the books to read again so I can slip into the awesome world of vampires and the Cullens.  My only hope is that Stephenie Meyer writes more! Ok, I admit Edward is growing on me.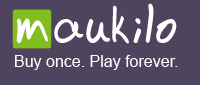 It is that time of the year again where parents are in a scramble to find that perfect toy for their children. The holidays are a wonderful time of the year, but along with all the merriment of it all, there is also a lot of stress. This year with many parents being budget conscious, you tend to want to find some of the hottest toys for 2009 but also toys, that your children will certainly be interested in for longer than five minutes.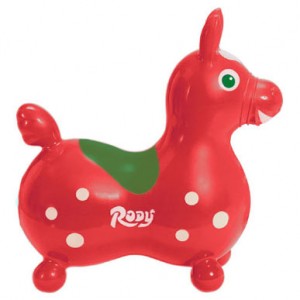 Each year I try and sit down and make a list of things that the boys seem interested in and start looking for things that sort of combine that interest with things that are going to last when they play. I ma a huge fan of wooden toys, and toys that are more educational. I still buy the boys some of the mass marketed toys but, I also like to get things that are a little more meaningful or have what I call higher quality play value.
One of my favorite places to visit for shopping is Maukilo. They are a great site that is owned by HABA, and if you know anything about HABA toys you will know that they make some of the greatest wooden toys. I have toys made by HABA that are still in perfect condition and can easily be passed on to another child and I love all of their brightly colored toys.
We were recently given the opportunity to pick one of the many wonderful toys that Maukilo has to offer. Amongst the great collection of HABA toys , they offer so many other choices. We were sent Rody the jumping horse and I could barely get the thing out of the box and inflated because the boys were literally bouncing with excitement to get on this thing. Rody is an inflated ride on horse which you can inflate more as your child grows. Balance and coordination are tested as kids enjoy hopping on their Rody. Made of latex-free vinyl, in Italy.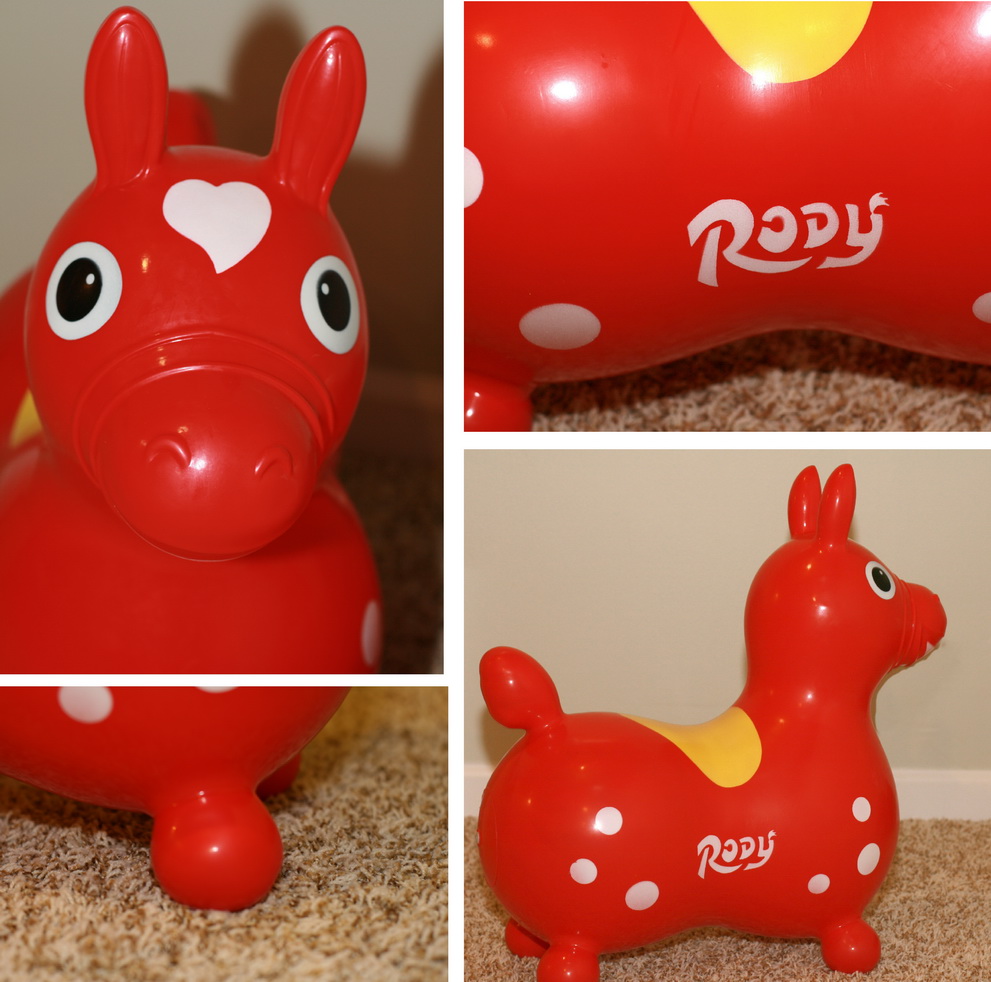 My twin 3 yr olds have boundless energy, and I can tell you that I am a huge fan of Rody. They hopped all over the house in this thing and it is perfect for expending all that pent up energy. I am thinking this is going to be excellent for the winter months when they are stuck inside! When I first looked at this inflatable horse, I couldn't imagine how much fun they would have, but they had a blast on it, and now I am thinking I will have to get them another one so they don't fight! Rody is a perfect gift to have under the tree and Maukilo is a great place to make that holiday magic happen.
**Rody the horse was provided to me free for review by Maukilo.com  the opinions expressed here are that of my own**
As part of the gift giving season, and to introduce you to a wonderful site. DoubleBugs and Maukilo would like to give readers the chance to win a $50 gift certificate to Maukilo.com to do a little holiday shopping for your child and light up their faces on Christmas morning.
This Contest Is Closed!

To Enter Here's What You Gotta Do!
Visit Maukilo.com and tell me what you would like to buy with your $50 certificate and who you would like to give the toy to.
Additional Entries
Tweet about this giveaway
Add me to your twitter
Blog about this contest
Add me to your technorati favorites
Add my button to your sidebar
Contest Starts November 22, 2009 and Ends December 15, 2009
GOOD LUCK!!!!
US Residents Only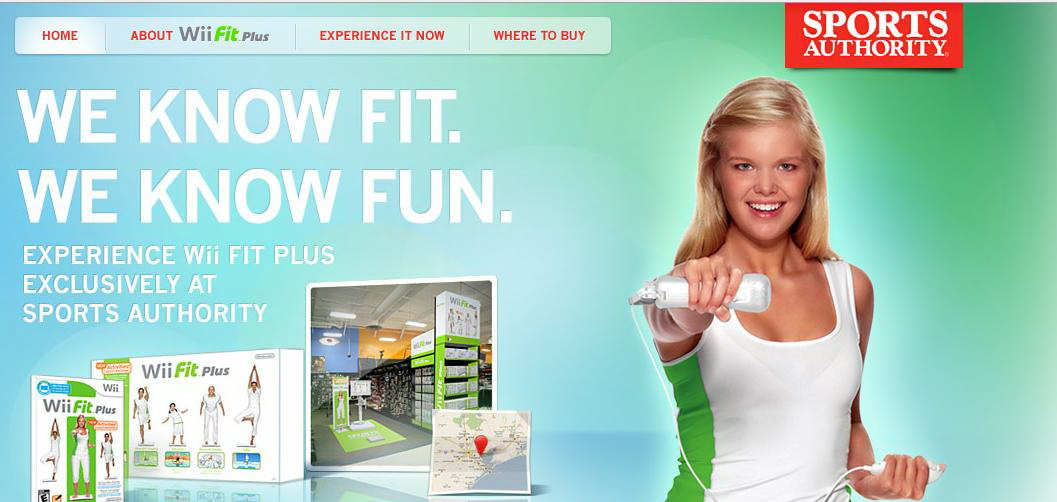 We are a huge Wii family here and love the opportunity to try out anything new.  With the Wii Fit board it has made it possible to have fun while getting in shape.  When  you are on a Wii Fit board you sort of forget that you are doing any work at all and that is my type of workout!
I was naturally excited to find out  that Sports Authority is teaming up with Nintendo to create a new way to experience fitness gaming.  Sports Authority will be selling Wii gaming consoles, Wii Fit and Wii Fit Plus, as well as various accessories and games for the Wii, in its stores.And to help you get to know the Wii better, Sports Authority will create a "We know fit. We know fun." experience at 102 of their stores. Stores will feature a dedicated area with a demo unit and knowledgeable trainers to help customers try the Wii Fit Plus before they buy! This is a great way to trade those boring workouts of the same thing  for something that is fun for everyone.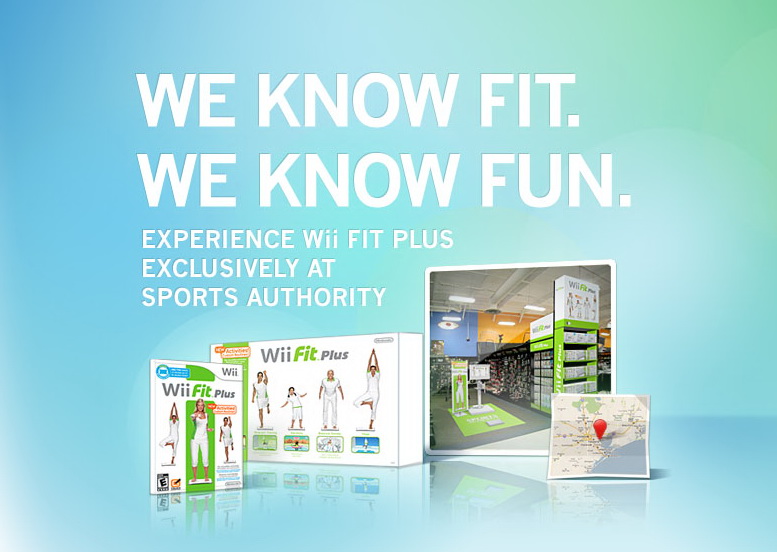 To kick off this great new initiative and campaign to get fit the Sports Authority is launching this experience on Thursday, Nov. 19 at its store in Torrance, Calif. (located at 3610 Torrance Blvd., Torrance, CA) starting at 9:30 a.m. If you are in the California area, the event will feature Jillian Michaels from the *Biggest Loser*, and the World's largest Wii Fit Demonstration with 102 people and tips from Jillian Michaels.  They are also giving away some really awesome prizes, Wii Fit boards included, so you won't want to miss it!
I can't think of a better way to get thinking about those dreaded New Years resolutions of getting in shape.  Rather than dreading it, why not make it fun!   You can find out more by visiting the Wii Sports Authority page.
As an incentive to get your body moving and in shape, DoubleBugs,  SportsAuthority and Nintendo, want to give readers a chance to win the Jillian Michaels' new fitness game for the Wii and a Wii Fit Plus board!
Here's  What You Gotta Do!
Visit Sports Authority and tell me what you would like to have to go along with your Wii Fit Plus Board and why you want to have a Wii Fit Board and come back here and leave me a comment
Additional Entries
Tweet about this great giveaway and Sports Authority
Add me to your Twitter
Blog about this great contest and Sports Authority's new program
Favorite me on technorati
Subscribe to my blog
Good Luck!!
Constest starts November 19, 2009 and ends December 12, 2009
Well it has been brought to my attention that no one has been able to see my most recent posts.  In fact the only thing they could see was up until September.  I immediately freaked out when Trisha over at momdot pointed out in comment love that she could not see my recent posts.
Well apparently my database was corrupted, whatever that means….I am so thankful for my husband in this department, I am clueless.   But now it should be working and you should be able to see my latest post.  At least I am hoping!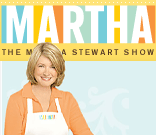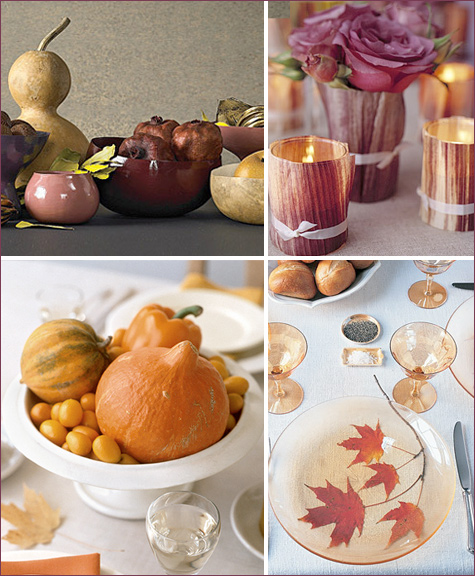 With the upcoming holidays, you know that us moms will be in the kitchen and cooking some of the family's favorite dishes. I am a huge fan of watching cooking shows when I get the chance, and if I had more time, I would probably be trying new things more often.
I just got wind of an upcoming event on Sirius radio with Martha Stewart. This woman has her stuff together when it comes to anything crafty or anything food related and I wish I could be a fly on the wall when these broadcasts go live. I love just about anything Martha Stewart and drool over all the beautiful things that she does and secretly dream up in my head the energy it must take to get all of that done.
One of my favorite things are the cookie recipes she comes up with for the holidays and all the neat ways she packages them up for giving. Eventually when the boys are older, I want to get back to doing those things.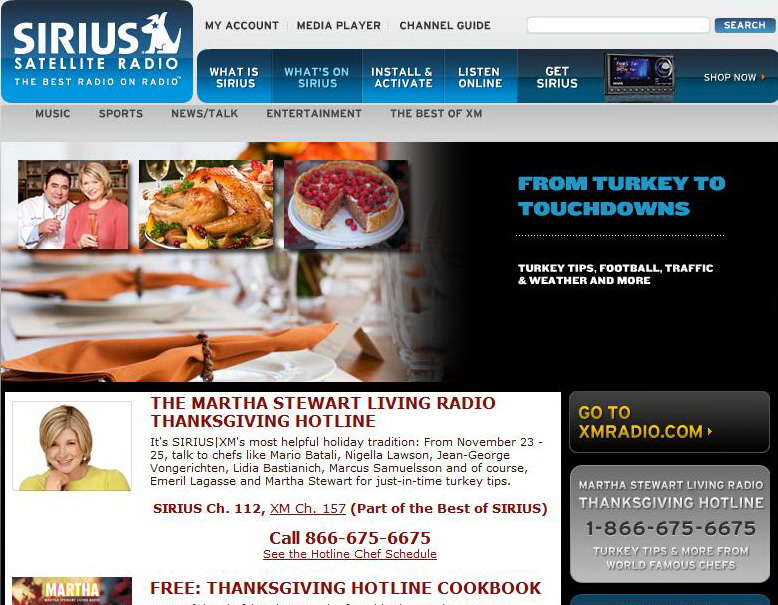 Here is a little bit about the upcoming Martha Stewart Living Thanksgiving Hotline..it looks like it is going to be a great show!
NEW YORK  November 10, 20009 SIRIUS XM RRadio (NASDAQ: SIRI) today announced that more than 30 top chefs and entertaining experts will participate in the Martha Stewart Living Radio "Thanksgiving Hotline." For 30 hours over three days

November 23, 24 and 25 these chefs and experts will broadcast tips, trricks, recipes, and kitchen secrets on SIRIUS XM to listeners across the country while answering questions from callers and tackling holiday quandaries ranging from the traditional to the unexpected.

For this annual SIRIUS XM special, more than 30 of the world's leading chefs and entertaining experts including Martha Stewart, Emeril Lagasse, Mario Batali, Lidia Bastianich, Jean-Georges Vongerichten and Bill Telepan will join the Martha Stewart Living Radioo hosts live in studio to reveal their juiciest Thanksgiving tips and personally answer questions and offer advice.

The Martha Stewart Living Radio "Thanksgiving Hotline" will air November 23, 24 and 25 from 7:00 a.m. – 5:00 p.m. ET on Martha Stewart Living Radio, SIRIUS channel 112 and XM channel 157 as part of "The Best of SIRIUS" package.  Each full day of programming and interviews will replay nightly at 7:00 pm ET on both SIRIUS and XM.

This extraordinary "Thanksgiving Hotline" offers Martha Stewart Living Radio and SIRIUS XM listeners a rare chance to hear these culinary legends divulge their favorite Thanksgiving recipes for the main course, hors d'oeuvres, variations on the traditional turkey meal, desserts, wine pairings, specialty cocktails (including non-alcoholic suggestions) designed for the holidays and much more. They will also share their personal Thanksgiving memories and family traditions.

Martha and her team of Thanksgiving experts will also supply useful tips for cooking on a budget and share simple yet elegant suggestions to spruce up the table and spread holiday cheer.

SIRIUS XM Radio listeners can call 866-675-6675 or email their questions to radio@marthastewart.com.

Full lineup of scheduled guests:

Monday, November 23

7:00 am ET: Alex Guarnaschelli, chef, Butter
8:00 am ET: April Bloomfield, executive chef, co-owner, The Spotted Pig

9:00 am ET: Michael Anthony, chef, Gramercy Tavern

10:00 am ET: Thomas Keller, executive chef, restaurant owner, Per Se, The French Laundry, Bouchon
11:00 am ET: Gina DePalma, pastry chef, cookbook author
12:00 pm ET: Bill Telepan, chef/owner, Telepan, cookbook author
1:00 pm ET: David Burke, chef, David Burke Townhouse, David Burke Prime and Fishtail

2:00 pm ET: Amanda Freitag, executive chef, The Harrison
3:00 pm ET: Emeril Lagasse, chef, restaurateur of numerous restaurants including Emeril's and NOLA, television personality, and cookbook author
4:00 pm ET: Martha Stewart, cooking, entertaining expert and founder of Martha Stewart Living Omnimedia

Tuesday, November 24

7:00 am ET: Mikey Price, executive chef/owner, Market Table
8:00 am ET: Lidia Bastianich, Italian chef, owner of numerous restaurants including Felidia, cookbook author, television host
9:00 am ET: Michael Lomonaco, executive chef, Porter House, television host, cookbook author
10:00 am ET: Nigella Lawson, television host, bestselling author
11:00 am ET: Johnny Iuzzini, executive pastry chef for Jean Georges, author, Dessert FourPlay: Sweet Quartets From a Four-Star Pastry Chef,
12:00 pm ET: Charlie Palmer, chef, restaurant owner of numerous restaurants including Aureole, Charlie Palmer Steak, cookbook author

1:00 pm ET: Anita Lo, chef/owner, Rickshaw Dumpling Bar; food/wine columnist
2:00 pm ET: Marcus Samuelsson, chef, owner, Aquavit, cookbook author; Isaac Mizrahi, leader in the design business for almost twenty years
3:00 pm ET: Frank Stitt, chef/owner, Highlands Bar & Grill, Bottega and Café Bottega
4:00 pm ET: Jean-Georges Vongerichten, chef, restaurant owner, television personality; Bernie Sun, sommelier, corporate beverage director for Jean-Georges' four-star restaurant group

Wednesday, November 25
7:00 am ET: Franck Deletrain, chef, Cafe Centro
8:00 am ET: Pierre Schaedelin, executive chef, Benoit Bistro
9:00 am ET: Mario Batali, chef/owner of numerous restaurants including Babbo, Del Posto, Casa Mono, Esca, television personality, cookbook author
10:00 am ET: Paul Liebrandt, executive chef, Corton, New York City

11:00 am ET: Elizabeth Karmel, chef, cookbook author and founder, Girls at the Grill, website that provides backyard cooks with simple barbecue instructions and recipes
12:00 pm ET: Jonathan Waxman, chef, restaurateur, Barbuto, cookbook author
1:00 pm ET: Rick Bayless, James Beard Award-winning chef, Frontera Grill and Topolobampo, cookbook author, television host

2:00 pm ET: Anne Burrell, chef, television personality
3:00 pm ET: Joey Campanaro, chef and owner, The Little Owl and Market Table, television personality
4:00 pm ET: Allen Katz, director of mixology and spirits education for Southern Wine and Spirits of New York; Govind Armstrong, executive chef/owner, Table 8, cookbook author

All of the chefs contributed their own recipes for a special, free online cookbook, Martha Stewart Living Radio's Thanksgiving Hotline Recipes, created for SIRIUS XM especially for the occasion. This extraordinary collection of recipes and tips covers everything from turkey to desserts to wine selections, and is available for download at www.sirius.com and www.xmradio.com.

For more information, please visit: www.sirius.com/martha and  www.sirius.com/thanksgiving