Logitech Pro 9000 Webcam *review and giveaway*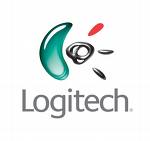 I have never been fond of using a webcam and have had only a very few of them in the past that I attempted to use.  This day and age it seems to be the norm to have a webcam when you purchase your computer.  I know my laptop came with one built right in.  Putting aside the fact that I hate how I look on camera, it really is a useful thing for us to have. We have a lot of family that likes to keep up to date with the boys and it is really difficult since they all live in another state or country for that matter.  With the internet and digital age it has made it so much easier to share photos and video with friends and family that may be far away.  We love to use programs like Skype or various messaging software, and almost all have video sharing capability.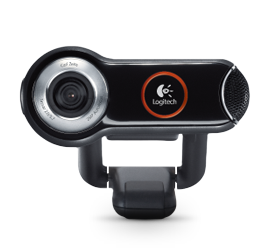 We were given the opportunity to try one of Logitech's latest and greatest in their wide range of webcams that they offer.  The Logitech Quickcam Pro 9000 arrived and I was eager to see how easy this cam would be to set up for the average joe schmo like me who knows  little about technical gadgets such as webcams.  Don't get me wrong, I love a new gizmo like the rest of the world, but I also believe that being "user friendly" is a huge plus.  If I cannot plug it in and go, then I am likely to throw it out the window. The webcam came with Logitech's Video calling software which is pretty nifty but as a user of multiple programs that support video, I actually prefer to use my existing programs.  The image quality on this particular webcam is probably one of the best I have seen in with a webcam.  I typically use  my webcam in a fairly dark room and I was amazed at how well the Pro 9000 did under low light circumstance.  Setting the cam on top of my laptop monitor was a snap and the adjustable rubber gripped mount works perfectly to keep the cam in place.
Logitech Pro 9000 Features

Carl Zeiss® optics

You'll enjoy razor-sharp images from a lens designed with the help of one of the pioneers in the industry

Premium autofocus

The innovative design keeps your images stay razor sharp, even in close-ups (up to 10 cm from the camera lens).

2-megapixel sensor

Delivers fluid, true-to-life video and lets you take snapshots at up to 8-megapixels (software enhanced).

RightLight™ 2 technology

Even if you make a video call in dim or poorly backlit settings, the camera will Intelligently adjust to produce the best possible image.

Logitech® Video Effects™

Your video calls get an extra dose of fun with Video Effects. It's easy to spice things up with neon splashes, fish-eye distortions, and more.

Includes Logitech® Vid™

Technical Specifications

Carl Zeiss® optics with autofocus Native 2-MP HD sensor High-definition video (up to 1600 X 1200*) 720p widescreen mode with recommended system Up to 8-megapixel photos (enhanced from native 2 MP sensor) Microphone with Logitech® RightSound™ technology Up to 30-frames-per-second video Hi-Speed USB 2.0 certified Logitech® webcam software (including Logitech® Video Effects™: fun filters, avatars, video masks, and face accessories)
The software that comes with the Pro 9000 webcam is actually a whole lot of fun.  It comes with some pretty funny facial effects that you can play around with.  I did discover that you can also get many more video effects offered at Logitech's site all you have to do is select get more effects.  This had me and the boys thoroughly amused for nearly and hour and I was even able to try them out with my messaging software.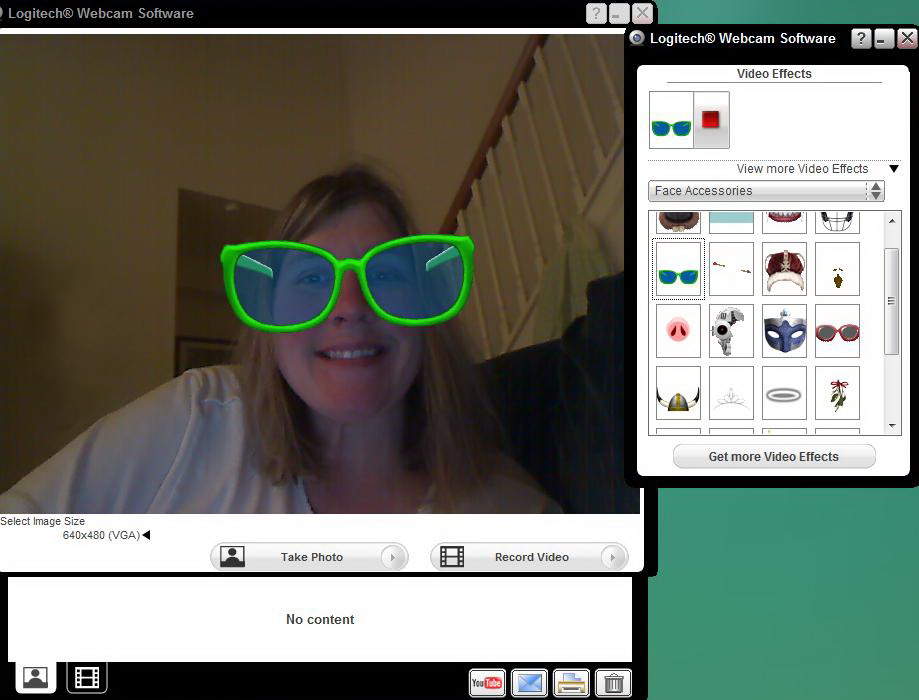 The best thing about the Logitech Pro 9000 is its ability to capture video in high definition without totally frogging down my computer.   The quality of the video is superb and its image capture is just as good.  This picture you see here was captured in a room with only light from the tv and one overhead can light in my kitchen so I would say, not too bad.  Although the only thing I have to compare with is my very old webcam but I am still just as impressed.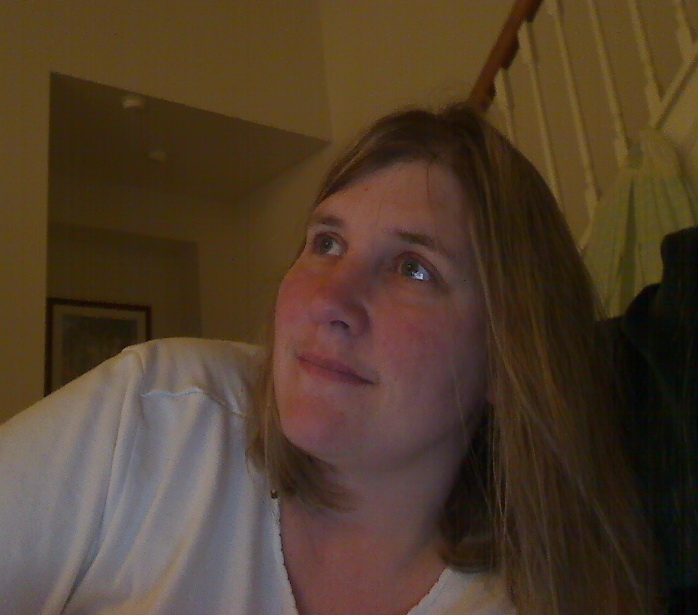 The camera is equipped with autofocus which worked surprisingly well.  The built in microphone made me sound a little far away, but other than that, this camera is definitely a keeper and well worth the $99 investment.  If you are looking for a perfect holiday gift for family members who live on the other side of the planet this is a great idea.  It is a good webcam that works right out of the box and is just as fun to use, as it is to give.
*The Logitech Pro 9000 was provided to me for free to  review by Logitech.  The opinions about this webcam are that of my own**
Would you like to win  a Logitech Pro 9000 Quickcam???
Heres what you gotta do
Visit Logitech's site and tell me what other great product you like and why you would like to win this webcam and come back here and leave me a comment
For Additional Entries
You can tweet once about this giveaway, all subsequent tweets will be disregarded
You can blog about this contest and provide me with the link
Favorite me on technorati
Add my button to your blog
Subscribe to my blog
Contest Starts November 2, 2009 and Ends December 2, 2009
Good Luck!!!