Ultimate Party Meatballs A Crowd Pleaser For Any Occasion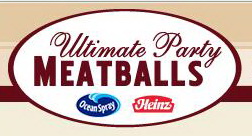 It is that time of the year when holiday festivities are about to be in full swing.  Every year my husband and I are invited to at lease several events that involve bringing a favorite appetizer or dish.  If you are a busy mommy like me, my ambitions are usually greater than my energy level in creating some new found masterpiece to bring to a gathering.
Over the weekend we were invited to a football party and it was a "bring a favorite dish" type party, so I found myself thinking about what I should bring. I quickly remembered that I had a new recipe to try, and I had all the ingredients to give it a test.  Heinz and Ocean Spray have teamed up to create a really easy yet great tasting addition to any holiday gathering.  Their Ultimate Party Meatballs recipe takes three ingredients and they taste unbelievable.  If I had known how easy this was all along, I would have been coined the meatball lady at all these parties!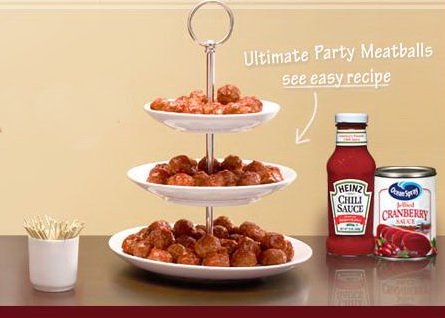 I chose to do the crockpot method of preparation.  All you do is throw in a bottle of Heinz Chili Sauce and Ocean Spray Jellied Cranberry Sauce, and two sof frozen meatballs and put your crockpot on high for four hours and you are good go.   They smell totally awesome and they taste even better.  I couldn't stop stealing meatballs from the crockpot,  at least I made a double recipe. They have the perfect combination of salty and sweet tangy zip that make you want to keep coming back.  I came home with just a few lone meatballs left.
Here is the official recipe
Ingredients

1 14-ounce can Ocean Spray® Jellied Cranberry Sauce
1 12-ounce bottle Heinz® Chili Sauce
1 2-pound bag frozen, pre-cooked, cocktail-size meatballs

Directions

Combine sauces in a large saucepan. Cook over medium-low heat, stirring until smooth. Add meatballs. Cover and cook for 15 minutes or until meatballs are heated through, stirring occasionally.

Makes 30 appetizer servings.

Slow cooker Preparation: Place meatballs in a slow cooker. Combine sauces and pour over meatballs. Cover and cook 4 hours on HIGH.
If you like a little bit of a kick to your meatballs you can add a dash of tobasco to them to give them a little kick. I refrained from adding it this time because some people might not like the spicy. They were so yummy that I took the last of the meatballs and made a sub out them for my late night snack.
Whether you are heading out to a party this holiday season or if you are looking for something easy to make for an appetizer. Ultimate Party Meatballs by Heinz and Ocean Spray are a perfect addition!
"I wrote this review while participating in a blog tour campaign by Mom Central on behalf of Heinz and Ocean Spray and received the ingredients necessary to facilitate my review. In addition, Mom Central sent me a gift card to thank me for taking the time to participate."