The Imposter By Kip Kreiling *review and giveaway*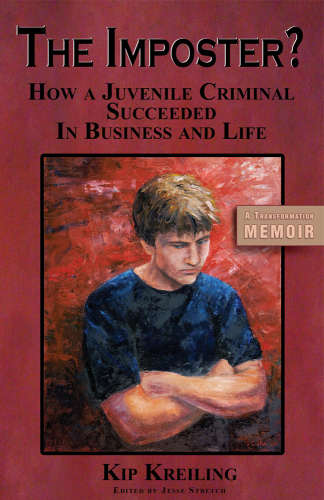 I think that there are probably thousands of self help books and books about transformation out there on the market.  Up until recently, I have had a few really good ones passed on to me by a very good friend and coach that I felt were noteworthy.  I have had many discussions with him on the fact that, books are just someone's view and that doesn't always pertain to myself.  In fact, I even got mad at him a time or two when he would tell me the answers are in the book.  I probably should do a lot more reading than I do, but I find it hard to take the time out and if the book doesn't have my attention in the first few pages then it normally winds up on a shelf to collect dust.
Do you believe in the Law of Attraction?  It wasn't until I was contacted to review The Imposter by Kip Kreiling, that I gave any of it much thought.  I won't delve into some of my own hardships, but have recently made it a point to change my perspective on how I handle life situations.   This particular book could not have come at a better time.
The Imposter is about Kip Kreiling and how he survived being out on the streets, drug addiction, in out of homes, and being arrested numerous times and completely transformed his life.  They say that people can never change, but this is a powerful example of how anyone can.  He talks about the fact that we can indeed change our own life situation by first knowing that you can change and making that transformation a compelling desire.  He outlines eight simple yet powerful principles that  makes a liar out of "Leopards not changing their spots."
I was talking to my life coach, mentor and friend and I had passed a copy of this book on to him.  He had not read the book yet, but was asking me what I had learned from The Imposter. Kip Kreiling references events in history and how they related to the principles in the book.  I did complain that there was a lot of history in the book (Sorry Kip) and that I was never a fan of reading history books but as my coach had mentioned, history is our greatest teacher and a perfect example of how people can change. As much as I don't like history Kip Kreiling has a wonderful way of showing how history is one of the best teachers.
As I read the book, it is an amazing testament to the survival of the human spirit.  Kip Kreiling dealt drugs, he did drugs, he slept on the streets, he went to jail and dropped out of school, he was a criminal.  Most stories that you read like that, almost never end in anything good or positive, but Kip managed to overcome what most of society would consider a life sentence.  He rose above all of that, conquered drug addiction, went back to school, and became more than just a success, but an inspiration. I found myself engrossed and in awe of how he managed to overcome those things and even managed to survive!
One of my favorite parts in the book, which gives you a different perspective on how to look at the things going on in your life is to focus your energy on creating the positive rather that trying to eliminate the negative things in your life.  I have struggled with my weight for many years and at the very end of the book, I was given a very different answer to how I could make that change.  Instead of going on a diet, I will just run a marathon.  I won't give you all the details, you will have to read the book for yourself.
Not only will you want to read this book from front to back but I will be keeping this one close.  I have already gone back and read several passages.  Kip Kreiling is  real inspiration and testament that anyone can transform their life and that  the past is no measure of  what we can achieve.  The Imposter  is well written and honesty in its purest form, it shows us that when life is even at its worst. that you can turn it around by simply changing from this moment forward.  This is a must read!
**Thank you Kip Kreiling for providing me with a copy of this book for review**
Kip Kreiling was nice enough to provide 5 copies of his book for me to giveaway to DoubleBugs readers.
THIS CONTEST IS NOW CLOSED
Here's What You Gotta Do
If you would like to win a copy of his book please leave me a comment telling me why you would like to have this book, or if you have someone in mind that you would like to give the book too.
Additional Entries
Follow Me On Twitter
Tweet about this giveaway
Blog about this giveaway
Add my button to your blog
Add me to your technorati favorites
Giveaway starts January 21, 2010 and Ends February 19, 2010
Good Luck!