We are finally settling in with our new Frigidaire Professional Refrigerator, and testing it to it's limits indeed. Now that the newness has worn off, I am getting to know the new fridge a little more.  I am sure that, I am not the only one that keeps a refrigerator like we do in this house.  I guess you could say I am the stuff and run type and well organization in my fridge doesn't happen very often.  You know the drill, you get home with a truck load of groceries, the kids need your attention and you stuff and run.  As long as it's all in there, right?
This is embarrassing but this is what it looks like at the moment (oh shush, you know yours doesn't look neatsy poo!  LOL)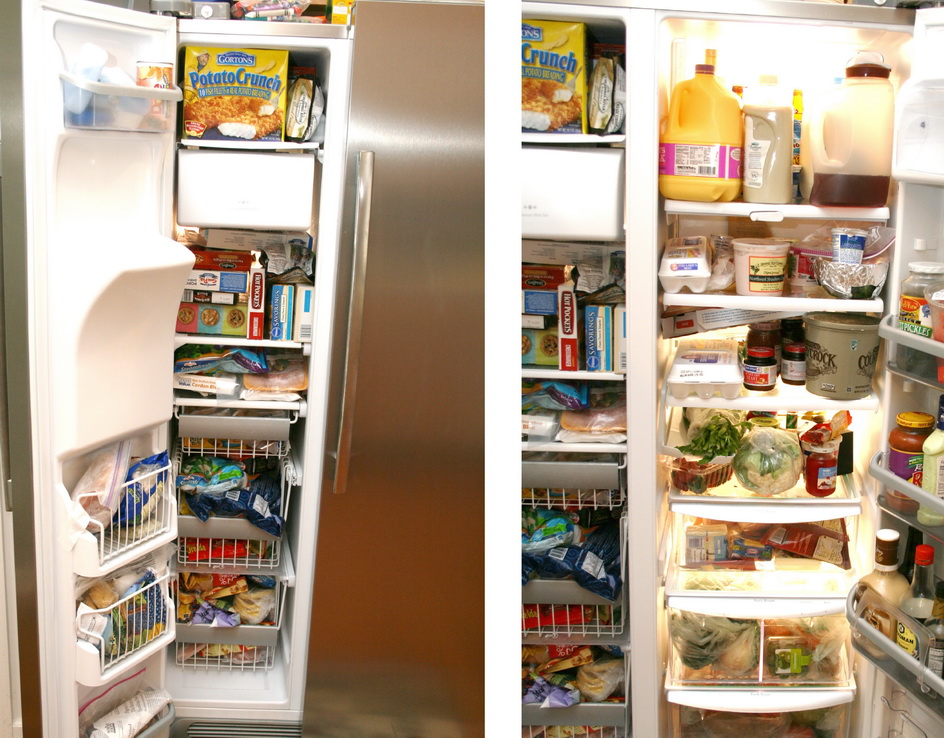 I have to share one of the many little features that I love. When you open the doors on the Frigidaire, I imagine the heavens opening up and the choir beginning to sing with this great performance lighting it has.  You open the door and the lights ease on, and well, then I am reminded that I really need to organize this stuff better, but the effect still makes me happy.
Odor Control
With our new Frigidaire, gone are the days of having a box of baking soda taking up a little more of your extra space.  And let's face it, we don't always get to the leftovers sheepishly hiding in the back for the past four weeks, and last thing I want is to have that blast of stinky air in my face when I go for my favorite foods.  It has a wonderful little feature called the PureAir Ultra filtration system, and it seems to be working just dandy because I left half a pan of lasagna in there till it looked like something out of science fiction and you would have never known (you know you've been there, don't pretend).  I guess it works!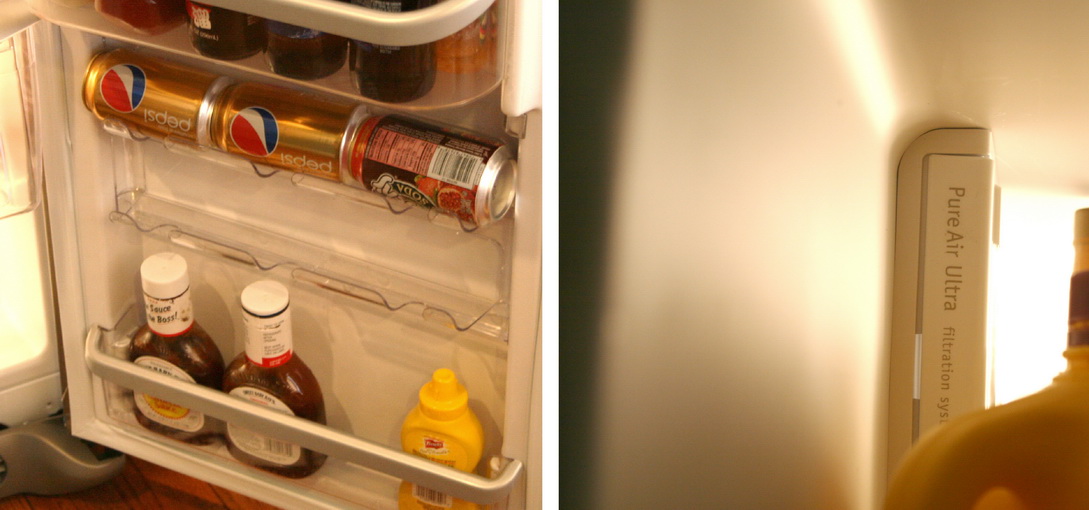 Temperature Control
We have been busy stuffing as much as we possibly can into our new Frigidaire.  We have had some issues with the meats and cheeses freezing in the drawer and we are still determining how to make it to where that doesn't happen by adjusting the temperature sliding tab for the meat drawer and by not having to raise the overall temperature of the fridge to 38 degrees, because we like our milk fairly cold in this house.  The freezer is working great and no issues there.
Energy Savings
We are big on energy savings in this house, and every little bit helps right down to the lightbulbs.  Typically your major appliances can suck the money right out of your pocket.  The good news is that,  Frigidaire just received the EPA's prestigious 2010 Energy Star award for their "Swap and Save" Energy Star Promotion. This award recognizes Frigidaire's commitment to smart energy management and its efforts to share the importance of energy efficiency.  If you want to see just how much money you will save with Frigidaire's newest appliances, they have nifty way to calculate you energy savings at their site www.Frigidaire.com/ecosavings
Storage and Space
I am loving all sorts of cool new features in our new Frigidaire. I love having a place to put the soda cans in the door, and I love the fact that the fruit and vegetable drawer is divided in half. It seems like something simple, but it makes it nice for organizational purposes and keeping things separate. And the cherry on top has to be the adjustable shelf on top. All you do is turn the crank and you can raise and lower it. So you know the bottle of oversized grape juice that you bought that you normally have to strategically angle into your fridge and you cant put it upright? Well that is no more, with my new Frigidaire fridge, because if I need an extra inch or two all I have to do is turn the handle. And it can just as easily be moved back.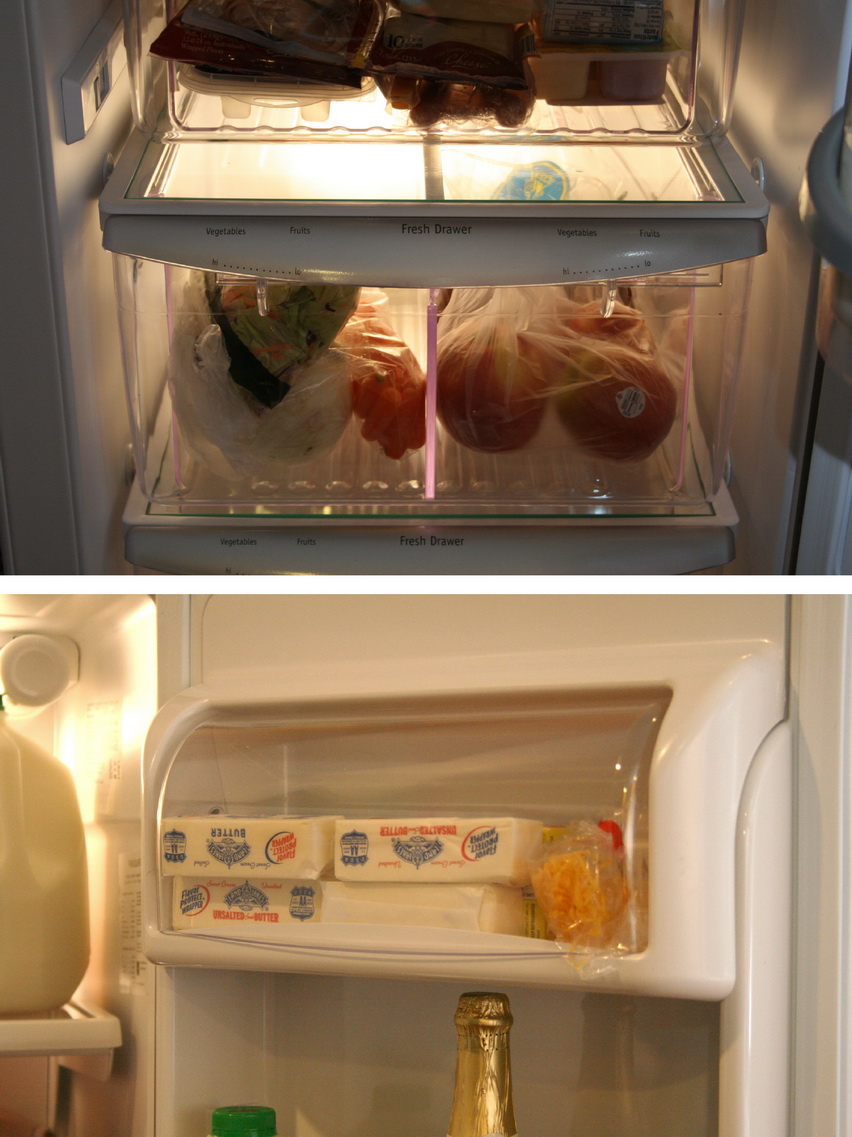 In the upcoming weeks, I will be working on better ways to effectively organize the fridge and take a look at how easy it is to clean.
I wrote this review while participating in a Test Drive Campaign by Mom Central on behalf of Frigidaire and received a Frigidaire Refrigerator to facilitate my review.

Ready To Go!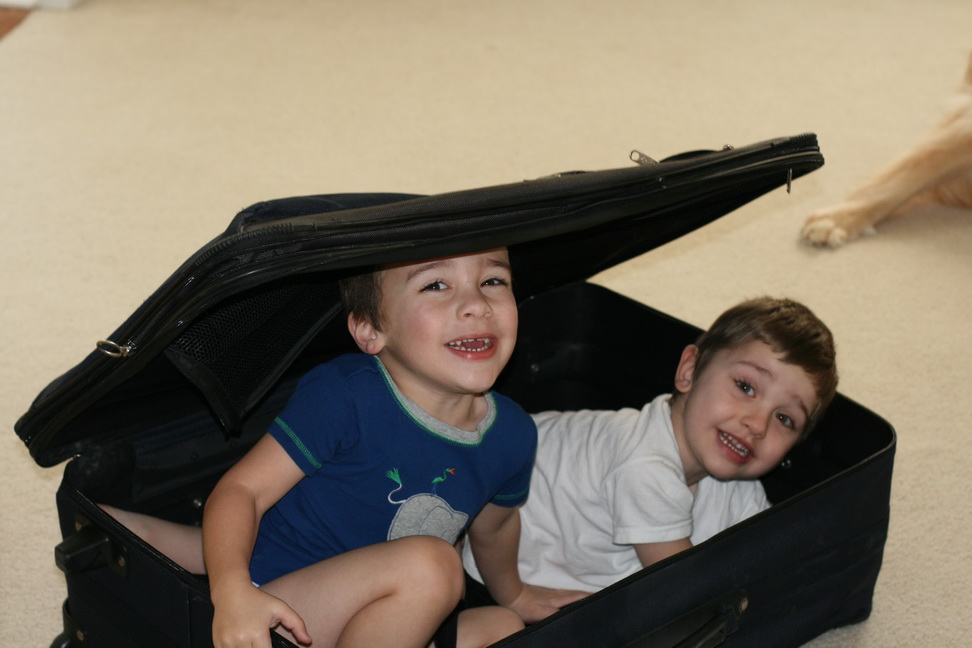 I usually try not to complain too much, but I have a  beef about the power in our neighborhood.  Yesterday, our power went out for the the nine millionth billionth time in the 7 years that we have lived here in this house, which we had newly built.  The first  two years I panned it off as new construction etc.
Then as the years went on, we have been blessed by at least two good power outages a year, on a good year.  I have lost 3 freezers full of food, and have gotten one flooded basement from it.  If you have no power in the rain, the sump pump doesn't go off and wahlah, flooded basement.
I find this all irritating.  Saturday we were feeding the boys their dinner in the dark.  It was well passed their bedtime, but we had to leave the house, because no one was going to bed.  The house is too quiet in a power outage, and even rolling over in bed sounds like a freight train running through, when the furnace isn't blowing, the air purifier isn't on….you get the picture.
We were totally unprepared for the power going out (clear skies, no wind, beautiful uneventful night), so we found ourselves tripping to find the flashlight.  Candles?  fresh out! I go through those like candy around here, due to the freaking power going out when you sneeze.  And as if that isn't enough to tick this mama off, the garage door doesn't open, yeah you have to manually open it to get the car out to go to the store to buy the extra flashlight you needed for the outage cause you lost the other one somewhere.
Never go to the store with your husband, because you could very well stand in the flashlight aisle for 12 hours deciding on LED or regular and answering questions like…How many lumens is it? Plus you leave with 6 cupcakes and two hot wheels (apology for keeping the kiddos up past their bedtime, who are now crabby as ever).  And, just as soon as you get home, half excited to try the new 800 hr flashlight, the power is back on, and you wonder why you left.
Electric people…are you out there?  Can you please get it right?  I shouldn't have to be shopping for a whole house generator, and having to buy 3000 flashlights and candles.  Where do these things go anyway?  I still can't find a blessed one of them.

Being new to the parenting scene, it seems like I am always shopping for the boys. Clothes and children's shoes have to be at the top of my list, because they are always growing. I find this to be one of my biggest challenges in meeting their needs because, I feel like I am always buying.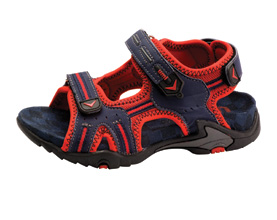 If you can envision me in the store, attempting to "guess the future size", you know how difficult it can be. As a parent to twins (which means double everything for shoes etc.),  you really want to get shoes and clothes that will stick with your child for at least a good 6 months if not longer. Shoes, are the biggest deal on the list because they can be so expensive. I just purchased what seemed like only a few months ago, sneakers for the boys, and their toes are already to the very tip. So now I find myself lamenting again whether or not to buy a full size larger.
Anytime we get to review shoes in this house, is a happy joy joy moment. It is nice to see what shoes fit the boys the best and I have a few on my list that rank tops on my list. Umi shoes just came out with their new Spring/Summer line of shoes for 2010 and I love their shoes. One main reason, I love their shoes is because Umi shoes allow some growing room for your child. If I order their size shoe, they have at least a half size of extra grow room. This is such a wonderful thing when it comes to children's shoes because at least they get to wear them. I don't know how many pairs of shoes that we have gone through that still look new because they hardly got to wear them. They outgrew them so quickly.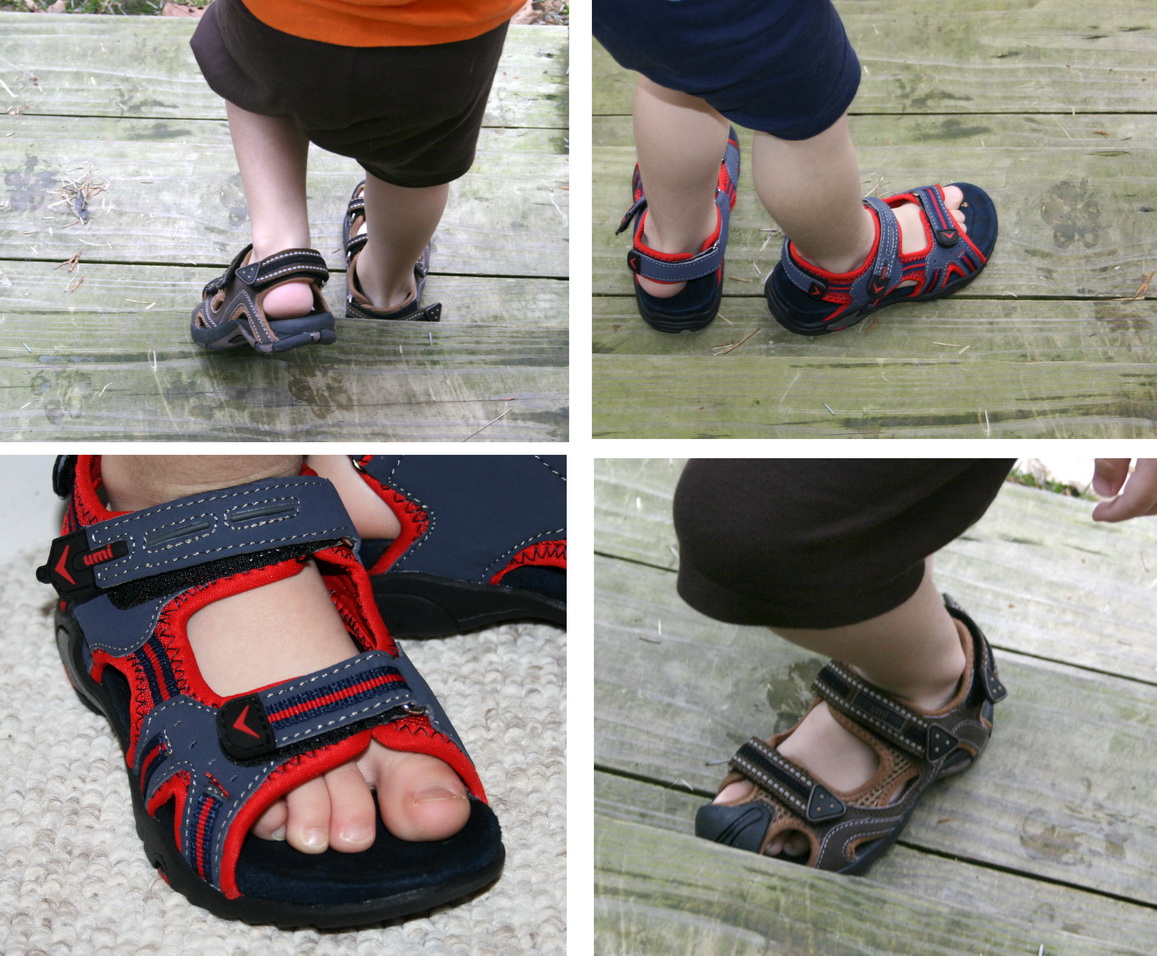 We chose the Brazos an open toed sandal that comes in three really great colors, black, chocolate, and navy. We received the Navy Brazos with red accents that I love. I like that it had a unique color combination but not too much that I can put this sandal with anything that they wear. One of the greatest features is that the sandal is waterproof. This is great when you have young kids, especially boys, because they can sweat and jump in water etc and you don't have to change shoes. I almost always choose a sandal for the warmer months because they are easy to get on and off, and with the heat, their feet have a chance to breathe. The soles are flexible and durable to outlast the rigors of your child's play. Children can run and jump and play in them, and they just look comfortable on their feet with no rubbing and wear on their sensitive skin.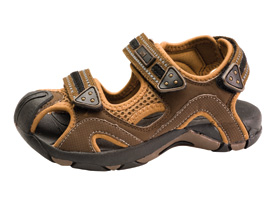 We also received the Trek in Chocolate. This is a great alternative to an open toed sandal. The toe is closed but still offers the breath-ability of a good summer sandal.  It is also waterproof, so your child can run through puddles, slosh in mud, and you can just rinse off and you are good to go.  Trek comes in easy to match colors of black, chocolate, and olive.   The velcro closures on Umi shoes are some of the better ones that I have had.  Usually what tends to happen is you get fuzzies and stuff stuck in the velcro and then the shoe doesn't stay closed on some of the shoes.   I have never had that problem with Umi shoes.  The shoes are easy to adjust and stay put.
A Little Bit About Umi
At Umi, we build real children's shoes. Not floppy leather slipper socks. And not miniature grown-up shoes. We know a lot about growing feet. Front to back. Side to side. Top to bottom. Umi shoes are designed with children's feet in mind.

Around here we have some pretty high standards. We craft our shoes from the highest quality nappa and nubuck leather, with carefully constructed lasts. Our manufacturing process includes more than twenty quality control checks to ensure that every pair of shoes meets our standards. The result: Umi shoes are flexible, supportive, built to fit, and go the distance.

We protect the ground we walk on. We're also looking out for the next generation. Umi makes shoes that are healthy for kids and healthy for the planet. From first step to last, we're committed to quality and safety. We use only non-toxic materials that are built to last. Our drum-dyed leathers are tested for colorfastness and wear-resistance. And our commitment doesn't end there. We package our shoes in recycled materials and use environmentally sound practices to manage our waste. At Umi, making a safe, healthy, earth-friendly product is not trendy. It's just who we are.
Umi shoes has a really great Spring and Summer line of shoes for 2010. You are sure to find something for girls and boys alike. You can also Sign up as an UmiFriend through email and an UmiFan with Facebook to stay in the know about ways to care for little feet and get some exclusive promotions for being a subscriber. Umi shoes are great shoes for little feet!
**Umi Shoes sent me two pairs of shoes to help facilitate my review, my opinions are that of my own**


For the past couple of weeks, we have been adjusting to a new addition in the family.  We have been getting acquainted with our new Frigidaire professional line refrigerator.  It is a tad smaller than the one that we sent to garage but the storage areas seem to make up for the space that we lost.  There will be more in the future on organizing the fridge to make more space.  You might be a little scared at the moment because I haven't had the chance to make it all pretty and organized on the inside.
I am loving the stainless steel look in the kitchen.  When the guys from the appliance store were installing the fridge, I told my husband that I may need to change all of the appliances over to stainless steel.  All the men in the room laughed together.  I guess that was a no.  What do men know anyway!  I guess I will leave that discussion for another day  ha!
The fridge is beautiful.  I was a little worried about how easy the stainless steel would get finger prints.  But, I have found that it is extremely easy to clean.  I just take a damp paper towel half wet and half dry and they come right off and it looks great.   I really like having the temperature display on the outside of the fridge.  On our GE Profile, they were inside the door, and I felt like I was forever adjusting the temperature to get it to stay.  You will see the display on some of my pictures.  At the time the fridge was working its way to the proper temperature after we got everything in it.  But it took very little time and everything was nice and cold.
We are getting used to all the new features, and I particularly like the little shelf that is above the ice maker.  You can fit your Ben and Jerrys up there (which is critical) and a pizza.  I love that!   I will cover more of the features in a later post.  In the meantime, let me introduce you to my (our) new baby!  I know you will fall in love too!
Turn Up Your Sound 

"I wrote this review while participating in a Test Drive Campaign by Mom Central on behalf of Frigidaire and received a Frigidaire Refrigerator to facilitate my review."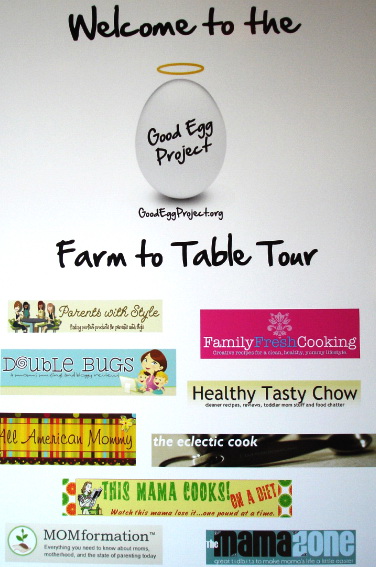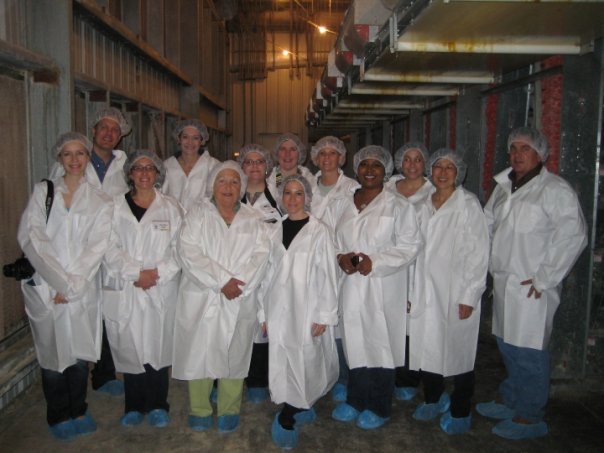 Ever wonder where your eggs come from?  From a chicken right?  Well of course they come from chickens, but did you ever wonder how they arrive to your table?  I had the first hand opportunity to see the chicken who lays the egg, the machines that take them, clean them, magically snatch them up, and put them in the carton, and the people who make it happen.
Our first evening included a wonderful dinner with the talented Chef Jeffrey Saad, World's Fastest Omelet Maker, Howard Helmer, Clint Hickman of Hickman Family Farms and his lovely wife, and the wonderful ladies from Edelman and American Egg Board.  The Mayor even stopped by!  The next morning we would be on our way to Hickman Egg Farm after sharing good food with new friends, with none other than scrumptious egg dishes for breakfast.
On the bus drive over, Clint gave us some background, pointed out some things along the way and how farmers really are struggling.  We even saw some dairy farms, now vacant as a result of bankruptcy…perfectly good farms but no way to keep up.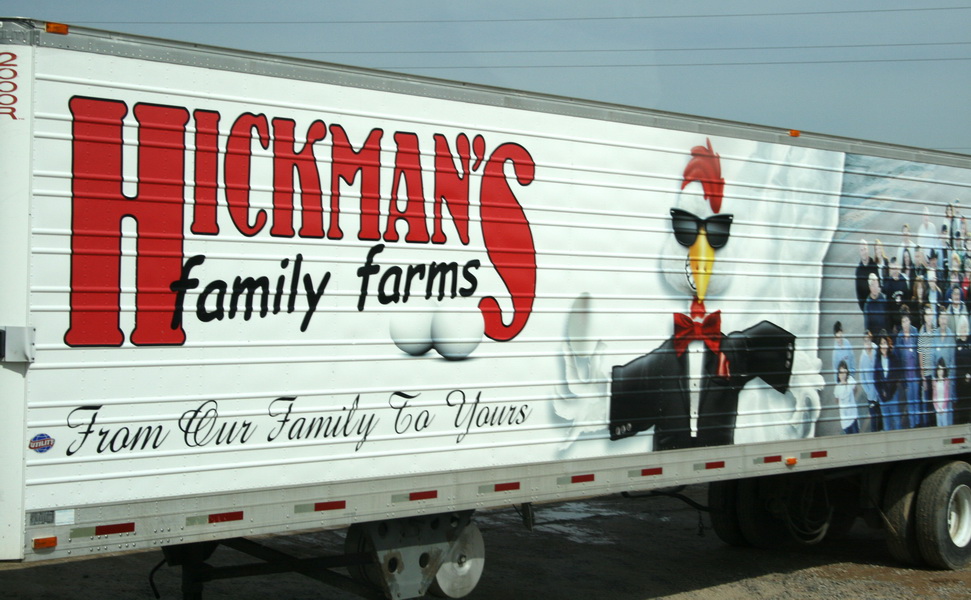 About Hickman Egg Farm
Hickman's Family Farms has been family-owned and operated in Arizona since 1944. In its early days, Hickman's entered the Arizona food service market by providing fresh, locally produced eggs direct to small independent restaurants, and directly to consumers. Every afternoon, one little refrigerated panel truck was sufficient to deliver the day's production to coffee shops in Glendale and to Carnation Restaurant in the big city of Phoenix. Bill and Gertie Hickman displayed the entrepreneurial insight that has kept Hickman's competitive for decades.
Going Green
Hickman's Family Farms utilize stringent methods of conservation and recycling to remain as environmentally-friendly ("green") as possible. Wash water is recycled and reused, and manure is dried, ground, and turned into high quality fertilizer. By the time we are through at even our largest facilities, we actually discard into dumpsters less waste than the average apartment building does in a day.
Ya know what they say….that from the manure, flowers grow!  Everything is put to good use at Hickman Egg Farm, right down to the egg shells that are used for compost.
Billy and Clint Hickman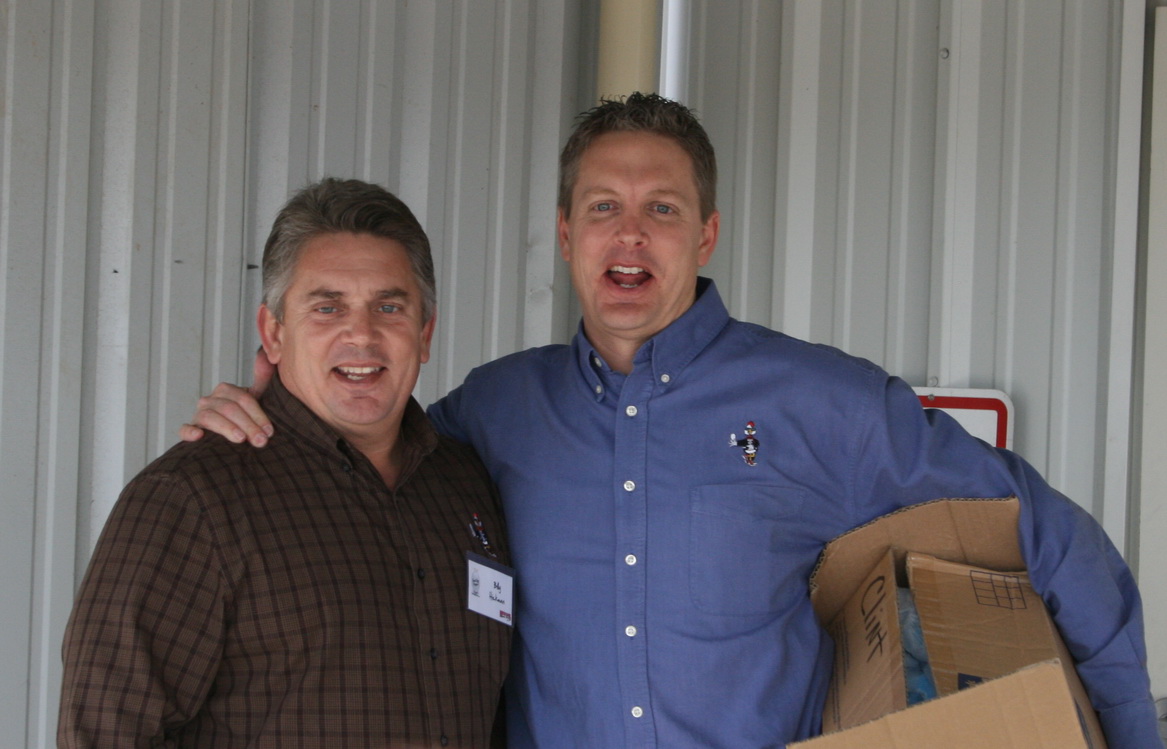 Once we arrived, we put on our booties, our coats and fancy hats.  This is a precaution to protect the chickens from an form of contamination and or disease that may be carried in.  I don't think I have ever seen so many chickens in one place, or eggs for that matter.  I was in complete awe of the entire process.  We arrived right at their peak laying time, and boy were they a chatty bunch!  You could barely hear what Clint and Billy were saying over chicken talk.  Billy, explained that even chickens get a nap time during the day and all you can hear is a low murmur, and then they also get a bed time like we do.  Egg laying is hard work people.
Don't I Look Cute?  Just Agree!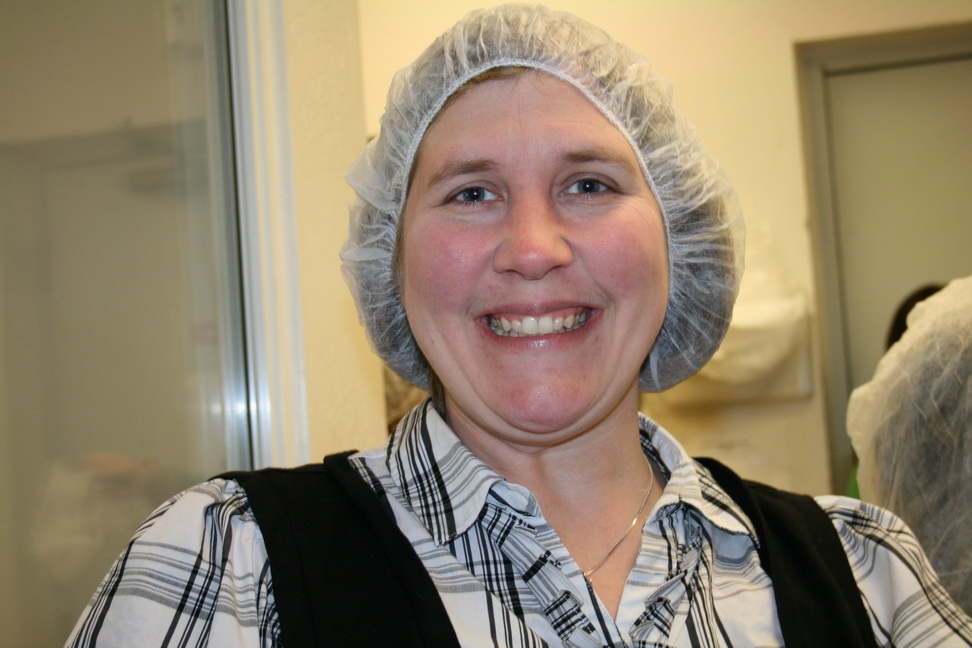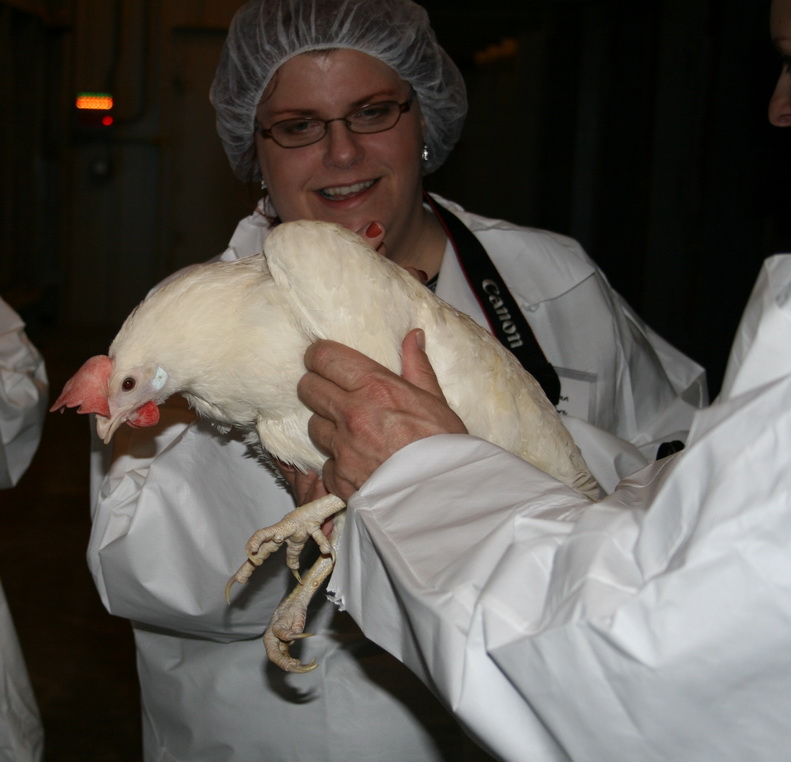 It was fascinating to see the eggs roll out on to mini conveyor belts, get carried to where they are cleaned and sanitized then snatched up and packaged for market.   We stood amongst all these eggs in the warehouse and all those eggs must leave within a 36 hour time period or the eggs would be through the roof.  We are talking about millions of chickens that don't stop laying just because you have a warehouse full…that's just how many eggs their were.
From Chicken, To Cleaning/Sanitizing, To Package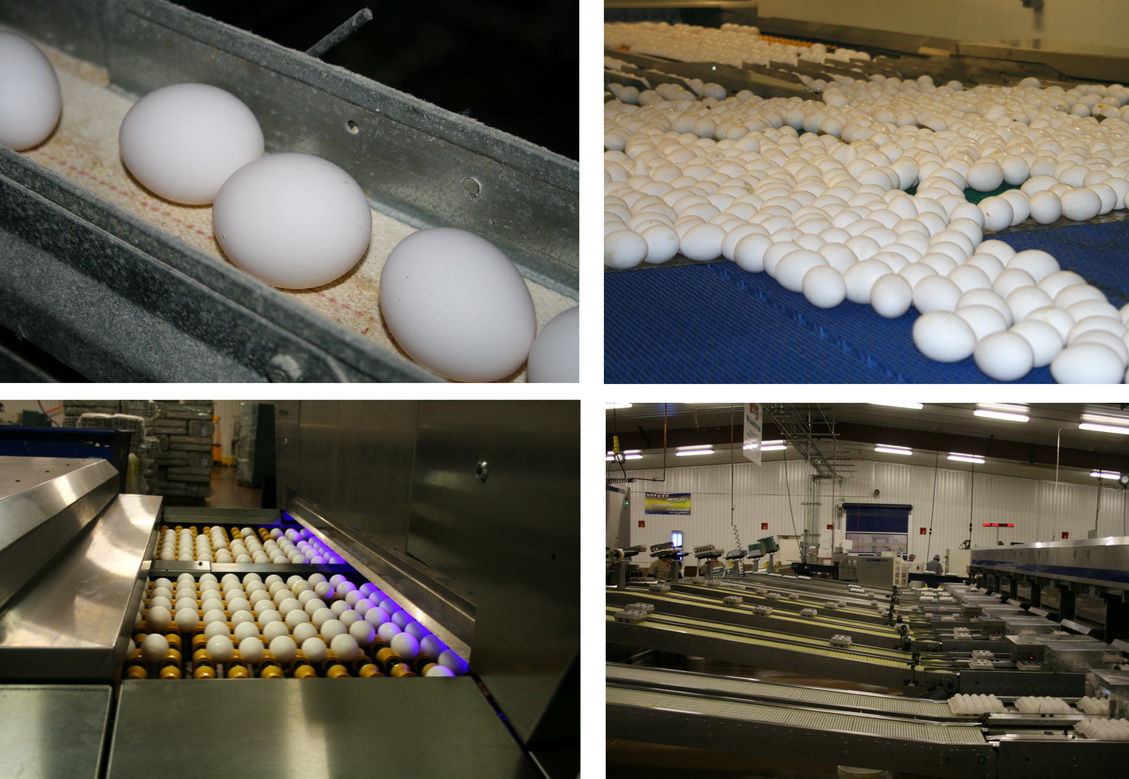 This is Billy and Clint's Mom Gertie, she is a great lady with tremendous spunk!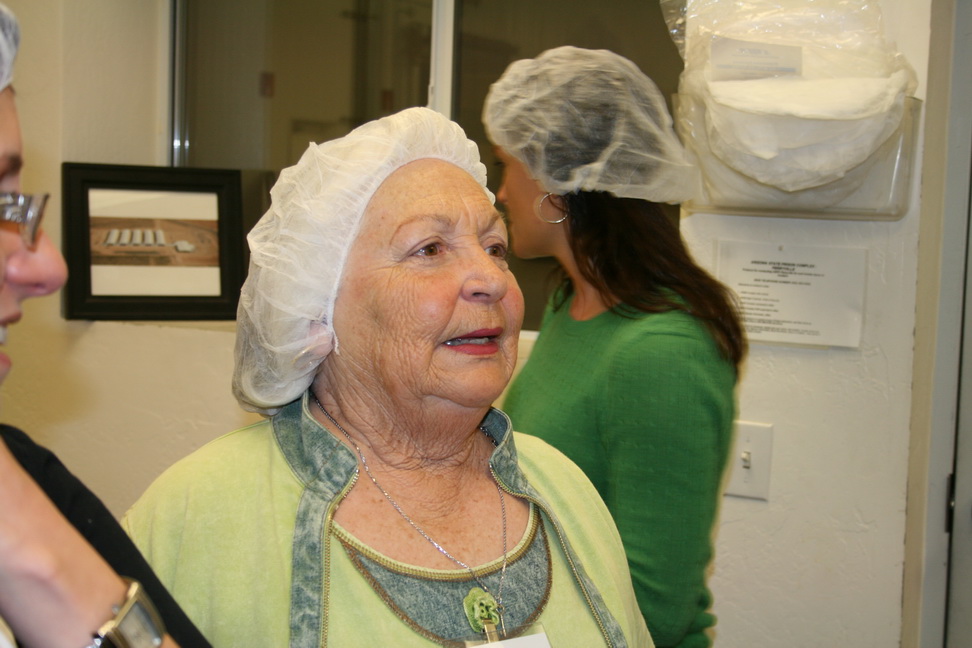 There was an incredible amount of information to digest and it was an incredible experience to get a behind the scenes look into what it takes to get fresh eggs to our table and I have a new respect for our farmers, because they are feeding our country.  And as part of the Good Egg Project, egg farmers are donating up to 12 million eggs per year,  to food banks and charities.  We can also do our part by joining in and committing to live more healthfully and give back by pledging to "Eat good. Do good every day."  For every person that makes the pledge, farmers will donate one egg to help feed America up to 1 million eggs.
After and eye opening tour of egg production at its finest, we heard from Mary Lee Chin a registered dietitian about the nutrition benefits of just one egg, and we were treated to some totally awesome cooking demonstrations by Jeffrey Saad and Howard Helmer.  We learned some easy egg recipes from Jeffrey and how to whip up an omelet in no time with Howard (world's fastest omelet maker).  I was quite enthused to try the omelet making at home, since all of mine usually look like a scrambled mess.  But after learning the key to making omelets, I felt like a whiz in the kitchen when I rolled out three perfect and delicious omelets.
Mary Lee Chin Telling Us About The Nutritional Values Of The Egg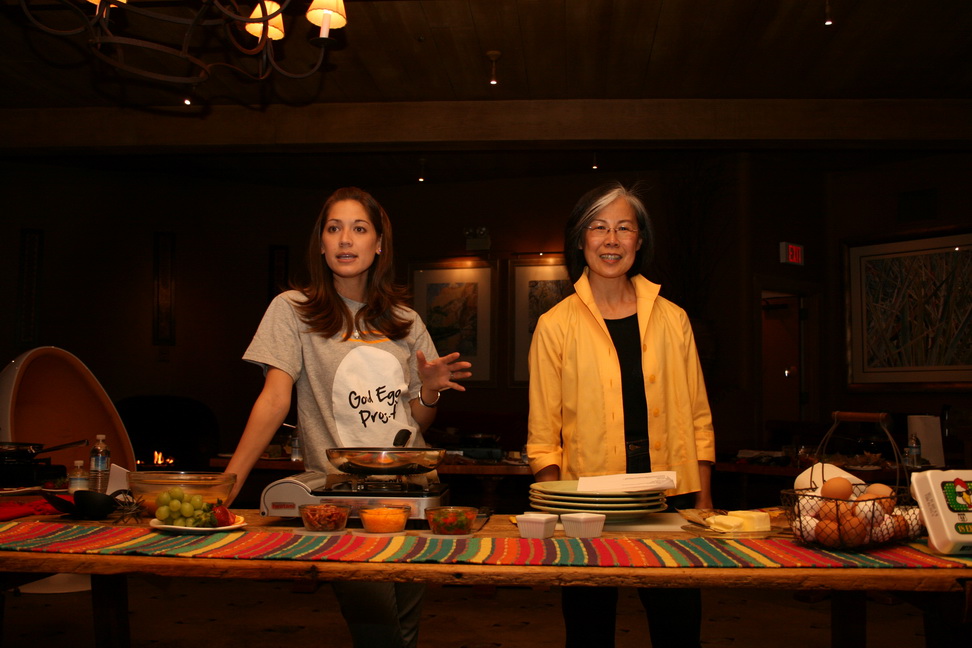 Howard Helmer Showing Us How To Make a Perfect Omelet in Seconds!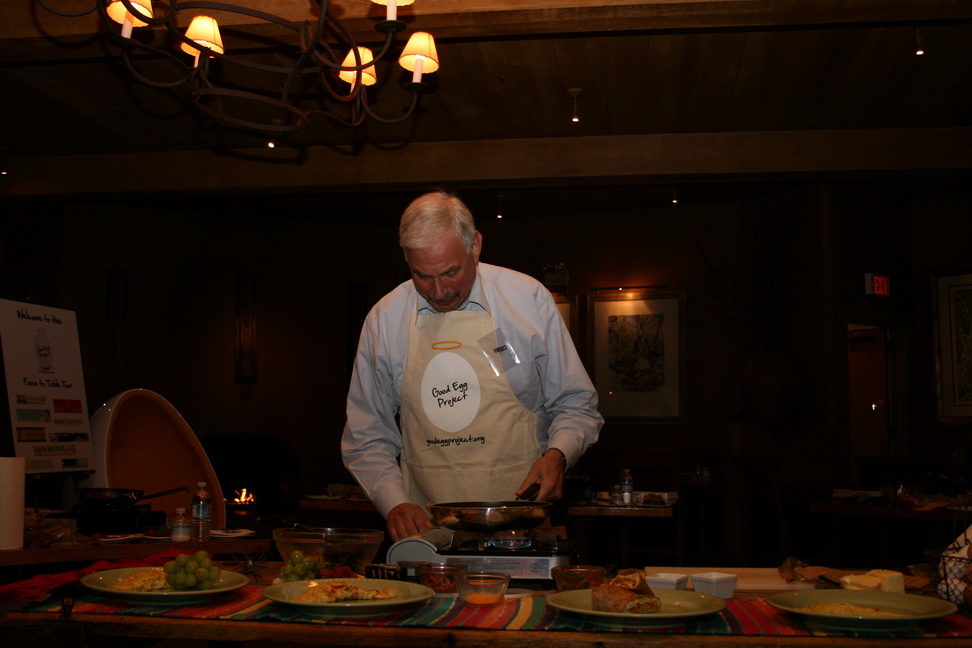 Jeffrey Saad Shared Some Wonderful Egg Recipes and His Passion For Making Good Food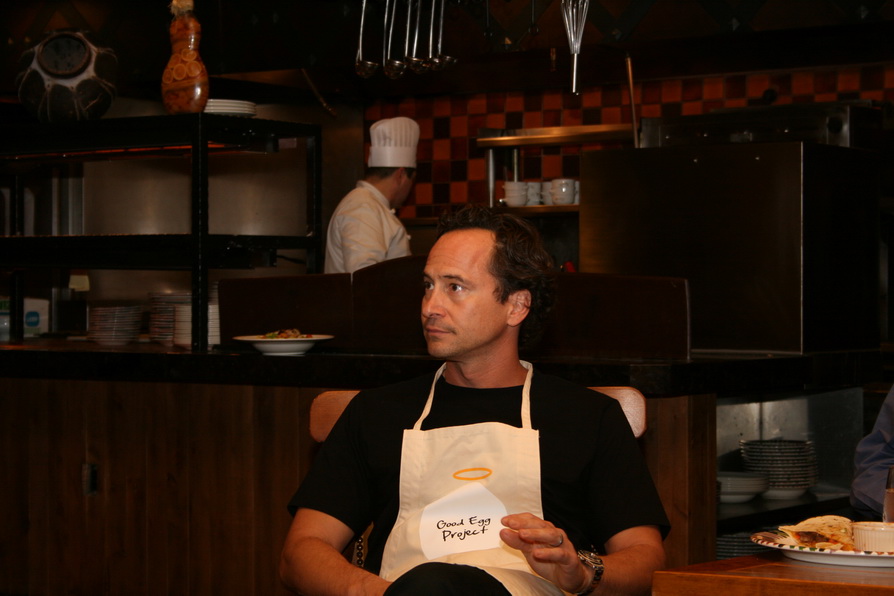 I also have to say that I especially enjoyed this experience.  The Hickmans, including Mom Gertie (thank you for all the wonderful stories and the golf balls too  LOL) were so welcoming and I felt right at home.  Jeffrey, Howard, Mary Lee, all the folks from Edelman and everyone in attendance were some of the warmest and nicest individuals.  Thank you so much for a great experience and new friends.  This is definitely something that I won't forget.  Thank you to the Hickmans for opening your doors to Mom Bloggers to share what you do to make it possible for us to have food on our tables daily…it was a real pleasure!
**Thank you to Edelman Pr and the Good Egg Project for funding this trip and making it possible**
Earlier this week, I had a phenomenal opportunity to join some fellow bloggers, in the first ever Farm to Table event. This  wonderful trip was all part of  the Good Egg Project.   I had an incredible chance to see the entire process of how eggs get to us as consumers, learn about the nutritional values that a single egg can provide, how to get creative in the kitchen, create some great egg recipes, and most importantly, ways in which we can help farmers join in the fight against hunger.
In the days to come, I will be sharing my wonderful experience with some really great people.  I think that you will be amazed at how little you may know about where our food comes from.  I was in awe of the entire process, and was reminded of just how much we take for granted as consumers.  For us we show up at the grocery store and pick up a carton of eggs and never actually get to see the behind the scenes of how they actually got there.  We know our eggs come from chickens…but the journey is incredible.  I will never look at an egg the same way.
Right now the kiddies are feeling under the weather again, so I have some mommy stuff to do, but keep an eye out in the days to come, while I get my ducks, or chickens rather in a row!  I am so eggcited to tell you all about it!
*Check out an influential mom blogger today*