John Morrell Allergen Free Meats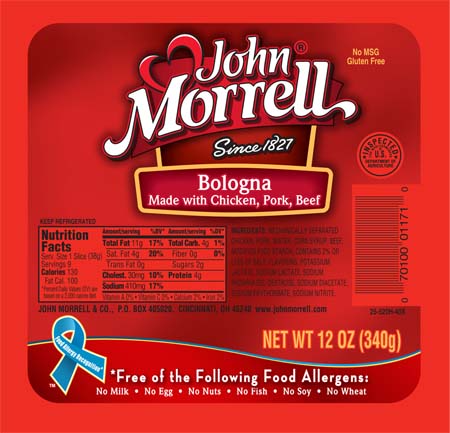 Allergies are big deal here in my house.  I have always suffered the occasional sniffles and sneezes that come along with allergy seasons, and as a child had a milk allergy.  Since having the boys, I have always been concerned that they might acquire some of my husband's allergy problems.  As babies, I was always a little on edge when trying new foods, because you just never know when a food allergy would pop up.
There are a whole host of food allergies that run in my family.  I actually have an Aunt that is severely allergic to beef.  They aren't certain if it is an allergy to the hormones that are used to treat the cattle or not, or if it is something else.  Often times when you read a food label, there are a myriad of food preservatives or other ingredients that could potentially trigger a food allergy  in them, so having foods available that offer an allergen free alternative is always nice and choices may not be as limited.  Plus, when you read that some foods my not actually have nuts in them, but have been processed in places that do use nuts, it makes you even more concerned and more limited on the foods you can buy if your child or family has food allergies.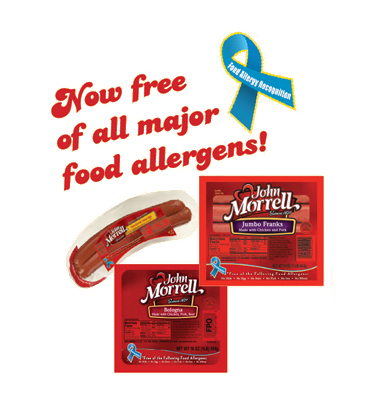 We recently were given the opportunity to try John Morrell Allergen Free Meat.  John Morrell makes their brand hotdogs, smoked sausages, and bologna now 100% "worry-free".  This means that they are free from allergens of milk, nuts, egg, soy, wheat, gluten, and MSG!   They even went a step further by making their hot dogs, smoked sausages and bologna in a completely allergen-free facility.   We tried their hotdogs on a weekend trip to the lake and grilled out.  They were a big hit and I didn't notice any taste difference, and I could be happy knowing that I was avoiding some of the potential things that could possibly trigger a  food allergy.  It is also nice when you have people that have allergies to foods, that you can have them over and not feel like you have to exclude them from your meal, or make separate a separate food choice. 
If you or your family has food allergies, John Morrell Allergen Free Meats may be a great choice for you and your family to enjoy without the worry.  If you or your family would like to give John Morrell Allergen Free Meats a try you can visit their facebook page and get a $1 off coupon towards your purchase! 
"I wrote this review while participating in a blog campaign by Mom Centralon behalf of John Morrell and received a free coupon for John Morrell products to facilitate my candid review. Mom Central also sent me a gift card to thank me for taking the time to participate."