Barilla Share The Table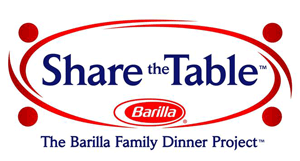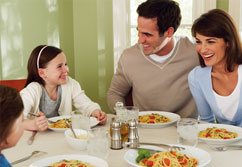 Many families today are extremely busy, with having kids in sports, working. and schedules that are hard to line up.  Dinner isn't the same these days, and is often eaten by everyone in the family at different times.  I know that we have a hard time sitting down to one meal together as a family through the week, with my husband working varying hours through the week.  We have made it a point to make dinner a meal that we could eat together, and catch up on how everyone's day was.
Barilla has started a "Share the Table"  program to help families make the most out of their dinnertime together. Barilla has a Share the Table website,  that offers  recipes from chefs like Mario Batali and tips on how families can make meal times more meaningful in bringing families together.
To help families get started sharing the table, Barilla now offers "Pasta Friday Sweepstakes" with weekly winners of pasta and pasta sauce giveaways and has created the "Mealtime Moments Contest," which gives families who commit to making a better mealtime experience,  the opportunity to share  stories and win select prizes throughout the summer. For everyone that becomes a fan of meaningful meals at ShareTheTable.com, Barilla will donate $1 to Meals on Wheels Association of America, helping seniors get the nutritious meals, that they often don't get.
To help our family "Share The Table,"  we were sent a wonderful package full of all the things we needed to create a meal for the family.  We all love pasta in this house so it was easy to create something that we all loved.    Our favorite Barilla pasta is the Penne, and I mix it up with Barilla's Garden Vegetable Sauce, hamburger, mushrooms, and sweet italian sausage.  It is rare that we have leftovers, and the whole family enjoys it.  There are so many great meals that you can create with pasta and Barilla makes it easy.
"I wrote this review while participating in a blog tour campaign by Mom Central on behalf of Barilla and received products necessary to facilitate my candid review.."