Eggo Real Fruit Pizzas Making Morning Routine A Snap *giveaway*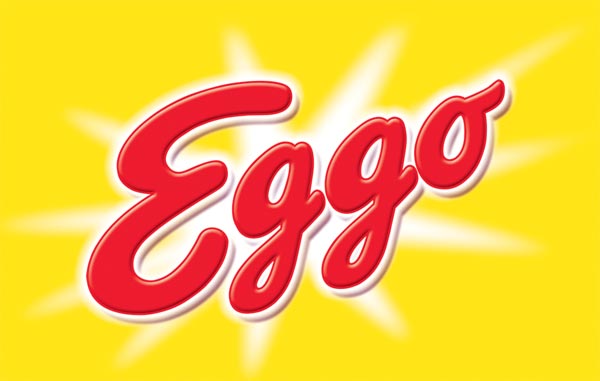 When morning time rolls around, I find myself wanting to roll right back over and stay asleep, but my two four year olds have different plans.  I usually wake up to the words "mommy it's time to get up!"   I pry my eyes open to find two pairs of little eyes staring back at me.
We have a clear routine in the mornings and I have carefully designed an organized path to begin our day.  While I try and wake myself up we begin in the bathroom, since it's on our way.  With twins, and with most kids in general, they fight over what belongs to who, so I try and avoid this like the plague, so my brain can wake up enough to tell my feet how to walk properly.
Being organized makes things a lot easier and everyone has a clear direction in the morning.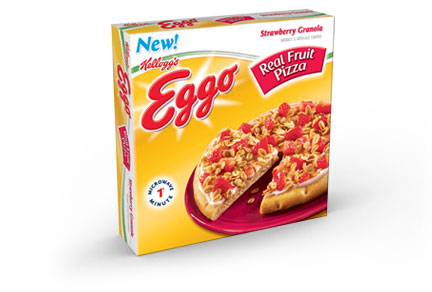 Assigned colors:  This is great for us, so there are no mix ups and there is great peace and harmony (well sort of…a girl can dream), each of my boys has a color.   We head to the bathroom and they know that the red and blue  toothbrushes are theirs and they know what color they should have.  This is a great way to set out clothes for the boys too, because then they know whose clothes are theirs for the day.  They have outfits for the day in their red and blue bin.
We head to the kitchen, and this is where we start the day.
Make the basics ahead: Cups are filled the night before, each one has their color so they know which one to grab from the fridge. This makes it easy, and it really helps them have that sense of independence that most toddlers and kids want.  They know to sit quietly on the couch, and my husband and I set the tv the night before to their favorite channel so they know to hit the big button and watch while I make breakfast (this keeps me sane…almost).  No one ever agrees on the same food choice, but sometimes I get lucky.
Breakfast usually isn't elaborate in our house with the exception of Sundays where I make a big breakfast.  The boys typically choose a poptart, cereal with or without milk, a waffle,  fruit or something relatively quick.  Breakfast, is just one of those meals where you are trying to head out the door for the day, so you have time constraints. I can usually tell when the boys get bored with food choices, so I am almost always in the lookout for some things to change it up.
Recently, I was chosen to be and EggoAM mom and we got the chance to try Eggo's  Real Fruit pizzas.  We are already huge fans of Eggo waffles, so the chance to try their fruit pizza was a no brainer.  I surprised the boys by asking them if they wanted a special pizza for breakfast. and they were really excited.  At first they asked if the "pizza guy" was going to bring it, but I had to explain that the Fed Ex guy brought it in a special package.  Either way, they were excited to try pizza for breakfast.
I decided to pop one in the oven for a crisper crust, but you can toss one in the microwave if you are in a hurry.  In the 5-7 minutes while it was cooking, you can smell the hint of cinnamon which made my kitchen smell like I was Martha Stewart., and both the boys had to check on it's progress.

I was a little skeptical about yogurt on a pizza that you heat in the oven or microwave, because I am used to yogurt being cold, but to my surprise it had a really great flavor and the boys loved it too.  It seemed to have just the right amount of everything, and I loved the combination of a slightly tangy flavor, with the crunch of the crust.  One thing I did notice was that the crust seemed a little flatter than whats on the picture, so I expected something a little more doughy, but I liked the thinner crust.  Both of the boys seemed full and satisfied with just half a pizza.  As you can see, it was a big hit! I stole the strawberry one for myself!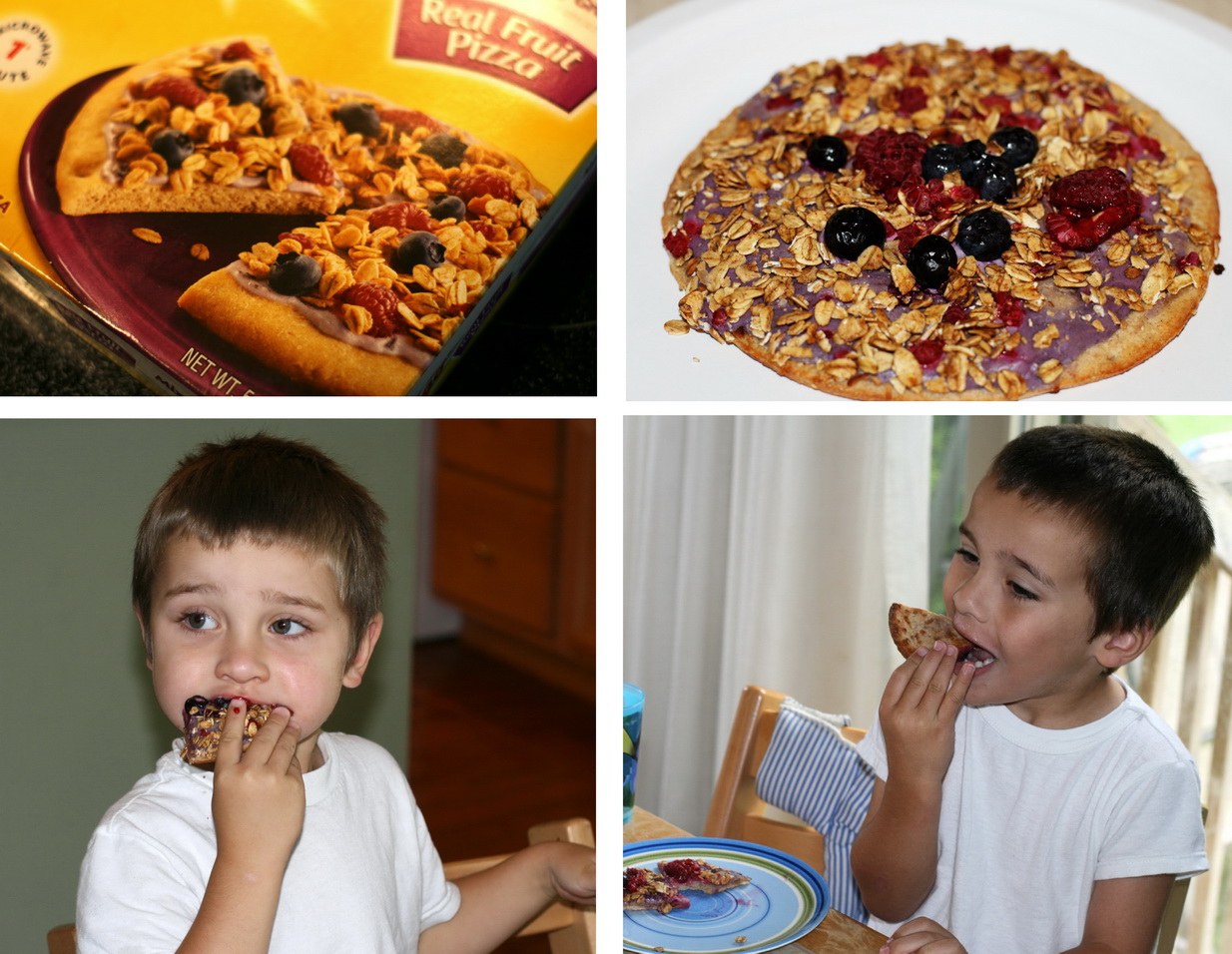 Eggo's Real Fruit Pizzas are a great way to compliment your morning routine and keep you on task.   Need to figure out a hassle free way through morning chaos? Check out The Motherhood Eggo Mornings Circle where you'll find me and other Eggo AM Moms  sharing ways to make mornings run like a well oiled machine.
" I was provided with items for review purposes by Eggo and TheMotherhood and was compensated for my time in writing this post and running this giveaway. The opinions I have expressed, however, are strictly that of my own."
Want to give Eggo Real Fruit Pizzas A Try?  What morning routines get you going in the morning?
You can win: A set of Eggo Real Fruit Pizzas to try out for yourself – 5 winners (1 set each).
Here's What Ya Gotta Do!
Mandatory Entry Requirement

1. Leave a comment (and a valid e-mail address) here and share your best tips for a smooth, organized, hassle free morning
Motherhood will also be creating Eggo's Best Tips for a hassle free morning by choosing the best user-generated tips submitted.  One of those lucky submissions will be selected for a GRAND PRIZE including samples of Eggo Real Fruit Pizzas  and a set of Kellogg's mugs.  So Get Busy!
Additional Entries
Follow me on twitter
Tweet about this giveaway
Subscribe to my feed
At the close of the contest 5 winners will be chosen via Random.org
Limit one (1) Giveaway entry per person for entire giveaway. Entrants for the giveaways may not
participate with multiple e-mail addresses. Any entrant who attempts to enter with multiple e-mail
addresses, under multiple identities, or uses any other device will be disqualified from participation in the
promotion, and all entries submitted by that entrant will be void.
ELIGIBILITY: Open to legal residents of the fifty (50) United States and District of Columbia who are 18
years of age or older at time of entry. Employees of TheMotherhood ("Sponsor"), its affiliates,
subsidiaries, advertising and promotion agencies and their immediate family members and/or those living
in the same household of each are not eligible to participate.
WINNERS: Giveaway winners will be randomly selected using www.random.org on August 5 by the brand
ambassadors, and the Sponsor will ensure there are no duplicate winners across all 20 brand
ambassadors' blogs. The Sponsor's decisions are final. Winners will be notified by e-mail. In the event
the Sponsor is unable to contact the winner within 48 hours of first notification, prize will be forfeited and
an alternate winner selected. Each winner must supply a valid mailing address and P.O. Boxes are
prohibited. All prizes will be sent directly to each winner.
This promotion has not been sponsored by, endorsed by, nor is affiliated with the Kellogg Company

Winner has 24 hours to respond before another winner is chosen.
Contest Ends 11pm July 27th
Good Luck!!!
You can read the official rules here