Breyers Smooth And Dreamy Ice Cream Bars *review and giveaway*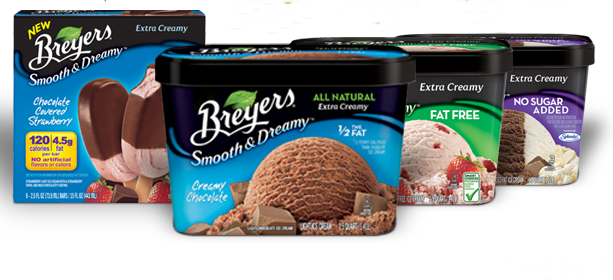 Who doesn't love ice cream in the Summer time or just about any time for that matter.  For us moms, I am sure we break out a pint of of favorite ice cream when the day hasn't gone so well and it makes all your trouble melt away.  July is National Ice Cream month and to help celebrate, I had the chance to try Breyers Smooth and Dreamy Ice cream bars.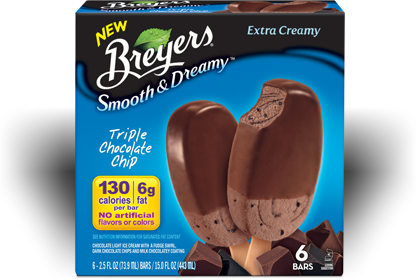 I am always looking for a chocolate fix and I almost always like my chocolate cold.  Ice cream seems to be my latest craving and the more chocolate the better.  Breyers, has a new selection of ice cream bars that will satisfy those chocolate craving that come up in the heat of the Summer.  I tried the Triple Chocolate Chip Bars and I thought I died and went to heaven.   They have just the right amount of chocolate goodness with a hint of crunch from the mini chocolate chips and the chocolate shell coating.  Nothing was left out and it is the perfect combination.  Not only that, Breyers Smooth and Dreamy Bars have no artificial flavors or colors, 160 calories or less and 4-6g of fat per serving!  What can be better than felling like you are indulging without the guilt?  After trying them, I shoved the box into the back of the freezer to keep them well hidden, so I don't have to share.  I will definitely be keeping a private stash in my freezer.  I can't wait to try all of the different flavors.
To help me celebrate my love for chocolate, and for the sake of chocolate in general, Mom Central and Breyers is letting me giveaway some Breyers Smooth And Dreamy to five lucky readers!   You definitely want to get in on this one, and who can pass up free ice cream????
"I wrote this review while participating in a blog tour campaign by Mom Central on behalf of Breyers and received products necessary to facilitate my review. In addition, I received a gift certificate to thank me for taking the time to participate."
Here's What You Gotta Do
Tell me why you would like to try Breyers Smooth And Dreamy Bars, Or share a childhood memory about ice cream.
Additional Entries
Follow me on Twitter
Subscribe to my feed
Tweet about this giveaway
Contest Starts July 30 and Ends August 2o, 2010
Good Luck!!!!
Winners are drawn at random, if winner does not respond within 24 hours the prize is forfeited
Contest open to US residents only.