Banquet Fruit Pies
I am a sucker for pie especially when it is fresh out of the oven and when someone else makes it for me.  Pie has to be one of those comfort foods that tastes good out of the fridge or warm.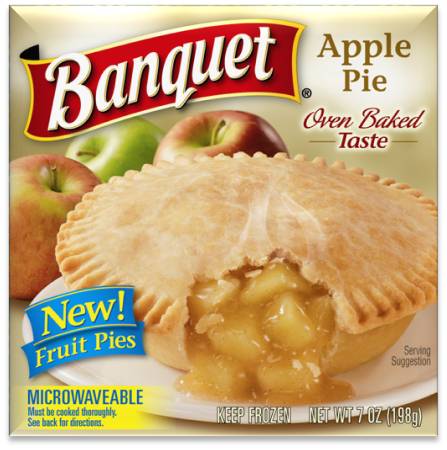 I love to roll up my sleeves and make a fresh pie, but sometimes I just crave a slice of pie that doesn't require me going through all the steps to make one.  Recently, I was given the opportunity to try Banquets new fruit pies, and I was excited, because who doesn't love pie?  Banquet has been making  meals for more than 50 years, and now they are introducing new single-serving fruit pies.  Each Banquet fruit pie has a half serving of real fruit inside a flaky pastry shell that you can enjoy hot from the oven or microwave. The pies come in three delicious flavors: apple, peach, and cherry berry for a great low price.
I   popped one of the cherry berry pies in the oven because I like a crust that is more brown and a little crunchy, but you have the option of making them in your microwave. Then after pulling the pie out, I topped that baby with some whip cream and grabbed my fork. The crust was nice and flaky and the filling was pretty good and had just the right amount of sweetness and tart mixed together. Banquet's new fruit pies are perfect if you have that late night sweet craving or if you want to treat the kids. And the fact that they only cost around a dollar makes it an even sweeter deal. I will definitely have a few of these on hand in the freezer from some late night indulgence and fun treats for the kids.
**I wrote this review while participating in a blog campaign by Mom Central on behalf of Banquet and received free coupons to facilitate my candid review. Mom Central also sent me a gift card to thank me for taking the time to participate**