With being right in the middle of the Holiday hustle and bustle, I find myself trying to beg borrow and steal time wherever I can, just to manage all the tasks on my list.  Not only am I chasing after the kids, managing the house, and rounding up the family for holiday travel, I also tend to do a majority of the paper work in the house.  Online banking has become a savior for me, and simply one of the greatest inventions ever!
When it come to banking, I cannot imagine banking the old fashioned way, especially with having two young kids.  I can pay all of my bills from my couch, I don't have to waste money on stamps, and the time it takes to fill out checks, and seal up envelopes, and make my way to the mailbox. Bank Of America offers some really great tools and time saving tips to help you save valuable time while helping to mange finances. We make greatest use of their online banking, and it makes managing bills so much easier.  You can see when they go out, you can schedule payments, receive alerts and balance information, as well as make money transfers.  With the winter months, I do not even have to put a toe out my front door, and I can take care of our financial obligations.
Bank on the go: It's easy to set up mobile banking and secure access to your money wherever you are. Download the mobile banking app and you can check balances, transfer money, pay bills, and locate ATMs.  Sign up for text banking and you'll be able to send a text message to get your balance instantly in a reply.
Make quick and easy deposits: Holiday means a lot of extra work, so eliminate the labor of depositing checks.  With Bank of America's Deposit Image ATMs, you simply feed checks or cash into the ATM with no envelopes or deposit slips required.  You get images of your checks and a list of cash deposited on your receipt as proof.
Save a trip to the bank: Don't worry about making an extra stop to the bank during all of your holiday shopping.  Keep track of your spending by using Bank of America's online banking: set up alerts, check balances, and transfer money.
During the holidays, it is important to manage your time, so you can enjoy those special moments with family.  Outside of banking, I try to plan ahead, and organize items on my to do list that coordinate with each other.  Both me and my husband split up (divide and conquer), each of us takes one kid, to take care of errands and chores.  It eliminates having to take up the entire day trying to get everything done, and allows for us to have some quality family time.   A little bit of planning goes a long way!  You can hear about other great tips by following @BofA_Tips on twitter too!
Would you like to win a preloaded $50 Bank Of America Gift Card?  With the Help Of mom Central, DoubleBugs will be offering one lucky reader the chance to win!
Here's What You Gotta Do!
(mandatory entry, you must complete this to have a valid entry)
Answer this question…What are some of the ways in which you get back time during the busiest times of the year?
Additional Entries
Tweet about this giveaway linking to this post

Follow Me On Twitter @Laurie2008
Good Luck!
Contest Runs From December 21, 2010-December 26, 2010

"I wrote this review while participating in a blog tour campaign by Mom Central Consulting on behalf of Bank of America and received a Bank of America preloaded gift card to thank me for taking the time to participate."
Congrats to Tracy who is the winner of the Hersheys Stocking of Treats!
Author: tracy davis
Comment:
I want to try the Reese's peanut butter temptations

Everyone can use a break from cooking, and I know that I simply get bored with making dinners and meals all the time.  With the holidays approaching and holiday meal preparations, shopping, and decorating, the flurry of activity can get to be overwhelming.  Meal planning can be a real pain in the neck when you are tired, and out of ideas for what to fix for your guests or your family.
This year however Bob Evans is offering you the Farmhouse Feast, an alternative to slaving away all day in your kitchen, so you can enjoy making holiday memories with your family.  I know as Moms, often times we are busy in the kitchen or doing things to prepare and often miss out on some of the fun.  The Farmhouse Feast is a fully cooked meal that feed 6-8 people, all you have to do is heat it up and it's ready to go.
The Farmhouse Feast Includes: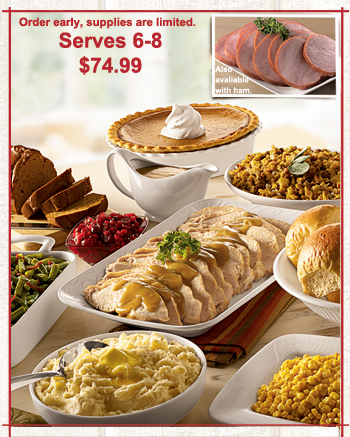 Your choice of either a slow-roasted whole boneless turkey breast  or a sliced boneless ham (this is a large ham, we had leftovers fr breakfast)
A pumpkin pie with whipped cream topping
A loaf of pumpkin bread
Mashed potatoes
Gravy
Cranberry Sauce
Sweet corn with garlic herb butter
Bread and celery dressing
Green Beans with ham
1 dozen freshly baked rolls
For just $74.99 you can have enough food to feed an army at an average of about $10 per person.  Not too shabby, considering  you can spend more than that in your local restaurant.  You can conveniently place your order online up to the day before, or give your local Bob Evans a call.  If there is something that you don't like on the menu, you can easily make a substitution.  We had the chance to try the Bob Evans Farmhouse Feast, and all of our food was fantastic.  The meal was nicely boxed up when I went in to pick it up, and when we got it home, we followed the easy heating directions.  Total time on heating up the meal in the oven is about an hour and a half.  I heated ours in the microwave for a total of about 30 minutes.  My favorite part of the meal, was the green beans, rolls and stuffing.  Both of the boys cleaned their plates.  We had an army of food for just the four us and the Farmhouse Feast would more than feed eight people with leftovers.  There is plenty to go around.
The Farmhouse Feast is a perfect time out for mom this holiday season, and is a great alternative to stressing over what to make for dinner.   I highly recommend it, especially if you just don't feel like cooking.  Sit back, relax and let Bob Evans do the work.
**Bob Evans provided me with gift cards to cover the cost of the Farmhouse feast to facilitate my review, my opinions are that of my own and this post was written solely by me**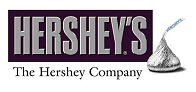 With the holidays only weeks away, I find myself thinking about family get togethers and preparing for Santa's arrival.   As a child, I looked forward to waking up on Christmas morning and finding that presents were left under the tree, and my stocking was stuffed.  It was inevitable that I woke up well before my parents were ready, so they always allowed me to have my stocking, while I waited for them to get up.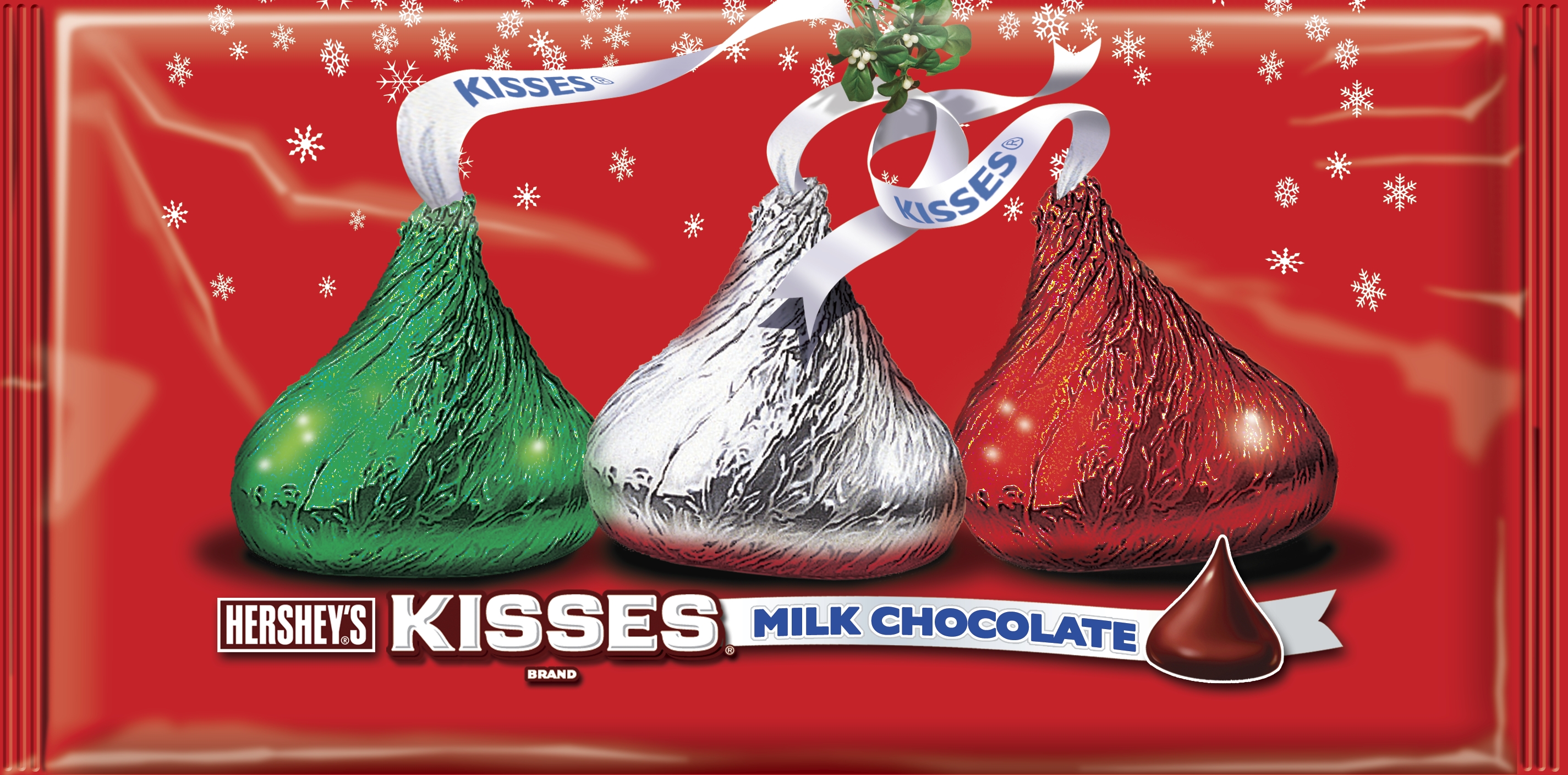 My stocking was one of those things I looked forward to the most.  I had the kind that stretched to two times it's length, which allowed for maximum stuffing.  I found things like flavored lip gloss, things for my hair, and plenty of sweet treats.  Among my favorites were the big plastic candy canes that had Hershey's Kisses in them all wrapped in shiny red and green foil.  To this day, I always buy them for the holidays and keep a small dish filled with them.  They are always included in the stockings that Santa leaves for the boys.
This year Hershey's has great stocking stuffers to help fill those stockings with classic favorites and some new holiday treats this year.  Favorites such as Hershey's Kisses,and new sweet treats like   Hershey's Cookies 'N' Crème Santas,   Hershey's Kisses Brand Solid Milk Chocolate Santa Hat,  Rolo Reindeer Cane, and  Hershey's Pot of Gold Truffles Sampler.   Even if it isn't a stocking you are filling, you can have little treat stations around your house for entertaining or just because.  I have fun little Santa dishes set up around our house with Hershey's Kisses and Rolos.
We had the chance to try some of their newest additions and we loved the  Hershey's Cookies 'N' Creme Santas (I had mine with a class of milk  yummy!), and our favorite classic Rolos which my boys ate most of.  Some of these will surely be included in their stockings on Christmas morning.  Hershey's has always been in my family as some of our favorite brand treats, so you can't go wrong with about anything you try.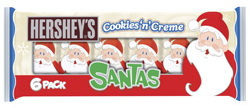 This year The Hershey Company would like to treat one of my readers to a holiday stocking filled with a variety of festive and yummy treats, so you can create your own sweet memories this year!
One Lucky reader will win A Stocking stuffed with these goodies!
Rolo Reindeer Cane (3.44oz)
Hershey's Milk Chocolate Santa (1.2oz)
Hershey's Cookies 'N' Crème Nutcracker Moulded Bar (3.5oz)
Hershey's Pot of Gold Truffles Sampler (1.05oz)
Reese's Peanut Butter Trees (10.8oz bag)
Here's What You Gotta Do
(Mandatory Entry Requirement)

Visit http://www.hersheys.com/celebrate/holidays/ and tell me something that you would like to try or something you love on their site and list your favorite Hershey's treats and traditions.
Additional Entries
Follow me on twitter
Tweet About this Giveaway
Subscribe to my feed
Contest starts Monday December 6th, 2010 and Ends Sunday December 12th, 2010
Winner will be chosen at random
Good Luck!!!
***Hershey's provided me with product samples to try to facilitate my review, all opinions expressed are that of my own.***

I have been getting acquainted with the Nescafe Dolce Gusto now for a couple of weeks, and enjoying some nice warm beverages.  It has been a great addition for our busy house because, I like being able to make things relatively quickly, and with as little mess as possible.  It saves time and work when you are chasing after little ones.  The other nice thing about single serve coffee makers is the fact that you can make tea, and my husband can follow behind me and make coffee.  It offers a whole new lever of convenience.
When using my Nescafe Dolce Gusto, getting started was pretty darn easy, the fold out instruction sheet offers a visual set of steps.  Then you select what you want to drink.  The display on the Creativa was very easy to read, and see and made selecting my coffee type easy (in this case hot chocolate).

Getting Started
Initially before brewing anything, you have to fill up the water reservoir and run water through the Nescafe Dolce Gusto six times before you can brew.  I had to find something I could catch the water with however, because I didn't have anything big enough.  I wound up using a small pot, which worked out well.
Ready To Brew
After I ran water through the machine, I was ready to taste my first cup.  I chose hot chocolate.  You have to run through all the coffee names and kinds to find which one you are having and make the selection on the display.  I found this a little busy, rather than just putting the cup in the little spot it goes in and closing the handle and hitting start.  There are a lot of flavors!  Then I was ready to go!  I guess I didn't read, or didn't realize that the hot chocolate had two capsules, one with the milk and the other with the hot chocolate.  So when the machine first started brewing, the stuff in my cup was white and I sort of freaked  LOL!  Then I realized it was a two part process.    The hot chocolate was yummy, but I would have preferred it just be one cup, it might cut down on some of the waste.  The flavors are available in one and two capsule varieties.  The nice thing is that the Nescafe Dolce Gusto, comes with a container that you can put next to your machine, to throw away your used flavor capsules.  This was nice because I didn't have to carry it dripping, over to my trash can.  I also tried the peach iced tea which I really liked.  Both the capsule holder and bin are dishwasher safe so you can give them a good wash from time to time.  I just fill my capsule bin with warm sudsy water and toss the holder in there and let them soak.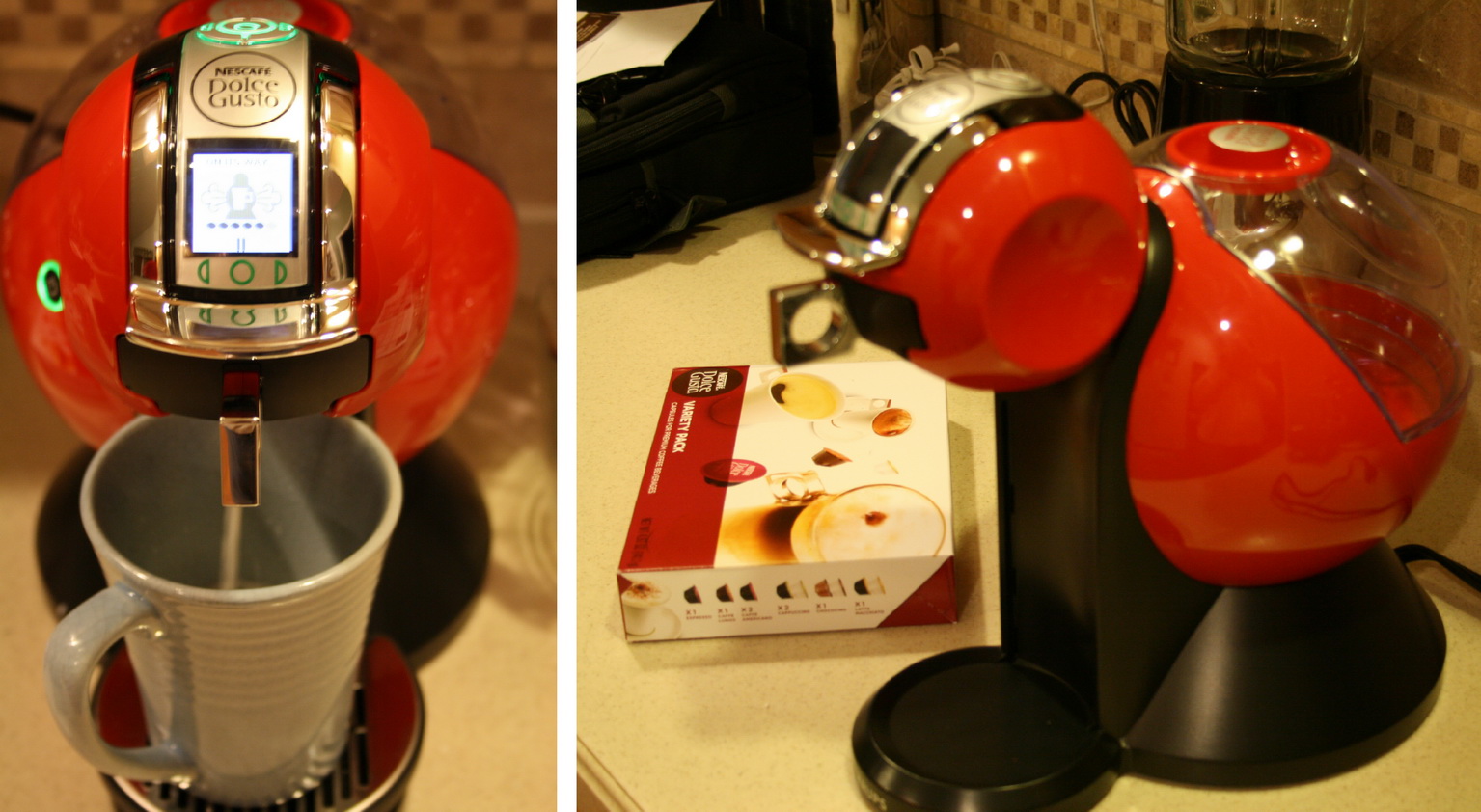 Nescafe Dolce Gusto Creativa Features


-No mess, No fuss. Everything you need to make hot or cold drinks are contained in our easy-to-use capsules

-Automatic "on" feature, digital machine with LCD screen

-Personalize your cups and it memorizes them – perfect preparation guaranteed

-Program automatic preparation of your breakfast, mid-day, dessert or any other cup whenever you like it

-Display works in many different languages and pictograms

-Nescafe's technologically advanced machines and precisely designed flavor capsules combine to give the NESCAFÉ® Dolce Gusto® a professional-level 15-bar pressure system (similar to coffeehouse machines) which helps to ensure that every cup is perfect with a foamy froth, rich crèma and luxurious flavor

-The exclusive Thermoblock technology heats the water fresh every time, in less than one minute

-NESCAFÉ® Dolce Gusto® uses only the highest quality ingredients – featuring only 100% Arabica, rich chocolate and foamy milk
Flavor Varieties

One Capsule Varieties:

-DARKROAST/CAFFÉ GRANDE INTENSO

-NESTEA PEACH ICED TEA:  A cool and refreshing peach icedtea,topped with a velvet foam, from one of your favorite tea brands

-HOUSEBLEND/CAFFÉAMERICANO: A smooth,mild coffee with delicious aroma and velvety crema layer

-Caffe Lungo:  :A full bodied long espresso with a rich aroma and velvety crema layer

-ESPRESSO: An unadulterated shot of pure 100% Arabica coffee

Two Capsule Varieties

-VANILLA LATTE MACCHIATO

-CAPPUCCINO SKINNY: A slightly sweetened milk blanketing a shot of espresso, now with fewer calories

-CAPPUCCINO: A slightly sweetened milk blanketing a shot of espresso

-HOTCOCOA/CHOCOCINO: Gourmet liquid chocolate topped off with sweetened milk

-ICEDCAPPUCCINO: Frothy cream and chilly coffee

-LATTEMACCHIATO: Frothy milk with a shot of strong espresso

-MOCHA: Hot chocolate and coffee do a delicious duet

Capsules:$8.99MSRP(one capsule beverages: 16servings/pack; two capsule beverages: 8servings/pack)
My Final Take
My general take overall is a good one for the Nescafe Dolce Gusto. I like that it is fairly easy to use for a single serve coffee maker and that is looks good on my countertop. There isn't anything ordinary about how it looks, which makes the appliance fun to use. I think ultimately it is more efficient than brewing an entire pot of coffee and allows for variety among the people who use it in the house. You can program the Nescafe Dolce Gusto to make you your favorite beverage at anytime during the day, but in the case of using two capsules, that sort of negates the purpose of programming it but in general a good feature to have. It also has an automatic shut off so you don't have to remember to turn it off, which is a step up from the traditional coffee makers where they never used to turn off.
If you are in the market for something fun and functional with a great variety of choices, the Nescafe Dolce Gusto might be what you are looking for. I am enjoying using mine and it looks good in my kitchen!  The MSRP for the Creativa is $169.99.  Check out their commercial!
"I wrote this review while participating in a test drive campaign by Mom Central Consulting on behalf of NESCAFÉ Dolce Gusto and received a coffee machine to facilitate my review."
Sometimes being a parent is tough, but it's even more difficult when your babies are sick.  Both of my kids have been sick, in fact, our entire family has been sick with something for about two weeks now.
I have never had a personal experience with asthma, but my husband has had it his entire life.  One of my lil ones only gets flare ups whenever he has a respiratory infection.  It isn't all of the time, but these flare ups happen once or twice a year.  Earlier this week, he started to cough and in less than 12 hours, he was having a very hard time breathing.  I whipped out the nebulizer, and was prepared to ride it out with round the clock breathing treatments and an initial dose of steroids until I could get to the Dr.   If you are a mom, you know that when lil ones are sick, you rarely sleep.  When my lil one starts in with breathing issues, I am afraid to even close my eyes.
This time he decided to scare us even more, when after three breathing treatments at the Dr's office we were told to head to the hospital.  When we arrived, they gave him several more treatments and a steroid dose that you would give a moose!  I was beginning to worry because after that he had minimal change.  When the Dr came in he said they were going to continue to give treatments until he responded.  If you know anything about albuterol, it makes them shaky, hyper and your heart races.  I'm thinking whoaaaaaaa they are going to put my kid in cardiac arrest!
It is always hard because you are worried sick, yet you don't want your kids to pick up on it.  Thankfully, we finally got to all go home and my bubs is improving and breathing much easier.  But, I however, am a few hairs grayer and have politely requested that he stop scaring his mommy that way.
Just about everyone I know loves coffee, I am probably one of those rare people that doesn't drink a whole lot of coffee and didn't even own a coffee maker till I was married.  I don't drink it because I try to avoid the caffeine, so I have never really enjoyed it.  Nowadays, there are so many choices out there, that I can enjoy some of the hot beverages minus the caffeine.  My favorites however are hot chocolate and an occasional cup of tea.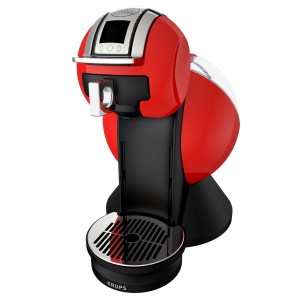 I was recently offered the chance test drive the NESCAFE'  Dolce Gusto coffee maker.  I took the opportunity because I like single serve coffee makers and like having the option of making a single cup at a time.  Going into the winter months, I tend to make a lot of hot chocolate and tea, and I like having the option of making it any time during the day, quickly, and without making an entire pot of hot water. Not only is the NESCAFE Dolce Gusto a coffee maker, but it was designed with kitchen decor in mind
"Each machine carries an individual style and personality,designed with something  for everyone.Compact,classic,modern and smart-it's a dramatic departure from what's currently in the marketplace."
With most of my kitchen electronics, I try to keep them stuffed in a cabinet, or well hidden in my kitchen.  Let's face it, many kitchen appliances are just big and bulky and unattractive to look at, and the only reason why they stay on our counters, are out of pure necessity and easy access.  NESCAFE has come out with some really cool looking single serve coffee makers, that actually look good on your countertop.  Names like Piccolo, Creativa, Melody 2 and Circolo, each coffee maker has it's own individual character.  I chose the Creativa, because it just looks fun, and kind of exudes my artsy personality.  It also comes, in this really sexy red, if you feel like making a bold statement in your kitchen.  I have had several people already pass by my new NESCAFE Dolce Gusto and say "oh that is cool!"  So, it definitely draws some attention.  I like how it looks and it is far from ordinary.  I definitely won't be hiding this one in the cabinet and it makes a great conversation piece.  It sort of makes you want to use it more, because it is fun, functional and really cool.  I couldn't wait to use it.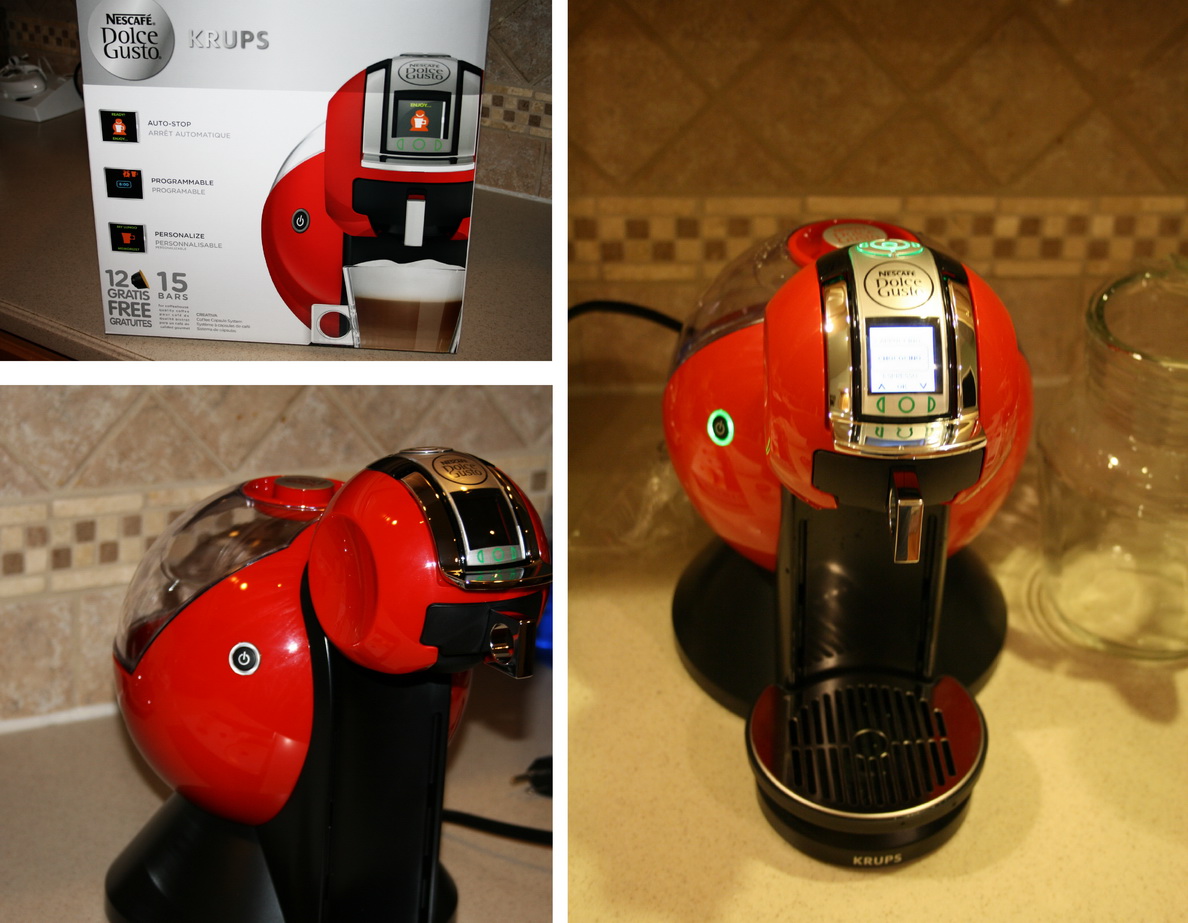 If you are looking for something that has functionality but adds a really nice design element in your kitchen, NESCAFE Dolce Gusto, offers you several choices to add pizazz to boring kitchen appliances.  They also come in a really nice neutral titanium and black color, so if you aren't as bold as me, you can still have something that looks great. It's a fun and exciting way to make your coffee! In my next post, I will talk about the benefits of a single serve coffee maker, all the fun flavors NESCAFE has to offer for your Dolce Gusto, and what my experiences were when using it.
"I wrote this review while participating in a test drive campaign by Mom Central Consulting on behalf of NESCAFÉ Dolce Gusto and received a coffee machine to facilitate my review."