Nescafe Dolce Gusto Test Drive Part Two
I have been getting acquainted with the Nescafe Dolce Gusto now for a couple of weeks, and enjoying some nice warm beverages.  It has been a great addition for our busy house because, I like being able to make things relatively quickly, and with as little mess as possible.  It saves time and work when you are chasing after little ones.  The other nice thing about single serve coffee makers is the fact that you can make tea, and my husband can follow behind me and make coffee.  It offers a whole new lever of convenience.
When using my Nescafe Dolce Gusto, getting started was pretty darn easy, the fold out instruction sheet offers a visual set of steps.  Then you select what you want to drink.  The display on the Creativa was very easy to read, and see and made selecting my coffee type easy (in this case hot chocolate).

Getting Started
Initially before brewing anything, you have to fill up the water reservoir and run water through the Nescafe Dolce Gusto six times before you can brew.  I had to find something I could catch the water with however, because I didn't have anything big enough.  I wound up using a small pot, which worked out well.
Ready To Brew
After I ran water through the machine, I was ready to taste my first cup.  I chose hot chocolate.  You have to run through all the coffee names and kinds to find which one you are having and make the selection on the display.  I found this a little busy, rather than just putting the cup in the little spot it goes in and closing the handle and hitting start.  There are a lot of flavors!  Then I was ready to go!  I guess I didn't read, or didn't realize that the hot chocolate had two capsules, one with the milk and the other with the hot chocolate.  So when the machine first started brewing, the stuff in my cup was white and I sort of freaked  LOL!  Then I realized it was a two part process.    The hot chocolate was yummy, but I would have preferred it just be one cup, it might cut down on some of the waste.  The flavors are available in one and two capsule varieties.  The nice thing is that the Nescafe Dolce Gusto, comes with a container that you can put next to your machine, to throw away your used flavor capsules.  This was nice because I didn't have to carry it dripping, over to my trash can.  I also tried the peach iced tea which I really liked.  Both the capsule holder and bin are dishwasher safe so you can give them a good wash from time to time.  I just fill my capsule bin with warm sudsy water and toss the holder in there and let them soak.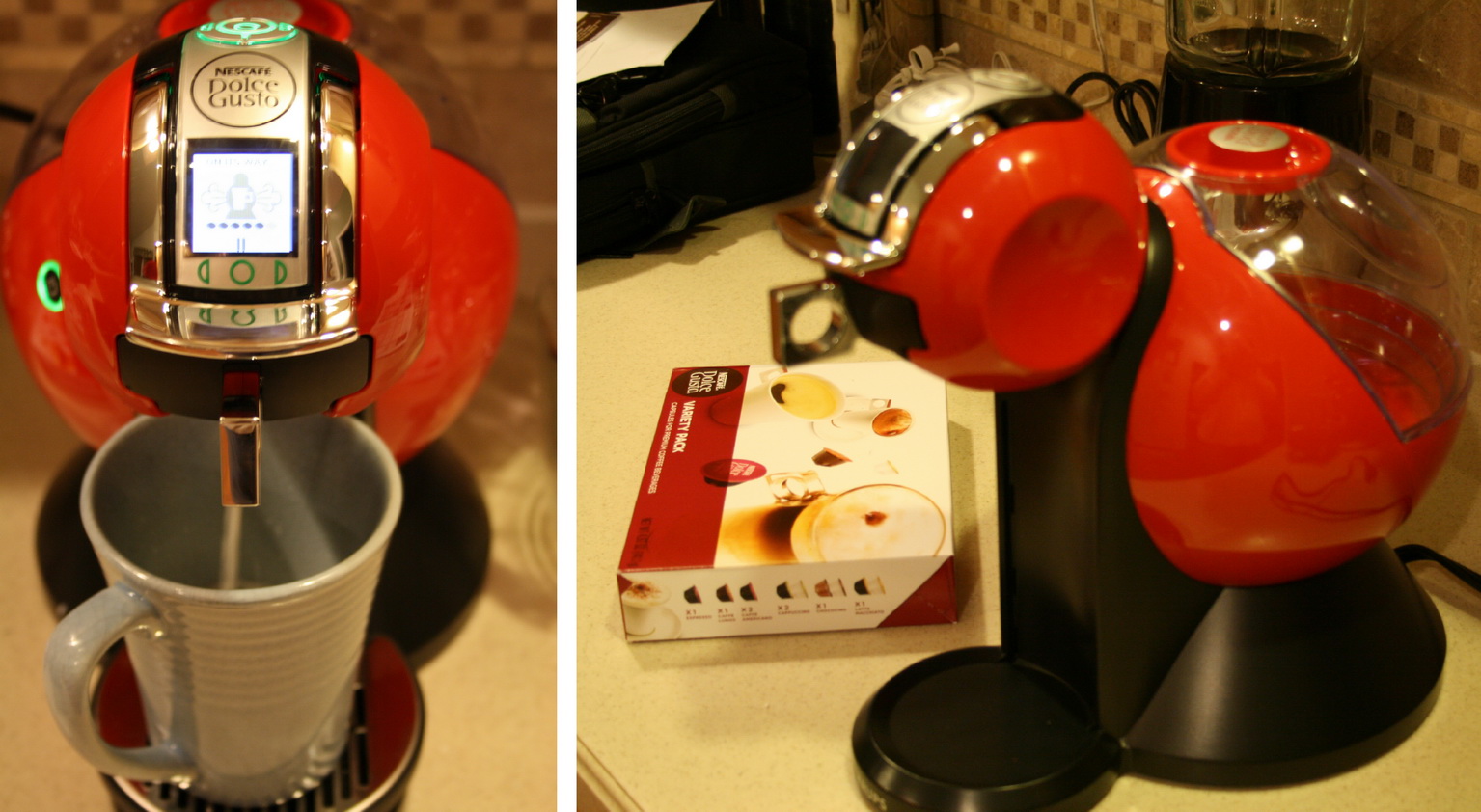 Nescafe Dolce Gusto Creativa Features


-No mess, No fuss. Everything you need to make hot or cold drinks are contained in our easy-to-use capsules

-Automatic "on" feature, digital machine with LCD screen

-Personalize your cups and it memorizes them – perfect preparation guaranteed

-Program automatic preparation of your breakfast, mid-day, dessert or any other cup whenever you like it

-Display works in many different languages and pictograms

-Nescafe's technologically advanced machines and precisely designed flavor capsules combine to give the NESCAFÉ® Dolce Gusto® a professional-level 15-bar pressure system (similar to coffeehouse machines) which helps to ensure that every cup is perfect with a foamy froth, rich crèma and luxurious flavor

-The exclusive Thermoblock technology heats the water fresh every time, in less than one minute

-NESCAFÉ® Dolce Gusto® uses only the highest quality ingredients – featuring only 100% Arabica, rich chocolate and foamy milk
Flavor Varieties

One Capsule Varieties:

-DARKROAST/CAFFÉ GRANDE INTENSO

-NESTEA PEACH ICED TEA:  A cool and refreshing peach icedtea,topped with a velvet foam, from one of your favorite tea brands

-HOUSEBLEND/CAFFÉAMERICANO: A smooth,mild coffee with delicious aroma and velvety crema layer

-Caffe Lungo:  :A full bodied long espresso with a rich aroma and velvety crema layer

-ESPRESSO: An unadulterated shot of pure 100% Arabica coffee

Two Capsule Varieties

-VANILLA LATTE MACCHIATO

-CAPPUCCINO SKINNY: A slightly sweetened milk blanketing a shot of espresso, now with fewer calories

-CAPPUCCINO: A slightly sweetened milk blanketing a shot of espresso

-HOTCOCOA/CHOCOCINO: Gourmet liquid chocolate topped off with sweetened milk

-ICEDCAPPUCCINO: Frothy cream and chilly coffee

-LATTEMACCHIATO: Frothy milk with a shot of strong espresso

-MOCHA: Hot chocolate and coffee do a delicious duet

Capsules:$8.99MSRP(one capsule beverages: 16servings/pack; two capsule beverages: 8servings/pack)
My Final Take
My general take overall is a good one for the Nescafe Dolce Gusto. I like that it is fairly easy to use for a single serve coffee maker and that is looks good on my countertop. There isn't anything ordinary about how it looks, which makes the appliance fun to use. I think ultimately it is more efficient than brewing an entire pot of coffee and allows for variety among the people who use it in the house. You can program the Nescafe Dolce Gusto to make you your favorite beverage at anytime during the day, but in the case of using two capsules, that sort of negates the purpose of programming it but in general a good feature to have. It also has an automatic shut off so you don't have to remember to turn it off, which is a step up from the traditional coffee makers where they never used to turn off.
If you are in the market for something fun and functional with a great variety of choices, the Nescafe Dolce Gusto might be what you are looking for. I am enjoying using mine and it looks good in my kitchen!  The MSRP for the Creativa is $169.99.  Check out their commercial!
"I wrote this review while participating in a test drive campaign by Mom Central Consulting on behalf of NESCAFÉ Dolce Gusto and received a coffee machine to facilitate my review."