Bob Evans Farmhouse Feast

Everyone can use a break from cooking, and I know that I simply get bored with making dinners and meals all the time.  With the holidays approaching and holiday meal preparations, shopping, and decorating, the flurry of activity can get to be overwhelming.  Meal planning can be a real pain in the neck when you are tired, and out of ideas for what to fix for your guests or your family.
This year however Bob Evans is offering you the Farmhouse Feast, an alternative to slaving away all day in your kitchen, so you can enjoy making holiday memories with your family.  I know as Moms, often times we are busy in the kitchen or doing things to prepare and often miss out on some of the fun.  The Farmhouse Feast is a fully cooked meal that feed 6-8 people, all you have to do is heat it up and it's ready to go.
The Farmhouse Feast Includes: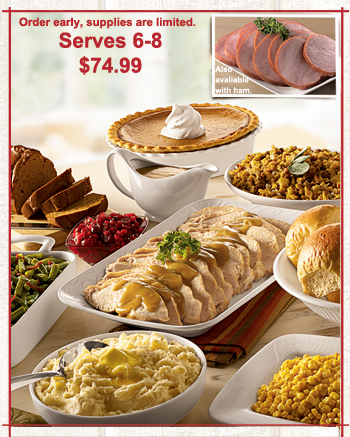 Your choice of either a slow-roasted whole boneless turkey breast  or a sliced boneless ham (this is a large ham, we had leftovers fr breakfast)
A pumpkin pie with whipped cream topping
A loaf of pumpkin bread
Mashed potatoes
Gravy
Cranberry Sauce
Sweet corn with garlic herb butter
Bread and celery dressing
Green Beans with ham
1 dozen freshly baked rolls
For just $74.99 you can have enough food to feed an army at an average of about $10 per person.  Not too shabby, considering  you can spend more than that in your local restaurant.  You can conveniently place your order online up to the day before, or give your local Bob Evans a call.  If there is something that you don't like on the menu, you can easily make a substitution.  We had the chance to try the Bob Evans Farmhouse Feast, and all of our food was fantastic.  The meal was nicely boxed up when I went in to pick it up, and when we got it home, we followed the easy heating directions.  Total time on heating up the meal in the oven is about an hour and a half.  I heated ours in the microwave for a total of about 30 minutes.  My favorite part of the meal, was the green beans, rolls and stuffing.  Both of the boys cleaned their plates.  We had an army of food for just the four us and the Farmhouse Feast would more than feed eight people with leftovers.  There is plenty to go around.
The Farmhouse Feast is a perfect time out for mom this holiday season, and is a great alternative to stressing over what to make for dinner.   I highly recommend it, especially if you just don't feel like cooking.  Sit back, relax and let Bob Evans do the work.
**Bob Evans provided me with gift cards to cover the cost of the Farmhouse feast to facilitate my review, my opinions are that of my own and this post was written solely by me**