Fiber Choice Are You Getting Enough Fiber?
Fiber is one of those things that is important for our bodies, but let's face it, most people rarely get enough of it in their diets.  You hear it all the time "eat more fiber," it's essential for good health.  Fiber is found mainly in fruits, vegetables, whole grains and beans.  When I think of fiber, I think of poop.  Really, who doesn't think about that first?  It has its other health benefits, but I have always heard, you need more fiber to keep yourself regular.
With the new year, comes all the promises of a healthier lifestyle, and better eating habits.  I am always gung ho in the beginning, but eating the right foods, isn't always easy or very tasty.  When you are out of the habit of eating the healthy foods, everything good for you, is less than appealing.  Let's face it, lettuce leaves don't taste like much, unless you have cheese and dressing on it.  And eating fiber, is just as bad as the lettuce leaf, if you don't jazz it up with something it tastes like cardboard or wood chips.
Fiber Facts

Most people need 25 to 30 grams of dietary fiber each day, but most of us get only 12 to 15 grams a day.

One daily serving of FiberChoice® – just two chewable tablets – contains 4 grams of dietary fiber.

Fiber is typically associated with regularity, but fiber is also important for overall digestive and full-body health.

FiberChoice® should be taken every day as part of an ongoing effort to live a more healthy life.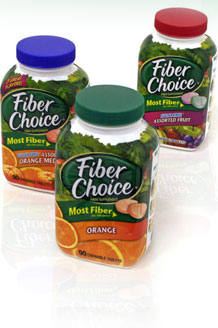 I always try to offer the boys fruits, vegetables and whole grains to ensure that they get enough fiber in their diets.  One of my boys has always had problems with constipation, so I have always tried to give him things like prunes, and encourage drinking lots of fluids.  I am always looking for easy additional ways to add some fiber in my diet and his.  I recently had the chance to try Fiber Choice, which is a fiber supplement.  My initial thought, when I read the bottle that said, sugar free and fiber supplement, was that this was a bottle of compressed taste free lettuce leaves.  But to my surprise, they actually tasted really good and are easy to take at any time during the day.  The recommended dosage is two tablets.  I started with that and found that I did get a bit bloated and gassy and I just reduced the serving to one and a half tablets for about a week to let my system adjust.   Each chewable tablet is scored down the middle so it makes it easy to break them in half and I also started giving my sons half a tablet daily, and my husband takes two in the morning.
Because they're chewable, FiberChoice® tablets are the fiber supplement you can keep anywhere, take everywhere – at your desk, in your gym bag, in the car, in your suitcase, in the kitchen counter – wherever it's convenient for you.

Inulin: A natural fiber source.

One daily serving of FiberChoice chewable tablets – just two tablets – contains 4 grams of inulin, an all-natural dietary fiber found in fruits and vegetables. Inulin is a unique fiber source that helps boost calcium absorption.*
We now make taking fiber a daily part of our routine. My husband hardly ever eats a vegetable or fruits for that matter, so this is also a great alternative, and helps to get at least some fiber in his diet. We recently stocked up with the 220 count bottle from our local Costco, and plan to keep up with the daily routine of taking Fiber Choice. A little more fiber in our diets can only help in maintaining our health and keeping our plumbing in order.  To learn more about Fiber and it's benefits you can follow @FiberChoice on Twitter or visit their website at http://www.fiberchoice.com
"I wrote this review while participating in a blog tour by Mom Central Consulting on behalf of FiberChoice and received a coupon to facilitate my review and a gift code to thank me for taking the time to participate."