The boys are huge Imagination Movers Fans.  The are always fixed on the tv when they are on and love the high energy and problem solving on the show.  I like it because I know it is a show that can be on and as a parent I don't have to worry about surprise language and content.
Currently, the Imagination Movers are on tour here in the United States and in parts of Canada!  Also Choo Choo Soul has joined them to add to the fun.   When I heard that the Movers were coming, I quickly looked them up to see if they were coming to our local area as I knew the boys would enjoy it.  Not only are they touring but you can catch a concert on the Disney Channel, if you cannot attend the show.
We are going to the show, and I haven't told the boys yet, but they are sure to be excited!   I know I am excited, because I have an excuse to go to the show  LOL.  What parents secretly don't tell you is that they love going too.   There isn't anything I love more than seeing my child's reaction and how they light up when they have these experiences.   I cannot wait for the show!   Look for my review coming shortly.
You can look for an Imagination Movers tour date near you and bring your kids to join in on the fun!

With tax time fast approaching, it is now time to go through receipts and all the important paper work that you need to get your taxes in order.  I always find myself going through my old receipts and bank statements to gather up the necessary paperwork to file taxes.  I used to just tear these things up, and give them a toss, but this day and age, you need to go the extra step to protect your private documents from getting into the hands of the wrong people.  This is why I believe having a paper shredder is one of your best investments against identity theft, and it also helps minimize all the clutter from paperwork.
Having a paper shredder is probably one of the greatest things you can have on hand in your home or home office.  I have found that rather than shoving piles upon piles of paperwork into a file cabinet or on a shelf, that shredding makes my life so much easier.  I don't have to deal with the clutter and I know that I can safely dispose of vital information.  Shredders today have come a long way, and now you can even shred your credit cards, and cds.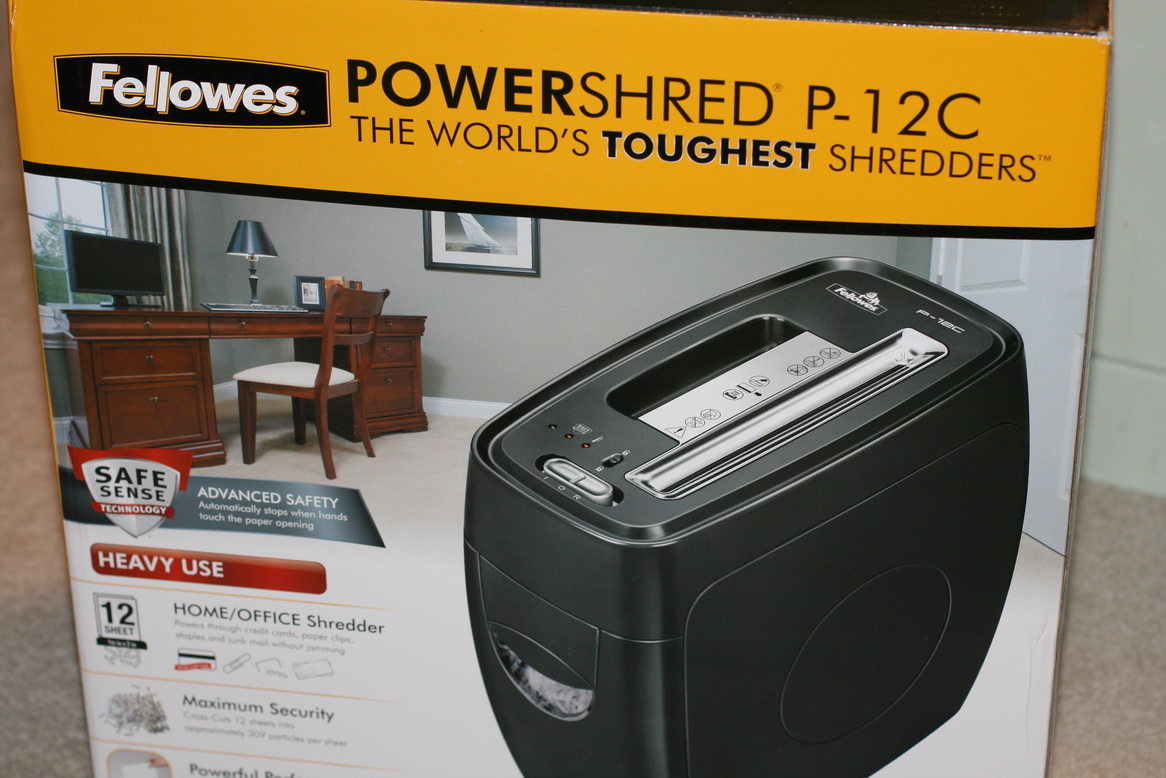 Recently I was given the opportunity to review the Fellowes PS-12Cs Cross-Cut Shredder.  This couldn't have come at a better time because we are in the process of gutting the home office.   When I took it out of its box my first overall impression was that it is sleek, and compact.  I was able to tuck it neatly next to our file cabinet, which made it very unobtrusive in the room.  If there is anything that I don't like are big bulky things that take up way more space than needed.  It looks great, but how well does it work?  So we put it to the test, first we shredded a few pieces of paper, and it gobbled it right up with record speed.  We then tried one of our old expired credit cards and it had absolutely no problems.  It can handle up to twelve sheets of paper at one time.  I found that the shredder moves a little slower if you put all twelve in there at once, but I find that I would hardly ever shred twelve at once anyway.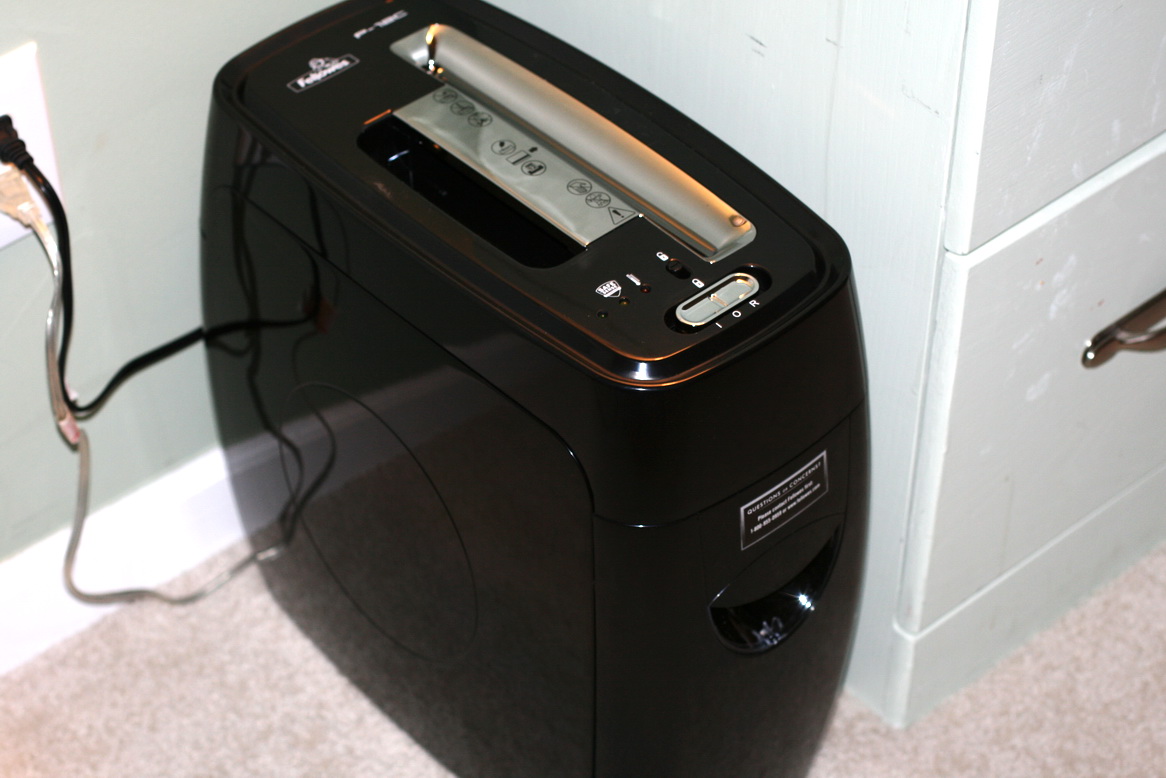 Take a Look!
If you are worried about little hands sticking their fingers into the shredder, the Fellowes PS-12Cs Cross-Cut Shredder also has a really great safety mechanism called the Patented SafeSense® Technology this stops the shredder when hands touch the paper opening.  I find this to be a great advantage, because I have two very curious four year olds that always manage to "laugh in the face of danger" so to speak and have an inherent knack for getting into trouble.  This makes one less thing for me to worry about, so my kids are safe as well as my identity.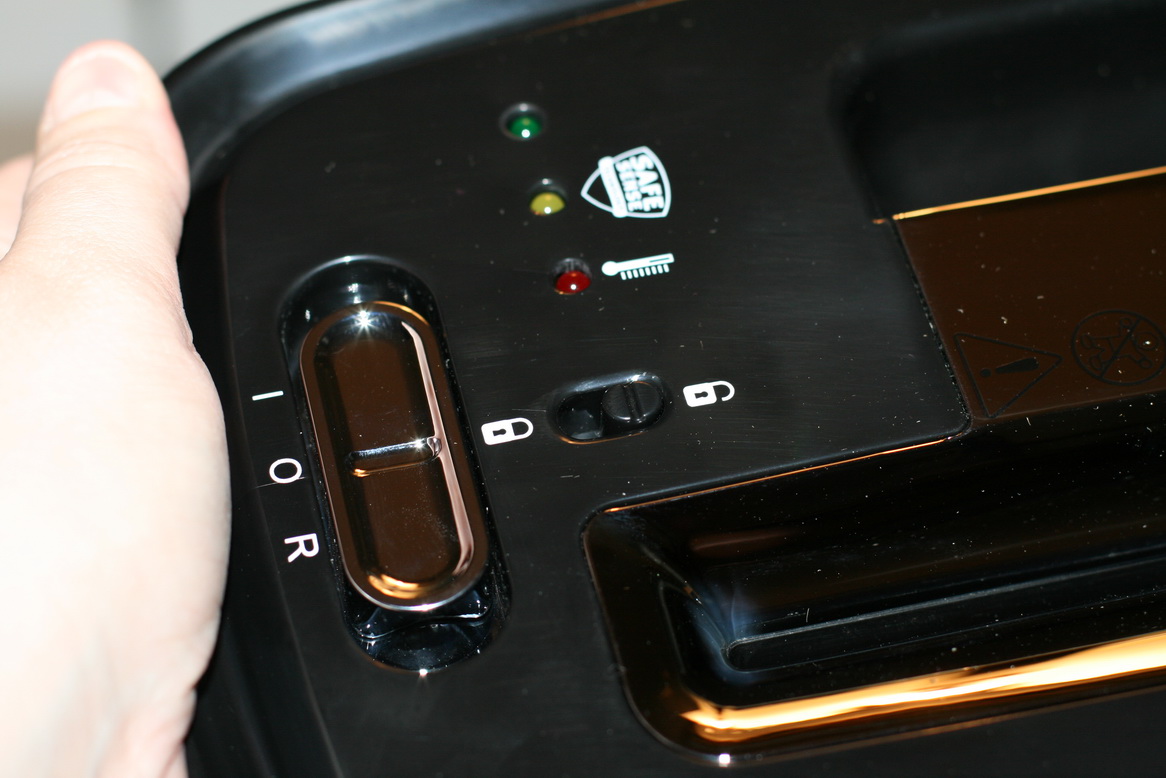 The paper collection bin is really nice and just neatly slides out so you can empty it.  I like the fact that the bin is not too large so I can easily slip a trash bag on top of it and turn it upside down to empty it without make a ginormous mess.  Our last shredder we had, the bin was too large and we wound up having an office that looked like we partied like 1999 with paper shred confetti all over.
Fellowes PS-12Cs Cross-Cut Shredder Features
Shreds 12 sheets per pass into 5/32" x 2" cross-cut particles (Security Level 3)
Patented SafeSense® Technology stops shredding when hands touch the paper opening
Slim profile fits neatly under desks
4-gallon bin
For individual use
Can shred: Paper, staples, credit cards, paper clips
The only drawbacks that I found were that the shredder itself is rather loud, and it doesn't shred cds.  Overall, I love Fellowes PS-12Cs Cross-Cut Shredder's compact size and the Safesense Technology so I don't have to lock it  up away from the kids. In general, it is very effective at shredding most of  the things you would want to shred.  It would make a great addition to any home office.
Tax time is just one good reason to have a paper shredder, but protecting your identity is a top priority so you can avoid the nightmare of identity theft.  Victims of identity theft can surely tell you how awful it really is.  It is important to make sure your computers have the appropriate protection, invest in a a small safe to keep your important documents, and invest in a good paper shredder to appropriately dispose of documents that contain vital personal information.
"I wrote this review while participating in a Mom Central Consulting blog tour on behalf of Fellowes. I received a Fellowes paper shredder to facilitate my review."
My two lovely lil men, are into a phase where they talk about when they can be a Daddy or like Mommy and be the boss they say.  LOL   They talk about how they will someday marry a girl like mommy and daddy got married and be the boss of their own bubbas.  We call them the bubbas sometimes, so that's where that comes from.  They talk about how they will someday marry a girl, like Daddy married Mommy, because they ask about our wedding picture and what getting married meant.
Today one of mine says to me:  "Mommy,when we get to be Daddies we can say stuff like knock it off and don't hit your brother that's not nice!
I can hardly keep a straight face!  It is so funny how kids see their parents at such a young age.
Then there are the questions that they ask like, my mr smarty pants:  "mommy why do bubbles stick together?" well,  I guess I better brush up on my science, this is only 4 years old people!  I wonder what is next!
While the weather is ping ponging up and down and Spring is trying to make it's entry, I am at my wits end in terms of keeping the boys occupied.  They don't attend preschool, and it's too cold for them to go out and play with the neighborhood kids.  This is the time where I start to get a little crazy.  We have just about run out of things to do in the house, and we are an outdoor family by nature.  There are only so many tents you can make, cars you can play with,  and tv shows to watch before it just gets old really fast, so I was on the hunt for some kid's crafts that they could do.
So I decided to head to the craft store, and find some craft activities for boys to do for the entire week.  I found some really fun things to do.  We plan on making some Wilton lollipops with their candy melts (I will try my best).  I found some really cute ones with a pirate treasure chest and pirate, and since the boys are really into Jack and the Neverland Pirates on Disney, they got really excited when I showed them.  For our crafting adventure, I found some magnets they can paint, and some wooden race cars, and trains to paint by Faber Castell, they have some really neat things for kids.  I figure it was a great activity so they can use their creative skills, and fine motor skills, and I got the mommy pleasure of watching them.  For being four and some change, they did a really fantastic job on their trains, and had so much fun doing it.
The Tongues Help Make The Masterpiece!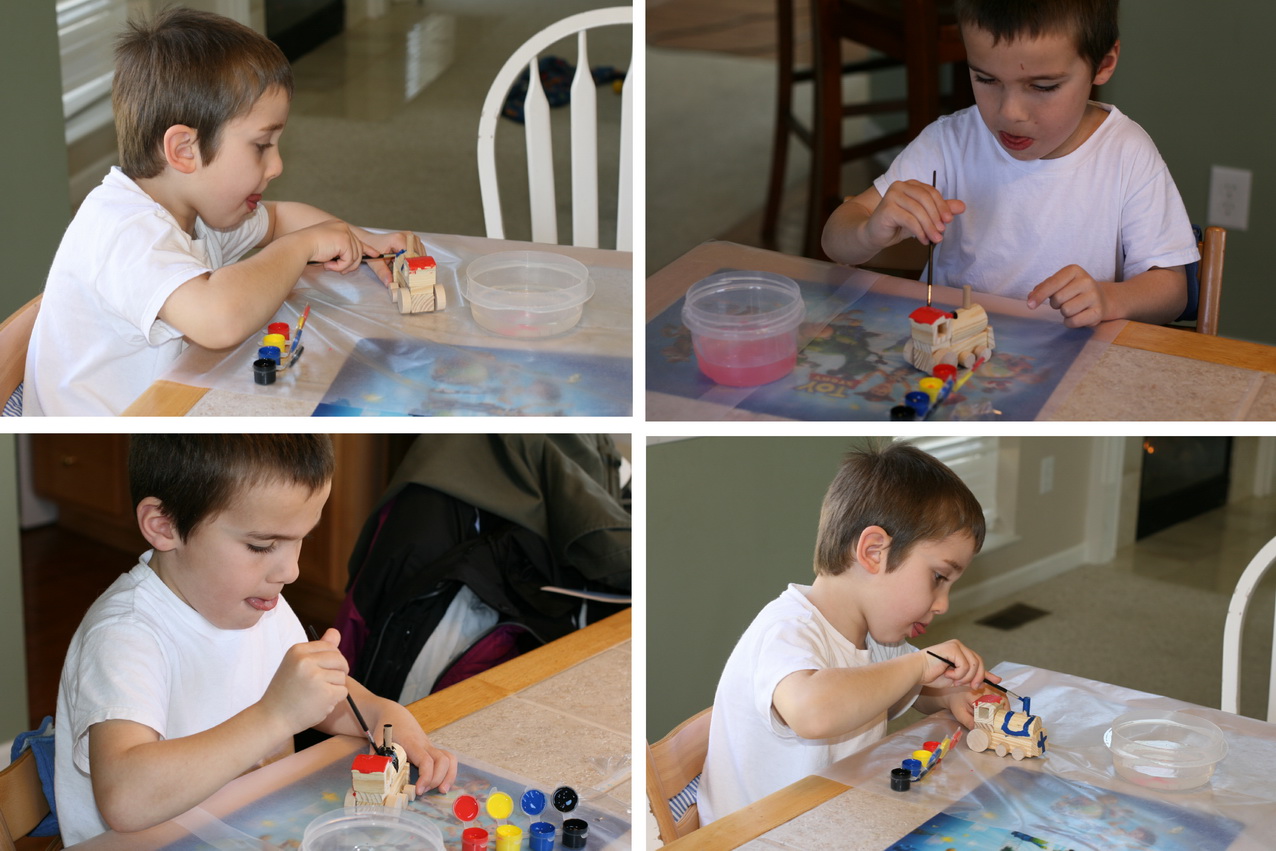 Our next project is our Wilton lollipops, I hope they turn out, because I have no clue what I am doing for those!  They look easy but ya never know!