Fellowes Helps Keep The Shred On Identity Theft

With tax time fast approaching, it is now time to go through receipts and all the important paper work that you need to get your taxes in order.  I always find myself going through my old receipts and bank statements to gather up the necessary paperwork to file taxes.  I used to just tear these things up, and give them a toss, but this day and age, you need to go the extra step to protect your private documents from getting into the hands of the wrong people.  This is why I believe having a paper shredder is one of your best investments against identity theft, and it also helps minimize all the clutter from paperwork.
Having a paper shredder is probably one of the greatest things you can have on hand in your home or home office.  I have found that rather than shoving piles upon piles of paperwork into a file cabinet or on a shelf, that shredding makes my life so much easier.  I don't have to deal with the clutter and I know that I can safely dispose of vital information.  Shredders today have come a long way, and now you can even shred your credit cards, and cds.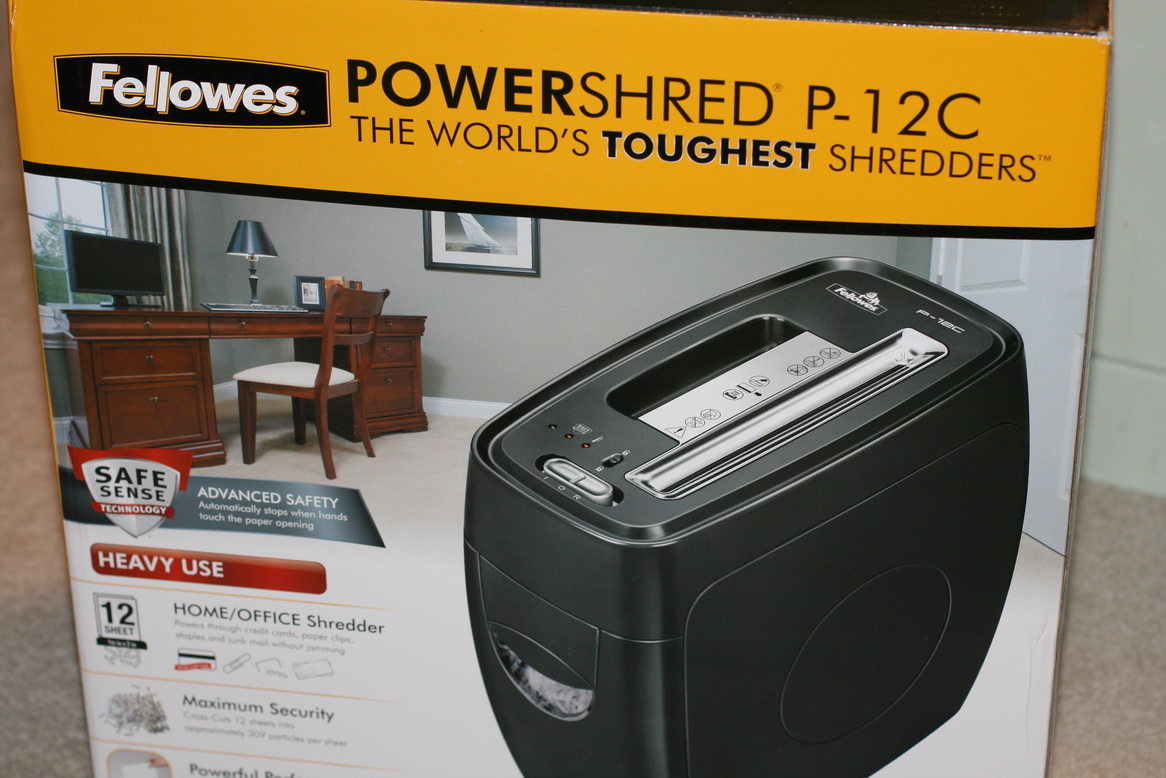 Recently I was given the opportunity to review the Fellowes PS-12Cs Cross-Cut Shredder.  This couldn't have come at a better time because we are in the process of gutting the home office.   When I took it out of its box my first overall impression was that it is sleek, and compact.  I was able to tuck it neatly next to our file cabinet, which made it very unobtrusive in the room.  If there is anything that I don't like are big bulky things that take up way more space than needed.  It looks great, but how well does it work?  So we put it to the test, first we shredded a few pieces of paper, and it gobbled it right up with record speed.  We then tried one of our old expired credit cards and it had absolutely no problems.  It can handle up to twelve sheets of paper at one time.  I found that the shredder moves a little slower if you put all twelve in there at once, but I find that I would hardly ever shred twelve at once anyway.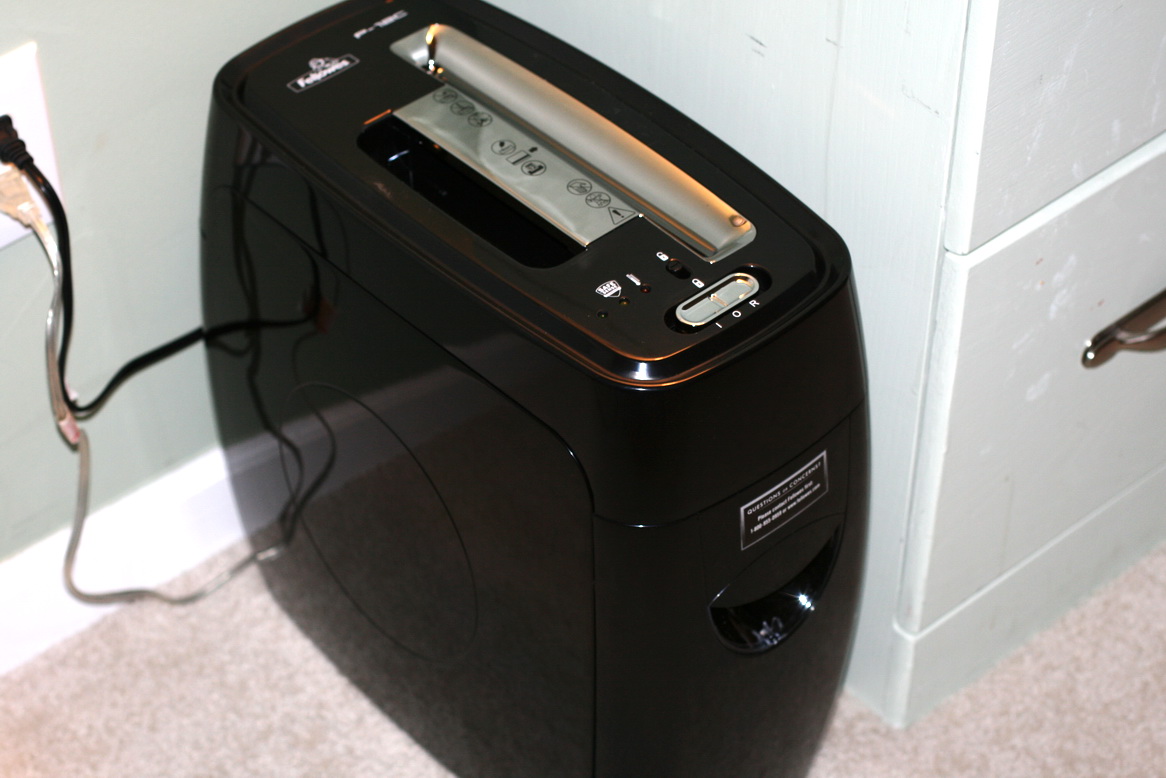 Take a Look!
If you are worried about little hands sticking their fingers into the shredder, the Fellowes PS-12Cs Cross-Cut Shredder also has a really great safety mechanism called the Patented SafeSense® Technology this stops the shredder when hands touch the paper opening.  I find this to be a great advantage, because I have two very curious four year olds that always manage to "laugh in the face of danger" so to speak and have an inherent knack for getting into trouble.  This makes one less thing for me to worry about, so my kids are safe as well as my identity.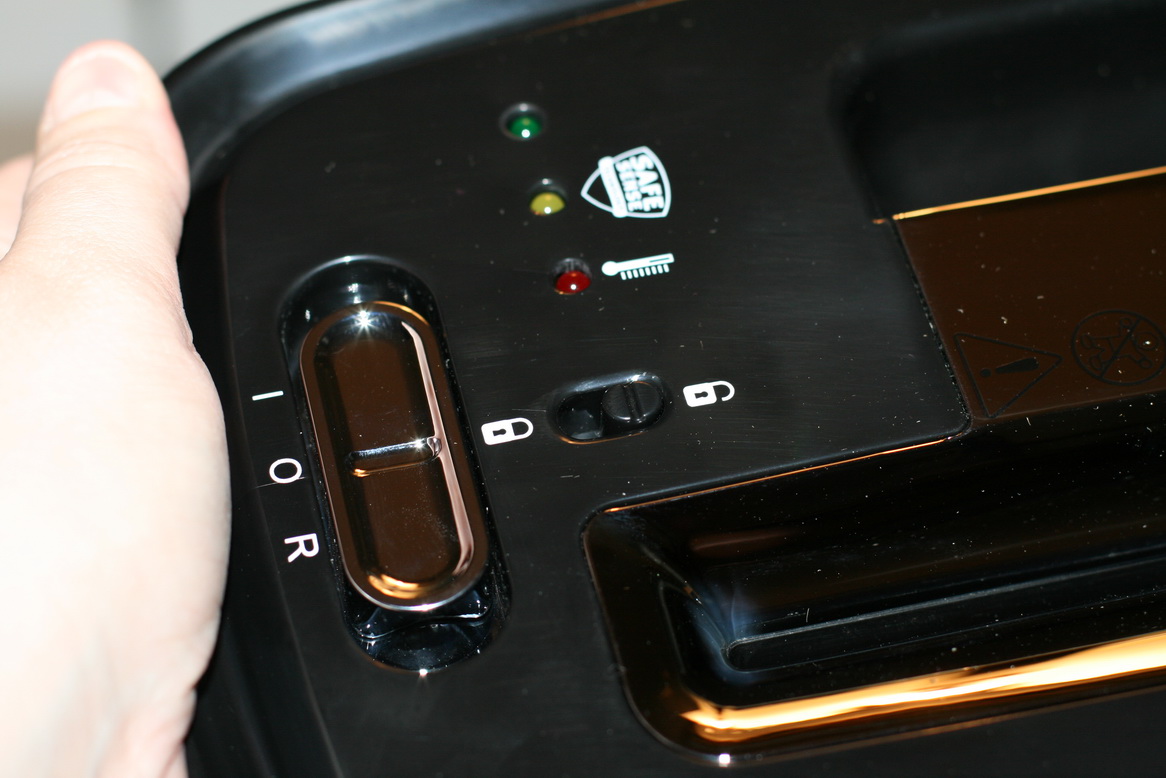 The paper collection bin is really nice and just neatly slides out so you can empty it.  I like the fact that the bin is not too large so I can easily slip a trash bag on top of it and turn it upside down to empty it without make a ginormous mess.  Our last shredder we had, the bin was too large and we wound up having an office that looked like we partied like 1999 with paper shred confetti all over.
Fellowes PS-12Cs Cross-Cut Shredder Features
Shreds 12 sheets per pass into 5/32" x 2" cross-cut particles (Security Level 3)
Patented SafeSense® Technology stops shredding when hands touch the paper opening
Slim profile fits neatly under desks
4-gallon bin
For individual use
Can shred: Paper, staples, credit cards, paper clips
The only drawbacks that I found were that the shredder itself is rather loud, and it doesn't shred cds.  Overall, I love Fellowes PS-12Cs Cross-Cut Shredder's compact size and the Safesense Technology so I don't have to lock it  up away from the kids. In general, it is very effective at shredding most of  the things you would want to shred.  It would make a great addition to any home office.
Tax time is just one good reason to have a paper shredder, but protecting your identity is a top priority so you can avoid the nightmare of identity theft.  Victims of identity theft can surely tell you how awful it really is.  It is important to make sure your computers have the appropriate protection, invest in a a small safe to keep your important documents, and invest in a good paper shredder to appropriately dispose of documents that contain vital personal information.
"I wrote this review while participating in a Mom Central Consulting blog tour on behalf of Fellowes. I received a Fellowes paper shredder to facilitate my review."