Each year I get a little more adventurous with my vegetable garden, and there is something nice about growing your own fresh veggies for your family.  Not only is it fun, everything just tastes so much better when it comes straight from your garden.
Trisha over at momdot, is growing some wonderful things in her family garden.  It seems she is ahead of the game, but I haven't been too lucky with any early harvests yet.  The weather for the most part here, has been cold and rather rainy, so everything is off to a slow start.
I thought I would give you all a sneak peek though.  Everything is indeed growing, and I think it is just my impatience that has taken over that has me out there telling everything to hurry it up.  I did get to enjoy my first salad with some lettuce, and it was yummy!
So here ya go, in the garden, cauliflower, broccoli, peas (regular shelling/garden peas, and sugar snap) they are the one vigorously climbing the trellis.  I have pole beans (also climbers), cucumbers, tomatoes, zucchini, asparagus (wont be ready till next year), cilantro, parsley, thyme, rosemary, basil, and oregano.  Up by the house, I have Stuttgarter onions (yellow onion), more tomatoes, more cucumbers, and red peppers.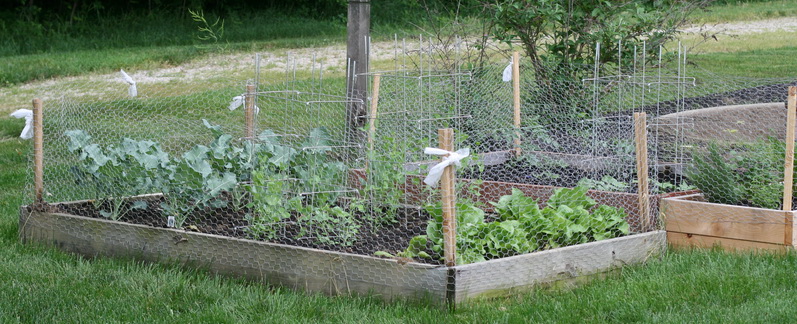 Here they all are growing in various stages but doing well.  The fence is for the bunnies to stay out, and the white ties are fabric softener sheets to deter the deer.  I also have a motion detector sprinkler that I am getting ready to put back up, otherwise bambi and his friends will eat every blessed thing I have.
Lettuce and Peas Doing Their Thing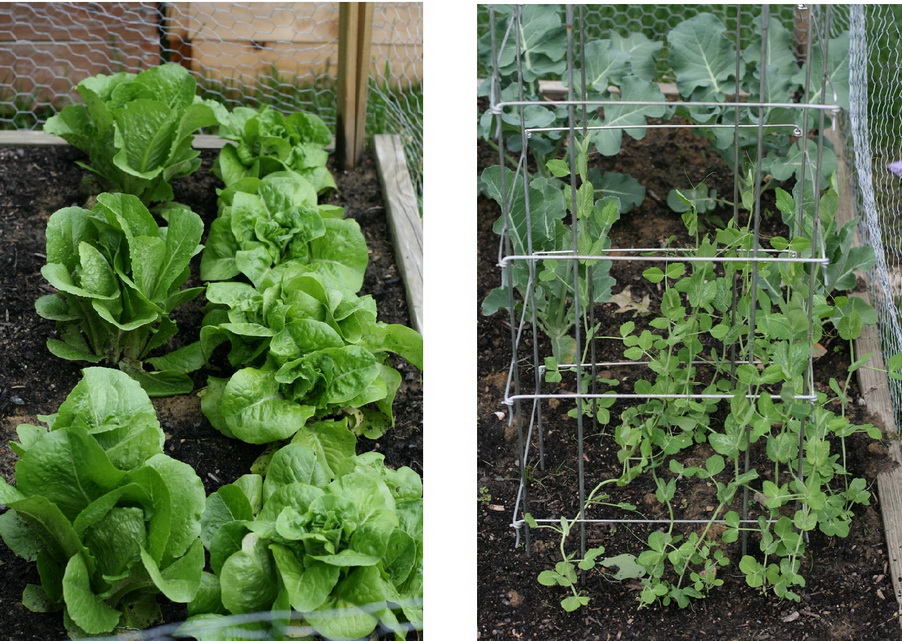 Broccoli and Herbs

Both Gardens Side By Side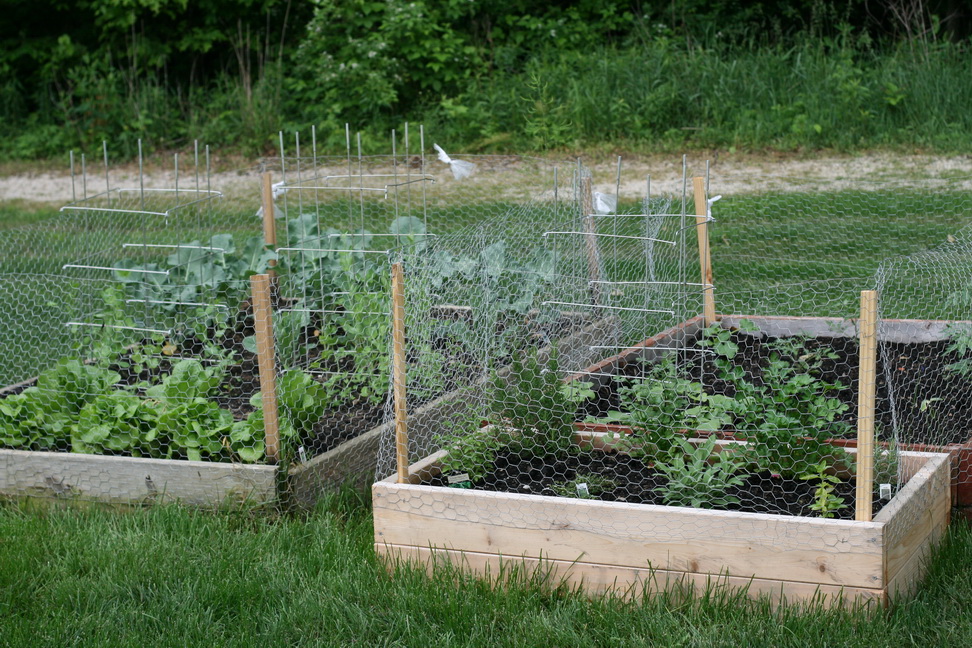 What are you growing this year in your garden?  What are your favorite veggies?  I plan on doing some canning this year if I get enough.
Somewhere Over The Rainbow….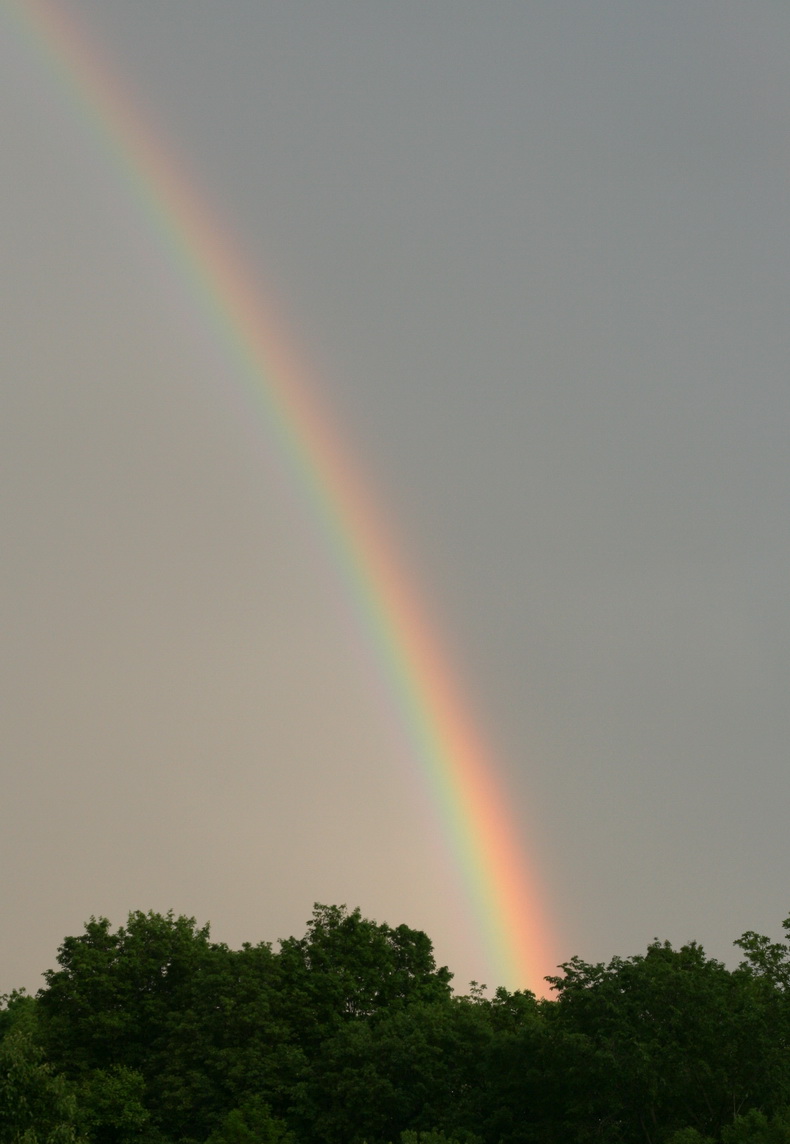 We are new home owners essentially.  My husband and I have never owned a home, so this has been an adventure to say the least.  No one tells you all the things that you have to do, that needs to be done and the gobs of money you need to do most of it.  When we moved in, it was pretty exciting, and slowly we moved all our meager furniture into the house.  Well, here we are about 8 years later and everything looks about the same, with the exception of some things we have done ourselves.  Interior Decorator I am not.
Since being a stay at home mom, is what I chose in order to give my boys what I know is best for them, it limits the amount of money we can spend on all the extra things, like a new patio, or new furniture, and all the updates I sit here and fantasize about when I watch all these designer shows on tv.
It can get kind of depressing staring at the same unpainted white walls, the same 40 plus year furniture in our bedroom that in my desperation for something new, I stripped and refinished.  The two dressers that we have, I got from my mom, who got it from some old lady, and then she gave it to me when I was 7, so Ive had it all these years.  I changed the handles, stripped and refinished it, but it still looks the same.   Our king size bed is just on a plane old frame, and nothing pretty.
Our living room couch is a sectional that I still love, but it has begun to sag and a few bolts have gone missing, one of the recliners doesn't open because a handle broke, I believe it is 15 years old (it sure has held up though).  With the exception of a very few pieces in our home, most of the furniture is the build it yourself kind.  I have nothing against any of it, and it all looks ok, but I secretly dream of going into a furniture store and picking out "big girl" furniture.
Our dining room is empty still, it has my electric piano, and an old broken tv.  Our den has more put together things like shelf cubes and a college like desk that is missing some of the fake finish (if there is such a thing)?
I would love to call up the local landscaper and say I would like a patio this color, with these flowers and have them fix up our wonderful backyard.  I would for the boys to have one of those cool swing sets, since they are missing the roof off of the one we bought them.
Our home has these vaulted ceilings and that means walls that go on for miles (what were we thinking?), that need to be painted but I cannot reach!  Our bedroom I painted this pretty blue, it too, has partially vaulted ceilings and lots of tall walls.  I had to improvise, when our 12ft ladder wasn't enough to reach the highest peak in there, so I had to tape a paintbrush to a wooden paint mixer stick to reach.  If I don't tell anyone you can't notice, but that stupid corner drives me nuts  LOL.
Our tv in the living room, is sitting on the boys toy box in our old entertainment unit (that we built), and I am not sure that will ever change.  Our basement we built ourselves with my dad who is a carpenter.  He framed it in and put up the drywall, and I mudded and finished it off. I love the little family space we have down there, but the  one thing its missing is the ceiling.  I have no idea how to do this, and it may have to stay like that.  My basement is the scariest place ever.  It has a crawl space that I would love to use for storage of all the "stuff" that we have, but I am afraid to go up in there for anything.  It is dark and creepy and all gravel, what if there are spiders up there?  eek!  And then there is the sump pump, that is below our bedroom, that makes lots of noise.  If the power goes out our basement will flood, but the noise is horrendous zzzzzzzzzzz clunk, zzzzzz clunk.  I got industrious and tried to change the check valve, I think it makes more noise now than it did, I got so aggravated that anyone who sees it will say what the heck? But, I took a body pillow and duct taped it around the pipe, thinking it would deaden the noise.  Nope!
Anyway, you get the idea, I love our home, I love being home, but I don't love how things are, I want to invite people in and come home to something beautiful.  I don't have some heartfelt story to tell you, to put me on a show like Extreme Home Makover, but I secretly dream of coming in the door to something magnificent, something that doesn't feel depressing, something that doesn't need work, or falling apart, or that needs to be changed.  I would love to see our home at it's full creative potential, but I don't have a the money or enough imagination to make it so.
So I have a secret dream.  I would like to give Nate Berkus my home for a week or two and let him surprise me,  I wish that I could give him an all access pass to my backyard, my front yard, and most of all, the entire interior of my home.  I love everything that he has done, and all the beautiful things he does and what he puts into things,  I love the spirit that he has about him, and  if he showed up at my door, I would probably pee my pants to say the least.  A girl can dream, can't she?
Nate if you are out there somewhere….make our house a wonderful place to be. Well ok, im still dreaming, but I am secretly hoping and wishing.
I have been on a mission in the house.  I am busy cleaning out drawers and cabinets, and closets.  The thing I hate about doing this, is that even though everything is nice and clean and organized, no one can tell that you have done anything.
My house is still a mess, because I am busy creating piles of all this miscellaneous stuff that I can't throw away, or I am unsure where it should go.  I call these my doo dad piles.  They are the worst because they just sit there, and I just stare back at them wondering how I am going to organize it.  This is how clutter begins, I am sure, but they are always there after I clean.  And by the end of my super wonder woman cleaning spree, I am too tired to do anything with them so I toss them in a drawer or container and there they sit.
Yeah, I now have several containers of doo dads, and nowhere to put them.  The good news is my closets are cleaned, my drawers aren't overflowing with stuff, and things feel a little lighter.  Now I need to tackle the rest of the house…the part you can see.  Cleaning is thankless.
I could possibly live in the store it seems.  The boys seem to eat all day long and living with three males makes keeping a stocked pantry and fridge next to impossible for me.  I will buy something, and two days later, I am wondering where it has gone.  I can only imagine when the boys get to be teenagers.
I recently started watching the Extreme Couponing show on TLC, and I am amazed at some of these people that are on the show.  All of them seem to have issues with hoarding or something, because nobody I know needs six hundred bottles of shampoo, eighty things of deodorant, or three hundred toothbrushes.  Cmon people, I don't think I go through but two or three things of deodorant in a year and I use it every day.  A lot of things have expiration dates too. Extreme couponing, is a little too extreme for me, and if you watch some of these people, they literally get the worst anxiety if something isn't going right and they have to pay $6 instead of $4.  There is a problem with this.  What I don't understand is why this is not being put to better use.  If I had the time to do this, clipping all these coupons etc., I would be walking into my local food pantries, and homeless shelters and making hefty donations, not lining every wall in my home with products, I may never get around to using.
I use coupons when I need them.  Most of things you get with coupons limit what you are bringing home to your family to eat.  A majority of these foods are highly processed foods, and none of the foods are fresh fruits or veggies.  If you aren't picky about your shampoo, laundry detergent or deodorant then you can get some really great deals.  I however am extremely picky and we as a family, love certain things and rarely deviate.  We are on a fixed budget, and I try to follow it, so money doesn't grow on trees here.  With that, I must admit I get excited if I do really well with coupons.  We also eat things that aren't perfectly healthy all the time, and we have our favorite foods we like to buy.  If a trip with coupons seems warranted, then I plan my store trip as such.  My recent visit I stocked up on favorite frozen foods because our store is having a mega event where if you buy participating items you get $5 off at checkout, plus I had a bunch of coupons.  I got $.13 cent toothpaste which we needed, $.30 cent yogurt which was a great deal, and I was able to buy milk, some stuff for salads, and felt like I stocked up on some staples.  My total bill was $126 before the coupons and I wound up spending $35.  Not too bad for a impromptu trip to the store, it felt good, but I am not obsessed with going back.  For me, it is a lot of work and time that, I rarely have, but if I have the time, I always clip the coupons in the paper.  I was happy with my purchase and satisfied with my savings.  I am always on the lookout for good deals, but an extreme couponer, I am not.
Do you coupon?  What are your tips?  Do you get a rush out of it?  Do you dream about it?  Why do you do it?
The boys are well into their soccer season, and each game a parent is responsible for bringing a snack and a drink for after the game for the whole team.  At first I felt a little snippy about having to pony up more money to feed 9 other children besides my own after already paying the dues for actually letting the boys play.  Eventually, I realized that there will probably be many many more of these to come in the near future with the boys heading to school.  So, I decided to have fun with our last obligatory snack day.  Since I have two boys, I signed up for two days.
I decided to bring cupcakes this time around.  I was bored with the pre-packaged snacks that had been brought so far.  I am the creative type, and I took it as a moment to just have fun, so I came up with soccer cupcakes after scouring the internet for ideas on how to do them.  Thanks to Wilton, which I drool over their stuff on a regular basis, I got the #233 decorator tip, candy melts in white and used candy colors to tint some black and the soccer ball mold, and I made cute lil cupcakes with icing that looked like grass and candy soccer balls (all 12) that I painstakingly molded one at a time.  Apparently, they were a big hit cause the other little team members tried to take them as well  LOL.  I wish I had brought 24
They turned out so cute!   Don't ya think????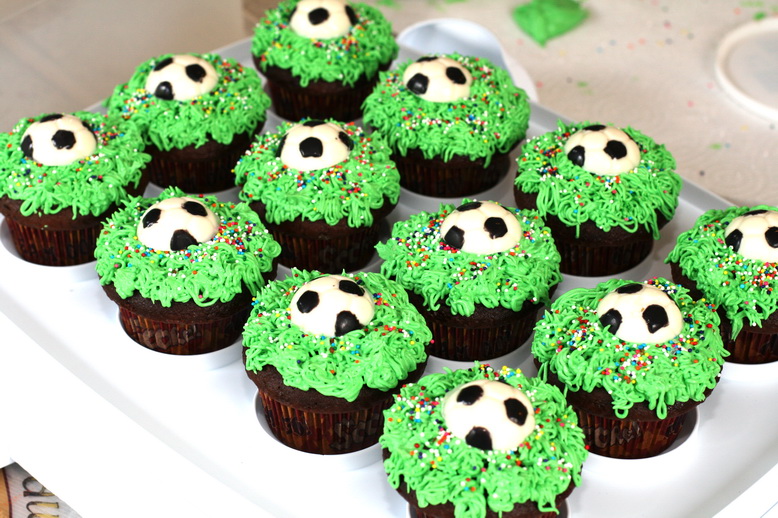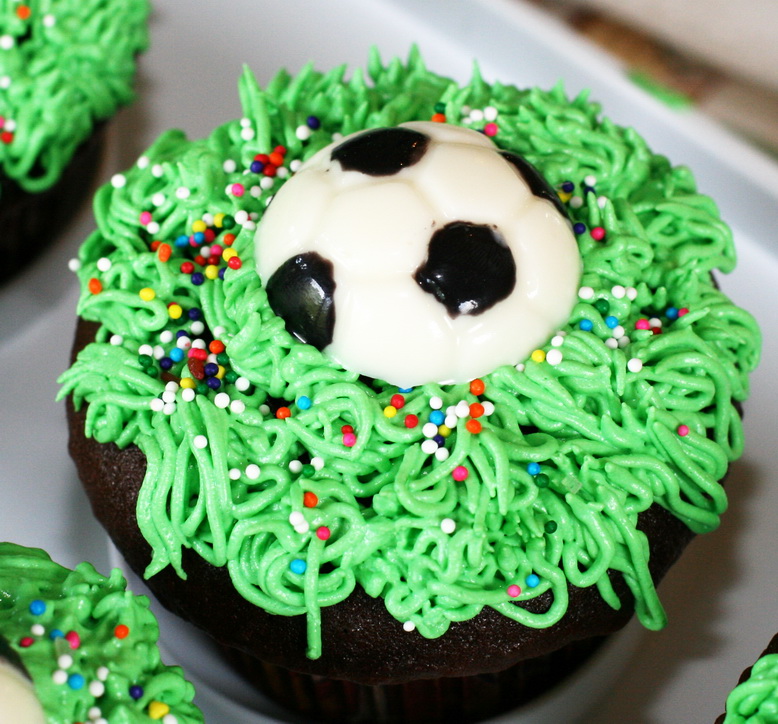 Secretly I dream of having my own cupcake shop, you know like the ones you see on tv.  These were fun to make and the kiddos love them.
Mother's Day turned out to be one of the nicer days we have had in over a month.  It seems like all we get is rain, but the sun decided to shine.  We spent the day just being a family and the boys gave me cards and Swarovski crystals that they had picked out for mommy.  My sister-in-law got me hooked on collecting them years ago.  I got the cutest little duck and a teddy bear with a heart.  It was funny because both of them sort of picked out something fitting to their personality.
Later in the day, we went to the local nursery and bought a peach tree to plant, and two rose bushes.  I am hoping they do well so I can remember them as one of many special Mother's Day activities.
I have just finished planting the last of my vegetable garden, so I am greatly looking forward to having some home grown foods.  We have spinach, lettuce, broccoli, cauliflower, peas, green beans, zucchini, onions, tomatoes, cucumbers, and fresh herbs growing.  Strawberry picking is right around the corner and I will be making jam and freezing berries.  This is the time of the year where I spend little time indoors, and most of my time in the garden, out with the boys, and jaunts to local you pick farms, farmer's markets and enjoying all the fresh fruits in the local supermarkets.  I am a definite country girl by nature, although I could do without the bugs and garden snakes.
This is one of the best times of the year!
I had been craving nachos, but more importantly my favorite combination fajitas from Cantina Laredo.  I had discovered this place when out shopping with a friend, and decided to give it a try.  Their guacamole they make table side is the best, and I love their fajitas.  Their service is usually good, but this past Sunday, I was immensely disappointed.
I had let the day escape me with all the things we had to get done, so dinner had approached rapidly and I simply didn't feel like cooking.  The boys were crabby so I decided to order my favorite Mexican food to share with them from Cantina Laredo.  I called in for take out and the lady on the other line said it would be 20-25 minutes, which is about standard when you place a take out order.  The call was put in at 6:55, I arrived at 7:15 and was directed to the bar.  The lady working the counter motioned to me that it would be a minute and she proceeded to fill drink orders, wait on others, and did this for about 6 minutes.  She ran my order on my credit card at approximately 7:21pm, and then I waited some more.  The hostess went to check on my order and came back and said it wasn't ready.  I waited, and waited some more (meanwhile my husband and two four year olds were out in the car).   The hostess goes back again, still not ready!  By this time it has been one full hour since they received my order.  I tell the hostess that I want to see the manager, that this is absurd to wait on an order I placed on the phone nearly an hour ago.  She comes out with my order in hand and the manager (who is also the chef) and he is apologizing etc.  I tell him I should not have had to wait for nearly an hour for the take out, and he says that "this is not fast food maam."   I do realize this, and I tell him that the lady told me 20-25 min on the phone and he says she should have not quoted a time.  Most places do!    And if I were sitting in his restaurant waiting an hour for my food, I would be just as irate!
He took the order off my credit card, and I left with his card.  I felt bad about complaining but seriously this should have not taken this long.  I felt like things were redeemed only to find when I get home that those nachos had been sitting there in their restaurant for a long time, soggy and a mess, and the key thing for fajitas (the flour tortillas) were missing, so I had nothing to eat them with!  The meal was free but everything was total crap.  I was not about to drive another 15 – 20 min at nearly 8:30 at night for flour tortillas.  The stuff wound up in the trash, my boys had sandwiches for dinner and I had frozen pizza.
I am really disappointed and still craving Mexican food!  But I am almost afraid to go back!
Soccer Stars (they are only 4 and some change, this makes my boys look so grown up!)