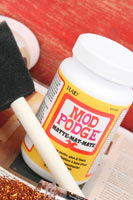 I have an entire room devoted to all my craft supplies.   I have always been one of those crafters that likes to jump from one project to the next.  And, on any given day the boys usually want to draw, cut, or glue something.  It is nice to be able to have the craft supplies necessary to have fun on a rainy day, or when the boys seem bored.
A lot of time, I will go to the local craft stores and look for things that are on clearance, but I have found that it is easier to order craft supplies online.  I almost always have pipe cleaners on hand, beads, googly eyes, felt squares, paint and glitter of all kinds. Factory Direct Craft, is one of my go to places to stock up on things for the boys and things for myself, like candle making supplies, stuff for my scrapbooking, and all the different kinds of ribbons that I have.  Ribbon, comes in handy for tying up gifts, and the boys sometimes glue it to their projects.
If you are looking for crafting supplies online, then you should check out Factory Direct Craft.   You can find just about anything you might need for a rainy day craft, holiday crafting, or even if you get the itch to try something new to do.  If you enjoy shopping in your PJ's or late at night when all the local stores are closed, this is a great place to go and have a look around.  Start planning your year's crafting projects, or replenish your craft supply stock, with Factory Direct Craft!
"I was compensated for my time, the opinions expressed here are strictly that of my own."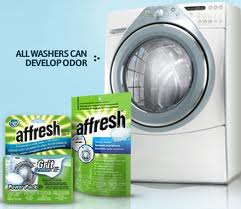 Clean clothes right from the dryer are the best because they are warm and smell so good.  Often times, we only focus on keeping our clothes clean, but have you ever really thought about cleaning your washer?  Sometimes, when I get too busy with my kiddos, I often forget that I have clothes inside the washer, and they can sometimes sit there for a few days before I remember them.  By then, they stink and I have to re-wash them.
When you let clothes sit like that, your washer probably has the potential to grow all sorts of things, and the cold, dark, and wet space is bound to develop an unpleasant odor and probably when you wash your clothes, they aren't smelling as nice as they should be.  I happen to have a front loading machine, and inevitably it seems like it has a musty odor to it.  Wherever, there is a  constant place for moisture, you are bound to have that musty smell.  I don't really think I have ever cleaned the inside of my Whirlpool Duet washing machine, and I am sure there is some instruction somewhere that I got 9 years ago, that I need to keep it cleaned, but I have blissfully ignored it (whoops!).
Recently, I was invited to be a part of a program to try out Whirlpool's Affresh Washer Cleaner, so I am trying it out, to see if I notice a difference on if my washer smells better and seems cleaner.
How Does Affresh Work???

How?

Affresh® washer cleaner helps remove and prevent odor-causing residue build-up that can accumulate in all brands and configurations of washers. The oxygenated bubbling action of Affresh® Power Puck™ tablets penetrates and dissolves unseen residue, providing a more effective cleaning option than bleach alone.

If used once a month, Affresh® washer cleaner pouch prevents odor-causing residues from accumulating. Heavily soiled washers may require repeated treatments to remove traces of odor and residue. In this case, Whirlpool recommends running three successive washer cleaning cycles with one Affresh® Power Puck™ tablet in each.

For HE models, Whirlpool offers the Affresh® washer cleaning kit with three Power Puck™ tablets and six Grit Grabber™ cloths. Due to their more efficient design, HE washers seal more tightly and use less water than traditional top-load models, increasing the potential for residue build-up. The Affresh washer cleaning kit removes and prevents odor in areas that cannot be reached – such as behind the washer drink – and in areas that can be reached, such as around the rubber door seal and detergent dispenser. The hypoallergenic Grit Grabber™ cloths remove odor-causing build-up and lock it into the cloth.
While using  Affresh Washer Cleaner I am going to see if I notice a marked difference in odor and tell you my findings. I am looking forward to not only my clothes smelling nice but getting rid of that darned musty odor that seems to be lingering in my washer! I can tell you, that if it smells just as good as the Affresh tablets that I can smell through the package, then it is something you will want to try, to maintain your washer and have  a fresher smelling laundry experience all around.  If you don't like doing laundry, at least the smell can be nice!  Who wants to knowingly clean their clothes in a dirty washer?  I can't wait to try it out.
"I wrote this review while participating in a campaign by Mom Central Consulting on behalf of affresh and received product samples and a promotional item to thank me for taking the time to participate."
Irresistible (scroll down)

Love when you catch them…love this lil smile!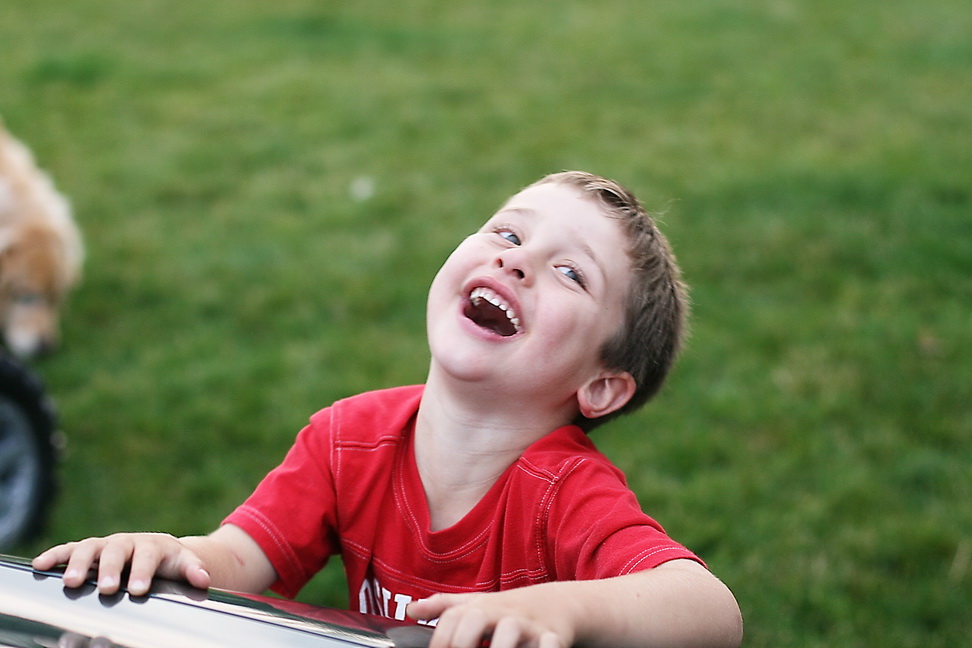 Blue is my favorite color.  I was at the Farmer's Market when I ran across this little hole in the wall cupcake shop and I decided I must go in.  Prominently displayed in just four simple glass dome cases perched on crystal cake stands were one of four flavors for the day.  They had the obligatory chocolate, vanilla chocolate, and something else which I forget, then my eyes were drawn to these pretty little blue velvet cupcakes with white icing.  I had to have that one!  Not only is it my favorite color, I wanted to see just how good could a blue cupcake be?
I didn't have time to eat it on the way home, so I tossed it in the fridge till I could savor the moment.  The husband was gone with the boys and I decided to give it a try.  I took a bite and the flavors danced on my tongue like the most beautifully indulgent serenade.  I found my blue heaven, these things were to die for!  I quickly began to scour the internet for a recipe because the Farmer's Market is only once a week, and well I wanted to see if I could replicate.  I ran across a few variations when I stumbled across a recipe I liked.
Humming the song "blue belvet"  popular in 1950 and, written by Bernie Wayne and Lee Morris (can't get the song out of my head now), I made a few variations, because I was a little timid about using all this blue food color, I like vanilla so I added a smidge more.  I only halved the recipe for the cream cheese frosting because I only made half a batch.  The result was a very blue, and very yummy blue velvet cupcake.  I was rather impressed.  My kitchen on the other hand looked a little like a visit from the Smurfs.  A little secret about me, is I like to spread out in the kitchen, which results in a big old mess, if it's my first time baking a new thing.  What I did for the cocoa and coloring gel was I mixed it as per instructions then added only about half of what was there.  The violet color is so your cupcakes don't turn out to bee turquois.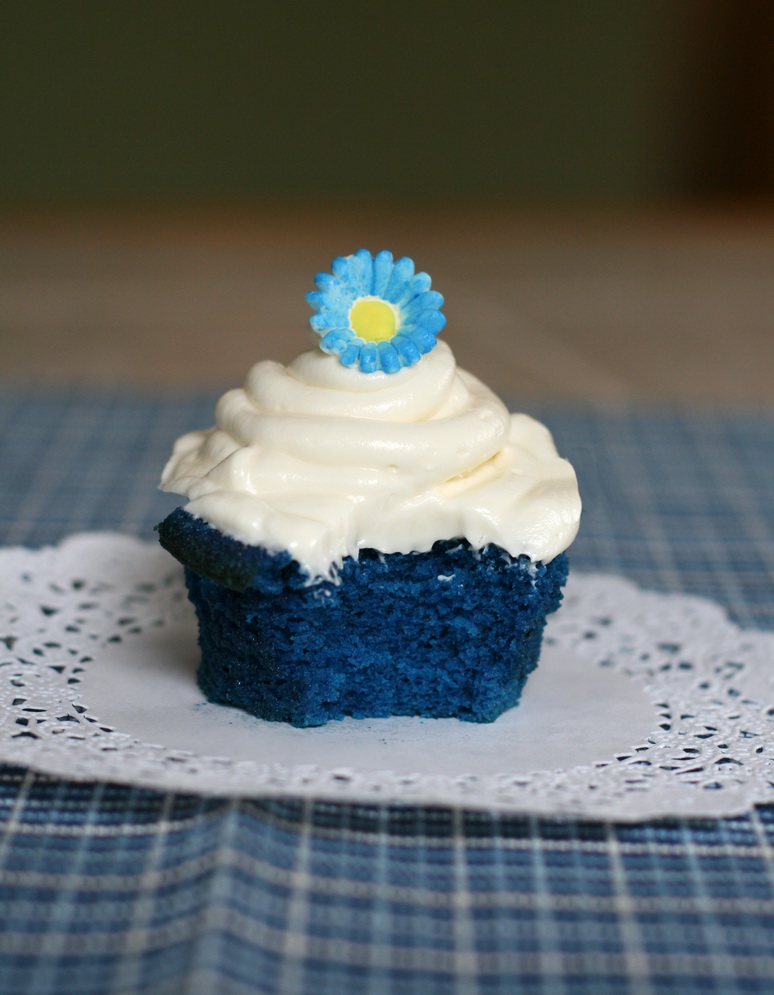 Here is the Recipe
For the cupcakes:
2 cups sugar
½ pound (2 sticks) butter, at room temperature
2 eggs
1 tablespoon cocoa powder
1 Tbsp Wilton royal blue gel food coloring or if you can find the paste you can just use two tsp)
1 small dab of violet gel food coloring (just a little bit on a toothpick will do)
2 ½ cups cake flour (Swans Down is the best hands down)
1 teaspoon salt
1 cup buttermilk
1 teaspoon vanilla extract
½ teaspoon baking soda
1 tablespoon vinegar
the frosting:
1 pound cream cheese, softened
2 sticks butter, softened
1 1/2 teaspoon vanilla extract
4 cups sifted confectioners' sugar
Preheat your oven to 350 F and line cupcake pans with liners
Cream sugar and butter in mixing bowl till light and fluffy, then add eggs one at a time, mixing well after each egg
Mix cocoa and food coloring together to make a paste — this takes a while and patience  to mix thoroughly with all gel (looked a bit like a science experiment), but it came together nicely; add this paste to sugar mixture and mix well again
Sift  flour and salt, and add to creamed mixture a bit at a time, alternate with buttermilk, then mix in vanilla
Combine baking soda and vinegar in a small bowl and add to cake batter; mix just to combine
Scoop thick batter into cupcake liners, filling about 2/3 full, and bake for probably 20-25 minutes, but start checking at 18 minutes — mine were done at about the 20 minute mark; watch for toothpick inserted in center to come out clean, watch your edges they can brown very quickly (trust me I know from my first batch  lol)
Remove cupcakes from oven and allow cool completely on a wire rack
How to make the frosting
Beat cream cheese, butter and vanilla with electric mixer until nice and smooth
Add sugar gradually and beat on low till combined, then beat on high speed until very light and very fluffy
If you like red velvet cake, this would be a great twist on a classic!  They taste just like red velvet but ate a wonderful, beautiful blue.  Give it a try and let me know what you think.  My boys got a kick out of them and gobbled every last one up!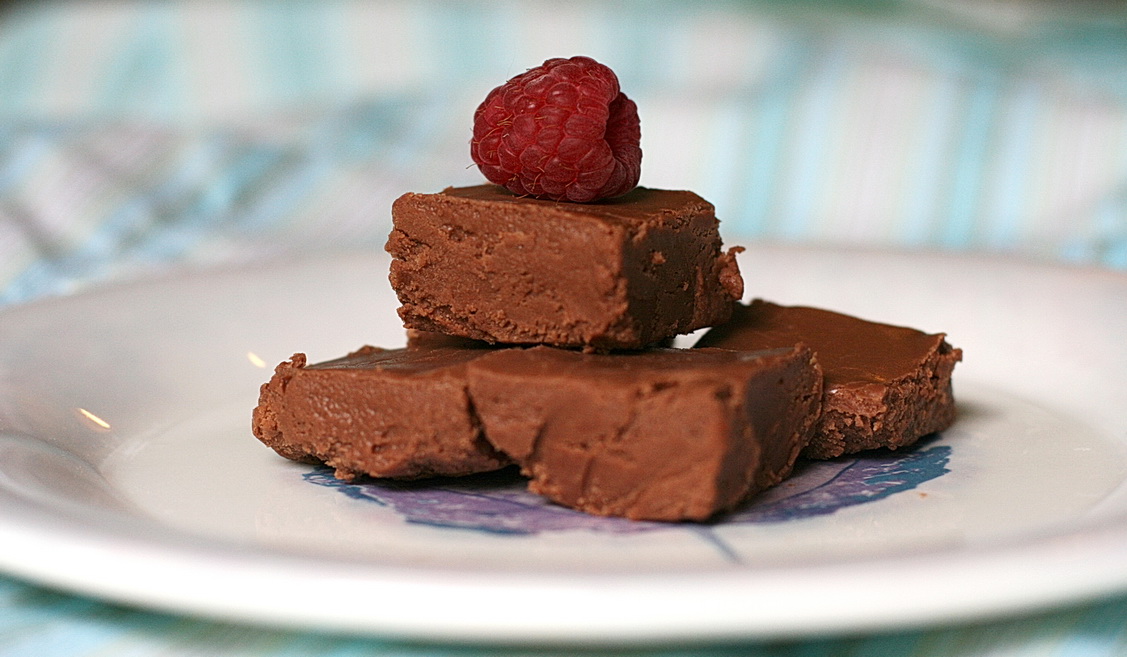 I have never before in my life made fudge of any kind.  In fact, I have never really eaten it.  Over the weekend I tried some raspberry fudge at one of the vendors and I instantly had to buy some.  They were completely out of it with the exception of two small blocks, and I told them to discount it and I bought them.  I took them home with the idea that these tiny blocks of fudge would last me a few weeks, but sadly they were gone in two days  LOL.  Since the farmer's market is only on Saturdays, in my desperation I decided to make my own.  I scoured the internet and came up with several recipes and decided to give it a try.  This is the raspberry fudge recipe I used but I changed the amount of sugar to 2 cups instead of 2 and 3/4.  To me fudge is rather sweet, so I wanted to experiment and it came out ok as far as I can tell, you can go all out with the sugar or experiment.  I also added a little more of the raspberry flavoring because I like it.  I would recommend using an oil which I found at a cooking supply place.  The imitation stuff at the store is too liquidy (is that a word?).
Here is the Cast of Characters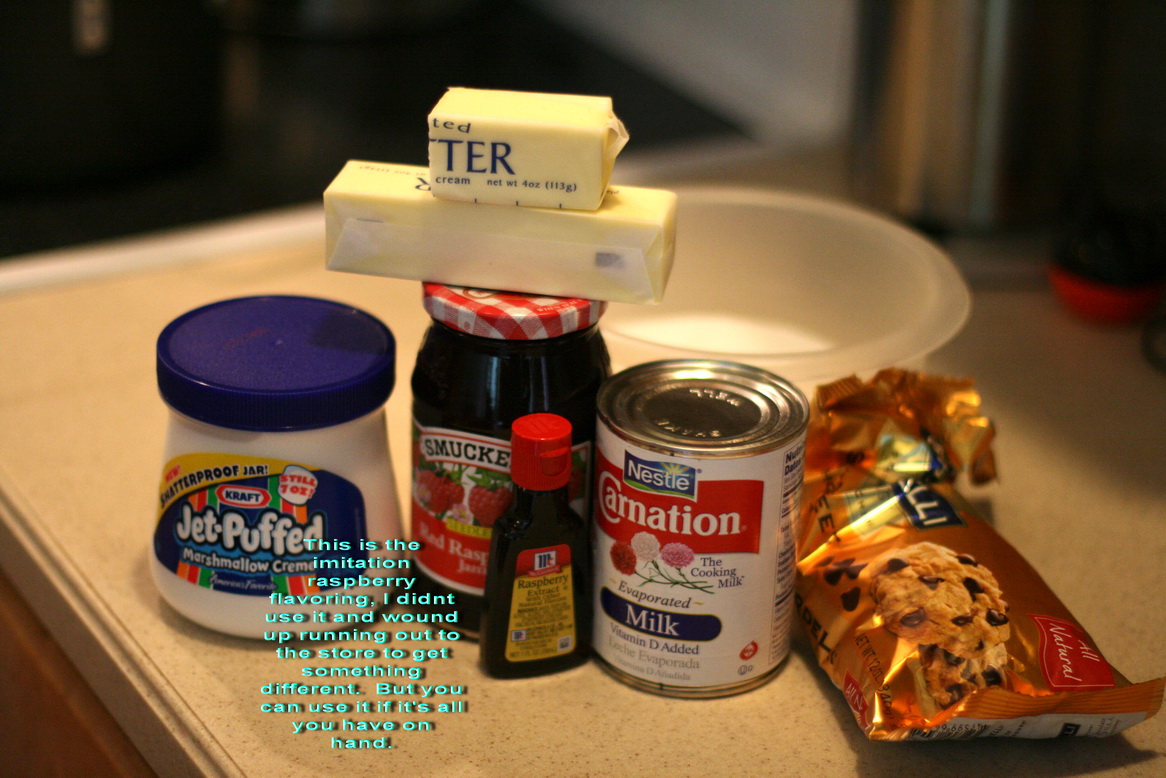 Recipe
3/4 cup (1 1/2 sticks) margarine or butter
1 5-ounce can (2/3 cup) evaporated milk
1 7-ounce jar Marshmallow Cream
1/3 cup seedless raspberry jam
2 cups or 2  3/4 cups sugar(depending on personal preference)
1 12-ounce package semi-sweet chocolate chips
1 cup chopped nuts – optional
1 teaspoon vanilla extract
10 drops Raspberry Flavoring
Lightly grease a 13-x9-inch or 9-inch square pan.
Mix margarine or butter, sugar and milk in a heavy 3-quart saucepan; bring to a full rolling boil on medium heat, stirring constantly.
Continue boiling 5 minutes on medium heat or until candy thermometer reaches 234°F, stirring constantly to prevent scorching.
High Altitude: Decrease recommended temperature (234°F) 2 degrees for every 1,000 feet above sea level. (Who pays attention to this?)
Gradually stir in chocolate chips until melted. Remove from heat.
Add all remaining ingredients and mix well.
Pour into prepared pan.
Cool at room temperature.
When cooled, cut into squares.
Makes about 3 pounds
ENJOY!!!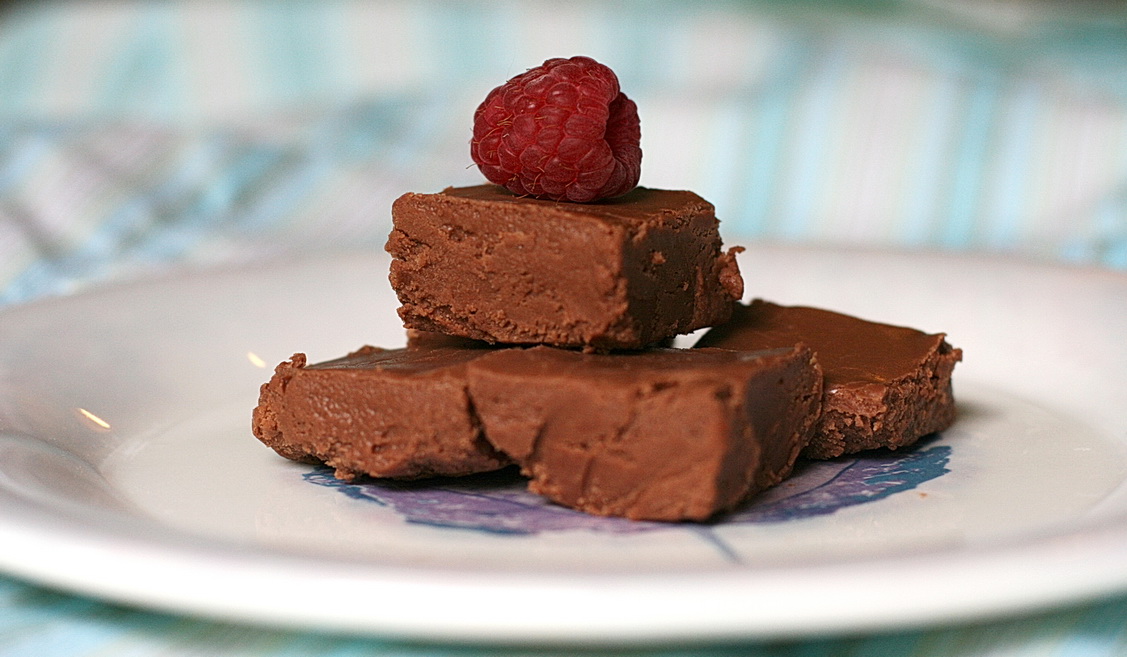 This is the end result and it turned out pretty yummy for my first go around.  The nice thing about fudge is it will last you an eternity if you exercise self control.  I am personally trying to diet, so just a tiny piece of it, is enough to curb my chocolate cravings so I don't fall off the wagon.  What is your favorite chocolate recipe or fudge recipe?
Polar Bear, Polar Bear, What do you see?
A picture I took at the zoo, I love Polar Bears!

The phone, that is.  We have one of the handset type phones and somehow it has gone missing.  Grrrr!  I tried to page it, but I cannot hear it anywhere.  I was going around the house telling the boys to be quiet, but my suspicion is that, it's out of batteries.
We have already lost one of the phones when the boys were younger and we never found it.  It is lost and gone to phone heaven.  This reminds me of the time we lost a baby monitor, only to find it inside the  cheez-it box, thankfully I was hungry or we might not have found it.
I have asked the boys up and down and neither one of them has seen it.  I last remember calling my husband while outside so I am going to be out scouring the area.  I am beginning to think I have lost my mind, which isn't hard to do  lol.
We are now down to one phone, that's in the den, attached to a cord, and I hope it isn't going anywhere because whoever tries to call me, I won't be answering for a very long time at this rate.
Have you ever lost something and it drives you nuts as to where it could be?  What crazy location have you found it in?  I blame the kids and not my mom brain.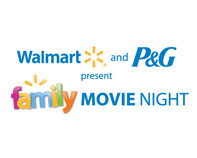 It is rare that you see wholesome movies anymore.  As a parent, I am finding it to be a difficult task picking movies that I feel comfortable letting my kids watch.  I am running across Disney movies that are using words like "idiot" and "stupid."  My kids seem to be at an age where they pick up on all of it, and then I am fighting a battle to correct what was negatively instilled in them by a "kid friendly" movie.  Good movies with good lessons are important.
P&G and Wal-Mart have partnered to create more made for TV family movies and have created Family Movie Night. Their most recent movie Field of Vision, premieres June 11th at 8/7c on NBC.   I had the chance to see Field Of Vision and it is a great movie with a very strong anti-bullying message.  I read about bullying in the schools often, and as a parent to young children, I must say it scares me.  My two are just months away from heading to school and it has been my experience unfortunately, that kids can be mean.
Overview
Through mysterious footage captured on an old malfunctioning video camera, Sinclair High School's star quarterback, Tyler McFarland, learns that some of his teammates have been bullying Cory Walker, a troubled new transfer student. Aware that sharing this information with the coach might get his friends kicked off the team and ultimately cost the school the state championship, Tyler must choose what's more important: winning or doing what's right.
This movie was a wonderful example of how to make a good movie minus all the language, and exudes a message to live our best life and teach our children to do the right things.  From a Mom's perspective, there were many poignant moments that I could relate to, and I was crying by the end.  I won't give away the whole movie, but it is a good one to sit down as a family to watch and discuss afterward.  My boys are only 5, so I felt the concept wasn't something they could relate to or grasp yet, but I think it is very appropriate for children ages eleven and up, who are on the verge of their teen years.  Faith Ford was wonderful in the movie.  But even more wonderful, was the fact that this was a movie that the entire family could watch.
"I wrote this review while participating in a campaign by Mom Central Consulting on behalf of P&G and received a promotional item to thank me for taking the time to participate."
When I am having a really bad day, my boys always manage to change that for me in the little things that they do.  One of my sons never lets me leave to the store without running up to the car window and giving me a hug and a kiss.  Or, if im in the house, he will stop what he is doing and run to say goodbye.
The other day I was leaving for the grocery store and one of them comes running to the garage door, and shouts with a big huge smile.  "Bye Mommy!!!!   I love you to the moon and back!"
I yelled back  "I love you to the moon and back and to the moon and back again!"
This is what makes being a mom so worth all frustrations, being tired, and makes all the bad days disappear. It's amazing what a simple "I love you" can do.
Never forget to tell your children how much you love them.
It is strawberry time in these part, so I have been hiding out in the strawberry fields over the past few days.  Well not exactly in the fields but I have been hard at work making all things strawberry, and nursing a Summer cold.  We all are sneezing, runny noses, and sore throats and fevers.  Thankfully, I think the worst is over.
I took the boys picking on Wednesday, and it is almost always an adventure.  It always starts out good, but then they lose interest, since they are boys and all.  One of the boys filled his container, the other picked three berries and claimed he was ready to go home.  This does not bode well for my 6 quarts of berries I needed.  Then they figured throwing the hay would be a better idea until one of them got hay in his mouth.  It was the fastest 6 quarts I have ever picked and was glad to be home.  This Saturday I am going back, minus two children, so I can thoroughly enjoy the experience silently, without hay in my strawberries (oh yes they did, and it takes forever to wash off of all them berries), and I am going to stay in the fields for a few hours.
Most of all I love berry picking because as a kid I remember my grandmother going and I always begged.  I never got the chance because she passed away before I could go.  My favorite part about strawberry picking is that I feel close to her.  I loved bringing the boys despite all their ornery behavior.  I had already planned for their short attention span, I only hope they will grow to love it.
Keep a look out for my creations with all these berries.