Raspberry Fudge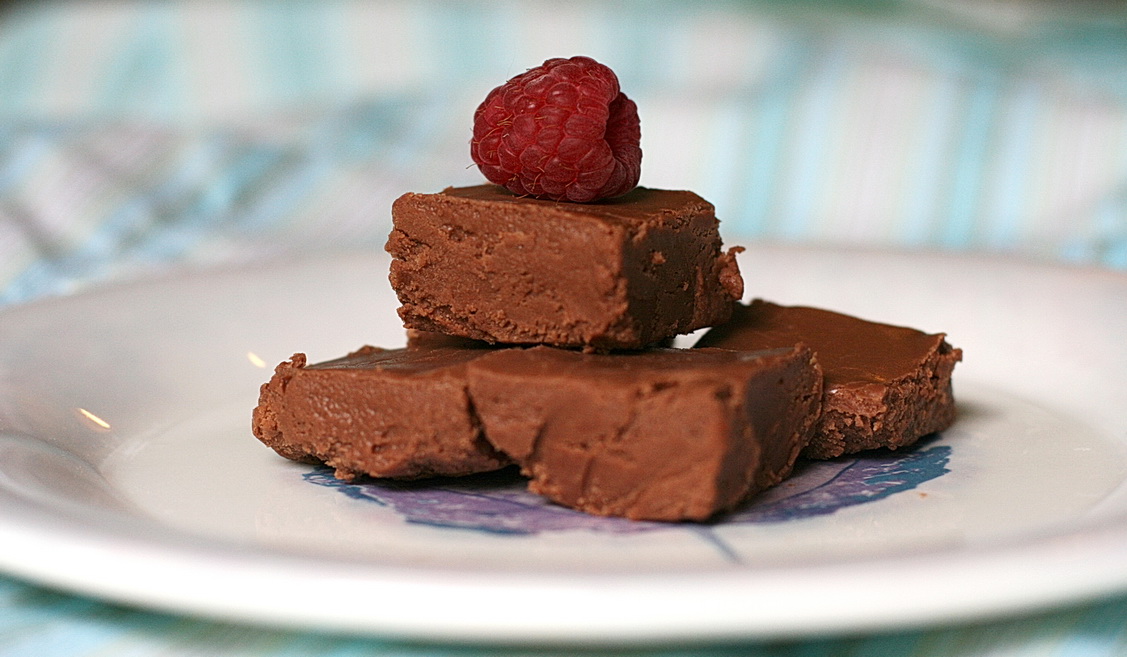 I have never before in my life made fudge of any kind.  In fact, I have never really eaten it.  Over the weekend I tried some raspberry fudge at one of the vendors and I instantly had to buy some.  They were completely out of it with the exception of two small blocks, and I told them to discount it and I bought them.  I took them home with the idea that these tiny blocks of fudge would last me a few weeks, but sadly they were gone in two days  LOL.  Since the farmer's market is only on Saturdays, in my desperation I decided to make my own.  I scoured the internet and came up with several recipes and decided to give it a try.  This is the raspberry fudge recipe I used but I changed the amount of sugar to 2 cups instead of 2 and 3/4.  To me fudge is rather sweet, so I wanted to experiment and it came out ok as far as I can tell, you can go all out with the sugar or experiment.  I also added a little more of the raspberry flavoring because I like it.  I would recommend using an oil which I found at a cooking supply place.  The imitation stuff at the store is too liquidy (is that a word?).
Here is the Cast of Characters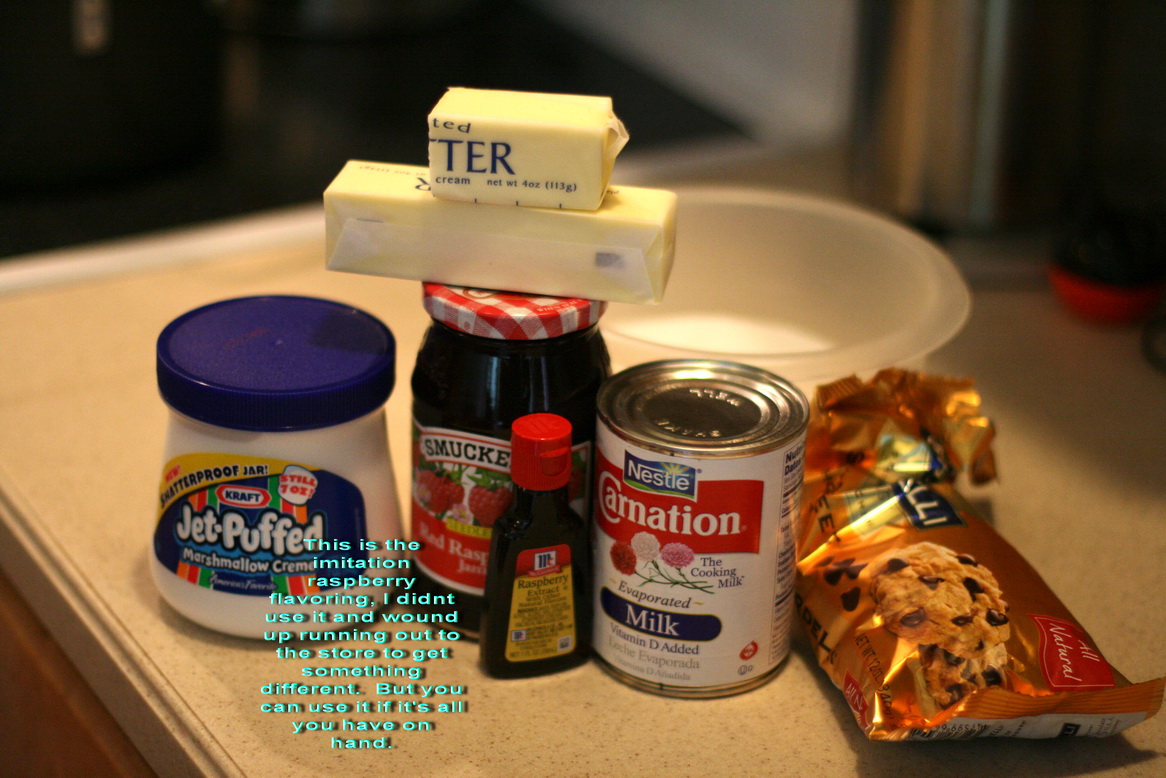 Recipe
3/4 cup (1 1/2 sticks) margarine or butter
1 5-ounce can (2/3 cup) evaporated milk
1 7-ounce jar Marshmallow Cream
1/3 cup seedless raspberry jam
2 cups or 2  3/4 cups sugar(depending on personal preference)
1 12-ounce package semi-sweet chocolate chips
1 cup chopped nuts – optional
1 teaspoon vanilla extract
10 drops Raspberry Flavoring
Lightly grease a 13-x9-inch or 9-inch square pan.
Mix margarine or butter, sugar and milk in a heavy 3-quart saucepan; bring to a full rolling boil on medium heat, stirring constantly.
Continue boiling 5 minutes on medium heat or until candy thermometer reaches 234°F, stirring constantly to prevent scorching.
High Altitude: Decrease recommended temperature (234°F) 2 degrees for every 1,000 feet above sea level. (Who pays attention to this?)
Gradually stir in chocolate chips until melted. Remove from heat.
Add all remaining ingredients and mix well.
Pour into prepared pan.
Cool at room temperature.
When cooled, cut into squares.
Makes about 3 pounds
ENJOY!!!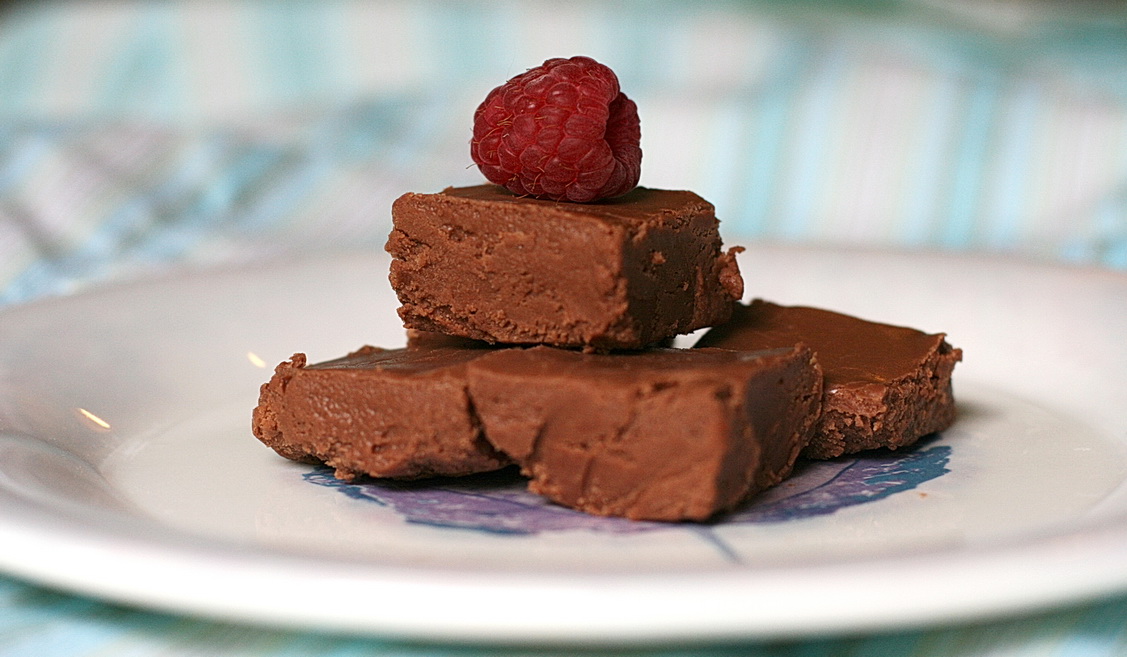 This is the end result and it turned out pretty yummy for my first go around.  The nice thing about fudge is it will last you an eternity if you exercise self control.  I am personally trying to diet, so just a tiny piece of it, is enough to curb my chocolate cravings so I don't fall off the wagon.  What is your favorite chocolate recipe or fudge recipe?