Blue Velvet Cupcakes
Blue is my favorite color.  I was at the Farmer's Market when I ran across this little hole in the wall cupcake shop and I decided I must go in.  Prominently displayed in just four simple glass dome cases perched on crystal cake stands were one of four flavors for the day.  They had the obligatory chocolate, vanilla chocolate, and something else which I forget, then my eyes were drawn to these pretty little blue velvet cupcakes with white icing.  I had to have that one!  Not only is it my favorite color, I wanted to see just how good could a blue cupcake be?
I didn't have time to eat it on the way home, so I tossed it in the fridge till I could savor the moment.  The husband was gone with the boys and I decided to give it a try.  I took a bite and the flavors danced on my tongue like the most beautifully indulgent serenade.  I found my blue heaven, these things were to die for!  I quickly began to scour the internet for a recipe because the Farmer's Market is only once a week, and well I wanted to see if I could replicate.  I ran across a few variations when I stumbled across a recipe I liked.
Humming the song "blue belvet"  popular in 1950 and, written by Bernie Wayne and Lee Morris (can't get the song out of my head now), I made a few variations, because I was a little timid about using all this blue food color, I like vanilla so I added a smidge more.  I only halved the recipe for the cream cheese frosting because I only made half a batch.  The result was a very blue, and very yummy blue velvet cupcake.  I was rather impressed.  My kitchen on the other hand looked a little like a visit from the Smurfs.  A little secret about me, is I like to spread out in the kitchen, which results in a big old mess, if it's my first time baking a new thing.  What I did for the cocoa and coloring gel was I mixed it as per instructions then added only about half of what was there.  The violet color is so your cupcakes don't turn out to bee turquois.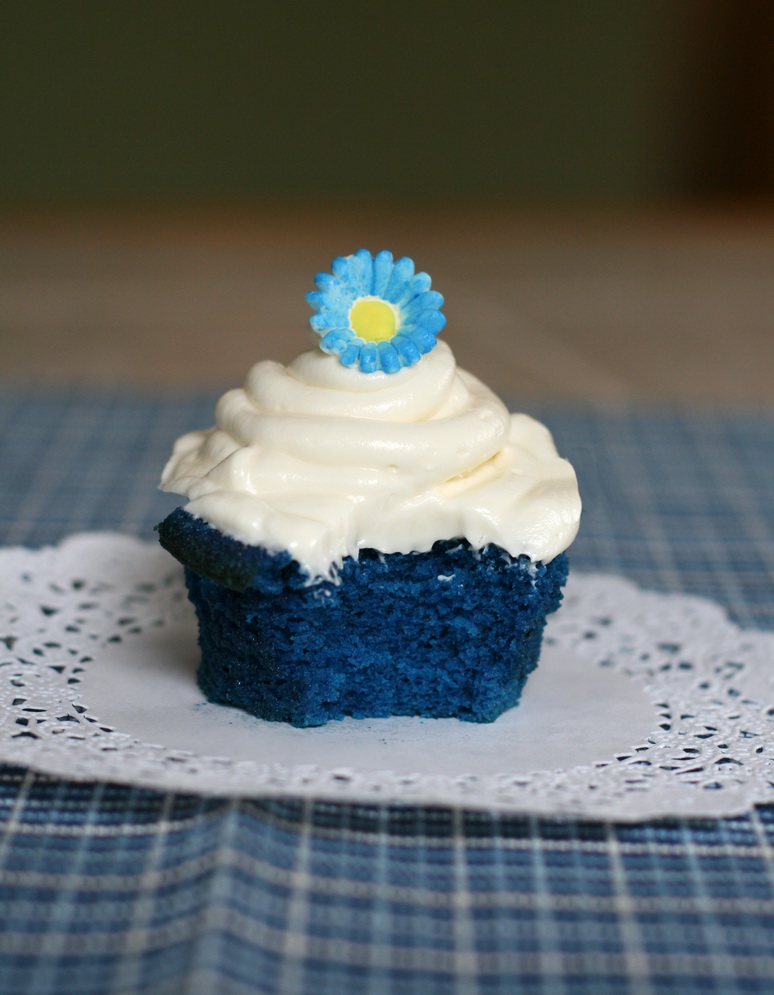 Here is the Recipe
For the cupcakes:
2 cups sugar
½ pound (2 sticks) butter, at room temperature
2 eggs
1 tablespoon cocoa powder
1 Tbsp Wilton royal blue gel food coloring or if you can find the paste you can just use two tsp)
1 small dab of violet gel food coloring (just a little bit on a toothpick will do)
2 ½ cups cake flour (Swans Down is the best hands down)
1 teaspoon salt
1 cup buttermilk
1 teaspoon vanilla extract
½ teaspoon baking soda
1 tablespoon vinegar
the frosting:
1 pound cream cheese, softened
2 sticks butter, softened
1 1/2 teaspoon vanilla extract
4 cups sifted confectioners' sugar
Preheat your oven to 350 F and line cupcake pans with liners
Cream sugar and butter in mixing bowl till light and fluffy, then add eggs one at a time, mixing well after each egg
Mix cocoa and food coloring together to make a paste — this takes a while and patience  to mix thoroughly with all gel (looked a bit like a science experiment), but it came together nicely; add this paste to sugar mixture and mix well again
Sift  flour and salt, and add to creamed mixture a bit at a time, alternate with buttermilk, then mix in vanilla
Combine baking soda and vinegar in a small bowl and add to cake batter; mix just to combine
Scoop thick batter into cupcake liners, filling about 2/3 full, and bake for probably 20-25 minutes, but start checking at 18 minutes — mine were done at about the 20 minute mark; watch for toothpick inserted in center to come out clean, watch your edges they can brown very quickly (trust me I know from my first batch  lol)
Remove cupcakes from oven and allow cool completely on a wire rack
How to make the frosting
Beat cream cheese, butter and vanilla with electric mixer until nice and smooth
Add sugar gradually and beat on low till combined, then beat on high speed until very light and very fluffy
If you like red velvet cake, this would be a great twist on a classic!  They taste just like red velvet but ate a wonderful, beautiful blue.  Give it a try and let me know what you think.  My boys got a kick out of them and gobbled every last one up!