Affresh Washer Cleaner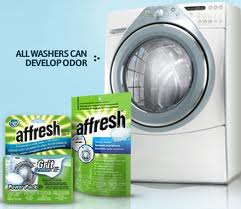 Clean clothes right from the dryer are the best because they are warm and smell so good.  Often times, we only focus on keeping our clothes clean, but have you ever really thought about cleaning your washer?  Sometimes, when I get too busy with my kiddos, I often forget that I have clothes inside the washer, and they can sometimes sit there for a few days before I remember them.  By then, they stink and I have to re-wash them.
When you let clothes sit like that, your washer probably has the potential to grow all sorts of things, and the cold, dark, and wet space is bound to develop an unpleasant odor and probably when you wash your clothes, they aren't smelling as nice as they should be.  I happen to have a front loading machine, and inevitably it seems like it has a musty odor to it.  Wherever, there is a  constant place for moisture, you are bound to have that musty smell.  I don't really think I have ever cleaned the inside of my Whirlpool Duet washing machine, and I am sure there is some instruction somewhere that I got 9 years ago, that I need to keep it cleaned, but I have blissfully ignored it (whoops!).
Recently, I was invited to be a part of a program to try out Whirlpool's Affresh Washer Cleaner, so I am trying it out, to see if I notice a difference on if my washer smells better and seems cleaner.
How Does Affresh Work???

How?

Affresh® washer cleaner helps remove and prevent odor-causing residue build-up that can accumulate in all brands and configurations of washers. The oxygenated bubbling action of Affresh® Power Puck™ tablets penetrates and dissolves unseen residue, providing a more effective cleaning option than bleach alone.

If used once a month, Affresh® washer cleaner pouch prevents odor-causing residues from accumulating. Heavily soiled washers may require repeated treatments to remove traces of odor and residue. In this case, Whirlpool recommends running three successive washer cleaning cycles with one Affresh® Power Puck™ tablet in each.

For HE models, Whirlpool offers the Affresh® washer cleaning kit with three Power Puck™ tablets and six Grit Grabber™ cloths. Due to their more efficient design, HE washers seal more tightly and use less water than traditional top-load models, increasing the potential for residue build-up. The Affresh washer cleaning kit removes and prevents odor in areas that cannot be reached – such as behind the washer drink – and in areas that can be reached, such as around the rubber door seal and detergent dispenser. The hypoallergenic Grit Grabber™ cloths remove odor-causing build-up and lock it into the cloth.
While using  Affresh Washer Cleaner I am going to see if I notice a marked difference in odor and tell you my findings. I am looking forward to not only my clothes smelling nice but getting rid of that darned musty odor that seems to be lingering in my washer! I can tell you, that if it smells just as good as the Affresh tablets that I can smell through the package, then it is something you will want to try, to maintain your washer and have  a fresher smelling laundry experience all around.  If you don't like doing laundry, at least the smell can be nice!  Who wants to knowingly clean their clothes in a dirty washer?  I can't wait to try it out.
"I wrote this review while participating in a campaign by Mom Central Consulting on behalf of affresh and received product samples and a promotional item to thank me for taking the time to participate."