Zoku Quick Pop Maker Homemade Popsicles and Ice Pops in Minutes!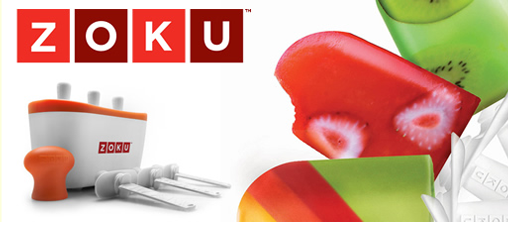 Summer is here and so is the warmer weather.  What I remember most as a child was the ice cream, popsicles, and spending countless hours running through sprinklers, and playing with the neighborhood kids.  In our house, the boys go through popsicles or ice pops almost year round.  When we hit the grocery store, popsicles are almost always on the list.
Ice pops and popsicles, aren't just great for cooling off, but they are also this mama's go to for when the inevitable sore throat and fever invade the household.  Typically, when my little ones have a sore throat, they don't really want anything other than this, to help ease the discomfort.  If they are dehydrated, this is another great way to get the fluids in them.  Outside of the being sick, they are just a fun, and tasty treat during the Summer or any time.
Recently, I have had to chance to try out what I call my new best friend when it comes to popsicles.  If you haven't heard of the Zoku Quick Pop Maker, you must run and get yourself one very soon!  Your kiddos will thank you and you will spark a creative side in you that you didn't know you had.  What is a Zoku Quick Pop Maker?  It is a cool and awesome little gadget that you keep in your freezer at all times, until your kiddos come to you and say "mommy, I want a popsicle."  This is when you either have to say, "well we don't have popsicles," or with the Zoku Quick Pop Maker, you can whip up a few fun popsicles in just minutes.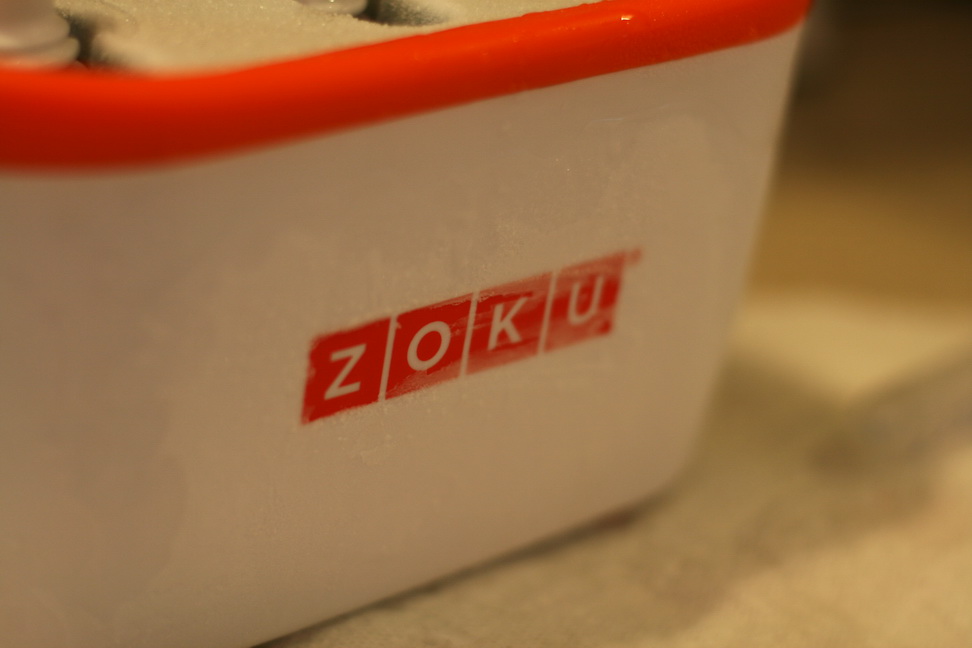 How does it work?
First you have to put the Quick Pop Maker in the freezer for 24 hours before you can get started.  This is important so your pops will freeze properly.

Next, you pull it out and insert the sticks.  The Zoku Quick Pop Maker, comes with 6 sticks, but you can certainly order addition popsicle sticks so you can make extras.

Then you start having fun, by adding chilled juices and beverages.  You have to wait around 7-9 minutes for it to freeze.  If you are making more intricate pops, this can take a little longer.

Once they are frozen, you use the quick tool to remove the pop!

Once you have an idea, I would recommend laying out all your materials and juices etc before pulling the Zoku from the freezer, and then you put in the sticks and start pouring in your ingredients. I found that, when you are doing layers and a recipe asks for a half an ounce, I used a medicine measuring spoon to measure it out, then I used the siphon to get it out and put it in the Zoku. If you are doing layers, you have to wait for each layer to freeze completely before adding the next. These are the most time consuming, but the results are pretty and very cool. After, you have a frozen pop, you use the Quick Tool to get them free. I still cannot figure out how this works, but it works great! You twist on little handle with what looks like the threaded end of a screw and you twist clockwise and the pop eventually comes free when the Quick Tool goes from being a little hard to turn to feeling easy to turn. That is how I know the pop can be pulled out. Once you have them out, you can pop on a drip tray, which is perfect so it can catch drips when the pop melts.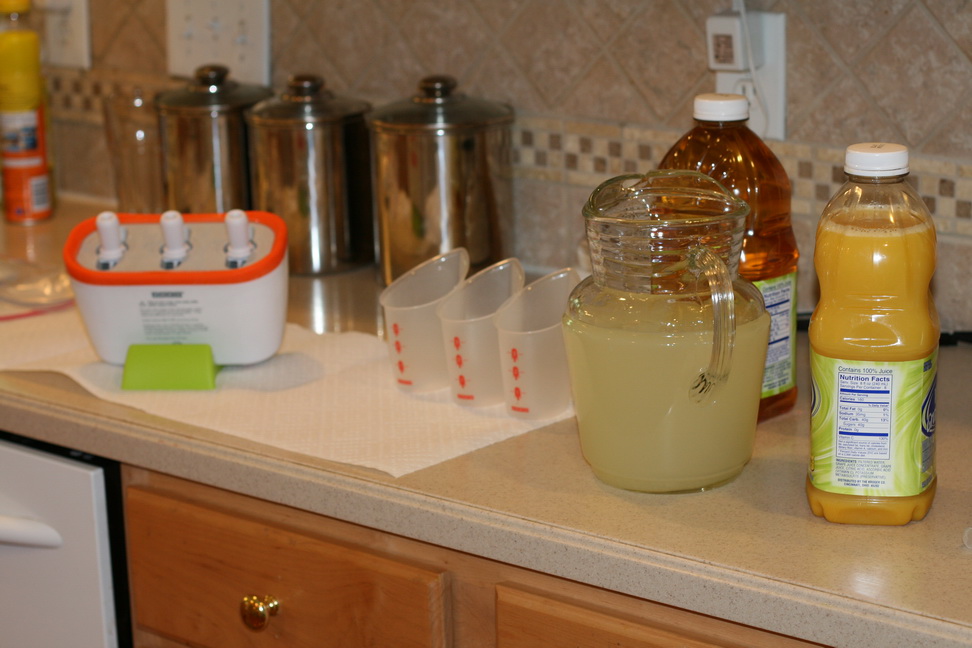 (getting ready to start!)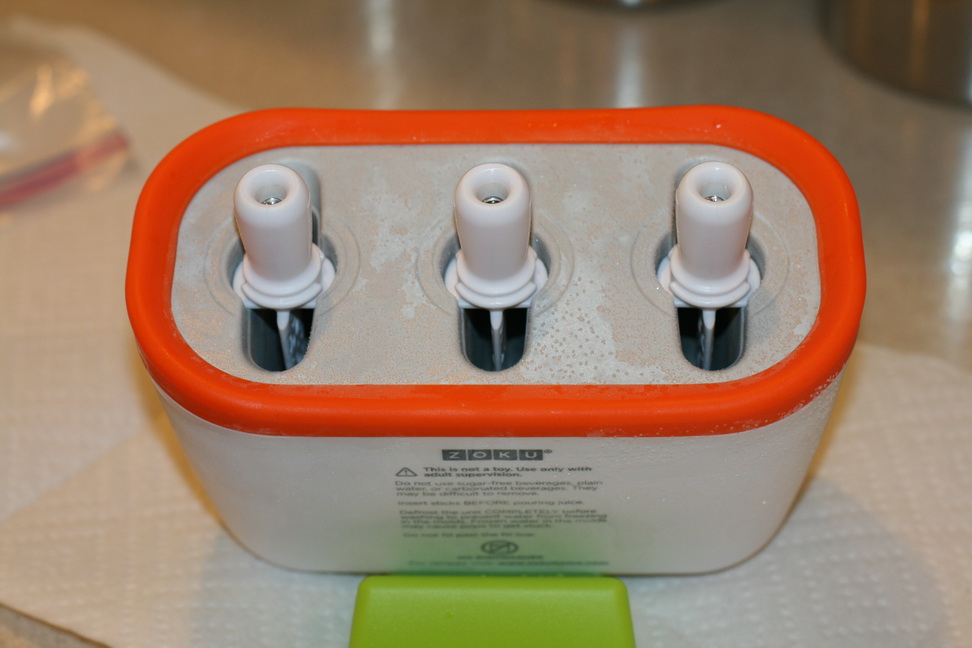 My first venture in making the popsicles moved a little slow, because I was learning the ropes on how to make them and I also picked a really elaborate rainbow popsicle to make from the Zoku Blog.  I never pick boring, and all the bright colors appealed to me, so I dove head first in making them.  The boys were as excited as I was to give this a try.  You can also get the optional Zoku tools which includes three pour cups,  angle tray, siphon (this is really handy when you are making intricate popsicles), the fruit wand and little heart and star stencils that look like mini cookie cutters for adding fun little shaped pieces of apple or fruits or even chocolate!
(The siphon works great for getting your liquids right where you want them)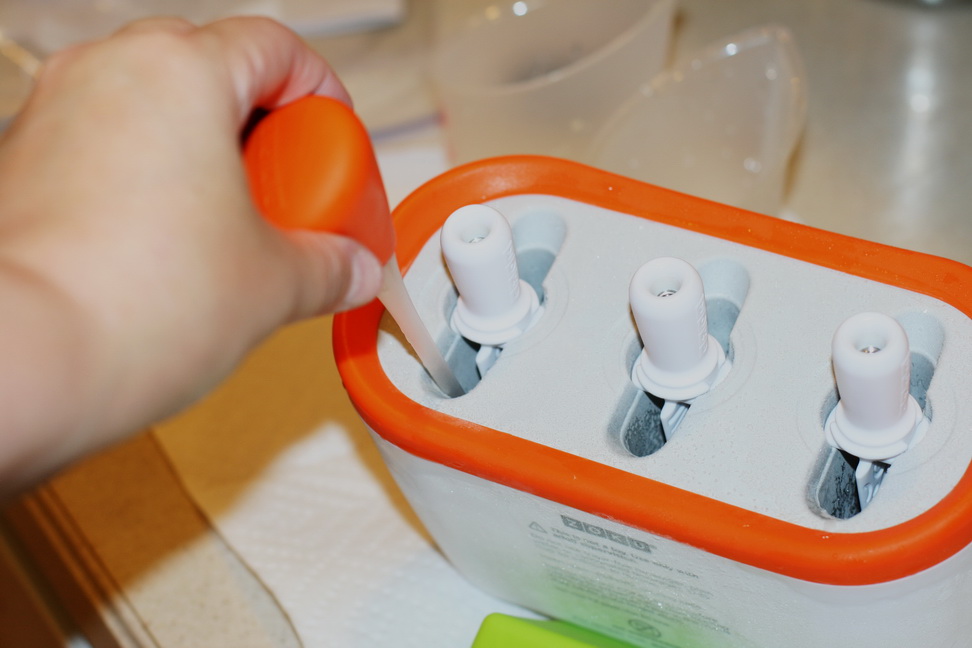 (You can see them starting to freeze right before your eyes!!!  So cool!)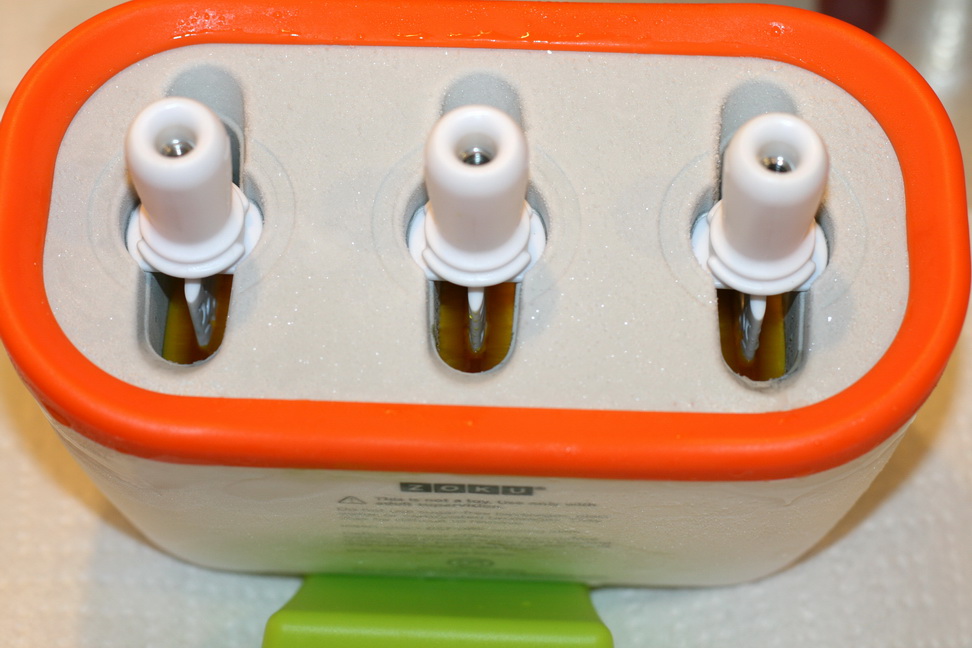 You can be simple by just pouring in a favorite beverage or juice, or you can get creative and more elaborate by making filled core pops, or stripes or fun angles, you can add fresh fruits and purees, the possibilities for this thing are endless.  What I love about it from a mom's perspective is that I can decide what to give the boys.  I can make popsicles that are all fruit and low in sugar, I can dilute their favorite juices, or I can add  the fun things like chocolate, or marshmallows, and I can do it in minutes and they are ready to go.  Instead of having twelve identical popsicles from a box, loaded with tons of sugar, I can give the boys something different every time.  It is is also a great little project you can do with the kids and let them create their own popsicles.  The reusable sticks and drip trays are very easy to clean with a little soap and warm water.
Twist the Quick Tool and out they come!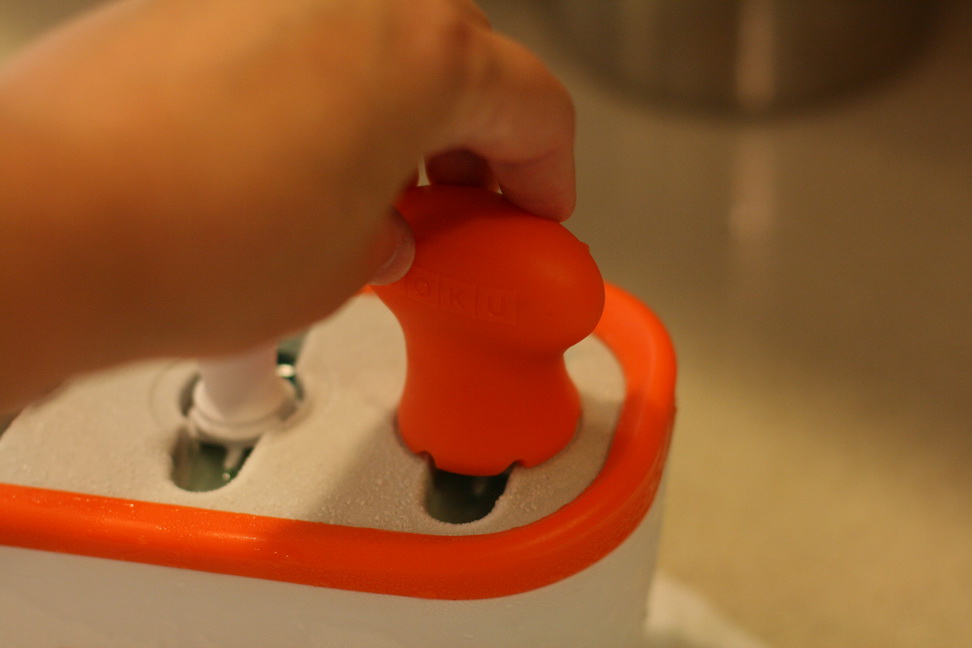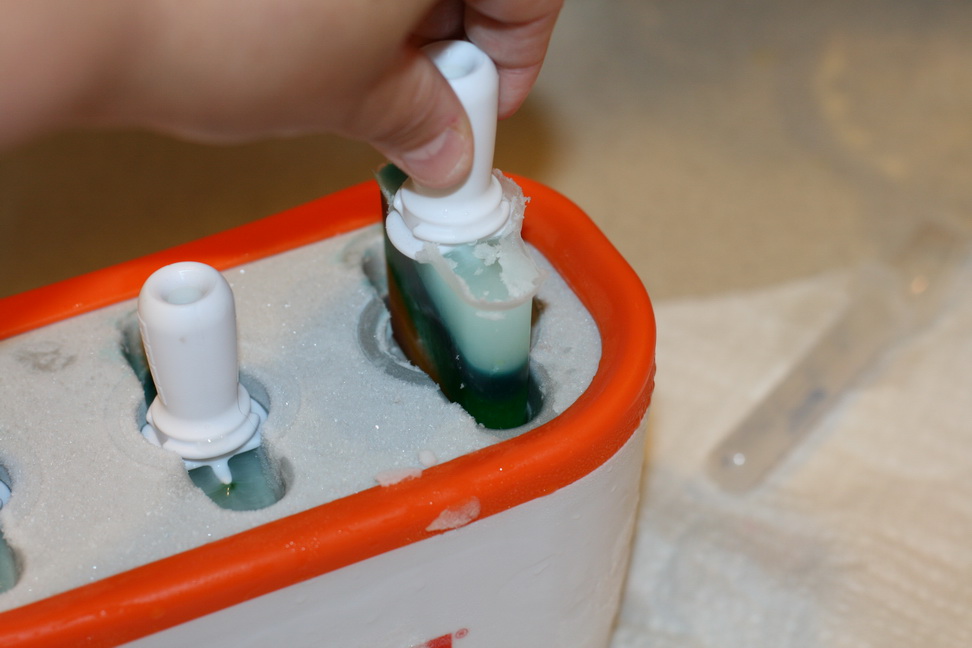 The boys mostly want to eat them right away, but if I make them ahead of time, I went and bought the Zoku Storage Case, that holds up to six pops, so you can have some ready made in the freezer.
Here are a couple of the results!! A rainbow and in honor of Fourth of July (the stars are made from using the stencils and apple slices)
The Zoku Quick Pop Maker, makes three pops at a time and I haven't experimented on making more than three at a time, but the Zoku is still frozen solid after I make just three, so I would guess you could make at least three more before putting it back in the freezer.
After you're done, you just pop it back in the freezer for next time.  They don't recommend washing it afterwards,  because water can freeze to the bottom and then when you make a new batch you won't be able to get the popsicles out.  I learned this the hard way when my freezer got left open and started to defrost (blame the 5 yr olds in the house), the Zoku had water that formed in the bottom, and froze and when I went to make a new batch of quick pops, I could not remove them.  This is stated in the manual, and they aren't kidding.  I was bummed that I had to defrost the whole thing and dry it out and put it back.  If you don't have a freezer left open, then you don't have to worry.
Happy Faces!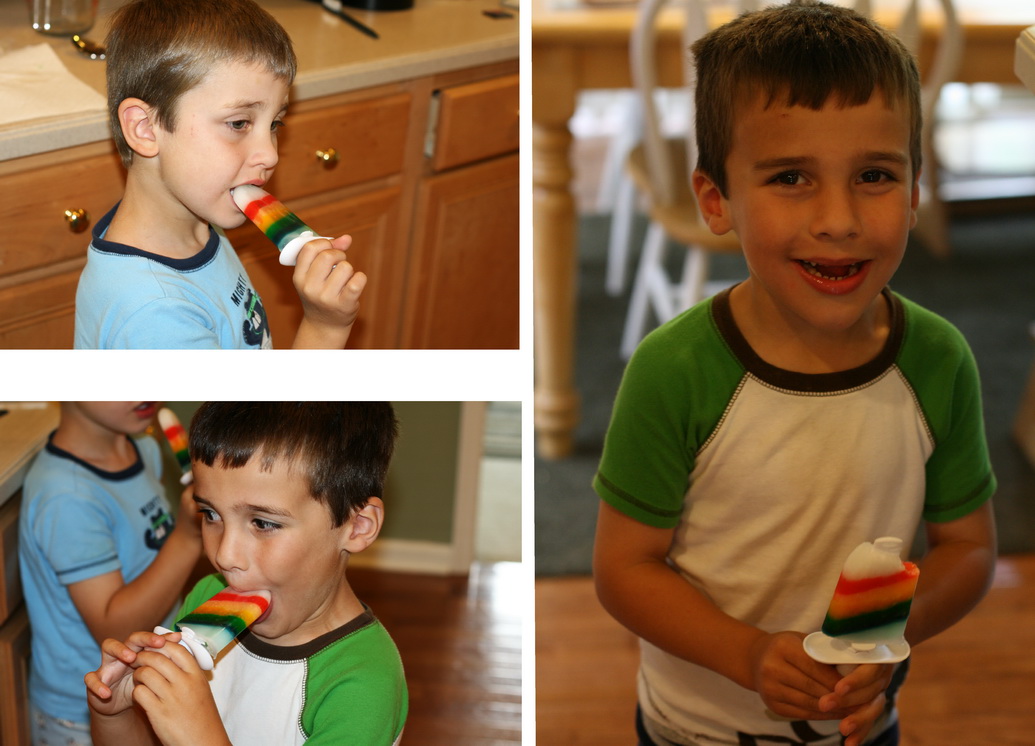 Overall, I love it!  I like experimenting with new things to try and offering a healthier version of popsicles.  The Zoku Quick Pop Maker retails for around $49.95 and the Quick Tools for around $20.  I think it is worth the investment, and you won't have to ever buy another popsicle again and you can be as boring or as creative as you like.  Hands down, the Zoku Quick Pop Maker, is one of the coolest things for Summer!