One week has passed in my journey to lose weight.  The first few days were awful!  Around the evening time around dinner, I would start to feel depressed about all the new changes.  I felt like I was missing out on something.  Maybe it was food, or maybe it was just all the changes that I know have to be permanent in order to maintain a healthy weight.
I am exercising almost nightly with my dog.  She thinks I am trying to kill her, and I think I am trying to kill me too.  The first few days I started off slow, but then I began to enjoy the time.  I started out walking about a mile and finished off the week walking nearly 4 miles every night.  It seems that when you have catchy tunes playing in your ear, you can walk miles.
I am journaling every morsel of food, I am eating and I am enjoying the taste of fruit.  I did a little experiment quite by accident when I took a drink of the boys chocolate milk.  It was incredibly sweet and then I went to take a bite of my canteloupe that for the past few days tasted like pure sugar and it tasted like nothing.  It tells you how sweet actual sugar is and how your taste buds adjust to fruit sugars versus regular sugar.  Fruit tastes just like candy to me, when I am avoiding the refined sugars and high fructose corn syrups.
I am enjoying keeping track of everything, I am attached to a pedometer all day every day.  I have gone from just a few thousand steps to more than 15,000 steps per day, and I am feeling pretty good too.  Officially after the first week I am down 10lbs.  I know this will slow, but I will be happy with about 2 lbs per week!
I am up for the challenge!
Diets are no fun.  The minute I start to eat all the so called good for you foods, I get cranky.  Going through the grocery store, makes me feel like I must be blindfolded so I don't pout.  And flaxseed with oats tastes a bit like dirt, don't let anyone tell you otherwise.
I hate water, well not hate but, I like soda, and not diet.  My goal is to avoid artificial sweetners and soda all together.  I am drinking more water, and feel like I need a catheter permanently attached to me, so I don't have to be in the bathroom peeing every five minutes and im only drinking three glasses a day folks.
I am walking every night and dragging the dog along.  I put my iTouch on shake to shuffle, and walking quickly made me feel a bit ADHD because it didnt like my brisk walking and proceeded to change songs with every step.
Day two and I am still alive! I am sure after my chocolate and coca cola withdrawals (in about 4 weeks), I will be a much happier camper.  But until then look for crab apple posts like this one.
I will conquer.

Summer is still in full swing at our house and even though the kids are back to school, my two are still at home and want to be outdoors as much as two little boys can be.  As a stay at home mom, it can be difficult finding things for the boys to do when the neighborhood kids aren't around, and when they are bored with their own yard.  Many times, I need to get things done inside and they want to be outside and I certainly want to encourage them being as active as they can, rather than sitting inside.
Recently, we were given the opportunity to review the Bazoongi Nuclear Bounce House from Hayneedle and let me tell you, that, this is the best thing since slice bread.  If you want to get your kids moving, and excited to be outdoors, this will surely make them jump with excitement. When I told the boys what was in the box, they couldn't wait. The great thing is, that I can put it right out in my backyard and keep a close eye on them.
Set up was super easy and I had two little helpers by my side.  The bounce house is actually rolled up like a sleeping bag, and you simply unroll it, and unfold it, stake it down, and attach the blower and it is fully inflated in about a minute.  The  stakes help  keep the Bazoongi Bounce House in place,  so it doesn't move around while jumping and your children don't blow away.   The best part is that it keeps them active, happy and busy while they are outside and they aren't sitting in front of the television.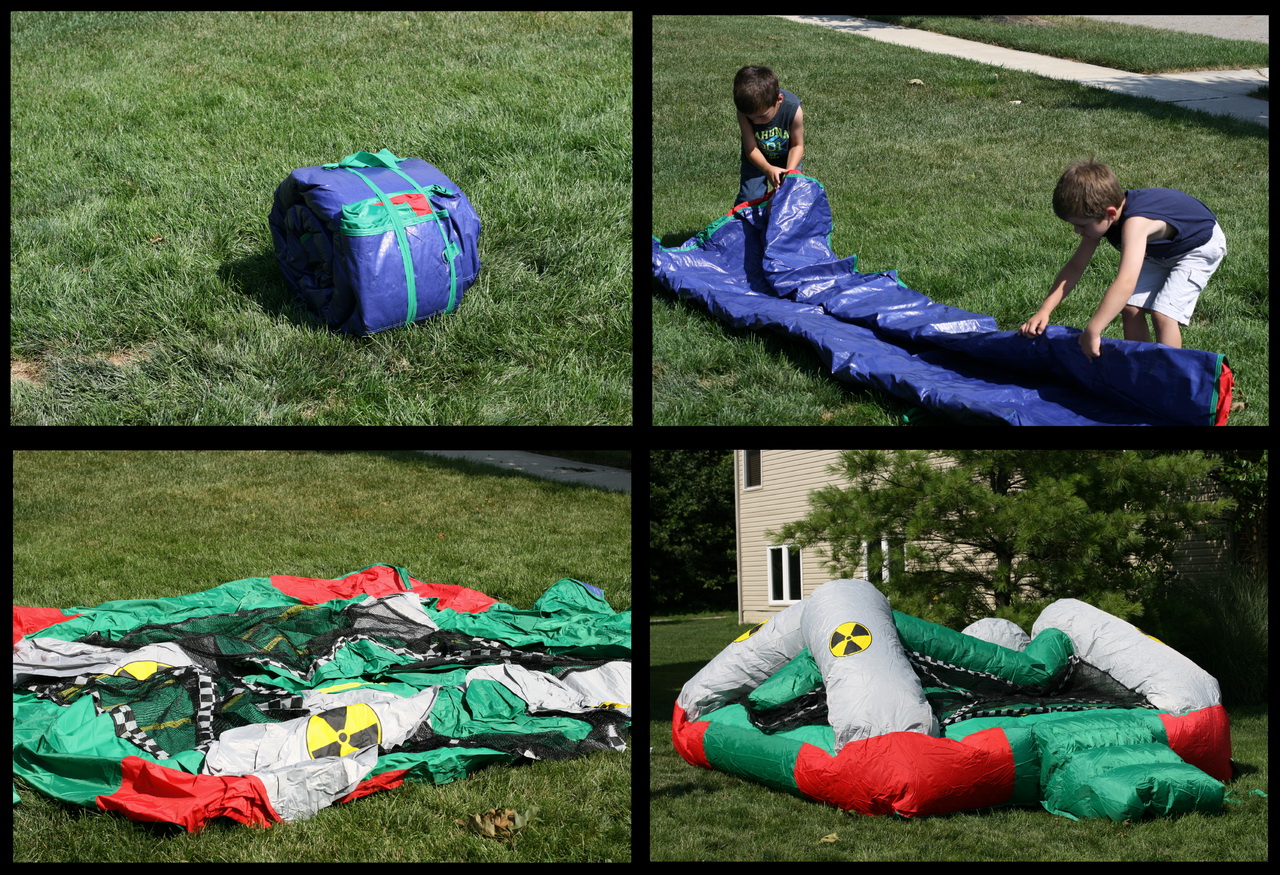 The Bazoongi Nuclear Bounce House is also compact in size but offers plenty of bouncing room for 1-3 kiddos.  The maximum weight limit is 200lbs which makes it perfect for younger kids. The bounce house itself, is made of  semi-commercial-grade, puncture-resistant PVC material and seems to withstand all the boys tumbling, bouncing and running with absolutely no problems.  The entire bounce house is enclosed in netting.  The front entrance can be zippered clothes and attached by click in tethers, so no one is going to fall out.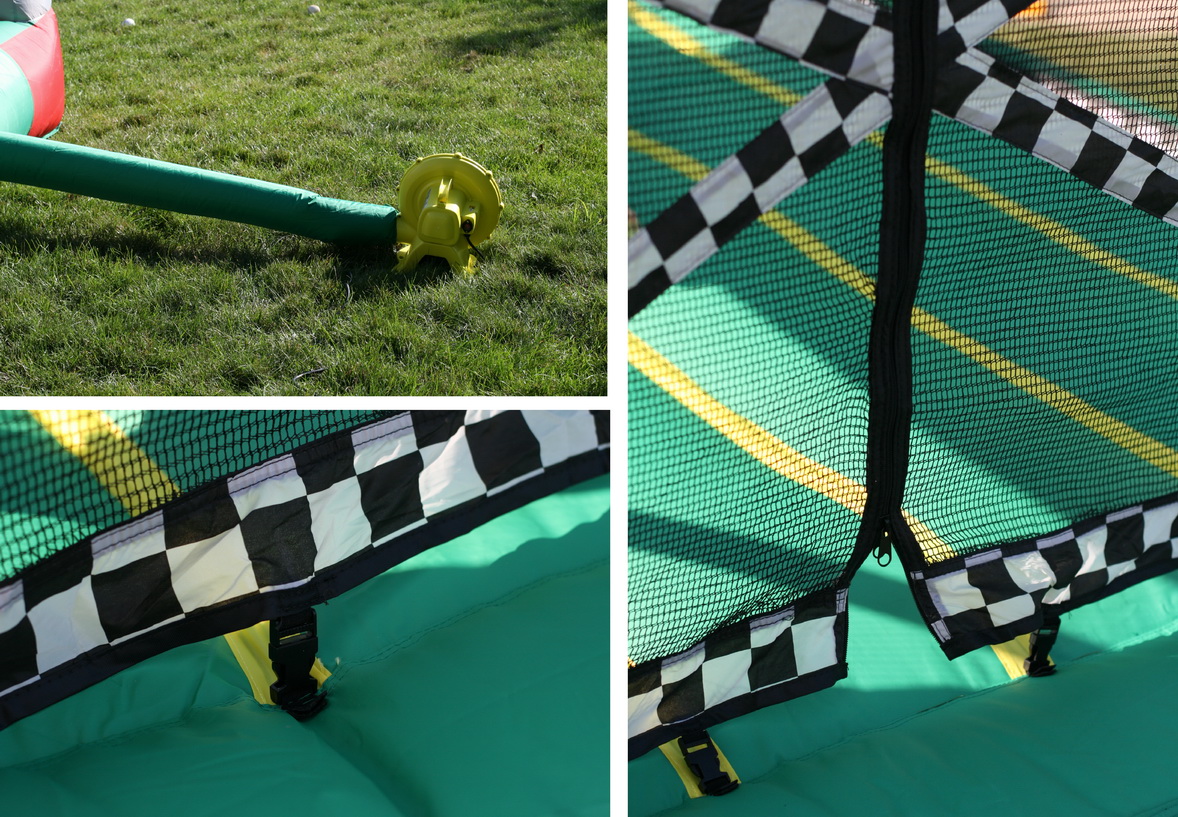 Because of its compact size 9ft x 9ft,  it  fits nicely indoors!  We have a basically empty dining room and it fits nicely in there.  So on rainy days and in the winter when the kids are stuck inside, I can bring their outdoor bouncing fun indoors!  I have tried this already on several occasions and it's a big hit.  At first, I thought they would bump into the walls but the netting around it and the bounce house foundation goes well past the netting so this was avoided.    The boys were bouncing, running circles, doing somersaults, and just having a giggling good time all inside the confines of the bounce house.  After a day of bouncing, they slept like rocks and as a parent, you can surely appreciate that.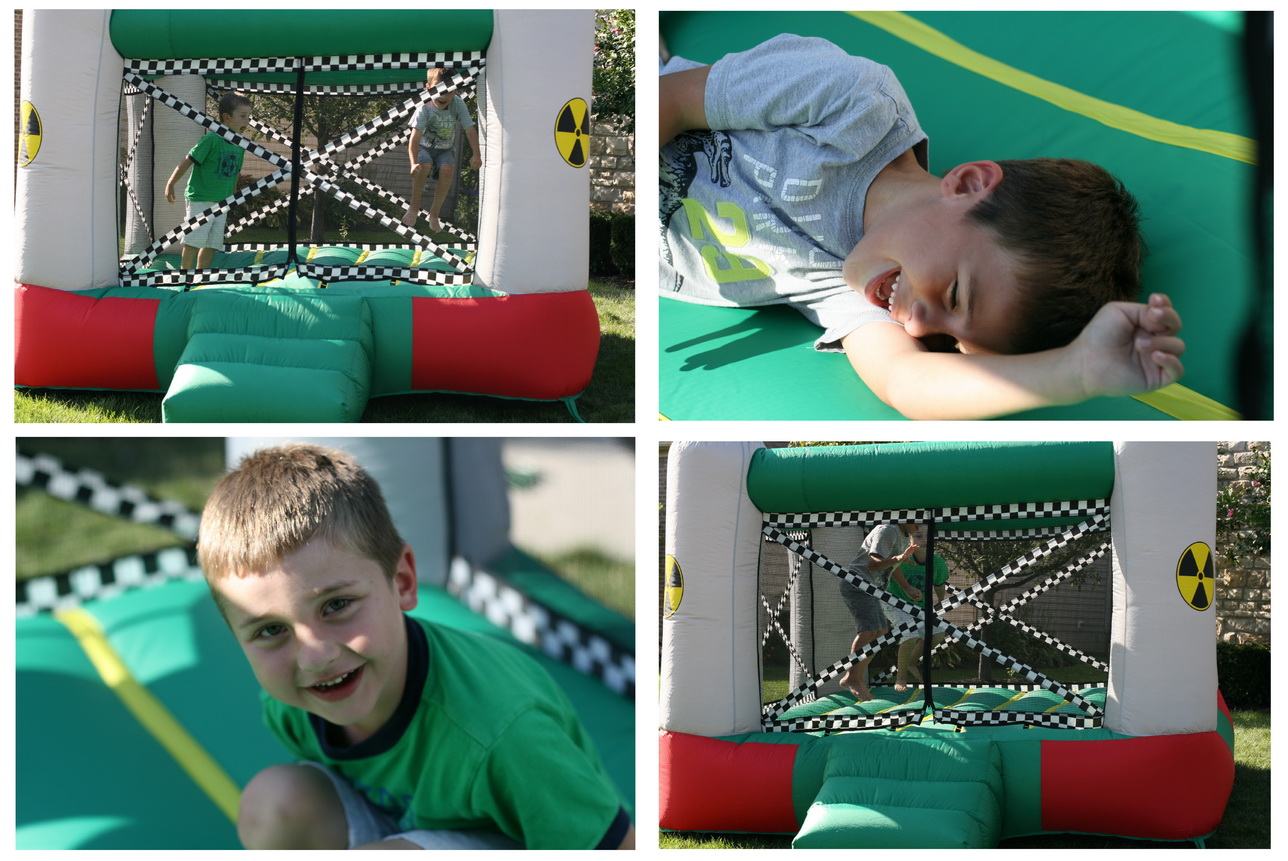 The boys have a myriad of outdoor toys from scooters, to bikes, to their Power Wheels, and I love that I can actually put this bounce house away!  The first time I had to put it away (you know how stuff never goes back in the way it came), I struggled a little bit trying to get it folded and rolled small enough to fit into the provided duffel bag.  I found that if you kind of lean into it while rolling it up (just like a sleeping bag), it gets all the air out and fits nicely in the bag to be put away and I was also able to fit the blower in the same bag and store it in our coat closet. The Bazoongi Nuclear  Bounce House, retails for $269.99 at Hayneedle.
We love our new Bazoongi Bounce House from Hayneedle where you can buy even more than just great outdoor things for the kids.  They have everything you can possibly imagine in one place.  You can buy just about anything your heart desires from Hayneedle,  and to help you do that, Hayneedle and DoubleBugs has a a $50 gift card to Hayneedle to help get your shopping started!
Win A $50 Hayneedle Gift Certificate!!!
Winners are chosen at random using "And The Winner Is"
Here's What Ya Gotta Do!
Visit Hayneedle.com and do a little shopping around and tell me what you would like to buy, come back here and leave a comment
Extra Entries (not required) Please leave a separate comment for each

Become a fan of Hayneedle on their Facebook Page
Follow Hayneedle on Twitter
Subscribe to my feed
Follow me on Twitter @Laurie2008
Good Luck!!!
Contest starts August 17, 2011 and Ends Sept 1, 2011
**The bounce house was provided by Hayneedle   for review, all the opinions expressed here are that of my own**
We love cheese in our house, but I will be honest and tell you that, I am not a cheese connoisseur and really don't know much about cheese beyond picking up our family favorites at the grocery store.  One of my favorite late night snacks has to be cheese and crackers and my boys would have cheese at every meal if I let them.
Recently we had the opportunity to have a cheese tasting party and distinguish the differences in processed sliced cheese versus natural sliced cheese and how to taste cheese.  Let's face it, eating is something us humans have to do every day and sometimes even that becomes very routine.  We grab quick meals and foods we are used to eating and pay little attention to their taste.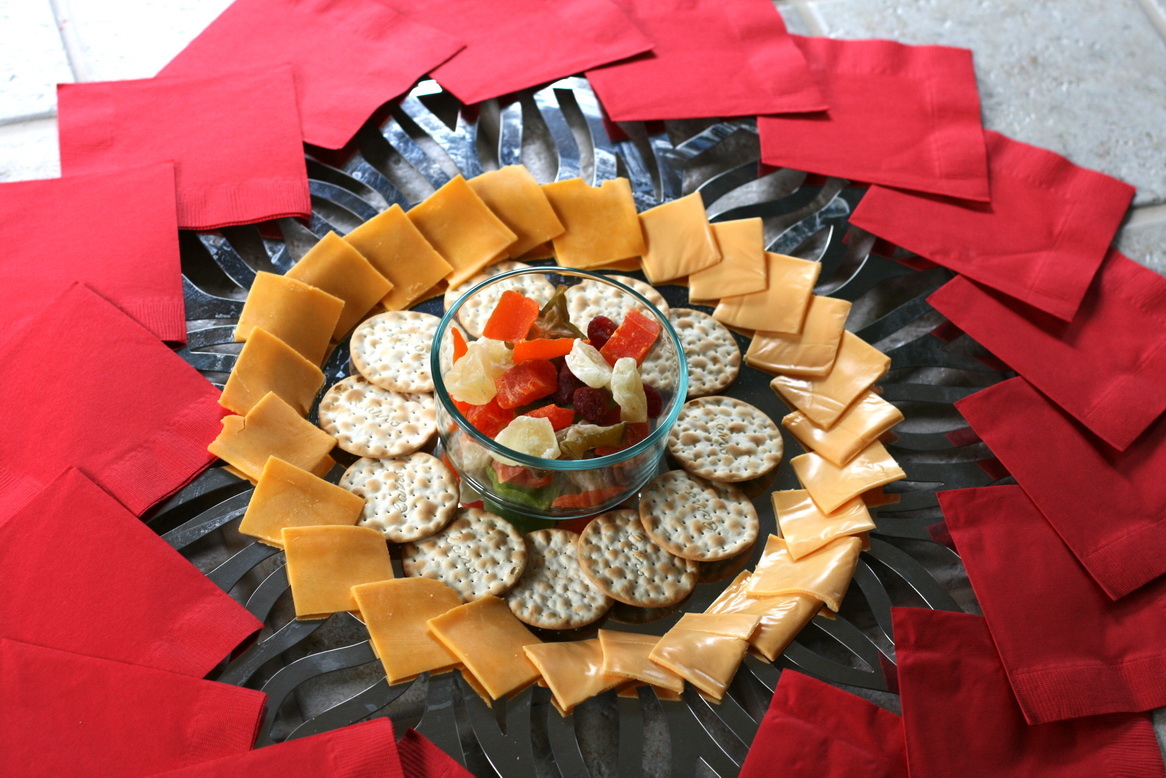 First thing was to educate our party attendees.  Before getting started I read over the cheese tasting tips that were provided to facilitate our party.
1. Look at the cheeses. Natural cheeses, like cheddar, come in many different colors, but in general an understated and non-glossy appearance.  Processed cheese is shiny in appearance even after the plastic is removed.

2. Touch the cheese to feel its texture.  Bend the cheese. Natural cheese texture can vary by the type and variety of the cheese but will break in authentic fashion.  Process cheese Processed cheese is characterized by a smooth, rubbery and artificially pliable texture, and can often bend and fold without breaking.

3.  Smell the cheeses like you'd smell a glass of wine. Natural cheeses' aroma will vary by cheese type, and the range of smells span and can best be described as  earthy, nutty, and fruity. Processed cheese is usually lacking in a strong aroma, but can have cooked milk notes due to its heating process. what aromas do you pick up when you smell the cheeses?

4. Taste the cheese. Natural cheeses have an incredible array of flavors – from savory to fruity to spicy and sharp. the dominant characteristic in processed cheese is often described as salty. take note of the characteristics of the cheese, the intensity of the flavor, the saltiness, sharpness or fruitiness of the cheese. how does it finish? does the taste linger?
After setting the stage for our cheese tasting party, I let my husband, kids, and neighborhood friends go to work on our cheese and fruit spread. At first, they grabbed whatever was in front of them, but I quickly noticed that they only went back for the Sargento Natural Sharp Cheddar Cheese slices vs the unnamed processed slices. When I closed my eyes and tasted the different cheeses, I noticed that the flavor was richer in the Sargento cheese and the texture was much more appealing. The processed cheese seemed to feel slimy when it hit my tongue, and lacked a definite distinguishable flavor, it just tasted like salt and had no real cheese smell. There is a clear difference in taste of natural cheese versus processed cheese and also a difference in ingredients.  I cannot believe I never payed this close attention after so many years of taking out a processed cheese slice and plopping it on my sandwiches!  Clearly, I have been missing out.
(You can see the difference in cheeses here)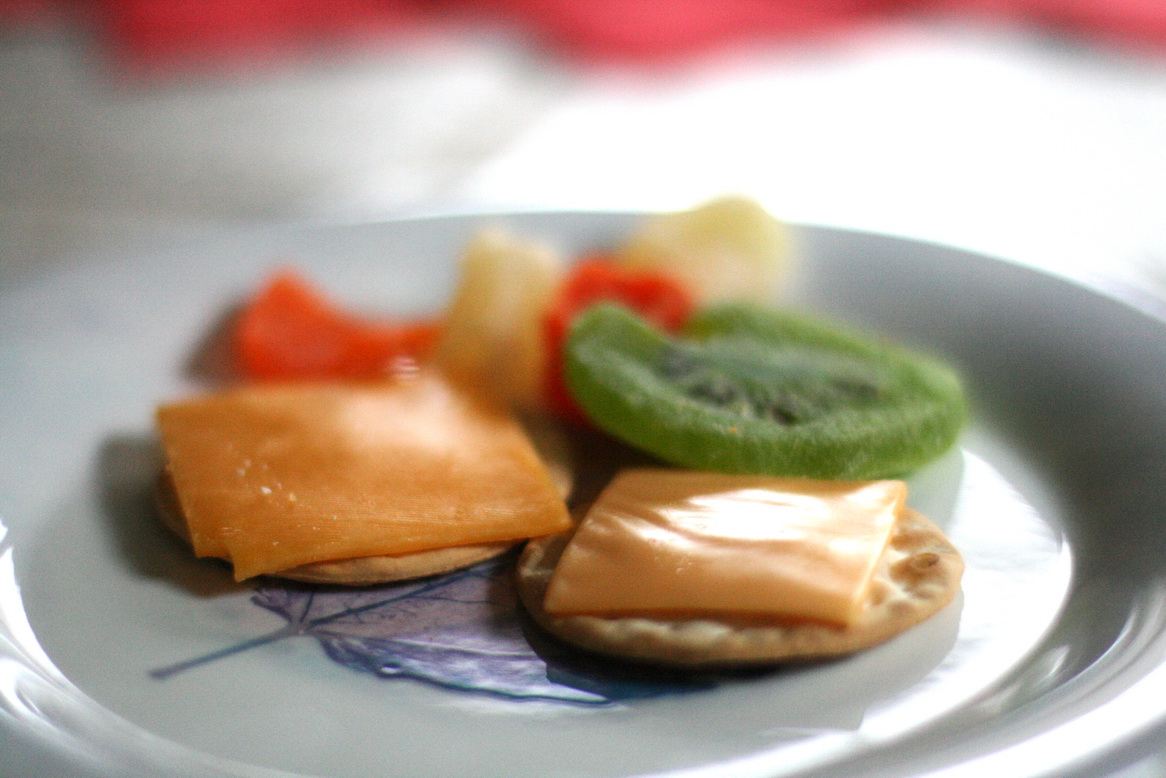 Processed pre-packaged cheese slices go back to my fond childhood memories of grilled cheese sandwiches, but during this cheese tasting, I learned a little something about my processed cheese that I always loved.  Most often times, processed cheese can sit on store shelves without refrigeration and are often times pumped into their packaging and rolled out to form it into a square and is cooked into a liquid before it is formed into a slice.  After reading this, all I could say was eww!  No more shiny cheese for me!
Hands down, the natural cheese beat the processed floppy stuff and everyone could honestly tell the difference immediately just by looking at the different cheeses as well as, the difference in taste.  After really sitting down and tasting the difference, I don't think the processed stuff will be my go to choice for our favorite grilled cheese because good cheese should make your taste buds do a little dance when you first take a bite, and although I like shiny things, but my food doesn't have to have bling to taste good.
**The Motherhood and Sargento provided the cheese tasting supplies to help facilitate or cheese tasting party and my post, the opinions expressed are strictly that of my own.**
One of the many things I love about the Summer is the warm weather, and  just being outside with the boys watching them play and interact together.  Love this candid shot.
Brothers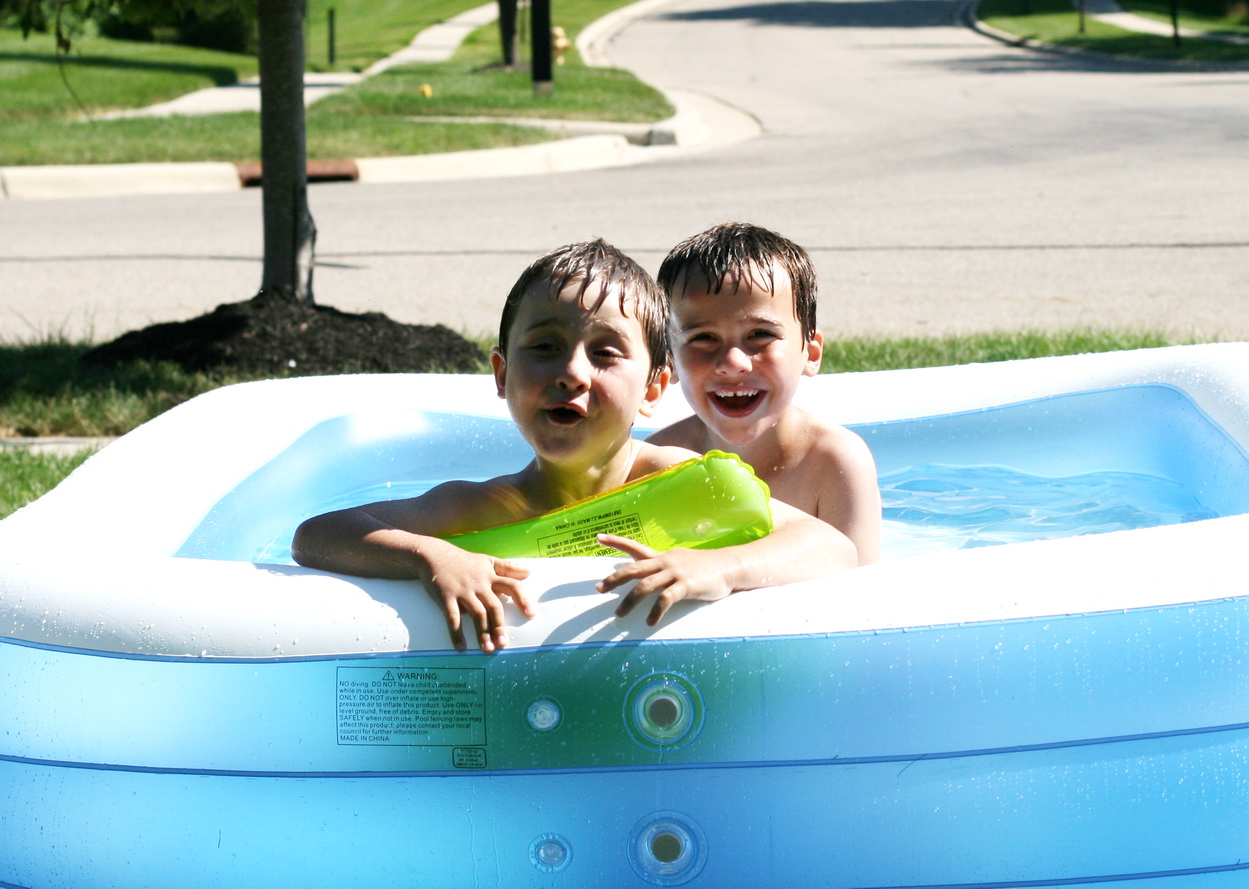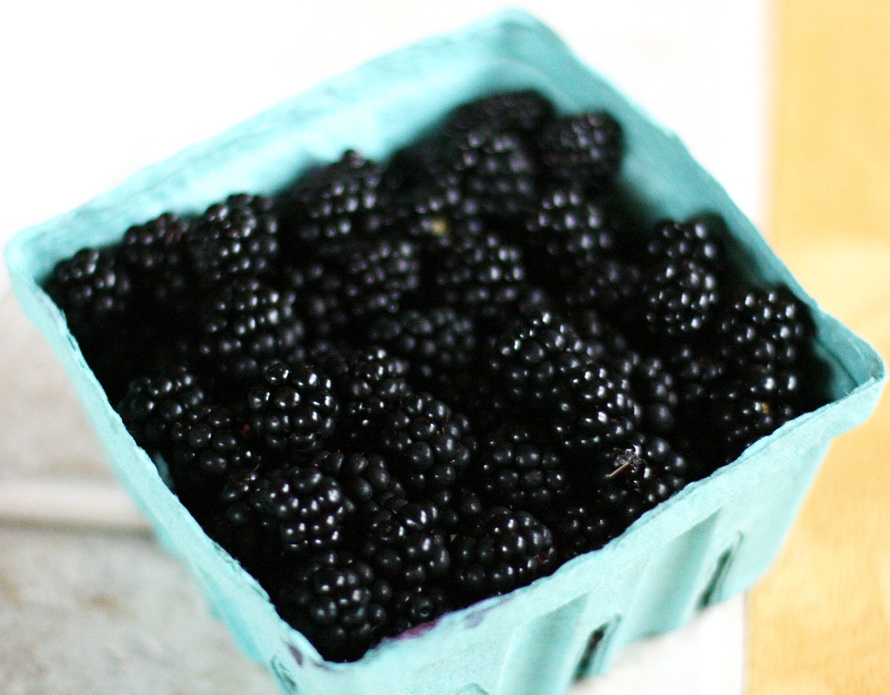 I am a fruit picking fool lately.  There is something about going out to a farm and out in the fields and picking your own personally selected berries and fruits.  For me, I get a real sense of peace being out there and picking fresh berries with my family or just by myself.  Recently, I decided to go blackberry picking because I had simply never been.  It was a challenge finding a place to go, and then I found a place about 20 miles from me and off we went!  I actually frequented the blackberry patch twice in the last two weeks.  The first batch went to make seedless blackberry jam and the next was to get more and find some things to make with them.
My first recipe was a blackberry pound cake with a vanilla custard sauce that was simply to die for! So, I thought I would share the recipe I used.  I de-seeded the blackberry puree because I didn't like the seeds in it, but you can do either way.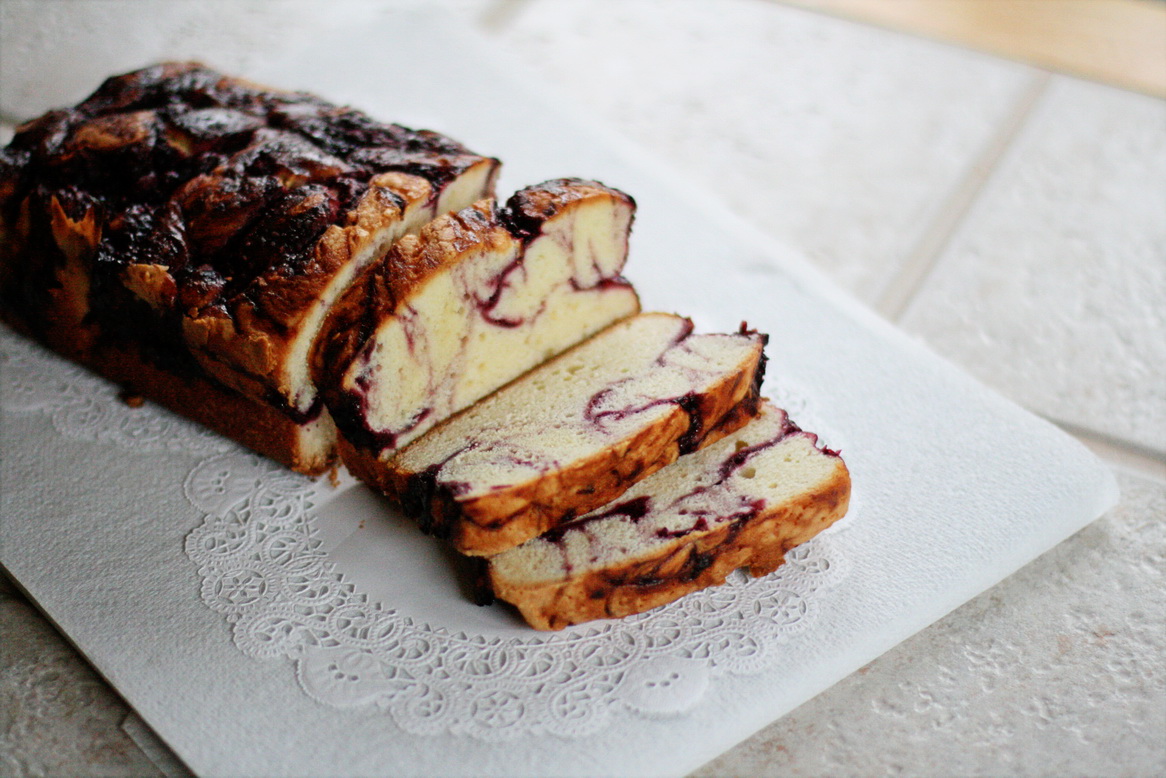 Blackberry Pound Cake
Ingredients

The world of media consumption has changed dramatically over the past decade.  Everything's gone digital.  If you want to feel old, ask your kids if they have any idea what "cassette tapes", "long play records", a "walkman" or <gasp> a "juke box" are.   Odds are, they've never even heard of any of those and have no idea that back in the stone age people used to actually lug around books and papers to read,  and plastic cassette tapes and tape players to listen to music.   It's true, you can see books and walkmans in old cave paintings.   Ok, maybe not quite that old, but you get the idea.
Mobile and digital seem to be the big drivers these days.  Who doesn't like being easily able to take movies, music and reading materials with them on a small portable device?  That brings me to the item I'm reviewing here today, the nextbook ™ Next6.
There seem to be two different kinds of tablets on the market today:  E-readers and multi-function tablets.  Sometimes the line between the two gets a little blurry, with devices like the Nook Color that are e-readers but can also do other things and have color screens.  Color screens are great, but they are not always good for reading, especially in direct sunlight.   The Next6 is marketed as a multi-function tablet.
The nextbook next6 box includes the tablet, an ac power adapter, a USB cable to connect to a PC and a user manual.  The tablet comes with a good protective case, a nice touch for a tablet at this price point.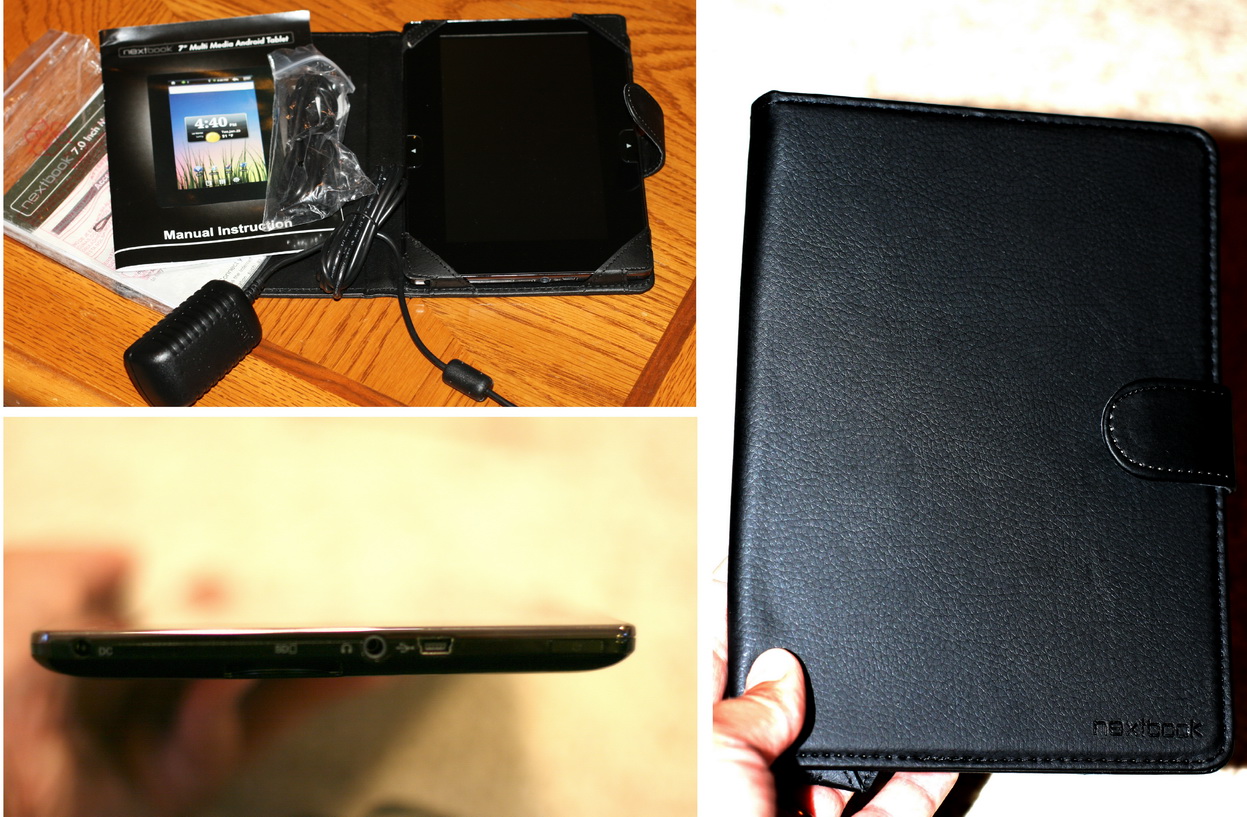 Lets start with the specs.
Measuring 7.48" by 5.11" by 0.44?, the tablet fits nicely in your hand.  It weighs in at just under one pound, so it's light and easy to carry.  The Next6 features a beautiful 7" capacitive color display with a resolution of 800×480, with an ARM926EJ Dual Core 600MHz CPU, and 4 GB of built-in storage.   That's not huge, but large enough to accommodate most of your normal stuff.  If you have more stuff to store, fear not, it comes with an SD/MMC card slot, you can easily plug in your own SD/MMC card for additional storage.
Out of the box it has the wireless connectivity you would expect, with 802.11 b/g connectivity built in, and the ability to handle WEP, WPA and WPA2 encryption standards.  I had no trouble getting the next6 connected to my home wireless network, the process is very simple (especially for those who've seen some flavor of the Android OS before).  Select your network from the wireless networks listed, type in your password using the on-screen keyboard, and voila.
The device has a built in speaker as well as a standard headphone jack (3.5mm).  I played some of my music on it and the speaker sounded nice and clean, even when you turn up the volume.
The next6 comes loaded with the Android 2.1 operating system (more on that later), and includes a gravity sensor – that means it knows which way is "up" and the screen/apps can rotate around as you rotate the device.   It can handle a good variety of formats for reading (pdf, text, pdb, rtf, fb2, epub and epub with drm), listening to music (mp3, wma), viewing pictures (bmp, jpg, gif, png), and watching videos (flv, mov, mkv).   That should pretty much cover all normal media types most people would use.
Finally, the next6 comes with a nice lithium-polymer battery that in my testing lasted a solid 8+ hours before needing recharged.  Your battery life will depend significantly on how you use the device, but overall it should last you enough to use throughout the day without needing a charge.
I charged up the tablet for a little while using the AC power adapter, then fired it up.  The next6 starts up very quickly, you don't have to wait very long.   The first thing that struck me is that the display is very nice and crisp with vivid colors.   The capacitive resistance screen is very good quality.  Many of the cheaper tablets use resistive touch screens that are not nearly as smooth and don't work nearly as well.  In fact, the next6 has multitouch capability, so you can touch two spots on the display at the same time and zoom in or out.  Overall, I was impressed by the display quality.  The device as a whole has a very solid feel to it, it doesn't feel like cheap plastic.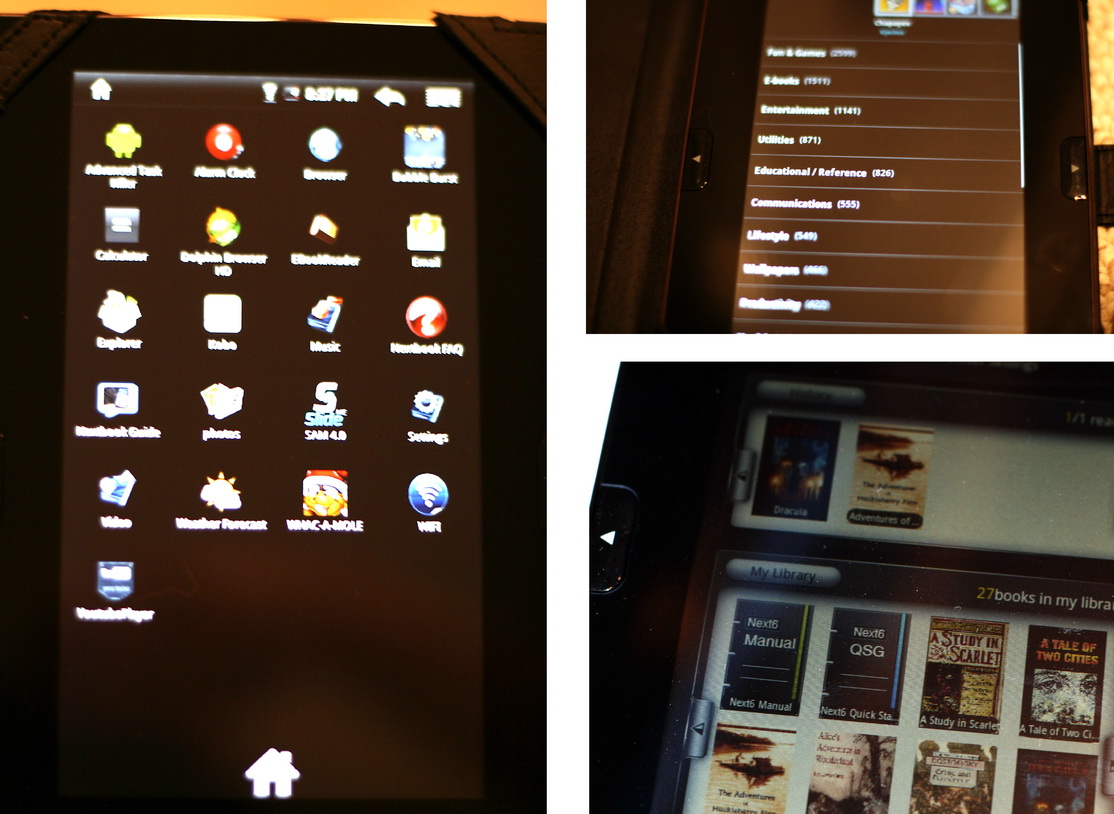 The next6 has a button on the left and right side for easy page-turning.  The buttons also perform other functions within other apps and within the operating system.  For example, pressing and holding the left button ("previous") brings you back to the "home" screen. The next6 comes with two ebook readers pre-installed.  I used the included ebook reader app to start reading some of the ebooks included for free (25 books are included for free on the device, including some nice classics).  Your options in the reader app are pretty basic, you can increase / reduce the font size, jump to a page and create bookmarks (though I couldn't figure out how to make the bookmarks work). The other included ereader app, called Kobo has more advanced features and options, but generally felt very sluggish.   Overall the next6 works pretty well as an e-reader.  It's not super fancy but it does the job.
Next I copied some MP3's to the next6 tablet and used the media player app pre-installed to play them.  The copying process was actually very simple.  You connect the device to your computer using a USB cable (included with the device) and your PC will recognize the device as an external storage location.  Just copy the files over and you're done.  Playing MP3's went off without a hitch, pretty standard fare.  I was also able to look at some pictures without a problem.
I used the built-in web browser to surf the web and check out some web pages.  It works OK, but had issues rendering some pages.  I personally really like the dolphin HD browser, I'd install it and use rather than the standard browser on any android powered device.
So far, I was pretty impressed by the next6.   Sure, it's not going to compete with a $500 or $600 ipad on some of the features, but that's expected when the next6 can be had for under $200 from various vendors (including Amazon).
Then came the moment.  I started looking on the app for the 'standard' Android/Google apps (gmail, calendar, contacts) and they were nowhere to be found.  No problem, I thought, I'll just go to the android market and add them….    Nope.  Not gonna happen.  The android market is not available on the next6.   Instead, it has something called "slideme" that allows you access to some other app market to install to your device.  The slideme market is a very poor substitute for the android market, it contains only a small fraction of the available apps.  And even those are sometimes older versions of the apps.   I tried searching the slideme market for some of the most popular android apps, but could not find any of them.  Even Angry Birds, that silly fun game that seems to be everywhere these days was not to be found.   Similarly, the youtube app included on the device doesn't seem to work the way you'd expect it to: several searches that turned up results on other devices (as well as through the web) came up blank using the youtube app on the next6.
In addition, while you can play videos on the device, I could not find any documentation of how to actually encode/transcode a video so it could be played on the next6.  It would have been nice to include some sort of guide or even a link to a site with a guide on how to transcode a DVD movie and copy it to your next6 so you can watch it on a trip.  The video watching value of the next6 is significantly reduced by the lack of available apps .
To my knowledge there have not been any updates, bugfixes or newer versions of android released as of yet for the next6, and based on rumblings on various web sites there might never be a newer version of the android OS released for the next6.  I hope Nextbook does release some updates in the future, it could add to the value proposition for the device.
Overall, I was actually very impressed with the hardware capabilities of the little next6 tablet.  It fits perfectly in your hand and the form factor is excellent for reading books etc.   The lack of the android market and the other 'standard' apps is really a shame because the next6 has the potential to be a great value for the consumer.   If it wasn't hobbled by the lack of apps and the android market, I'd have no problem recommending the next6 to anyone in the market for tablet.  If all you're planning to do with the next6 is read books, surf the web and listen to music, it's very nice.   However, if you're planning to use it as a true multi-function tablet, I'd avoid it – at least until the android market (and thus all the thousands of great android apps) are available for it.
Note: I know you can install some of the apps by downloading them from the web to your pc and then copying the apk file to the tablet, but that introduces big (unacceptable) risk of malware and viruses getting installed on your tablet.   Also, some apps won't work without the android market installed, even if you download and install the apk file.  For example, you can't install the Amazon app market if the android market is not installed.
Overall verdict:  the next6 is a nifty little tablet.  It would be a really good deal and value if it came with the android market, google mail, calendaring and other tools pre-installed.  Without those, it has a tough time standing out from other tablets on the market at the same price point.  Come on nextbook,  add the android market and google apps to this tablet to let it reach it's great potential!
**The Nextbook Next6 Tablet was provided to me for review, the opinions expressed here on my blog are that of my own.**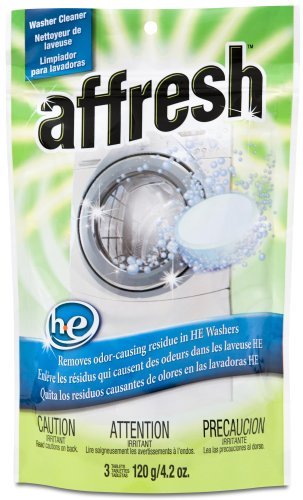 Awhile, ago I mentioned that I was part of an ambassador program to try a new product called Affresh designed to prevent and eliminate odor causing residue from your washing machine.  I was sent a package which contained three tablets which I was to use over the course of several weeks.
Affresh washer cleaner is designed to be used on a once a month basis to keep those musty odors at bay.  Basically you just toss a tablet in, and run your washer on a regular hot water cycle and let the tablet go to work.  I have a front loading machine and almost always have a problem with that musty smell because for some reason moisture seems to linger in my machine, especially if I don't leave the door open after use.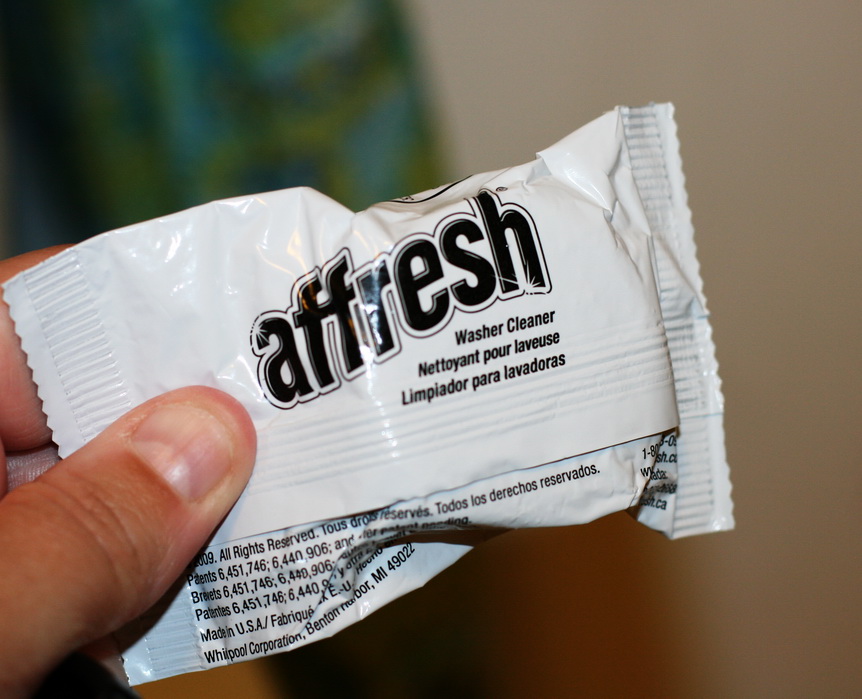 The smell from the package was amazing so I was very excited to give it a try. After using the first tablet, I did notice a fresher smell from my machine, but I could still smell that same musty odor and the residue that forms on the rubber seal was still there after the first run.  I decided to run three consecutive cycles using one tablet for each to see if that made a difference.  After I used the tablets, I did notice that the inside of the drum was much shinier, and I could tell that there was a much better smell.  The musty odor still wasn't completely eliminated but it could be that I have never really used anything in the washer in the whole 8/9 years that I have owned it.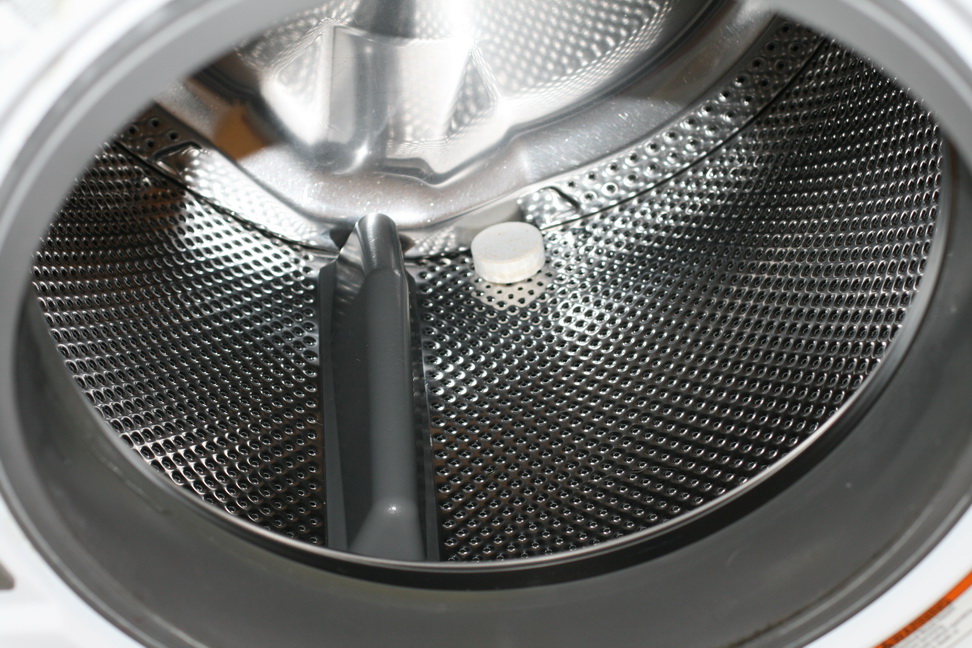 My final thought is that I really like the Affresh washer cleaner for its ease of use and it smells great.  I think that with normal usage once a month it can keep odors in check and keep your clothes smelling nice and fresh.  Overall, I think a few more treatments would have made a difference in my current machine and at a $6.99 price point for three tablets, it is well worth it for the ounce of prevention it offers each month.  Now that I know a product exists to keep my washer clean, I plan on using it each month.
"I wrote this review while participating in a campaign by Mom Central Consulting on behalf of affresh and received product samples and a promotional item to thank me for taking the time to participate."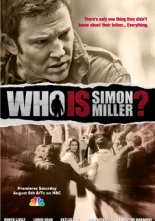 Finding the time to sit down as a family to watch movies can be difficult, but finding things that are appropriate and engage all members of the household are even harder it seems. Sometimes, I am shocked at movies that are rated for all members of the family and I see and hear things I would rather my children not be exposed to. Family Movie Night brought to you by Wal Mart and P&G is designed to bring families together to watch fun and engaging movies that you don't have to shield your child's ears and eyes from. Their latest movie Who Is Simon Miller? will be premiering August 6th at 8/7c on NBC.
"Who is Simon Miller?" is about a typical family and a Dad that doesn't have a typical job. Simon (Loren Dean) is always leaving his wife and two kids for emergency trips as a geologist to work in the oil fields.  Meredith (Robyn Lively) is then left to handle the family and all that comes with raising two teenage children.
When  Simon Miller  disappears one night, the Miller family frantically searches for him. Simon's wife Meredith and their two kids, Sarah, 18, and Kevin, 15, look in Simon's office for information, when they find that he has been living a double life, finding  passports all with Simon's picture, and all with a different alias.  Who is Simon Miller?  A relationship with the husband and father they know, has now become unfamiliar. The Millers embark on an international mission to get him back.  (The movie stars Robyn Lively, Loren Dean, Skyler Day, Drew Koles, and Christine Baranski.)
Movie Trailer
My husband and I really enjoyed the movie, although I felt the concept was much too complex for my five year olds to watch and understand.  There was some very mild violence but the movie is very appropriate for the the 11 yr old and up crowd.  Who Is Simon Miller? is a perfect example that you can make a movie with lots of action but eliminate unnecessary things like extreme violence, blood and gore and still enjoy the movie. Plan to grab your popcorn or set your DVRs for a really great family movie night the premiere of Who Is Simon Miller? is on Saturday, August 6 on NBC at 8pm ET/7pm CT! You can also check out the Family Movie Night website for more information and a list of other great movies that have family in mind as well as the Family Movie Night Facebook Page.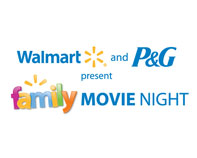 "I wrote this review while participating in a campaign by Mom Central Consulting on behalf of P&G and received a promotional item to thank me for taking the time to participate."
Our family consumes a lot of juice, especially the boys.  First thing in the morning, it is the thing they ask for the most.  To incorporate more water and less sugary juice, I started watering it all down.  Both of my kids love fruits and vegetables of all kinds, so that has never been a struggle, so I started considering ways in which I could still give them the juice that they loved in the morning and throughout the day, but offering them a healthier choice.
A good friend of ours suggested a juicer, so I went on a search to find out more information.  I used to own a juicer back in my college days, and a lot has changed since I owned that dinosaur of a juicer.  There are a lot of juicers on the market, there are centrifugal juicers, masticating juicers, and others, that make your mind spin with information. One of the supposed key benefits to juicing are the mega health benefits.  When you buy bottled juices in the store, most of these are pasteurized which means it is heated.  The problem with that, is you kill off all the "good for you" stuff, and you are  not getting the maximum benefit from the fruits and vegetables.  If you are drinking heated juice, then you might as well stir up some sugar water, and call it a day.  After reading about it, I don't think I would ever go back to a bottled juice again.
After countless hours of researching the health benefits, I realized that I wanted to try a juicer, not just for my children, but for myself as well.  I recently had the opportunity to review and Omega Vert Vrt350 HD Juicer.  For the most part, juicing is a foreign to me, so when it arrived at my doorstep, I was excited and a little intimidated by using it.  The first thing I noticed is that it was heavy!  I thought there must be a hunk of lead in the box, but to my amazement the juicer itself is very compact in size, the bulk of the weight is in the part that houses the motor, and the Auger (the part that turns to work the fruit through the mesh juicing screen).  I was surprised how easy it was to get up and running, within just a few minutes, I was already juicing my first apple  and a carrot.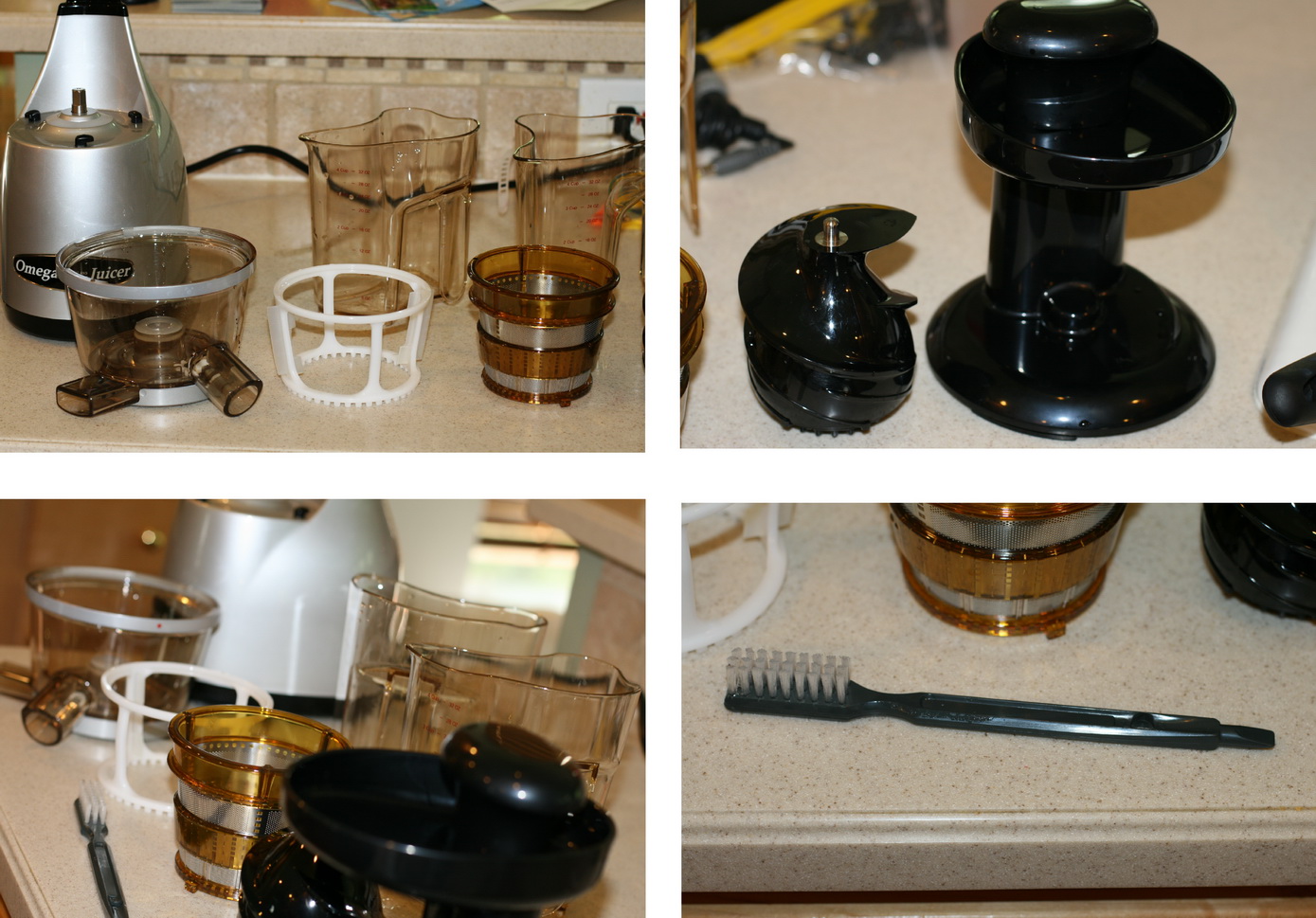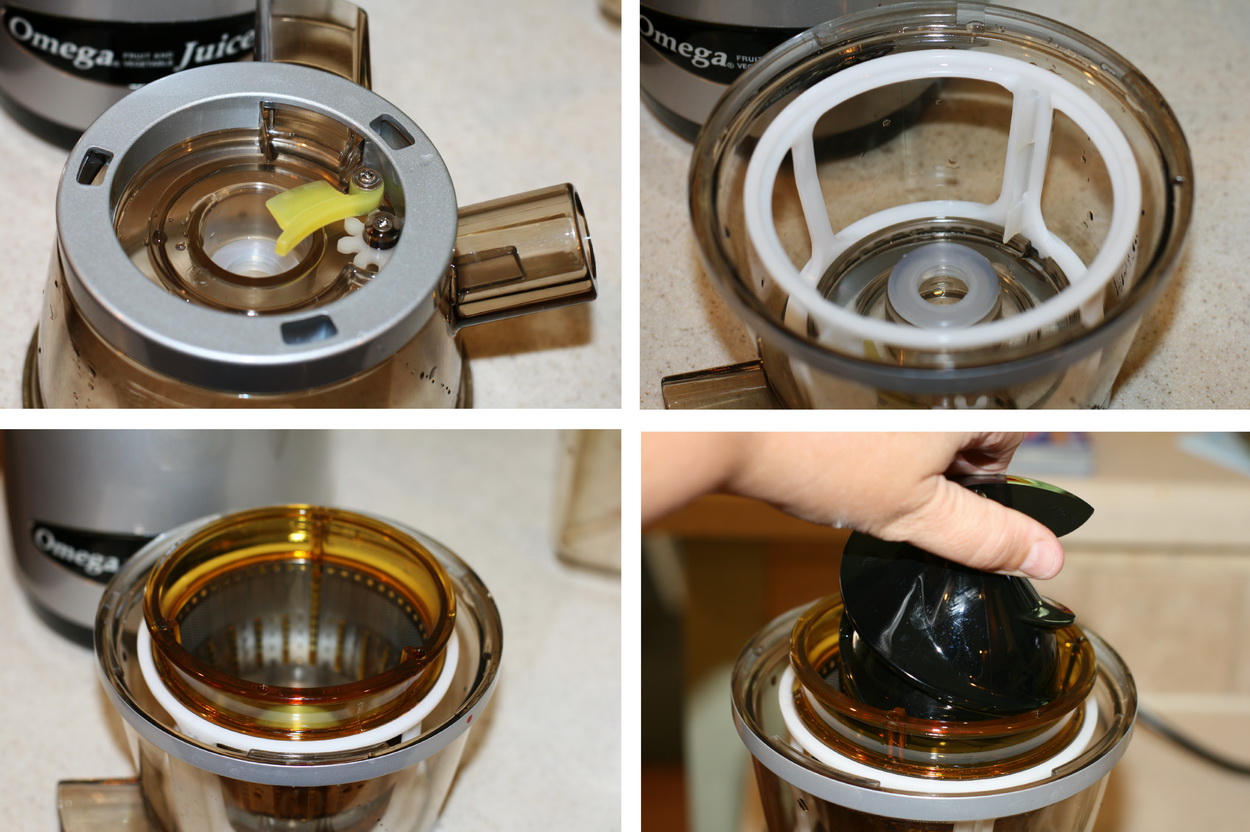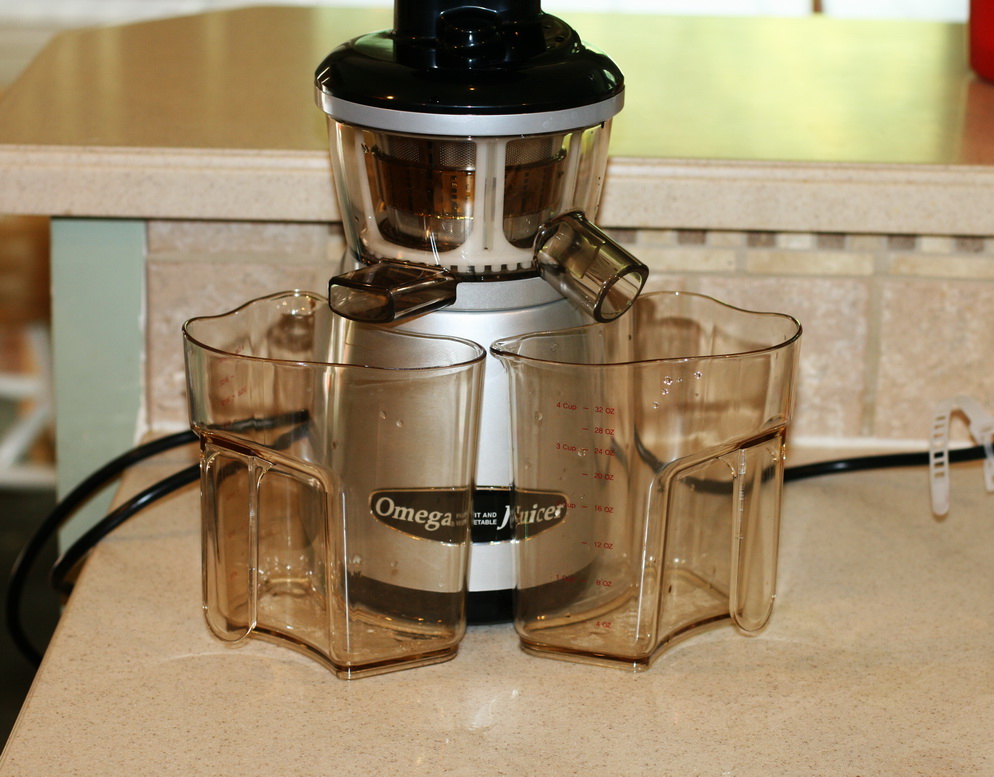 Try not to laugh at my demonstration video!
Omega Vert VRT 350 HD Details

The Omega Vert VRT350 Juicer  features the high efficiency of a

masticating  juicer

in a vertical design that is compact, contemporary and productive. Most juicers process at a speed of 1,650 to 16,000 RPM, destroying many healthy enzymes and causing juice to degrade shortly after being extracted. The Vert VRT350 Low Speed Juicing System processes at 80 RPM, preventing oxidation and allowing juice to be stored for up to 72 hours without degradation. The Vert VRT350 also features an innovative auto cleaning system that keeps the screen clear during juicing and increases its efficiency. The contemporary design is complemented by a virtually indestructible ULTEM juicing screen that will withstand heavy duty juicing. Ideal for fast pace commercial environments, this juicer combines a contemporary styling with the technology to cater to the  health conscious.

Features:

• Innovative design squeezes out
juice rather than grinding
• Preserves natural taste and
color of juice
• Preserves natural nutrients
• Exclusive Blade Cleaning System
keeps the screen clean during use
• Efficient Design ensures maximum
juice extraction with the driest pulp
in its class
• Easy disassembly and reassembly
• Auger is extremely hard and durable
• Auto Cleaning System
• 80 RPM for peak efficiency
• Crushing Ribs
• Commercial 1/3 HPMotor
• Exclusive Underwriters Laboratories
Inc. (UL) Household and Commercial
Approval
After using the Omega Vert VRT 350HD juicer for about 8 weeks now, I have noticed a marked difference in how I feel physically and surprisingly, juicing has changed how my skin feels.  I have also used it to help me in my weight  loss, and have just been drinking freshly juiced fruits and vegetables, when I am hungry between meals and have managed to lose weight in the process without feeling cheated.  I actually enjoy getting the juicer out and making fresh juice for me and the boys and experimenting with different combinations.
I have found that if you are over zealous with certain vegetables like celery, you can over power your juice, so with a little experimenting you can find a balance that tastes good to you.  The Omega Vert VRT350 HD comes with two juicing screens which allow you to have more or less pulp in your juice.  We prefer the finer screen with most things with the exception of juicing oranges and lemons.  My husband likes to run his through and even finer strainer after the juicing process, but he is ultra picky about anything healthy  LOL!  In the process of juicing, I also discovered a new way to make blackberry jam as well.  I wanted to make a seedless version, and was fighting with a potato masher to get the seeds separated, but then I decided to try my juicer and it removed all the seeds and left me with just the good stuff from my blackberries!  The Omega Vert VRT350 HD is awesome for this too!
What I love about the Omega Vert VRT 350HD juicer is that I can control what my family is getting with maximum health benefits.  It is very very easy to use and there is no fuss when cleaning it when I am done.  I can juice and clean the system literally in about 5-7 minutes which makes it practical for families on the go.  There is actually very little to clean with the silicone wiper blades that rotate along the juicing screen, there is little in the way of food that gets stuck anywhere.  It is perfect for kids and adults with texture issues who do not like to bite into an apple or a raw carrot but are willing to drink the juice instead.  I also like that, if there are bruised fruits in my fridge, I can toss them in the juicer and still get the same benefit and avoid tossing away money spent on fresh produce.  This juicer is also super quiet!  When I first used it I was expecting loud noises as it would grind up my fruits and veggies and I was beyond surprised.  I can run my juicer early in the morning and no one hears a thing.  We did have a little trouble juicing pineapple, but I found if I cut it into smaller pieces, the pulp chamber was less likely to back up.  Juicing also creates pretty much no waste if you want it to.  With the remaining pulp you can easily use this as compost in your garden, I plan on creating a composting bin starting this fall and this is perfect for that.  The Omega Vert VRT350 HD retails for around $380 and is worth every penny in my opinion.  If you are interested and serious in making some major changes in your diet, I would suggest trying a juicer and I highly recommend the Omega Vert VRT 350 HD juicer.  I have not been disappointed with it in the 8 weeks that I have had it.
Overall this is a great product, if you are interested in making health conscious decisions for the family and you want to offer the healthier choices for your kiddos.  Neither one of my boys has noticed a difference in the juice that I offer them from the juicer versus the watered down concentrates I used to give them.  This in itself is worth the switch.  You can read more about the Omega company and how they got started with their full line of Omega juicers.
**The Omega VRT350 juicer was provided for me to review, the opinions expressed here on my blog are that of my own.**