I have taken up running, as part of my effort to lose weight.  I haven't been on here much because I have been trying not to sit at my computer throughout the day, in order to stay active and busy.  Weight loss isn't easy, and neither is being a stay at home mom.  Both are some of the hardest things I have ever had to do.  Somehow you manage to get through them both, but not without disappointments, frustrations and moments you feel successful.
I have been having a horrible week, where everything is purely up and down, including my weight.  My husband is trying to convince me it is me gaining muscle, but with my age, I am not so sure.  I guess hormones can play a part in how we lose weight, once we get into our thirties.  I have been having some horrendous battles with one of my boys, the ones where you are at your wits end wondering how you need to revamp your parenting style.  For all those "perfect" parents out there who say they don't have problems with their own kids, you are lying to yourself and you aren't fooling me.
The boys are now 5, and they still nap, well usually.  One of my sons has always been difficult to get to sleep.  He can go without a nap, but I instantly notice behavior problems when he hasn't slept enough.  He hasn't napped once this week and every day around the same time, it's like I'm putting on my battle gear, and going to war.  Naturally, I am crabby as a result.
I have been running on the treadmill, and I am on a program that eventually will lead to me running for a full 30 min.  It has to be one of the hardest things I have done.  My goal and part of my bucket list is to run a marathon.  But, like parenting, losing weight and exercising can be harder than anything you do.  The scale hasn't moved in a few days and it has even went up and then down and then up withing a pound or two.  Meanwhile, I am up running to Beyonce, Train, and Lady GaGa, saying things like "dear God, I think I'm about to die."  When you are out of shape and have never ran in your life, running for one minute is doable, two minutes, you start to watch the time on the treadmill and say things like "crap, it's only been fifteen seconds?"  At three minutes, you are thinking about how the hell you can possibly stay on this thing without being rolled off into the closet behind you, along with curse words, and intermittent crying.  I haven't even reached the point in my running program where I am running four full minutes.  The way it works, I run for 3, or 2 minutes and then walk for one. I am on day ten of the program and eventually at the end you will be able to run for thirty full minutes.  Then when you step on the scale and it says you've gone nowhere, it is a recipe for quitting.  The only positive is that running is getting easier, but I am convinced the scale may be broke.
It isn't all a bed of roses. weight loss or parenting.  But, in either case, you have to just keep going, as I here Dory in Finding Nemo saying "just keep swimming, just keep swimming."   What keeps you motivated and positive?
There are always fond memories of traditions and things that you remember most when you were younger.  I know with having my own children, I have always tried to carry down all the special things that I remember doing when I was little.
Some of my favorite things were Christmas time at my grandmother's house when me and my mom would come over in the days prior to the big shindig and helping her decorate the nearly 15 dozen sugar cookies for the event.  She made cookies and could cook like nobody's business.  I come from a huge family and I am one of nearly 30 grandchildren, and family was always a big deal when my grandmother was still here.
My husband and I read to our boys nightly before bed and it has become one of their favorite times in their day.  They also have some favorite books that they repeatedly pick up for us to read.  They love the Llama Llama series by Ann Dewdney, and we also read the Magic Treehouse series by Mary Pope Osborne.  Even though they have outgrown the Llama Llama series, they still love to hear them read and look at all the whimsical pictures.
When my mom read to me it was a favorite time for me, and there was one book that I still remember and still love even as an adult.  It was The Big Tidy Up by Norah Smaridge.  It was about a little girl who had a messy room and her mom refused to touch with a mop or broom from now until Christmas Day.  I still remember the words "Jen picked up stuff, blew away fluff, shook out the mats, and hung up her hats."  Eventually we had read it together so much, that the binding and cover virtually disintegrated off the book and the pages began to tear.  So, I went on a search to find it.  I began to get disheartened when I saw that the available copies were selling up into the $300 range.  Eventually the reprinted the book in 2008, but today, when I went to look they are no longer in print again!  So, I started looking on ebay, because I wanted something from my childhood, that I could sort of hang on to.  Luckily, I came across the original book, in good condition, from the first 1970 printing and I got it!
Now, the trip to the mailbox has new meaning for me.  I can hardly wait to get it and read it to my boys.  I will of course be hiding this book safely out of the boys' hands, but I am looking forward to sharing a little piece of my childhood with them.
What are some of your fondest childhood memories or books?
Oh this face!  This is what I get when I say no or he is mad at me  LOL!  I still love it though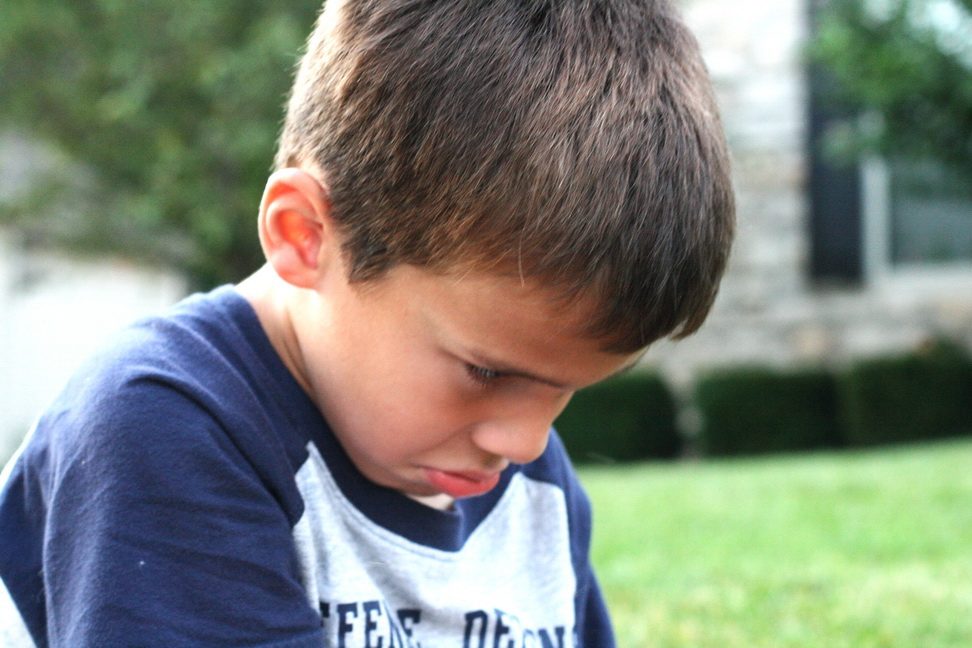 As a busy mom, I often wish I had eyes in the back of my head so I can see what is always going on in my house.  I can think of one instance in which the VueZone Personal Video Network System could come in handy.  We are having a problem with the twins where one says one did something and the other denies it.  Wouldn't it be cool to actually know who did what?  Sometimes it isn't always easy to know exactly what happened.
When we leave on vacation, a wireless video camera would be useful because, we leave our cat by herself and I would love just to check up on her.  My husband and I are without family here and will eventually have to rely on a babysitter for our boys to enjoy time out, and I would love to peek in on how things are going.  Also, I would love to see what's happening going on outside my house.  I love that VueZone is discreet and better yet no wires everywhere and it seems really easy to install, minus the headaches.
How it Works
VueZone lets you check in on your life anytime…from anywhere! Create your own personal video monitoring network – with multiple battery-operated wireless video cameras that easily install with no wires or power cords.  It also has motion detection.
Install in minutes – no software to load, no cords to run.
Place cameras anywhere – wire-free technology lets you easily position or move cameras in seconds.
Add more cameras anytime – simple one-button sync lets you add up to 25 cameras to your personal network.
Check In From Anywhere
View your cameras from any computer browser and most smartphones. Just log into your private, secure account at my.VueZone.com.
This is something that as a mom, I would definitely use.  I can think of many uses for a camera both inside my house and outside.  It would give me some assurance about the safety of my children and my home.  And since I am not terribly tech savvy anything that is easy to use, would be a great benefit to parents.
Recently, I mentioned that I was on a weight loss mission.  My ultimate goal is to lose 65lbs so I can go shopping for the cute clothes and just feel better in general.
I have been working hard for the past 4 weeks and I have lost nearly 20lbs in that time.  I am logging all of my intake, so I can be accountable for what I eat.  You would be surprised how much you can overeat without even knowing.  For instance, I love SunChips and this peach salsa.  When you "gasp" look at the bag you will see that a serving is only 15 chips or something like that.  When you sit there and physically count your chips one by one, you will realize that this seems like a meager amount.  Normally you would just reach in the bag as much as you want until you are satisfied.
I have had to adjust the way that I eat.  If I want something sweet, I head for the fruit before I go to my next step which is chewing gum.  I will admit that I do not deny myself treats.  In fact, I made a homemade chocolate cake with chocolate icing from scratch and had one piece nightly after dinner for a few nights.  The key is moderation.
I had not been used to eating healthy, so at first a piece of fruit tasted like crap to me.  But now it is something that I crave.  If I eat a piece of chocolate and go to fruit, the fruit doesn't taste sweet, so try to avoid high sugar foods.
I have gone from walking between 5-10 miles per day, to starting to run.  I only made it ten full minutes, before I thought I was gonna die, but it feels good do it.
My favorite snacks so far:
Sliced white peaches with a Tbs of light whip cream
SunChips Garden Salsa flavor with peach salsa
Carrots drizzled with a half tsp of green goddess dressing
Apple with 1 tbs natural no sugar peanut butter
Cranberry Rush Trail Mix from Meijer and Nutrition Nut/Fruit Mix from Planters
Canteloupe
Chocolate graham crackers with light whip cream in between, and put it in the freezer for a mock ice cream sandwich
My favorite breakfast
Maple and Brown Sugar Outmeal with Flax by Three Sisters
As for dinner, I haven't found a favorite meal, but I tend to eat whatever is made for the family but I measure out portions.  I will drink water but sometimes I want something else and I have found that I really like the regular Vitamin Water.

What are your favorite lo cal snacks?
I should probably term this post preparing mommy for kindergarten, because I will be the one next year crying as my boys disappear into the doors of their elementary school.  I happen to want my boys to have fun and, of course, succeed, but I am a little jealous that someone else will now be able to watch my children learn and grow.  The alternative would be to home school but I think I lack the patience to do it and feel like my boys just want to get out there and go.
So with this being their last year at home, I am decided to investigate little way in which I can get them ready for kindergarten.  Here are some really great ideas to give them a leg up.
Practice writing his/her first and last name
1. Have your child practice writing his/her name using a variety of tools such as a Magna Doodle, crayons, pencils, and markers. Check that your child is gripping the writing utensil correctly. You may even consider having your child practice writing his/her name using different items around the house such as pudding, rice, sand, or shaving cream.
*** Be sure that your child uses a capital letter only at the beginning and lowercase for the rest of their name.  So far my boys can only do all capitals, I guess it's time to teach them lower case!
2. Write your child's name in large letters (or use magnetic letters). Say each letter aloud as you write or place it so your child can associate the name of the letter with the shape of the letter.
3. Cut apart the letters of your child's name (or use magnetic letters) and have him/her put them back in the correct order saying the name of each letter while doing so. (Start with just the first name, adding the last name only when they have mastered this.)
4. Label your child's door or other objects so his/her name can be seen in print.
Practice recognizing and writing the numbers 0 to 10 (or higher)
1. Read and enjoy counting books together.
2. Point out numbers in license plates, in the store, in your home, and all around you.
3. Use magnetic numbers to have your child practice naming them. Have your child put the numbers for your phone number in order saying each number while doing so.
4. Practice writing numbers with a variety of materials such as pencils, crayons, markers, sidewalk chalk, etc…as in name writing above.
5. Have your child count object like their snacks, or buttons on their shirt
Practice naming letters in the alphabet correctly.
1.  Recognize letters on street signs, in restaurants, and on billboards and favorite books
Recognize Primary Colors
1. Sort candies, bright colored buttons, etc by colors.
Practice naming and recognizing basic shapes
1.  Look around the room and recognize shapes in your home
2.  Practice drawing and recognizing shapes
Practice your phone number and address
1.  Have your child practice dialing their number on a play phone
Practice Coloring in the lines and Cutting in straight lines
1.  We like to cut out shapes, and pictures in magazines.
2.  Provide coloring pages with large illustration and well defined lines and challenge them to stay within the lines.
These are just some basic things you can do with your child to get them ready.  If your child seems frustrated after so many attempts then stop and try again another day.  I find that when they get frustrated all learning flies out the window.  Make learning fun and interesting as if it is no big deal and they seem to do so much better.
I know I am not ready for them to go, but if I can get them as ready as they can be for the classroom, it will help them succeed!

The air is crisp and all the kiddos are going back or have gone back to school.  It is still shorts weather, but a few days have been cold enough to break out the boys Fall weather gear.  I love to shop for them, and I love outfitting them from head to toe in some of the newest fashions.  Along with great fashion, comfortable shoes for kids are a must.
Umi Shoes is  my go to fashion for little feet.  Although, my two seem to be growing leaps and bounds, Umi has one of the cutest selections and some of the best children's shoes in my opinion.  I am always eager to see their new Spring and Fall lineups each year, because they always have great new styles.  They aren't afraid to change it up a bit where as when I walk into other kids shoe stores, they have the same thing virtually every time I am there.
About Umi Shoes (taken directly from their site)


At Umi they meticulously craft each and every shoe for the utmost in comfort and fit. Hands that simply know how to make a better children's shoe. So, what makes a better children's shoe? Years of experience working with age-appropriate lasts, patterns and buttersoft leathers give Umi a step up over everyone else. At Umi, all they make are children's shoes, and they believe every step your child takes is as important as their very first.

At Umi, caring for little feet also means caring for the earth—which means they set their standards sky-high. Every shoe they make is tested for safety and durability and meets strict guidelines for child-safe materials. They use only non-toxic drum-dyed leathers and other environmentally friendly components. Protected in recycled packaging, Umi's a brand sure to please parents and Mother Nature alike.

Shoes are made for much more than walking. Umi shoes are specially designed for the littlest and hardest working feet in mind. At Umi, our focus is on quality, comfort and style.

From years and years of hand crafting shoes for babies, boys and girls they've developed a deep understanding of materials, patterns, footbeds—the building blocks of creating the most comfortable shoes around.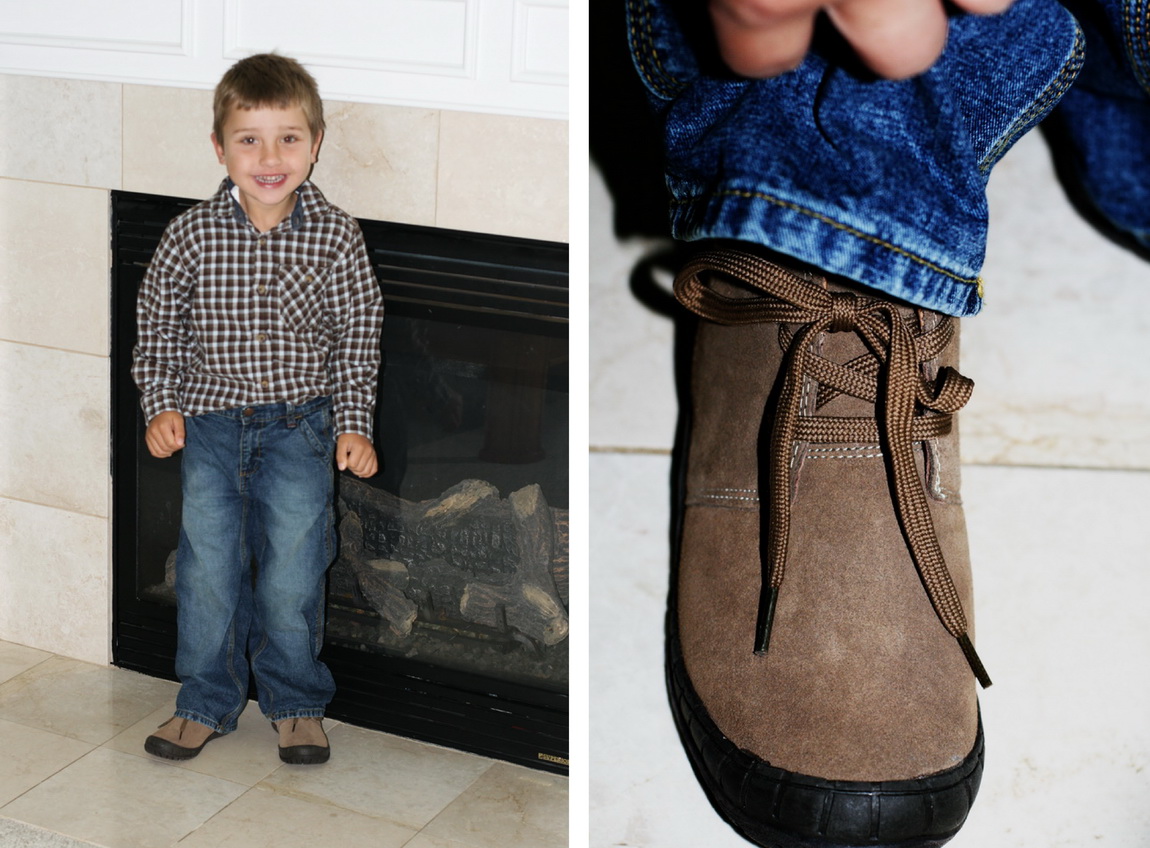 This year Umi Shoes has some cute Fall styles for boys that include Caaden and Carrson, which are two very adorable half boot style shoes.  Caaden is a cute lace up style available in Taupe and Olive.  Carrson is another suede half boot that combines a great look, with a thick velcro closure which makes it easy for lil ones to get their shoes on and off.  Both of my boys tried them on and had a blast running and playing in their new kicks.  Usually they will tell me if  a shoe is uncomfortable and want them off right away, but this has never been the case with Umi Shoes.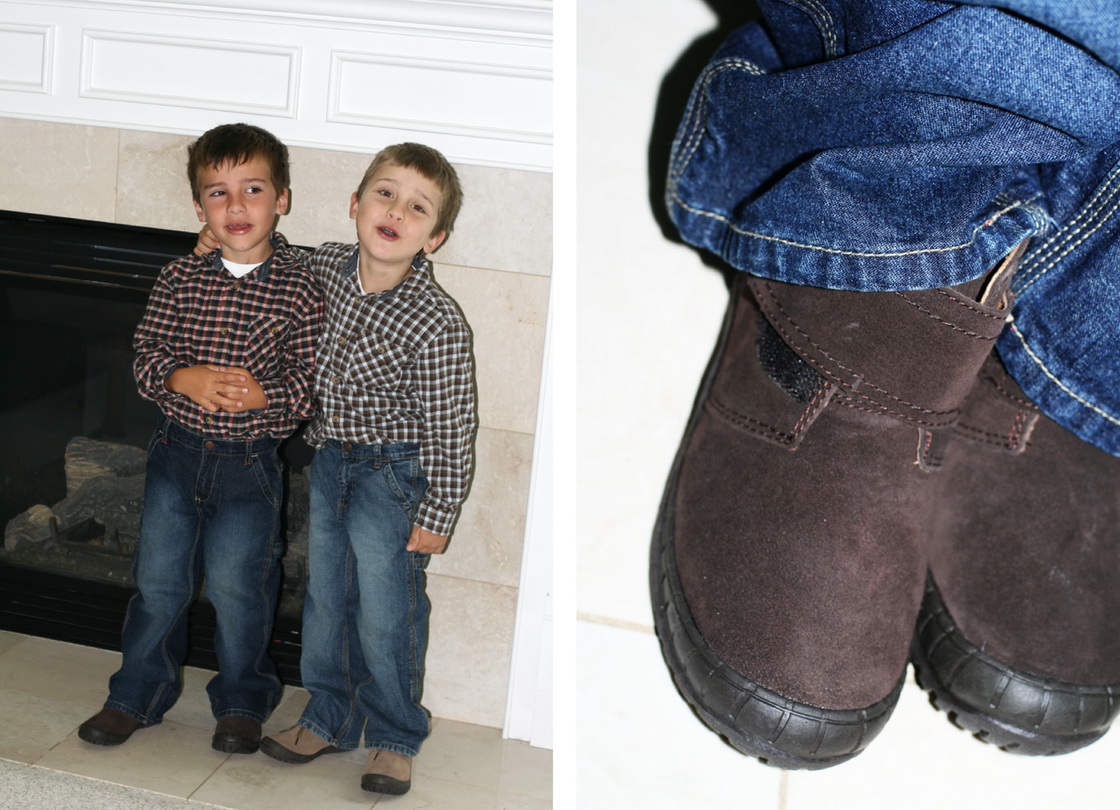 All of their shoes offer about a half size growing room and ample cushioning in their shoes.  Kids can run and jump and play and Umi Shoes offers sturdy, flexible souls for growing feet.  Kids are known to give their footwear a vigorous workout, but I have never had a problem with Umi Shoes.   Often time they outgrow them after extensive wear and they still look practically brand new.
If you are looking for one of the best shoes for kids, I highly recommend investing in Umi Shoes.  They are incredibly  comfy for kids.  If you are like me, I want shoes that are going to hold up so I am not out buying more before the season even ends.  Umi Shoes are reasonable priced, incredible cute and well made.
So I am back after my week long sebatical.  We did a little traveling as a family in the awesome Ford Flex (more on my experience later).  I took a little break from my weight loss/fitness adventure when we went to visit my parents over the holiday.  It wasn't by choice but because I was so busy, and didn't have the same resources that I had here to maintain my same level of activity.
I have been walking daily now for about 8 plus miles a day total.  I realized that my feet were taking a beating and pain means I have to stop but I don't want to.  My legs, feet and knees have been taking a pounding and I am afraid my walking shoes from New Balance which have served me well, just aren't liking the extra activity.  So I started looking for a running shoe, since I am heading in that direction.  I have started running in short bursts on my walks.  I walk trails, but I also walk the pavement and treadmill, so I need a little of both.
There are about a bazillion choices for shoes out there and it is a little overwhelming!  There are running shoes that are trainers, there are trail running shoes, and regular running shoes.  There are good shoes for over pronation and supination, but all I want is something that makes my feet feel good and the weight of my step.  I am totally clueless, but need something ASAP that I can use.
On the weight loss front, I maintained my weight over the holiday.  I didn't gain or lose which is perfectly fine.  I craved the exercise which is also new, because normally I dread even going.  I walked int he rain the other night, which was fabulous.  The dog looked at me like I was crazy, but it felt good to get back out and get going!