I have two boys, and naturally they love bugs, snakes, worms and anything that naturally freaks me out.  With Halloween coming up, we decided to throw a small party and have a little creepy crawling fun with bugs, Hexbugs that is.  We had the chance to invite over friends and have a glow in the dark Hexbug Halloween Party.  We had treats, kids and lots of bugs!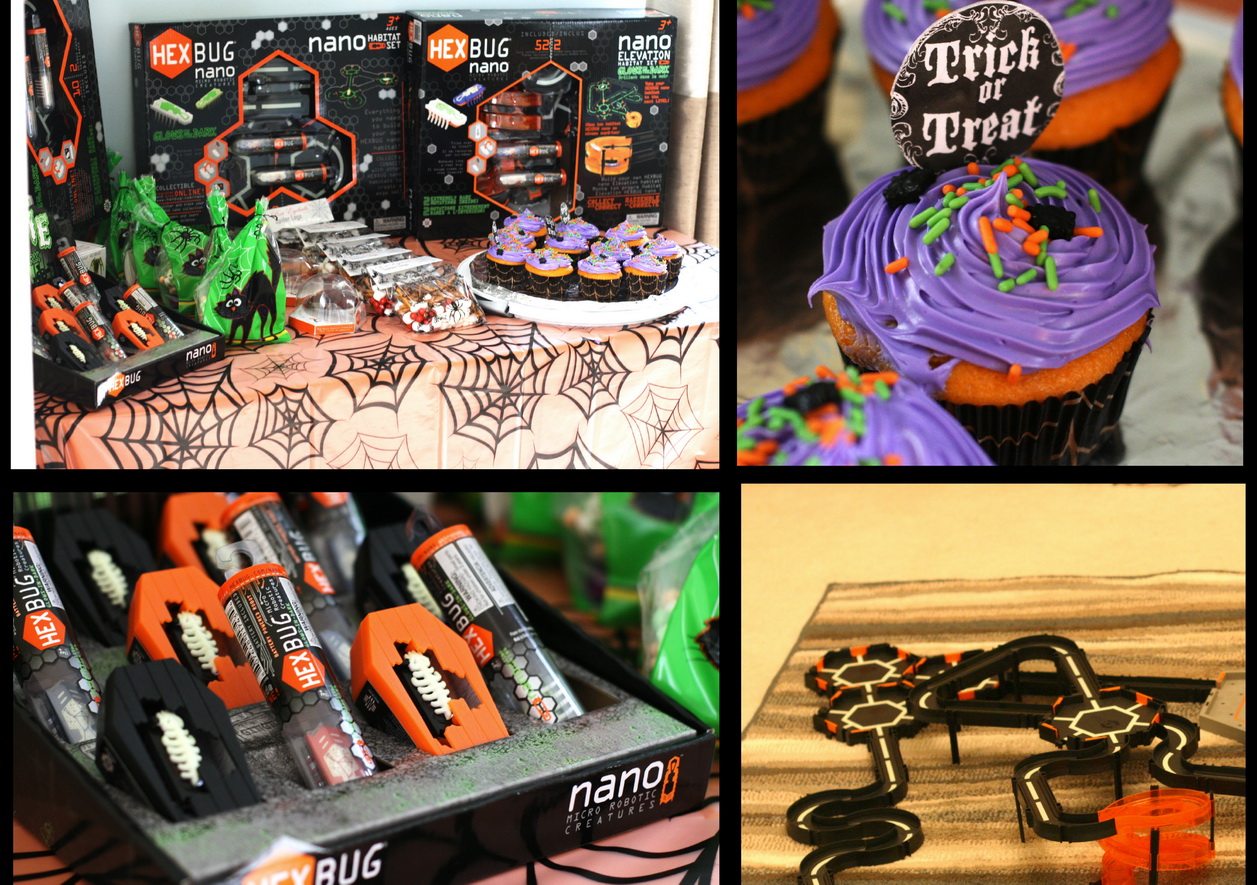 Just in time for Halloween we were sent Hexbug Nano bugs, and limited edition Hexbug Nano Halloween Zombie bugs complete with their own habitats.  The unique thing about them was that the bugs glow in the dark along with the habitat tracks.  So when the lights go out, it is twice the fun and the kids had a blast.  There is no end to what you can come up with Hexbugs, and our favorite part was when each kid got their bugs and decided to race them start to finish through the habitat.  The first person whose bug made it to the finish was the winner.  It got a little crazy in the house, but it was truly a blast.
Check Out Our Video!
I was amazed at how well these things got around, it was like they had a mind of their own and could find their way through the twists and turns of the habitat.  We were even sent some Hexbug Larva, that crawled around with uncanny resemblance to the real thing.  It even had a sensor that makes it turn around to avoid things in it's path.  It was a little gross for me, but gross is what the boys love.

Overall, my take, is that Hexbugs are pretty entertaining for the kids.  When I checked out the Hexbug website they have all sorts of cool bugs, and even remote ones.  My only beef is that it seems like they run out of batteries quickly, but usually kids tend to seem to leave them running and walk away.  But overall they are really cool and quite ingenious how they move about.
From bugs races, to entertaining your cat, Hexbugs are sure to make your kid smile.  Right now you can find the limited edition Hexbug Nano Halloween Zombie bugs at a Radio Shack location near you, but don't limit Hexbugs to Halloween, they would make great stocking stuffers for the Holidays and the perfect size in their little test tubes.
Disclosure *Hexbugs, and habitats were provided to us to host a party by Mom Select and Hexbug, all opinions,video, and pictures are that of my own*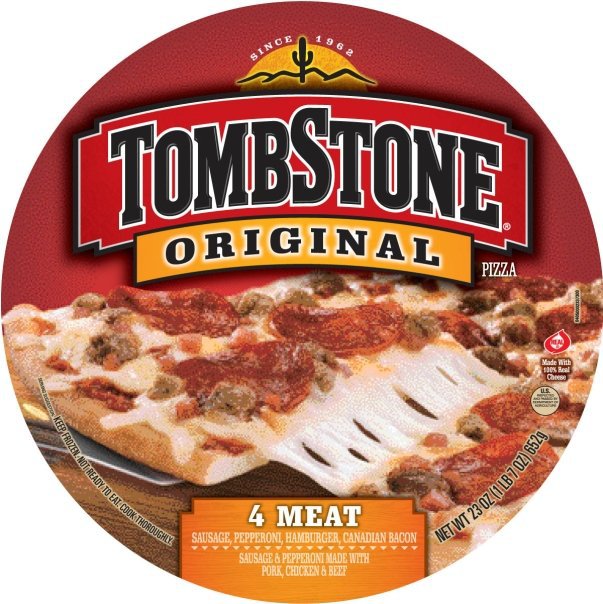 Halloween is fast approaching, and it's one of my favorites with the kids.  Besides loving the Fall weather, we love spending time with all our friends in the neighborhood.  Halloween, is always special because we have a pre-Halloween get together, take lots of pictures then some adults stay back with everyone's candy lined up in lawn chairs waiting for all the little ghosts and goblins.  After the kids get tired, there is a fire, lots of glow sticks and kids playing and parents chit chatting.
The hours before trick or treating are spent getting costumes in order, waiting for my husband to get in the door and my boys have their noses pressed to the window to see who is already out.  In all their excitement and mine, we have little time to get everyone ready and a meal on the table.  My favorite is to throw a Tombstone pizza in the oven, throw together a garden salad and dinner is ready in minutes! And who doesn't love pizza?
About Tombstone Pizza

Only fitting for the "Official Pizza of Halloween," TOMBSTONE pizza was brought to life in 1962, at a bar called the Tombstone Tap that was located across from a graveyard in Medford, WI.
It all started when Tombstone Tap owner, Joe Simek, broke his leg dancing the "Peppermint Twist."   While recuperating, Joe experimented with various pizza recipes in the kitchen in the back of the Tombstone Tap.  The tasty pizzas he made were an instant success, creating the TOMBSTONE pizza brand.
50 years later, TOMBSTONE pizza today offers eight different crust varieties (including Original, Brick Oven Style and Garlic Bread) and a multitude of tasty topping choices, including new TOMBSTONE Double Top. With so many options to choose from, moms are sure to please all their favorite little ghosts and goblins this Halloween season.
Moms can find TOMBSTONE pizza in the frozen section of their local grocery store.
This Halloween season, Tombstone is being dubbed "The Official Pizza of Halloween," and to help make your Halloween a success they are providing you with all the tools you would need to have a spooky good time!   Start by simply 'liking' the Tombstone Facebook page. There you can download a free Halloween Party Kit that will give you everything you need to make your Halloween party and conjure up lots of Halloween fun.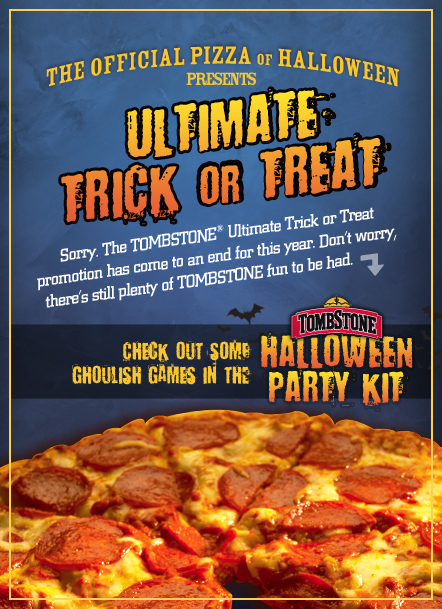 The free Tombstone Halloween Party kit includes tons of really great ideas including fun recipes, games you can play, fun tips, decorations and way to create fun Halloween photo ideas.  I love their spider web munch and bone chillin brew in the recipe section.  I know my kids would love it!
So while you are rushing to get those excited little ones out the door, pop in a Tombstone Pizza and make it your official Halloween favorite every year!
"I wrote this review while participating in a campaign by Mom Central Consulting on behalf of Tombstone Pizza and received coupons and a promotional item to thank me for taking the time to participate."
Not having a car payment is nice. Then you drive by the car dealership on your way home one day and you see those shiny new cars sitting on the lot. Stylish, sleek, with the latest gadgets and gizmos. You read about some of the newer models online, maybe you take one or two for a test drive, but it's hard to really evaluate a car in such a short time span. Thanks to Ford, we recently got a unique opportunity to really put a car to the "real world" test.
The folks at Ford allowed me to pick out the Ford vehicle model of my choice, then had it delivered to my front door for me to keep and use for a week. Talk about great service.
We decided to make it a family road trip, to head out to grandma and grandpa's place – about 450 miles away. When you go somewhere for a week and bring the whole family and the dog, you need a lot of space. A regular car was not going to cut it. We decided to try out the Flex.
The Ford Flex is an interesting and unique vehicle. With it's long boxy frame, it looks different than anything else out there. . It's not quite an SUV, it's not quite a crossover, it's not a minivan, and it's definitely not a truck… it's a little of all, it's a Flex.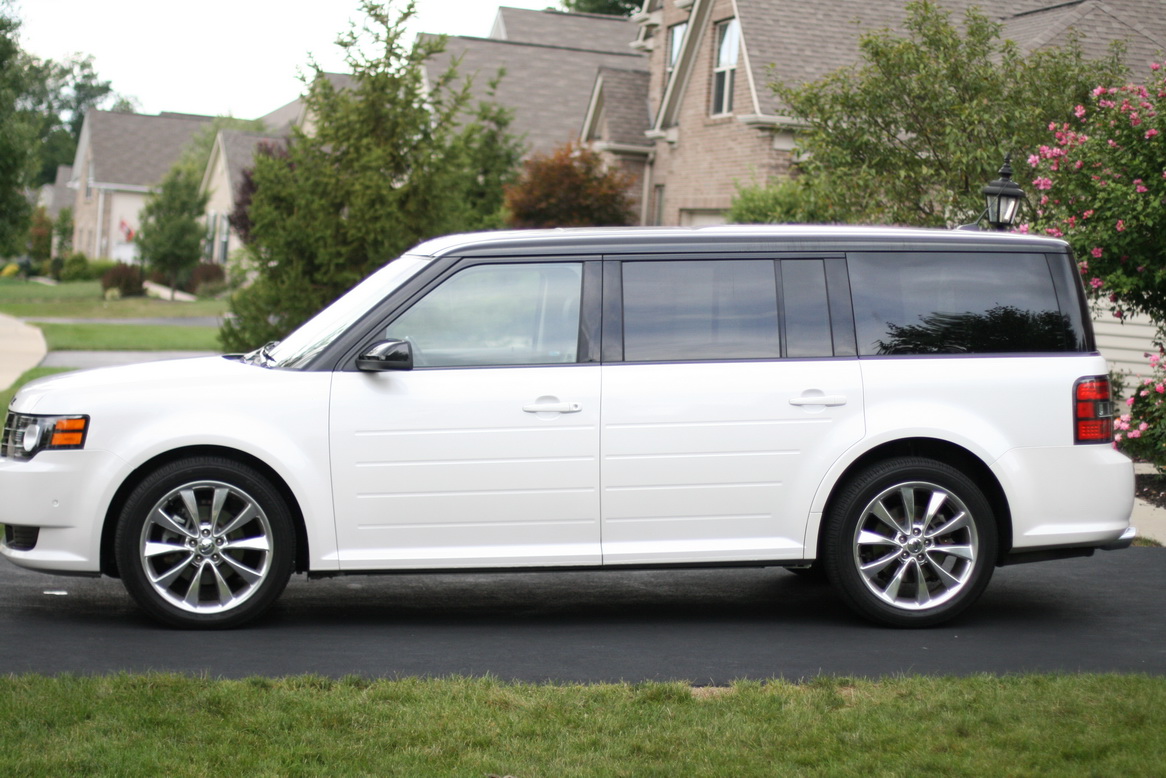 The first thing you notice when you get into the Flex is that it's very roomy on the inside, much more roomy than you would expect by looking at it from the outside. It has 3 rows of seating for a total of 7 seats. The leg and headroom for the front and middle rows are excellent, much better than what I've seen in other similar vehicles (including the Explorer). The 2 seats in the third row offer enough space for an adult to sit comfortably. The third row seats are very easy to fold down to expand cargo space as needed, even using  just one hand. One issue we had was that if you have two or more child seats or boosters in the middle row, there's no way to get to the third row seats. If you put those child seats in the third row, the cargo space is extremely limited, and it's tough to get the kids buckled into their seats.
The second thing you notice is that the Flex is very nicely finished. You can tell that a lot of thought and effort went into the interior design and finish. No cheap plastic look and feel. Buttons and controls are where you'd expect them to be and are easy to use. The leather seats are very comfortable and can be adjusted a million ways to fit just right. The overall impression is that of a high end vehicle.
When you have a vehicle for 7 days and you take it on a road trip, you really get a feel of what it's like to use it on a daily basis. One of the things we really liked about the Flex is that it's packed with all the electronic goodies you could want. Bluetooth connectivity, built in GPS navigation system, a touchscreen interface on the dash where both the driver and passenger can reach it, Sirius satellite radio built in, easy phone pairing, and the really cool Ford SYNC functionality. You can easily pair up the SYNC with your smart phone (android or ios), play music from your phone or MP3 player, and control the music using voice commands so you can keep your hands on the wheel. Being able to change channels, select songs by title or artist etc all without lifting a finger is great. You can check out all the SYNC features here: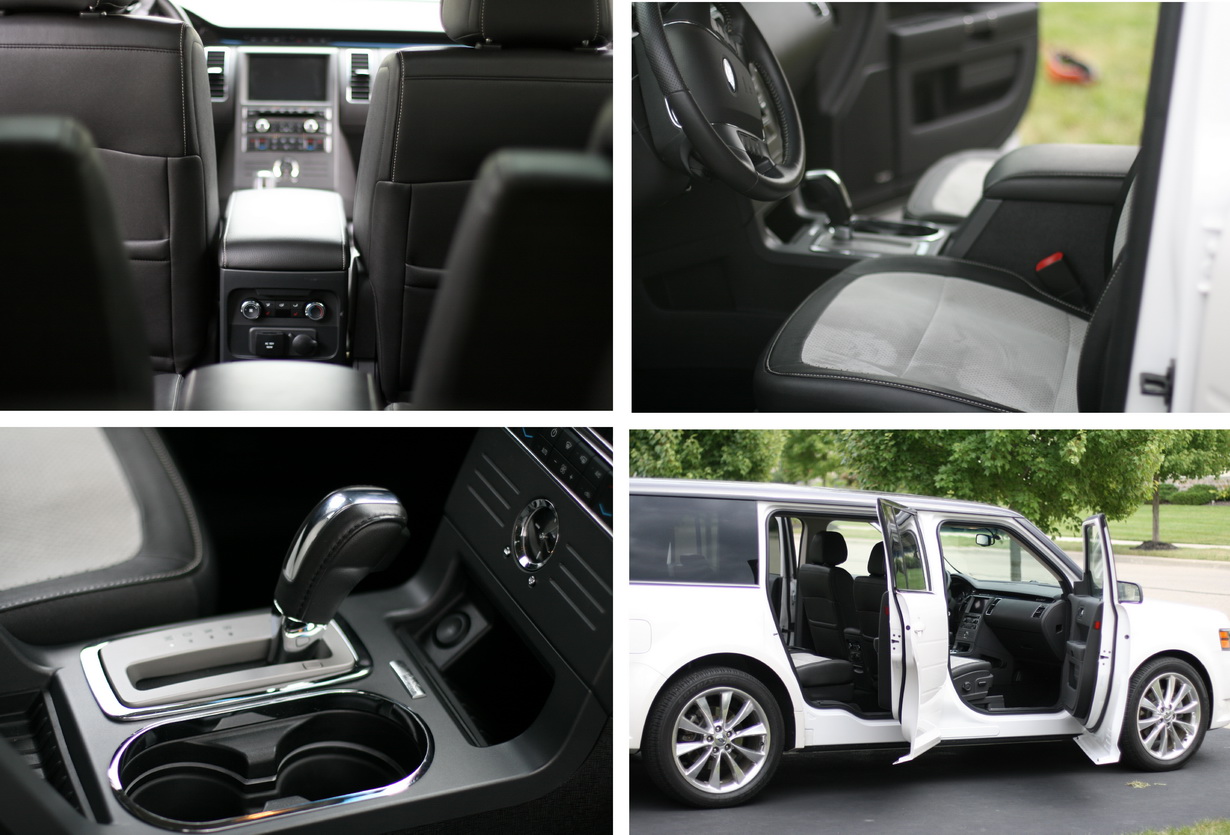 Another cool feature is being able to see exactly how much gas your engine is using at any particular time. The vehicle we used was equipped with the 3.5L EcoBoost engine , and we actually got better mileage than the EPA estimated 16 city/23 highway. We were consistently getting 26 mpg on the highway. We were a little surprised when we stopped for gas and noticed that there is no gas cap on the Flex, it uses the Ford "easy fuel" cap-less system, a nice touch.
Another feature that you won't find in many vehicles is a refrigerated compartment in the middle console. That's fantastic when you go on a long road trip, you can put some drinks in there and keep everything nice and cool, even on the hottest of days (the temps hovered in the 100's during our trial).  I could forgo the refrigerated center console to have a clear path to the far back seats however.
Pros: very flexible with seating, very roomy, packed with technology, very refined, plenty of "oomph" under the hood, good mileage given it's size.
Cons: when the third row seats are not folded down, cargo space is very small.
So what's the final verdict? The Ford Flex is a really cool vehicle and true to its name it is very flexible in configuration. The Flex (depending on the model) goes for $29k to $39k. I personally would not be willing to pay close to $40k for the Flex, but in the $30k to $35k range it's a very good value. Ford continues to add innovative and interesting models to its lineup, I look forward to taking some of the other new models for a spin.
Halloween is right around the corner, and of course that means lots of candy.  Before I became a parent, I would conveniently raid the stash of candy that was due to be handed out to little ghosts and goblins.  I am exercising great will power this year, however, and both of my hand out bags of candy have remained successfully sealed.  Stealing candy from a baby?  I am sheepishly admitting that this is what I do after the boys go out trick or treating.  Personally, I don't want them having all of that candy and luckily they aren't old enough to notice, but I am sure those days are numbered.
I am overprotective about my chocolate, and I have been known to hide it in a location where I know only I would look.  Some of my favorites include cold Twix bars (I hide them in the vegetable drawer), and m&m's.
Just in time for Halloween, Twix did a survey that uncovers the treat behaviors and preferences of adults ages 18 to 34.
Survey results include:

The 30 year-old trick-or-treater: Nearly 7 out of 10 adults (69 percent) ages 18 to 24, and half of adults ages 25 to 34 said they would do it if they could. Trick-or-treating, that is. The only thing holding them back is dirty looks from the neighbors.
Hide and seek: More than half of all adults surveyed (52 percent) admit to hiding a treat from their loved ones to keep the treat for themselves. Most hide their treat stash in their room (41 percent) or in another "super-secret place" (41 percent).
Fruit-flavored non-chocolate Halloween treats get no respect: Only 3 percent of all adults surveyed listed fruit-flavored non-chocolate treats as their Halloween favorite. The winning treat combination? Chocolate with peanuts or peanut butter topped the list at 39 percent, followed by a chocolate and caramel combination as a close second (30 percent). Phew, good thing TWIX bars come in classic TWIX® Caramel and TWIX® Peanut Butter.
Men seek the crunch; the ladies prefer something they can chew on: When it comes to treats, women prefer chewy treats more than men do (42 percent to 33 percent), while more men than women seek out treats with a crunch (33 percent to 23 percent).
Taking candy from a baby: One quarter of all adults surveyed (26 percent) admit to taking candy from their child's Halloween stash or a friend's or co-worker's candy dish and denying it.
Sweets are social: Two out of three adults (64 percent) would rather enjoy treats with others than alone.
Most of these results definitely hold true for myself and I would definitely be trick or treating if someone wouldn't give me a dirty look.  What are your deep dark secrets when it comes to indulging in your favorite treats?  Do you do the post trick or treating raid of your kid's haul?
Thank you to Twix for providing these fun survey results!  Hope you all have a safe and wonderful Halloween!
Thanks to Cheryl and Rhea, I am now having dreams of mass proportion because of all the Grey's Anatomy I am watching.  Half the time, my dreams almost never make sense and I don't think this one does either  lol. Grey's is usually the last thing I watch before going to bed, so the fact that it occupied my dreams is no surprise.  Plus, I like looking at Patrick Dempsey so, if he wants to occupy my dreams, he is more than welcome.
I was very happy till the end, when he chose Ellen Pompeo over me, because of some stupid book he was reading. In my dream, he was reading Lionheart.  I am not even sure that  book exists in the real world, but he was talking in code.  Somehow, we were on a tour bus on our way to a football game, so he could profess his love for Meredith.  The driver didn't want to make a left hand turn onto a busy highway so, he turned around in a Ford (Im busy working on a review for the Ford Flex) dealership parking lot so he could turn at a light. Next thing I know we are trying to hide so Mickey Mouse doesn't find us.
Firstly, I don't know what Mickey Mouse is doing in my, up until now perfect dream about Patrick Dempsey.  Secondly, I don't like football, and I would have broken the tour bus so he'd have to look at me all day, instead of chasing after Meredith  LOL.  There was a swimming pool in which he and I discussed something about choosing people, when I noticed the book Lionheart in his hand.  This was my dream and no way would he see me in a swimming suit either!
So, hello!   Next time you want in my dreams Patrick, you don't get to choose, just sit there and smile at me ok???   Damn Grey's anatomy  LOL.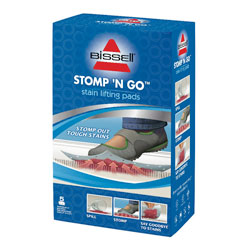 If you have kids, pets and carpet in your home, then you are bound to be cleaning up some sort of stain or spill from it.  I have had our carpets professionally cleaned numerous times, and it looks great for a few weeks then slowly, stains begin to reappear.  Often times they are just stains that seem to resurface.
Recently, I was given the chance to review a new product by Bissel, called Stomp 'N Go.  Naturally, this peaked my interest for two reasons.   Firstly, it sounded way too easy and simple of a product, and two I am constantly looking for "at the ready" carpet stain removal products, that I can use to get a stain that is fresh or one that I have come across.  In our home there are our most common stains, like dirt, spilled juice, always the blue candy or popsicle, and usually the cat that inevitably throws up.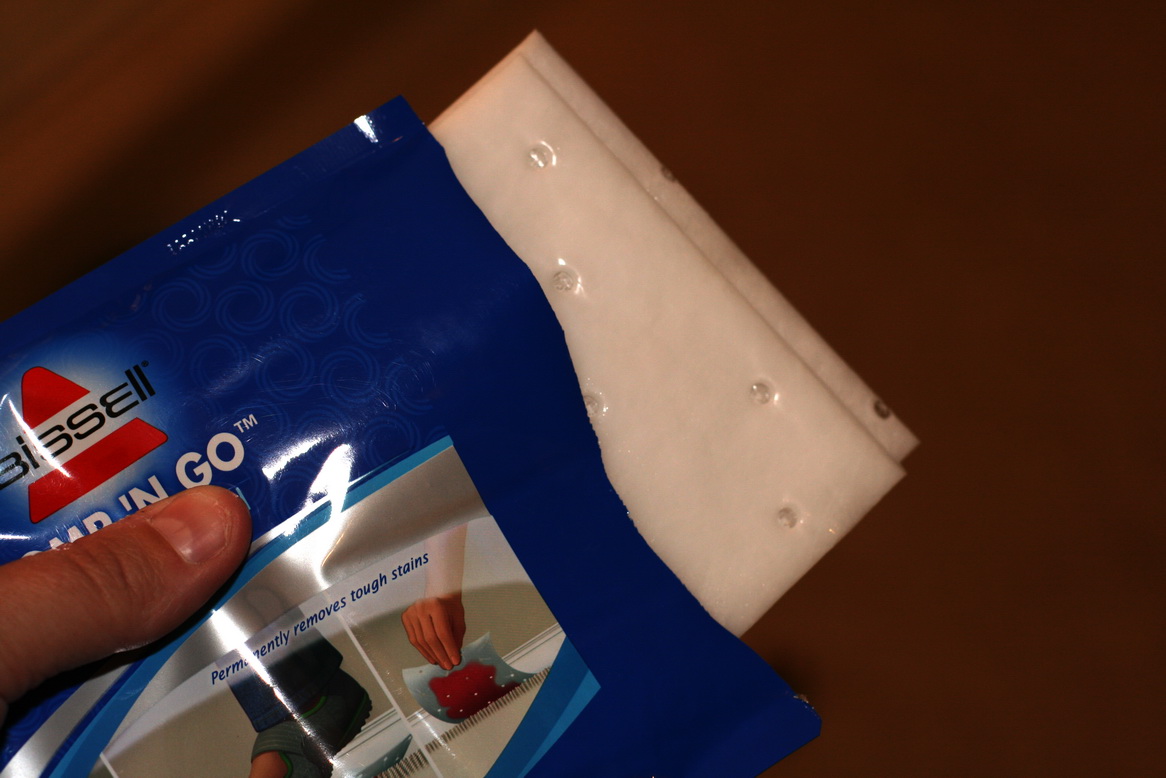 About Bissel Stomp 'N Go
BISSELL® Stomp 'N Go®

Innovative one-of-a-kind pad cleans carpet messes with just one STOMP

Forget about scrubbing out spots and stains on carpet, stomp them out! BISSELL's new Stomp 'N Go® stain lifting pad is unlike any cleaning product available. Using a powerful oxy-based formula, the pre-moistened pads make cleaning easy and fun. Simply place the pad on a spot or stain and stomp on it.  Upon stomp, the pad begins working, lifting and removing the mess. You can actually see the stain being absorbed into the pad. There is no need for scrubbing or using other cleaning tools – the pad does all the work.

Stomp 'N Go® pads are great for permanently cleaning tough set in stains like red wine, food, fruit juice, coffee/tea, pet messes, blood, mud/dirt and more. The pads leave carpet smelling fresh and come in convenient, individually wrapped packages.

The stain lifting pads can also be used on rugs. Additional features and benefits include:

Pads are portable and safe for use on all carpets including nylon, wool and stain resistant carpet
Spots and stains are gone in about 30-minutes; tough stains may take up to 24 hours

No scrubbing or manual work required

BISSELL Stomp 'N Go® pads are currently available at Kmart, grocery stores and select Wal-Mart stores for $4.99. Each package contains five individually wrapped pads.
I was  particularly interested in trying Bissel Stomp 'N Go on this one stain that I have been wandering by in the main traffic area of our living room.  It was driving me crazy, and I had not yet had the time to get out my little handheld spot removing machine, because I didn't think anything else would get it out.
The not so lovely stain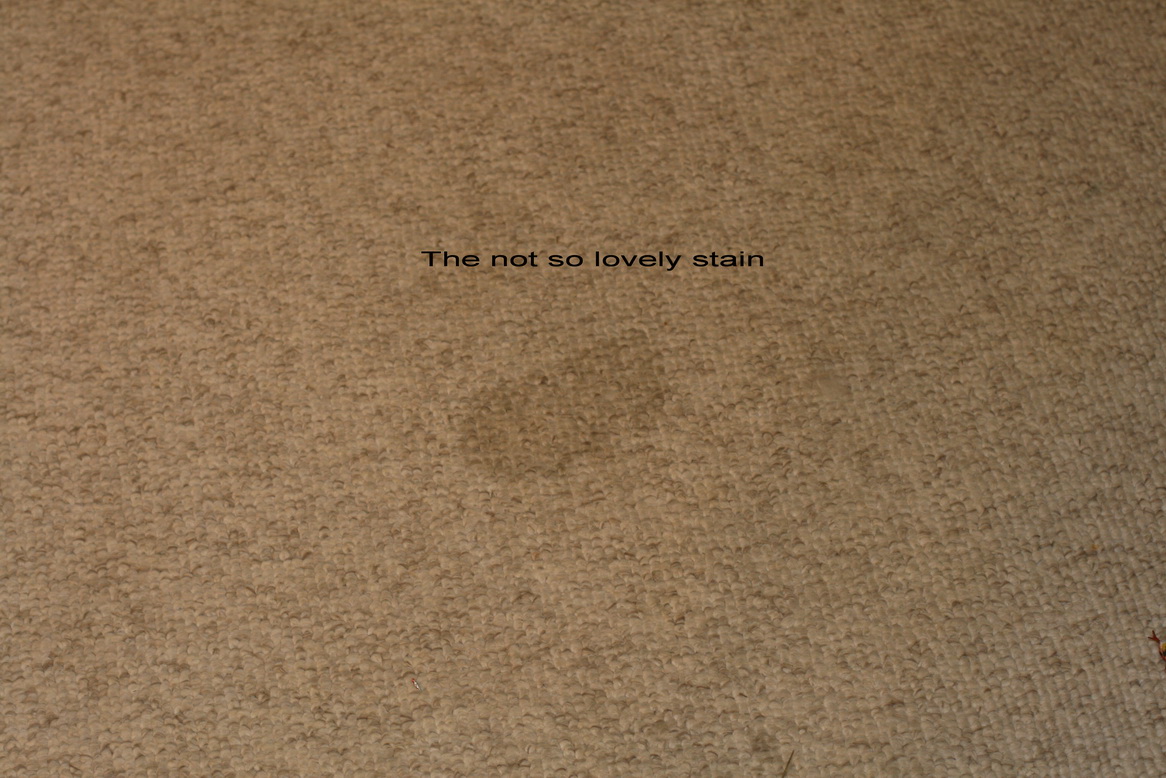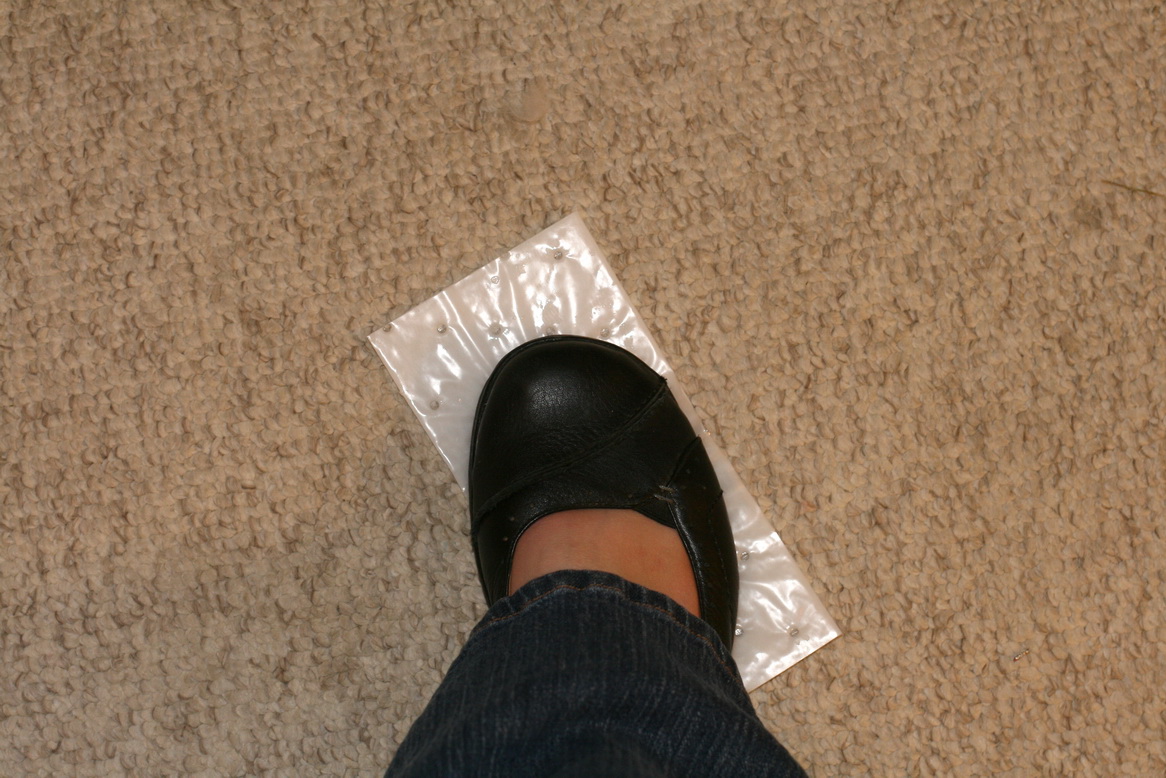 The product is incredibly easy to use. I opened up one sheet of the Bissel Stomp 'N Go, placed it over the stain wet side down, and stepped on it, and left it there for about thirty five minutes.  My initial thought was, "how the heck is that going to take anything out of the carpet, without scrubbing or using a machine to extract it?"   After about fifteen minutes, I walked by and could actually see some of the stain being picked up by the sheet on the opposite side.  When I removed it, the stain was literally gone.  Not only was I thrilled, but I was happy I didn't have to walk by that stupid stain anymore and better yet, there was no scrubbing at it with an arsenal of products I had on hand.  I love it!  I even reused the sheet (*note: It says to not reuse, to throw away after use) but  I tried it on a smaller nearby stain and it got that one as well.  It made me want to search my house for other stains just so I could use it.
Wahlah!   No more stain!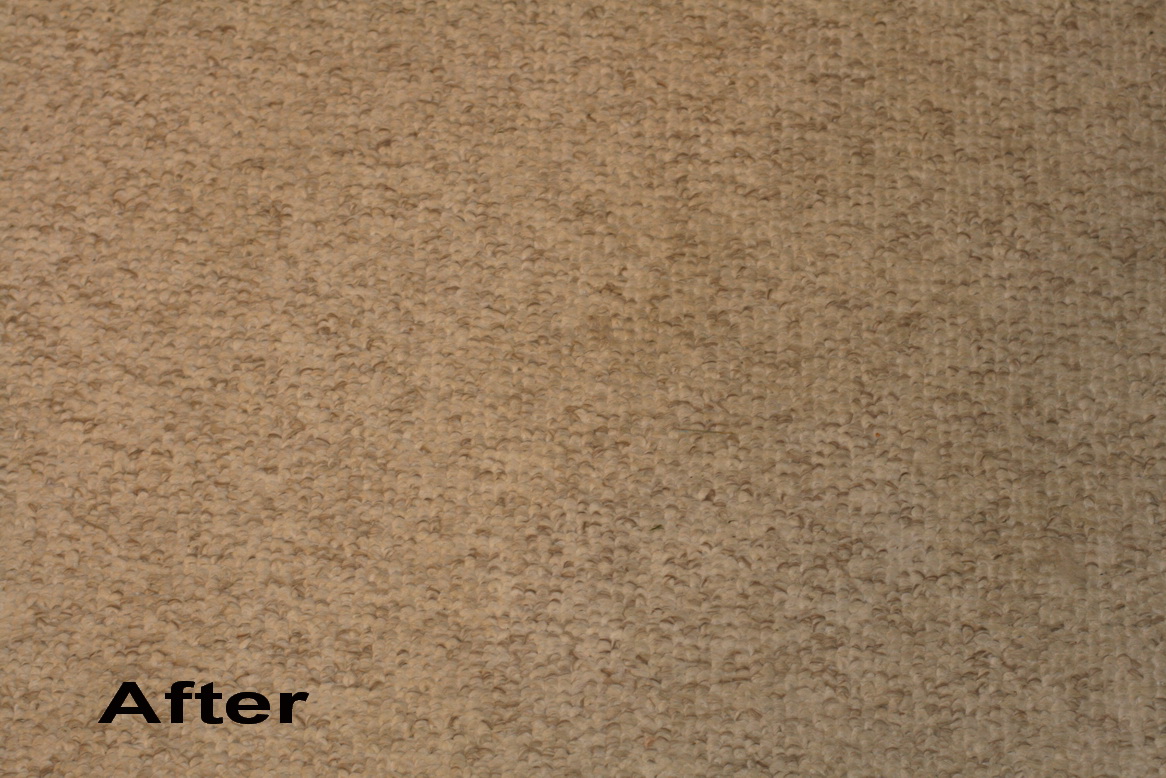 As with any carpet care product, the manufacturer states that you should always test for color fastness before using Bissel Stomp 'N Go on your carpet.  But, what I can say, is that you will want to have a few of these handy  sheets in your home!  They come in packs of five for about $5, and take up a whole lot less space than all the carpet cleaning product in your arsenal.
"I wrote this review while participating in a campaign by Mom Central Consulting on behalf of BISSELL and received product samples and a promotional item to thank me for taking the time to participate."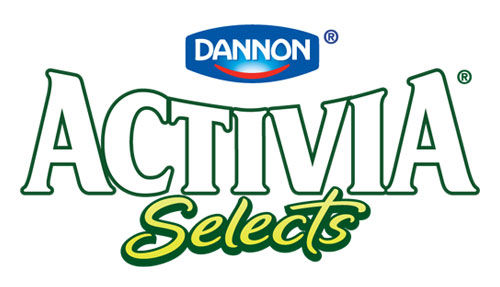 Nutritious eating habits for my family has always been a priority, as well as for myself.  Recently, I have been trying to get more physically fit and lose some pounds in the process.  Watching calories and reading labels, have become a part of my every day life.  Food is something that we eat every day, so nutrition should be a top priority.
We have always been a big fan of yogurt as one of our go to healthy snacks.  It is a fast and easy snack and we all love it.  Recently, I was given the chance to try Dannon's Activia Selects-French Fruit On The Bottom yogurt and at first, I was hesitant because I am a little picky about yogurt.  Some yogurts can be either too sweet, or too sour and sometimes, the fruit chunks can be overpowering, but this was really tasty with just the right amount of fruit.  I was worried about it tasting  different since I didn't even know what on Earth Activia was.  What is so helpful about yogurt containing  Activia?  Well, Activia Selects yogurt has the probiotic culture called Bifidus Regularis that is supposed to help regulate the digestive system when consumed daily for 2 weeks.  Probiotics are  known by many as "the beneficial bacteria,"  which many people believe if carried in the intestinal tract in significant amounts, are thought to help ease some digestive concerns.
Anything, that can give me a leg up in nutritious eating habits and that I can quickly and easily add to my diet is definitely something that I will keep on hand.  I love that Activia Selects are a quick and easy way to get some of these good things that my body needs.  I will definitely buy these in the future.  And speaking of your health…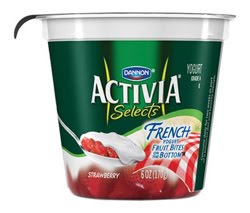 October is Breast Cancer Awareness Month!
In support of Dannon's ongoing commitment to health and wellness,Dannon is going pink in support of national breast cancer awareness month.  Dannon will donate at least 10 cents for each under-the-lid code entered at www.cupsofhope.com before 12/31/11 – up to $1.5 million – to the National Breast Cancer Foundation, Inc.® (NBCF). Dannon is committed to a $500,000 guaranteed donation to NCBF, including retailer-specific programs.
Each specially marked package of Dannon yogurt contains an under-the-lid code. Participating in Give Hope With Every Cup is as easy as entering the code from the lid at www.cupsofhope.com.
NBCF is committed to spreading knowledge and fostering hope in the fight against breast cancer. With support from Dannon, NBCF will fund free mammograms for women who could otherwise not afford them and will support research programs in leading facilities across the country.
So keep an eye out for the pink lids and help give yourself a leg up in your nutrition and overall health and help others who are in need.  If you want to learn more about Activia Selects you can go to http://activia.us.com/products/enjoy_activia_selects.aspx
"I wrote this review while participating in a campaign by Mom Central Consulting on behalf of Dannon Activia Selects Yogurt Series and received a coupon to facilitate my review and a promotional item to thank me for taking the time to participate. However, my opinions are entirely my own and I have not been paid to publish positive comments."
I have always been fascinated with Apple products and the sheer genius behind them.  Even today, I cannot live without my i-touch and my Ipad with me by my side.  My kids have a love for all the crazy apps and I just love the technology and how easy Apple products are to use.  I always stare at them like they are the puppy in the window and I love when there is an announcement about the newest product.  Apple products are just really so cool!
I am deeply saddened to know that Steve Jobs has passed away.   I knew that when he resigned, that clearly he was a very sick man at the time.  My deepest sympathies go out to him and his family because letting go of such a brilliant mind is so difficult, the loss for his family is even greater.
I know that Apple will continue to make wonderful products, that carry that little apple logo and a memory of someone who had made them great.  I will be keeping him and his family in my prayers, as well as all his friends and fans all over the world, who support his great contributions to technology.
So I haven't been on my blog much because I am addicted to Grey's Anatomy.  Thanks Cheryl and Rhea!  I had never even seen an episode of Grey's Anatomy but everyone is always talking about how good the show is, and I felt like I was beginning to miss out.
So in the past four days, on trips to the bathroom, watching the boys ride their bikes, after they go to bed, and every spare moment I get, I have been watching episodes of Grey's Anatomy.  I am currently deep into season two, and I only have 6.5 seasons to go before I am caught up and I can discuss the happenings.
I love the show and better yet, I have something to do while the husband has football occupying the tv screen.  I love hulu.com too because I can watch episodes of Grey's to my heart's content.
To say I am addicted is an understatement.  I was heartbroken when ER ended and remember my days in nursing school and watching the very first episode with my fellow nursing students.  Grey's is reminiscent of those long days walking the halls of the hospital during clinicals, and even though I am not a doctor, I can surely get all the humor.
Love, love, love Grey's Anatomy!