Activia Selects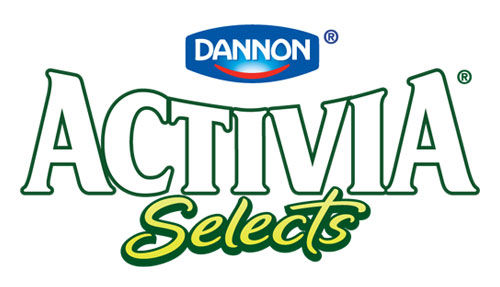 Nutritious eating habits for my family has always been a priority, as well as for myself.  Recently, I have been trying to get more physically fit and lose some pounds in the process.  Watching calories and reading labels, have become a part of my every day life.  Food is something that we eat every day, so nutrition should be a top priority.
We have always been a big fan of yogurt as one of our go to healthy snacks.  It is a fast and easy snack and we all love it.  Recently, I was given the chance to try Dannon's Activia Selects-French Fruit On The Bottom yogurt and at first, I was hesitant because I am a little picky about yogurt.  Some yogurts can be either too sweet, or too sour and sometimes, the fruit chunks can be overpowering, but this was really tasty with just the right amount of fruit.  I was worried about it tasting  different since I didn't even know what on Earth Activia was.  What is so helpful about yogurt containing  Activia?  Well, Activia Selects yogurt has the probiotic culture called Bifidus Regularis that is supposed to help regulate the digestive system when consumed daily for 2 weeks.  Probiotics are  known by many as "the beneficial bacteria,"  which many people believe if carried in the intestinal tract in significant amounts, are thought to help ease some digestive concerns.
Anything, that can give me a leg up in nutritious eating habits and that I can quickly and easily add to my diet is definitely something that I will keep on hand.  I love that Activia Selects are a quick and easy way to get some of these good things that my body needs.  I will definitely buy these in the future.  And speaking of your health…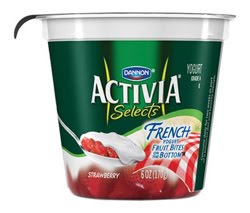 October is Breast Cancer Awareness Month!
In support of Dannon's ongoing commitment to health and wellness,Dannon is going pink in support of national breast cancer awareness month.  Dannon will donate at least 10 cents for each under-the-lid code entered at www.cupsofhope.com before 12/31/11 – up to $1.5 million – to the National Breast Cancer Foundation, Inc.® (NBCF). Dannon is committed to a $500,000 guaranteed donation to NCBF, including retailer-specific programs.
Each specially marked package of Dannon yogurt contains an under-the-lid code. Participating in Give Hope With Every Cup is as easy as entering the code from the lid at www.cupsofhope.com.
NBCF is committed to spreading knowledge and fostering hope in the fight against breast cancer. With support from Dannon, NBCF will fund free mammograms for women who could otherwise not afford them and will support research programs in leading facilities across the country.
So keep an eye out for the pink lids and help give yourself a leg up in your nutrition and overall health and help others who are in need.  If you want to learn more about Activia Selects you can go to http://activia.us.com/products/enjoy_activia_selects.aspx
"I wrote this review while participating in a campaign by Mom Central Consulting on behalf of Dannon Activia Selects Yogurt Series and received a coupon to facilitate my review and a promotional item to thank me for taking the time to participate. However, my opinions are entirely my own and I have not been paid to publish positive comments."